With the end of the gold bull market in late 2011, precious metals became unpopular with investors and their prices remained under considerable pressure. One of the worst affected was silver, with the white metal plunging to be less than a third of its price at the height of the bull market to a seven year low in January of this year. The sharp decline in silver in part can be attributed to the ongoing strength of stocks, stronger U.S. economic growth, the rally in the U.S. dollar and the Fed's rate hike at the end of 2015.
Nonetheless, there factors alone explain the full story as to why silver not only plummeted to new seven year lows but also failed to keep pace with the rally in gold and is extremely volatile.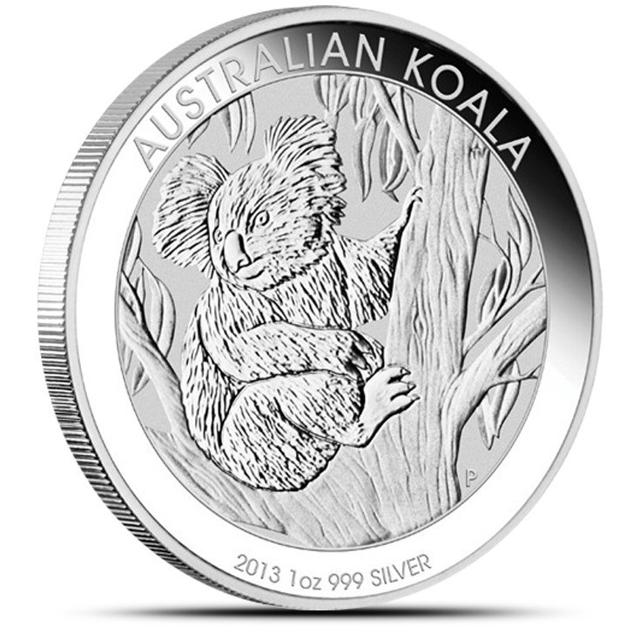 Let's take a closer look at silver and try to understand just why its price is so volatile and why it repeatedly fails to keep pace with gold.
The value of gold and silver are closely correlated
The prices of gold and silver share a close relationship with silver typically following the price of gold as it moves up and down but silver has repeatedly lagged behind gold, riding a roller coaster and experiencing greater highs and lows.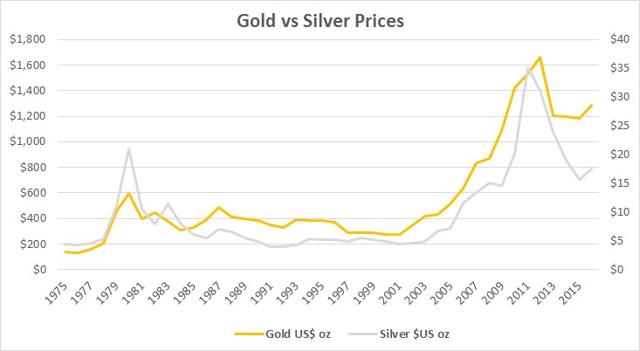 Source data: The Gold Institute and the Silver Institute.
The close correlation between the price of gold and silver is also evident when comparing price movements for the largest gold ETF the SPDR Gold Shares (NYSEARCA:GLD) and the largest silver ETF the iShares Silver Trust (NYSEARCA:SLV).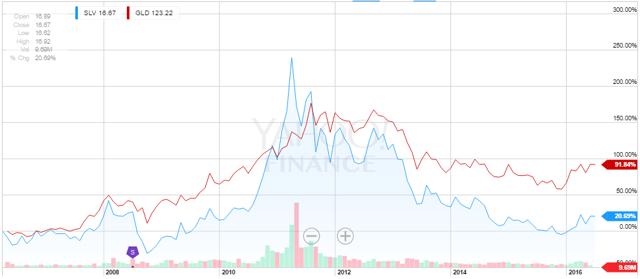 Source: Yahoo Finance.
Both charts certainly demonstrate how closely correlated the two precious metals prices are, but it also highlights just how volatile the price of silver can be, particularly in comparison to gold.
Silver is far more volatile than gold
Over that period silver has generated a return of 7.4% compared to 2.6% from gold but the key measure of volatility its standard deviation is 32% or almost double gold's 19%, demonstrating just how volatile silver is as an investment. This volatility becomes even more apparent when taking a look at the gold to silver ratio over the last 40 years.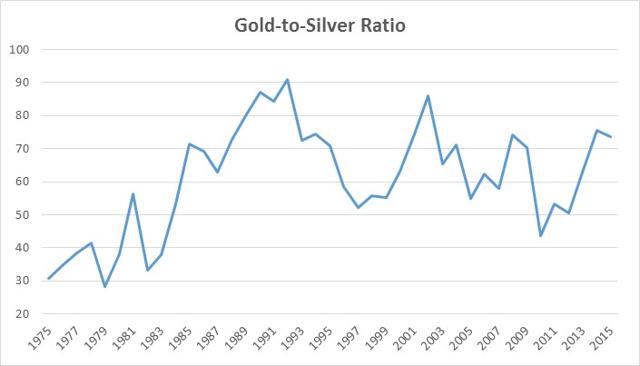 Source data: The Gold Institute and the Silver Institute.
In fact, the gold-to-silver ratio indicates that there is 74 more times silver available than gold and this certainly doesn't reflect reality.
According, to the U.S. Geological Survey is 17.6 times more common in the earth's crust than gold and it is also worth considering that over the last 10 years the average supply of silver has been eight times higher than that for gold.
While these factors are not an accurate means of determining the price of silver it does show that a gold-to-silver ratio of 74 ounces of silver to one ounce of gold is disconnected from reality.
This becomes even further apparent when it is considered that for the last 40 years the ratio has averaged 61 ounces of silver to one ounce of gold, while for the last 100 years it has averaged 55 ounces. If the gold-to-silver ratio moved to reflect the average over the last 40 years, the price of silver would need to move to $21 an ounce, which appears quite realistic, meaning that it offers investors potential upside of 22%.
There are a number of reasons for the gold-to-silver ratio being out of whack with historical averages with one of the most prominent being the large volume of paper silver in comparison to physical silver.
The price of silver doesn't reflect supply and demand
One startling fact concerning the price of silver is that the actual market is far larger than the actual supply of physical silver. The total silver market including silver contracts, derivatives and other financial products comes to around $5 trillion or 250 times the amount of physical silver available, giving paper silver to physical silver ratio of 250:1.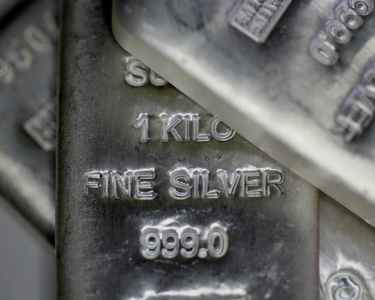 Then there are those analysts that claim the ratio is far higher and is in fact 500:1 and an analysis of silver inventories shows there are 29 registered owners per ounce of silver, which is a sharp increase over 10 years earlier.
Nevertheless, no matter which way you look at it the volume of paper silver to physical silver is tremendous and this is one of the reason that silver prices remain artificially suppressed and highly volatile.
These paper contracts have created a virtual silver supply that has flooded the market with liquidity, helping to keep the price low and triggering considerable price volatility.
But there are signs that this pool of paper silver is starting to dry up.
You see, there is growing concern among investors in paper silver that the amount of physical silver actually available in inventories is far less than what was previously represented. This is triggering a move away from paper silver among investors to directly owning bullion and seeking confirmation of exactly how much bullion is held inventories.
All it would take for this house of cards to come crashing down is for more investors in paper silver to ask for physical delivery of the underlying bullion and this may prove to be impossible for many institutions to do.
These trends are helping to reduce the amount of paper silver available and the potential for price manipulation.
It should also be remembered that the market mechanism over the long-term is quite resilient and eventually the impact of the tremendous volume of paper silver will be overcome and the price of silver will eventually adjust to reflect supply and demand.
Another aspect that has to be considered, is the question of price fixing with it easy to see the impact of price manipulation on the price of silver over the last three years with its price continuing to fall despite a large supply surplus over the last three years as the chart shows.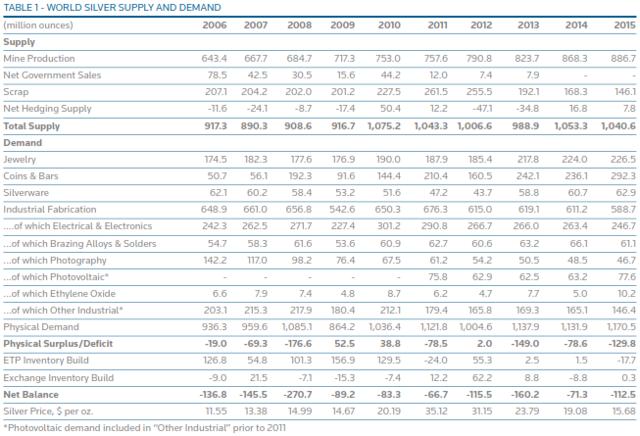 Source: Silver Institute.
Silver prices have been depressed for a considerable time by price manipulation that it is speculated did not end until 2015 and may in fact be continuing.
There are signs however that price manipulation is lessening and may have in fact ended. This is because in 2014, silver traders brought claims of market manipulation against Deutsche Bank, HSBC Holdings, Bank of Nova Scotia and UBS. It is claimed that these banks which were involved with setting the daily silver fix were manipulating the silver price to their advantage.
To date only Deutsche Bank has settled the lawsuits where it was named and as part of its settlement has agreed to cooperate with pursuing other claims against the remaining defendants.
As a result of those admissions, the use of the daily silver fix ended in 2014 and was replaced by the LBMA silver price which is managed by CME Comex and Thomson Reuters. The silver price is now established through a transparent electronic auction mechanism which commences at 12 noon London time.
This it is believed should reduce the degree of manipulation and allow the price of silver to more accurately reflect supply and demand.
Furthermore, the successful case against Deutsche Bank has triggered an increase in regulatory supervision and made large banks less willing to manipulate the price of silver. This should help to reduce the amount of manipulation, causing the price of silver to rise over the long-term as it moves to more accurately reflect supply and demand.
Nevertheless, there are allegations that price manipulation continues with one incident earlier this year highlighting the flaws in the system.
The LBMA Silver Price on Thursday 23 January 2016 was set at a price that was $0.84 lower than the spot price.
Then there are accusations that major trading houses such as JPMorgan are bombing the market with high frequency trading orders to push prices up or down, as required. It is also claimed that JPMorgan misled the market in 2015 as to the actual volume of silver bullion that it was holding, in order to suppress the price of silver as it attempted to profit from its large short position.
Interestingly, since then JPMorgan has come out in favor of investing in precious metals and believes that gold has entered a new bull market which because of the close correlation between gold and silver prices will take the precious white metal with it.
Final thoughts
Clearly, the price of silver has been subjected to considerable manipulation over the years and despite recent admissions and increased regulatory supervision it will more than likely continue in one form or another. This shouldn't deter investors from investing in silver.
I believe that it is significantly underpriced and its current price does not reflect its true value based upon supply and demand alone, which means that over the long-term it will appreciate in value. If the ratio of gold-to-silver moves back to historical averages there is at least 20% upside on offer for investors, but over the extreme long-term the potential upside should be even higher.
It will be however be a bumpy ride for investors, with the large volume of paper silver along with further potential manipulation increasing the volatility of silver, although I do expect the market mechanism to win out over the long-run and the price of silver to rise, as it moves to more accurately reflect supply and demand.
Disclosure: I/we have no positions in any stocks mentioned, and no plans to initiate any positions within the next 72 hours.
I wrote this article myself, and it expresses my own opinions. I am not receiving compensation for it (other than from Seeking Alpha). I have no business relationship with any company whose stock is mentioned in this article.
Additional disclosure: I/we have extensive investments in physical gold and silver bullion as well as collectible antique gold and silver coins.