Analysts have grown bullish on theater stocks recently, with B. Riley upgrading AMC Entertainment (NYSE:AMC) to a Buy rating and RBC Capital upgrading Regal Entertainment (NYSE:RGC) to Outperform. Cinemark (NYSE:CNK), meanwhile, has a median price target more than 20% higher than the current share price.
The recent bullishness on movie theater stocks has prompted us to take a closer look at the industry at-large. While the industry is suffering from secular declines on a per-capita basis, we see upside over the next several years as the industry transitions to a new era of comprehensive and consolidated entertainment. We are particularly bullish on shares of RGC, and make the case for the stock having ~50% upside to its fair value.
The Current Industry
After reviewing RGC and CNK's most recent IR presentations, it is clear that both companies are attempting to illustrate the strength and longevity of the theater industry at large. Both presentations emphasize that the industry exhibits "stable, long-term" growth trends. RGC points out that the there has been a 4% box office CAGR from 1970 to 2015, while box office revenues have exceeded $10 billion in each of the last 7 years.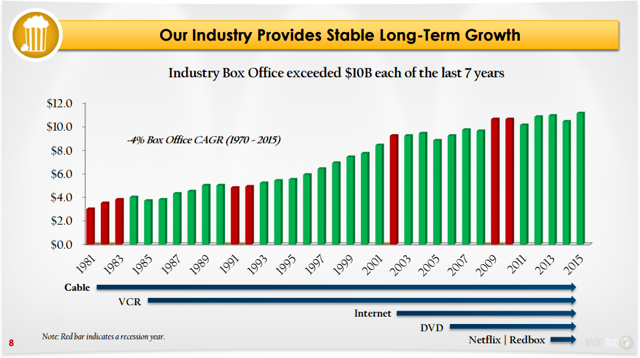 CNK draws more specific attention to these secular tailwinds, pointing out that there has been a 0.5% admissions CAGR and a 2.5% ticket price CAGR since 1985. By these metrics, the theater industry looks like it does have some stable long-term trends that support a secular growth story into perpetuity.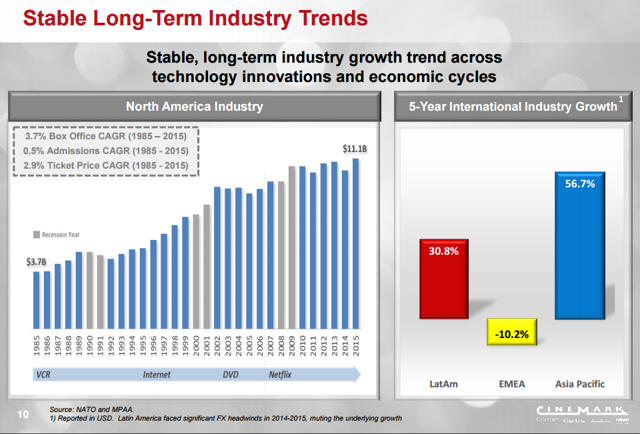 These metrics, though, are skewed by population growth and movie frequency. If we consider population growth, we can actually see that tickets per capita has been on a secular decline since 2002. As many would initially suspect, it does appear as though Netflix (NASDAQ:NFLX), Amazon (NASDAQ:AMZN) Instant Video, Hulu, and other OTT services are having a negative impact on theater traffic. In 2002, Americans went to the movie theater 5.5x a year. Now, Americans go to the movies only 4x a year. That is a significant decline in just 13 years, and the 4 tickets per capita came in a blockbuster 2015 that featured record-breaking Star Wars and Jurassic Park movies as well as the Avengers sequel.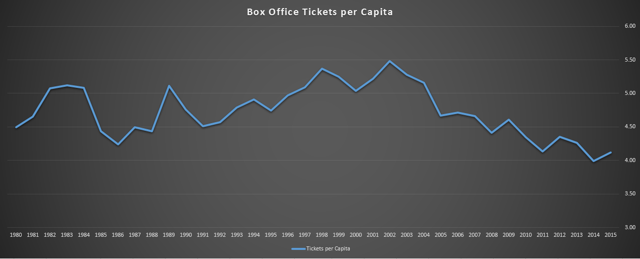 The timeline makes sense here. Overlaying the above graph with the launches of NFLX, Amazon Instant Video, and Hulu makes the cause of the downtrend clear. NFLX launched as a DVD-by-mail service in 1998, and this sparked two straight years of declines of tickets per capita as consumers experimented with the revolutionary content service. From 2000 to 2002, tickets per capita rebounded likely driven by Lord of the Rings and Harry Potter movies. In 2003, the secular downtrend that persists today began. A series of OTT service launches over the next several years accelerated the declines. In 2006, Amazon debuted its streaming service. The next year, NFLX launched streaming. Hulu launched its OTT service the following year. Looking at the chart below, it becomes apparent that a primary driver of the tickets per capita downtrend since 2002 is the suite of OTT services now offered at home.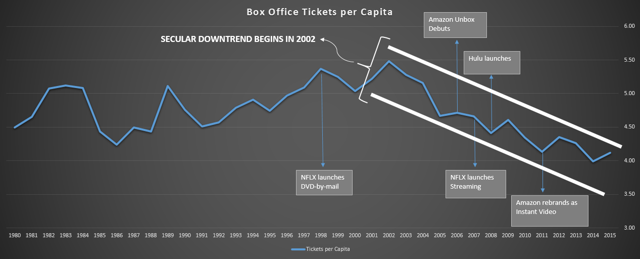 The logic here is straight forward. OTT services like NFLX give consumers access to a wide database of content, whereas previously home viewership was largely limited to the extent of one's own DVD library and whatever was airing on TV. With more convenient options and a wider array of media content available at-home, consumers clearly retreated from theaters as "movie night at home" became a more popular option. Since their launches, these OTT services have only upgraded and expanded their content libraries, hence the per capita declines persisting.
Box office sales, though, continue to grow. While this growth is partially being driven by an increase in movie frequency, it is primarily driven by price increases.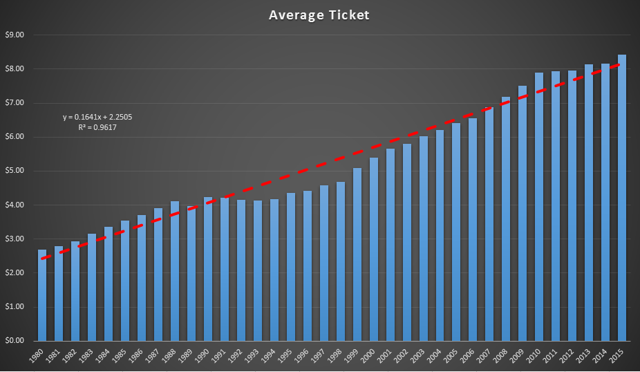 Enhanced viewing experience is currently justifying these price hikes. Over the past decade, theaters have transitioned their screens from entirely analog to mostly digital, including introducing 3D capability. Moreover, luxury add-ons such as IMAX and luxury reclined seating are allowing movie houses to keep hiking prices. As things have become more expensive at the theater, though, people continue to walk away at an accelerated rate. This research shows that beyond per capita and per movie tickets declining, per screen tickets have also declined over the past decade.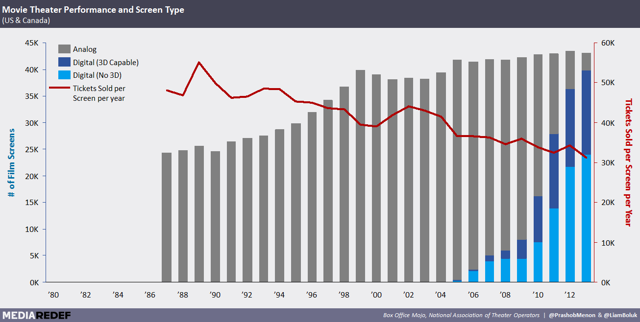 The big story here is that Americans are frequenting theaters less often than they used to (from 5.5x per year in 2002 to 4x last year), but that continued and substantial gains in ticket prices are driving overall growth in the market. These prices hikes coupled with the spread of more affordable and expansive at-home movie viewing options like NFLX and AMZN is causing both an increase in Americans who have never been to the movies (26% in 2002 to 32% in 2013) and a decrease in Americans who go to the movies 12x or more per year (28% in 2002 to 11% in 2013).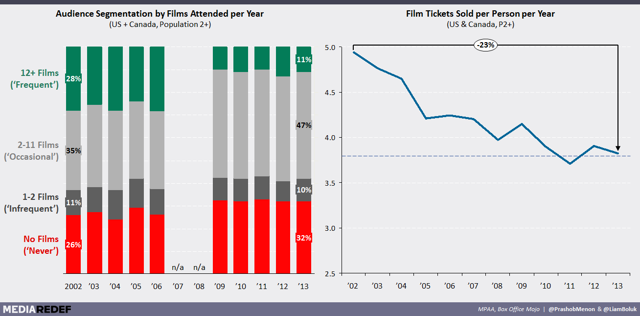 The Future Industry
Despite a 10+ year secular downtrend, we argue that the theater industry actually has a fairly bright future. Americans haven't given up on theaters. The crucial information in the above graphic is the fact that the percent of individuals who went to the movies 2-11x per year increased 12% from 2002 to 2013, making it the fastest growing segmentation by 2x. In other words, the majority of Americans are not trending towards abandoning theaters, but rather simply reducing frequency of visits.
We believe that as long as the theaters diversify their product offerings and make a more compelling value proposition to consumers, we could see a stabilization in per capita tickets accompanied by a strong growth in concessions sales. It is clear to us that this is exactly what movie theaters are doing.
These movie houses are sitting on extremely valuable yet dramatically under-utilized assets. Giant screens with large seating capacities and potent sound systems lend themselves to multiple uses. For one, a giant screen with large seating capacity and a potent sound system seems like an ideal place to watch a sporting event. Theaters could also be used for TV show premieres, concerts, and other special media events. After all, what makes theaters great for watching movies also makes them great for enjoying other content. Alternative content is a largely untapped growth opportunity for all movie theaters. Currently, RGC CEO Amy Miles comments that such alternative content is having a tough time competing with the traditional content, but we believe that as theaters transition to more of a social hub, such alternative content will be massively successful.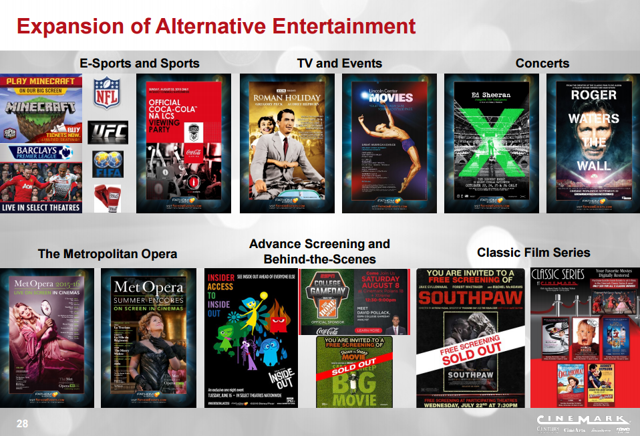 The social aspect is particularly under-utilized. Both CNK and RGC are addressing this by building-out dine-in-theater platforms. As they stand, movie houses are already natural social congregations. Building out these social congregations to include an enhanced dining experience is a natural evolution in creating a next-level thematic presentation to better compete with at-home entertainment options. More or less, this build-out consolidates and makes more convenient the "going out" process. Instead of stopping at multiple places, theaters can become the one-stop-shop for a night out. The Amazon of "going out" if you will.
This is one of the many significant synergies in concurrently building out alternative content offerings and an in-house dining experience. Theaters could transform into half-sports-bars on big game nights, with half of the theaters showing different sports games and the other half showing movies. In essence, we imagine theaters transforming into big "parties" with multiple content offerings.
In a separate market, we are currently seeing companies like Dave & Buster's (NASDAQ:PLAY) flourish because they are expanding from their original food-and-games footprint to become a more integrative dine-and-game experience. This concept of "theme dining" is a secular trend which we believe theaters can follow and capitalize on over the next several years. For reference, shares of PLAY are up almost 30% over the past year. We think RGC can follow suit.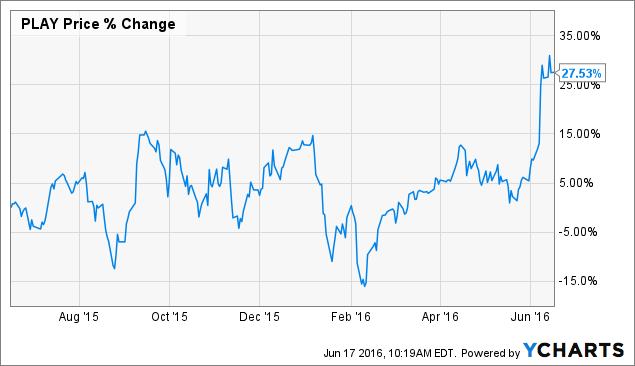 We Like RGC
In the landscape of RGC, AMC, and CNK, we prefer RGC. The reasons are as follows:
Scale
Free cash flow potential
More growth potential
Free membership
Firstly, RGC benefits from scale without high spend. RGC recently surrendered its position as the largest movie house operator in the US, but AMC (the new largest operator) is spending big dollars to acquire theaters and screens. With 567 theaters and 7,329 screens in 42 states, RGC has a large and geographically diverse asset base that is low-cost. The scale drives low operating costs, which will persist as the company grows its asset base, but more importantly, scale coupled with geographic diversity means RGC has a lot to benefit as theaters transition to being consolidated entertainment hubs.
Secondly, RGC generates a significant amount of free cash flow that is far superior to its peers. This derives largely from RGC having significantly lower capex than its peers. The company has been running around a $250 million annual free cash flow rate over the past 5 years, making the company significantly cheaper than its peers on a cash flow basis (15.5x versus 25+x at AMC and CNK). Moreover, we think that free cash flow number can and will head higher over the next 5 years behind strategic, high-growth initiatives.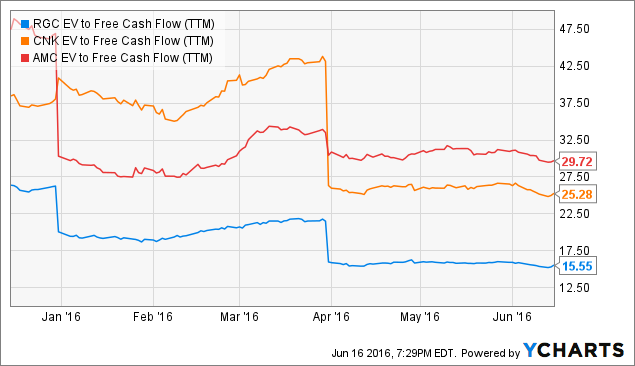 RGC EV to Free Cash Flow (NYSE:TTM) data by YCharts
Thirdly, RGC has more growth potential than its peers over the next several years. AMC has 150 IMAX screens on a total screen base of 5,380. That means rough 2.8% of the screen base is IMAX. By comparison, RGC has 90 IMAX and RPX screens on a total screen base of 7,329, implying 1.2% of the screen base is IMAX. Both companies are building out IMAX presence, and RGC simply has more room to grow.
This growth extends to luxury reclining seats. Roughly 79 sites and 872 screens currently operate with reclining seats at RGC. The company is planning for an additional 1,250 screens to have reclining seats in 2016 and 2017. Meanwhile, it seems AMC is actually struggling with its reclining seat program as management commented on the most recent CC that a byproduct of reclining seats is sometimes an empty auditorium. AMC looks to be having trouble upselling its reclining seats, while this isn't the case at RGC. As the thematic experience evolves over the next several years, this implies RGC again has more growth.
Lastly, as Americans visit the theater less often, RGC's free membership program will grow in appeal. As stated earlier, Americans are frequenting the theater 1.5x less per year than they were roughly a decade ago. Trends suggest this per capita decline will continue. As they do, it makes increasingly less sense for customers to purchase AMC Stubs.
Here's the math. AMC Stubs costs $12 per year. Customers get $10 in "points" for every $100 they spend at the theater. Americans visit theaters at a 4x per year and declining rate. Lets say the average AMC admissions ticket costs $14. That is $56 spent on admissions tickets for the average American. Throw in popcorn and a drink for each visit at ~$15 per visit, and the average American will spend $101 per year at the local AMC. That means the AMC Stubs will actually lose money for the average American ($10 in rewards and $12 in annual membership means net loss of $2 per year).
On the opposite side, Regal Crown Club is free. Customers get 100 points for every dollar spent on admissions and concessions. At an average ticket of $12, that means the average American will earn 4,800 points without buying any concessions. Throw in popcorn and drink at $15 per visit and that is another 6,000 points. Through Regal Crown Club, the average American will earn 10,800 Regal rewards points in a year. That is enough to get a free small drink and upsize your popcorn. In a theater industry with declining per capita visits, a free rewards card stands out as a much stronger value proposition. Moreover, Regal Crown Club rewards its more frequent movie-goers with more points per dollar, and this could incentivize more frequent visits.
For all of these reasons, we feel RGC is the best value play in this re-born market.
Projection
For the industry, we believe tickets per capita will stay in a secular downtrend over the next 10 years, but believe that: 1) the trend will slow and flatten around 3.5x visits per year, and 2) the trend will be "bucked" every 3-4 years thanks to a strong movie portfolio.
Addressing the first point, we do not think the appeal of theaters will ever disappear. While PVOD (premium video on demand) was once a threat to the industry, attempts at PVOD by studios have been rather infrequent and unsuccessful. The build-out of additional features should moreover sustain traffic at some carrying capacity level. We assign that value at 3.5 visits per American per year. Qualitatively, this implies to us 1 big Spring movie, 1 big Holiday movie, and 1-2 big Summer movies. We feel this is a very average movie-going schedule that will be sustained.
Addressing the second point, there have been four growth years since 2002 which have bucked the secular downtrend. In 2006, tickets per capita grew minimally behind a successful Pirates of the Caribbean movie. In 2009, we saw significant per capita growth thanks to Avatar's success at the box office. In 2012, the first Avengers movie caused per capita growth, and last year, the combined success of Star Wars, Jurassic World, and the second Avengers movie sparked Y/Y growth. Despite a slew of historically successful movies over the next 2 years, including two Star Wars movies, we do not see the next "growth" year until 2018. In 2018, we believe the combined success of a third Avengers movie, a second Avatar movie, a fourth Toy Story movie, and a second Jurassic World movie will be enough to drive higher per capita traffic to movie theaters despite increased OTT competition. To keep the trend consistent, we project another growth year in 2021 before tickets per capita approaches an asymptote around 3.5.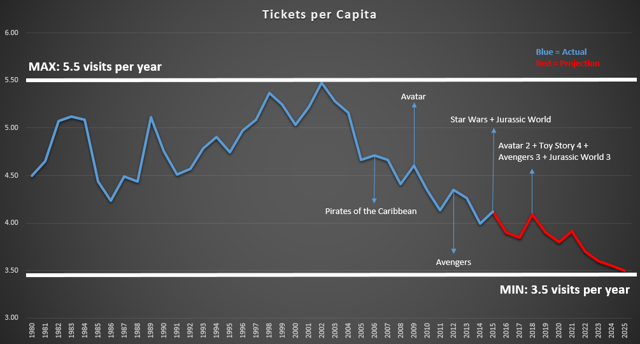 We model for ticket price hikes to persist, though at a pretty constant rate of 2-2.5% per year. A more luxurious thematic experience should allow for these price hikes, but we do not see this trend accelerating given falling tickets per capita.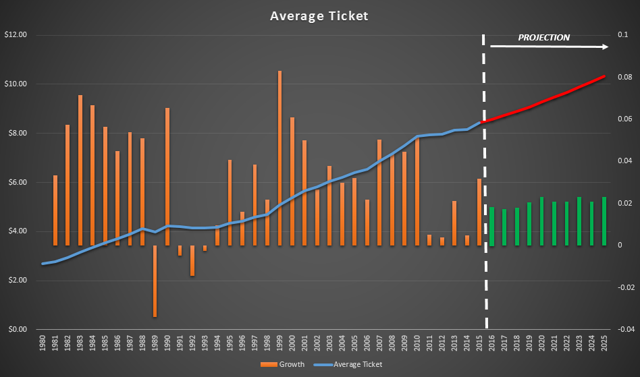 Overall, we think box office sales grow at a 1% CAGR into 2025, putting 2025 domestic box office sales at $12.8 billion. This represents slowed growth the 1980 to 2015 CAGR of 4%, and we think this is accurate to represent a slowdown in traffic from OTT encroachment.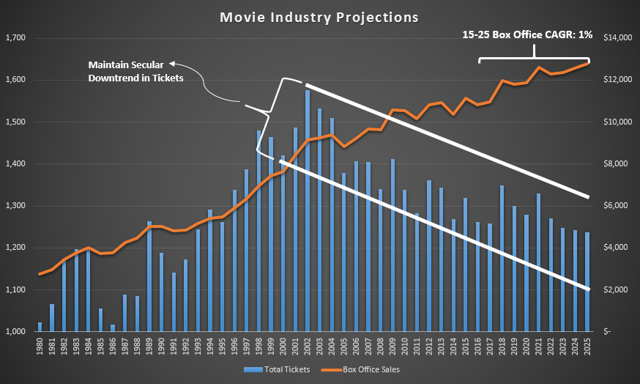 As it relates to RGC, we have discovered that RGC Admissions revenue is usually between 18% and 20% of total domestic box office sales. For consistency purposes, we hold this market share ratio at 18% to calculate RGC Admissions revenue over the next 10 years. We do not forecast any reason why this market share would go lower. The theater industry is becoming increasingly competitive with ArcLight and other luxury-brand theaters entering the market, and we account for this by taking the low-end of market share range over the past 8 years. Beyond this, we do not see RGC losing market share as it builds out its platform.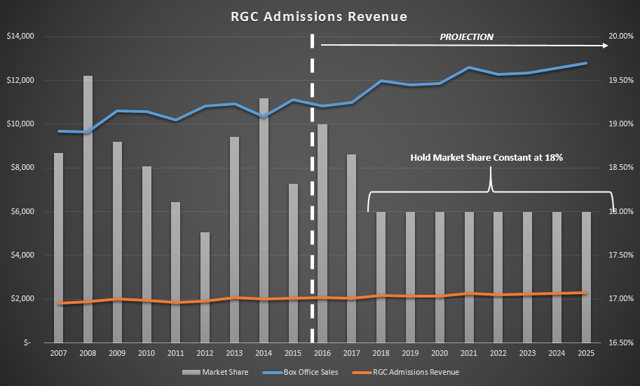 Moreover, we have discovered that in 2007, for every dollar Americans spent on an admissions ticket to an RGC theater, they spent $0.41 on concessions. That relationship grew to $0.44 spent on concessions for every dollar spent on admissions in 2015. The company is now offering an enhanced food menu in 191 locations and plans to extend the offering to 240 locations by the end of this year. The company is also offering alcohol is 116 locations, and plans to up that count to 175 locations by year end. This is all part of RGC driving traffic through expanding offerings and making the theater a more comprehensive social destination rather than a strict movie-watching destination. As this transition occurs, concessions revenue growth should outpace admissions revenue growth. Concessions have grown at a 3% CAGR over the past 8 years, and we think the company can up that CAGR to 4% over the next 10 years as enhanced food and beverage offerings roll out in all locations.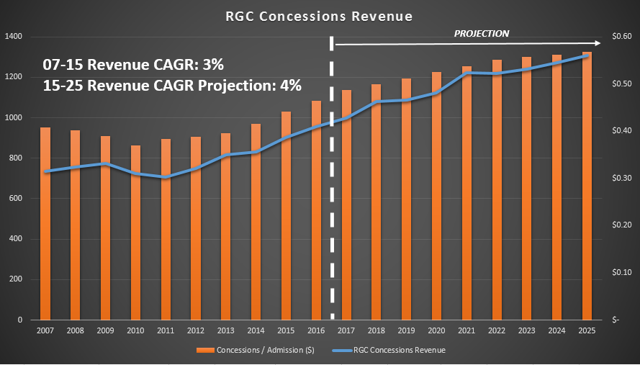 Revenue scale and increased concessions sales are driving margin expansion. The enhanced food and beverage program is incremental to adjusted EBITDA margin. This is because RGC nets a gross profit margin in the upper 80% range for its concessions (87% MRFY, taking concessions revenue less cost of concessions) versus a gross profit margin of below 50% for admissions revenue (46% MRFY, taking admissions revenue less film costs). A higher mix of revenue from concessions should ensure long-term margin expansion. We see roughly 300 basis points of operating margin expansion over the next several years and model for LT operating margins at 13% (vs 10.2% MRFY).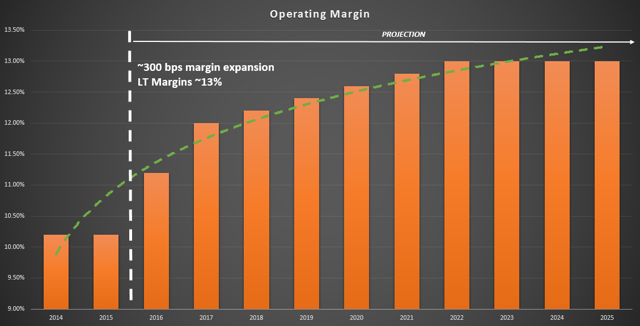 Putting it all together, we think RGC's growth prospects are LSD on the topline and MSD on the bottom-line. We see a 2% revenue CAGR and a 5% EPS CAGR into 2025 driven by margin expansion. Our earnings growth forecast is logarithmic, representing the mix of concessions and admissions revenue finding a sales equilibrium at some point in the future. Our Fy16E EPS of $1.09 is two cents higher than the consensus estimate, while our Fy17E EPS of $1.18 is five cents short of the consensus estimate (our revenue forecast for Fy17 is also short of the consensus estimate).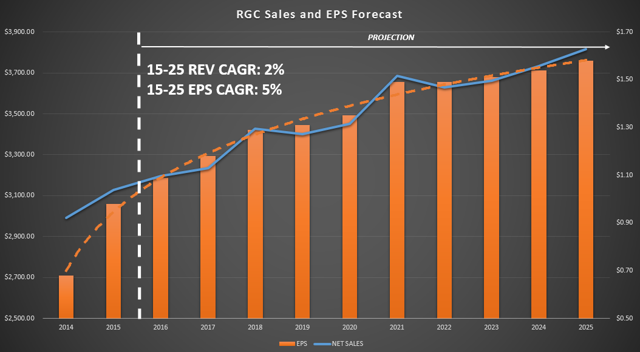 Our full model all the way to unlevered free cash flow can be seen below.

Fair Value
In order to quantify our thesis, we have plugged our projected unlevered free cash flows into a DCF with an 8.4% WACC discount rate and a low-growth 1% perpetuity rate. We arrive at a fair value of roughly $30 per share, representing 50% upside from the current market value.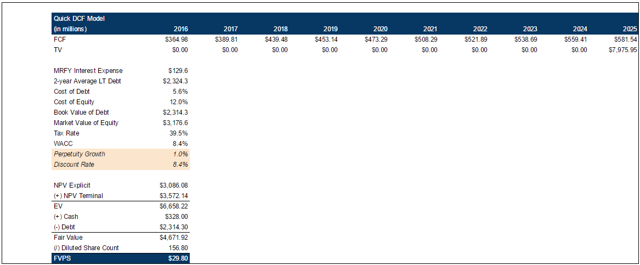 Disclosure: I/we have no positions in any stocks mentioned, but may initiate a long position in RGC over the next 72 hours.
I wrote this article myself, and it expresses my own opinions. I am not receiving compensation for it (other than from Seeking Alpha). I have no business relationship with any company whose stock is mentioned in this article.