3D printing companies have transformed manufacturing operations across several industries. A company today and create a design and create a prototype with the push of a button for as little as a few hundred dollars per design. The end result allows companies to evaluate, test, and tweak product designs in a matter of weeks versus what could have taken them months just to receive an initial prototype prior to the advent of 3D printers.
3D Systems Corp (NYSE:DDD) is the largest 3D printing company boasting a market cap of $1.45B followed by Stratasys (NASDAQ:SSYS) with a market cap of $1.15B. In December 2013 at the top of the 3D printer hype cycles 3D Systems and Stratasys were boasting market caps between $6B and $10B. The two largest 3D printing stocks saw their stock prices decline for two years straight before finally bottom out in January 2016.
Another sign that the 3D printer market has bottom was the announcement from HP Inc. (NYSE:HPQ) in May 2016 that the company was entering the 3D printing industry. HP similar to 3D Systems and Stratasys competes in helping manufacturers streamline new products from design, prototyping through the manufacturing process.
Beneath the rubble that was left behind after the 3D printer hype bubble burst is a relatively unknown 3D printing company called Nano Dimension (NASDAQ:NNDM). Barron's featured an article on Nano Dimension on March 14th, suggesting that the stock may double to $12 per share on the backs of a successful 3-D commercial printer rollout.
Nano Dimension unlike the massive 3D printer companies I mentioned above is bringing 3D printing to a much smaller scale. Nano Dimension's primary focus is on Printed Circuit Boards ((PCBs)) as well as 3D printer complimentary nanotechnology-based conductive and dielectric inks.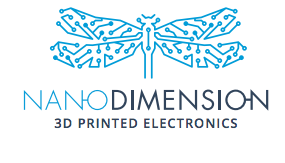 Nano Dimension Ltd. (NNDM), founded in 2012, is focused on the research and development of advanced 3D printed electronics, including a 3D printer for multilayer printed circuit boards, and the development of nanotechnology-based conductive and dielectric inks, which are complementary products for 3D printers.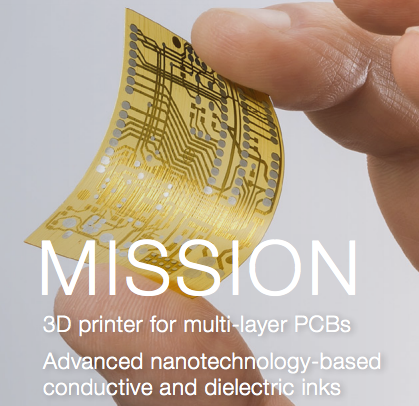 Image source: Nano Dimension website.
Nano Dimension's novel and proprietary technologies enable the use of conductive and dielectric inks for ultra-rapid prototyping of complex, high-performance multilayer circuit boards. The company's PCB 3D printer is the result of combining advanced breakthroughs in inkjet technology, 3D printing and nanotechnology.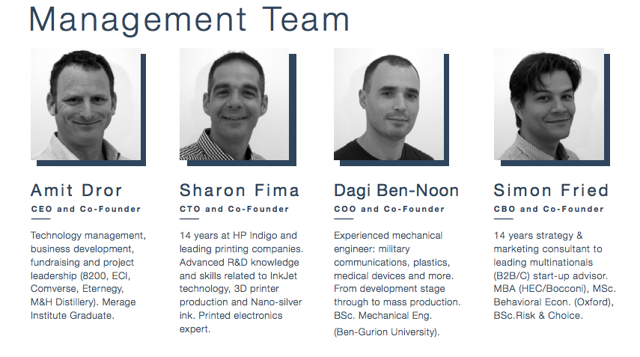 Source: Nano Dimension May 2016 investor presentation.
Nano Dimension's management team consists of four co-founders (CEO, CTO, COO, and CBO) whose strengths include years of 3D printer production, print technology, consumer goods and business development.
Nano Dimension: Targeting Printed Circuit Board Across All Industries
As many of my Seeking Alpha followers know, I have an affinity for microcap stocks. The challenge with microcaps is that often the capital structure — in terms of shares outstanding, warrants, and convertible debt — make it very difficult to invest in these companies.
Nano Dimension uplisted to the Nasdaq in March 2016 and currently has zero debt. The company has 14 patents related to conductive inks, system, printing process, software and materials. Total funding to date totals $19m and $7.6m of cash remains as of March 31. Nano Dimension burned $1.2m of cash in during the first quarter of 2016. Assuming the current burn rate remains flat absent of revenue NNDM has enough working capital to fund operations for the next 12 months.
The Nasdaq-listed shares are an ADR; after a 1:5 share conversion, the total shares outstanding are 7.6 million. The current share float is approximately $3.7m; with a share price hovering around $7, the market cap equals $54m.
Nano Dimension is a late-stage research and development company. Such companies have no reportable revenue and need access to capital to fund operations. The good news for Nano Dimension is that the company has a good balance sheet, strong interest in the company's 3D printer, and is uniquely positioned to capture immediate market share in the 3D printing nanotechnology space.
Nano Dimension aims to provide 3D printers to technology companies and manufacturing across several extensive industries. Any company that sells an electronic device that features a circuit board or manufacturers them other companies is a potential Nano Dimension customer. The potential customer base spans across consumer electronics, IoT, Automotive & Industrial, Telecom, Medical Devices, Defense as well as Aviation and Aerospace.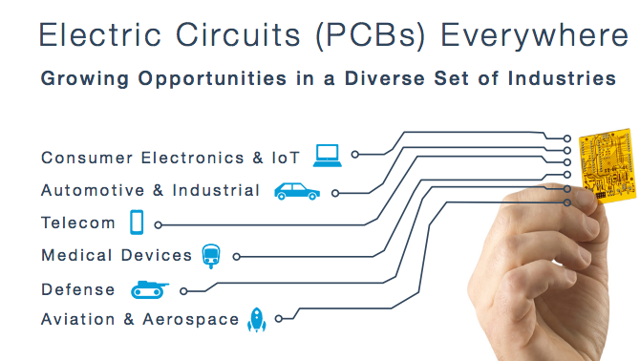 Image source: Nano Dimension May 2016 investor presentation.
According to Nano Dimension's May 2016 investor presentation, the company expects to begin booking revenue in the second half of 2016 related to the company's DragonFly 2020 3D Printer. The company has lined up manufacturing and distribution partners Flex and Fathom over the first half of 2016.
The market response to Nano Dimensions' technology suite has been very positive. The company has over 2,000 entities that have expressed interest in their 3D printer. The company has over 30 NDAs signed to facilitate collaboration and evaluation.


Image source: Nano Dimension May 2016 investor presentation.
Just a few weeks ago Nano Dimension announced that the company has successfully lab-tested a proof of concept 3D BioPrinter for stem cells. The trial was conducted in collaboration with Accellta Ltd., a company headquartered in Haifa Israel. Although, stem cells are not an immediate addressable market the announcement validates that Nano Dimension has some cutting edge 3D printing technology and IP.
My Final Thoughts
Nano Dimension is targeting an unserved market opportunity in printed circuit boards. The company is uniquely positioned in terms of its 3D printing product and IP that has drawn interest from more than 30 companies that are currently collaborating and evaluating the technology. 3D printing giants including 3D Systems and technology giant HP are competing against each other to create prototypes for manufacturers, and are not competing with Nano Dimension today.
Nano Dimension's current cash balance is sufficient to fund operations for the next 12 months, assuming the cash burn remains consistent at $1.2m per quarter with no revenue. If Nano Dimension successfully commercializes its 3D printed circuit board, printer revenue — and the company's fundamentals — could improve dramatically. As we near H2, this is one company investors should add to their watch lists or buy for their speculative portfolios.
Nano Dimension is a Nasdaq-listed company; however, the company's shares are thinly traded because the company is relatively unknown. Any investor looking to take a position may experience difficulty executing buy and sell orders at satisfactory or expected prices.
Disclosure: I/we have no positions in any stocks mentioned, and no plans to initiate any positions within the next 72 hours.
I wrote this article myself, and it expresses my own opinions. I am not receiving compensation for it (other than from Seeking Alpha). I have no business relationship with any company whose stock is mentioned in this article.
Additional disclosure: I currently do not own any shares of Nano Dimensions, however I have added the company to my active watch list. I may take a position in NNDM in the future and I will be closely following the company's efforts to commercialize its 3D printing technology over the second half of 2016.