Lear Corp. (NYSE:LEA) is one of those companies that is involved with a relatively boring industry. The car seats and electrical car circuit systems they build are nowhere near as exciting or speculative as the technological innovations and high-flying dreams attributed to companies with exorbitantly high expectations, such as Tesla or Amazon. They are no-nonsense. They mind their own business, and aren't scoped on by those who tend to pump up growth stocks to the point where it is priced far beyond perfection. They simply do their job and focus their efforts mostly on their simple product line.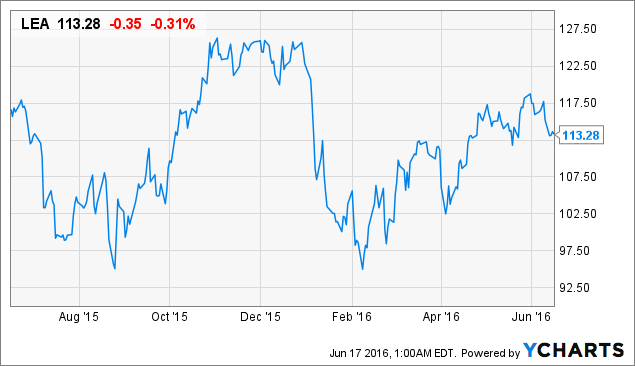 But they also do their job very well. And as someone who especially appreciates the concept of "growth at a reasonable price" to pick investment opportunities, this stock isn't boring at all.
The first thing to do is substantiate the aforementioned claim that they do their job "very well". How can that be true?
Their seats are used in a ubiquitous fashion. Every major automaker carries them. Its largest customers include BMW, Ford, and General Motors, Fiat, and Volkswagen. And currently, the sales of their seats to these vendors is growing faster than the growth rate of what the global automobile can even produce. The same can be said for the growth rate in sales of their automobile circuitry division as well.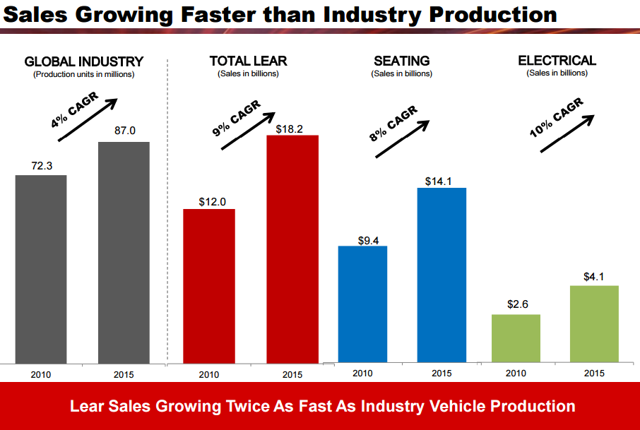 Data acquired from Lear Investor Presentation
Now, this is important as what this means is that unless a significant amount of these automobile producers are for some reason purchasing an unprecedented amount of Lear products in order to hold as dead inventory for the year, Lear is outpacing their competitors and taking market share away from them.
Currently, they stand at around a 22% market share of the automobile seat market, which healthily places them at being one of the leaders in the space.
In addition, they have been steadily growing their net earnings and sales. The coming year is projected to be the company's 7th consecutive year of higher sales and earnings. They have also been steadily increasing their dividend payouts since 2012 and recently have increased their share repurchase authorization to $1 billion, further indicating that this shows the consistency required for a feasible GARP pick.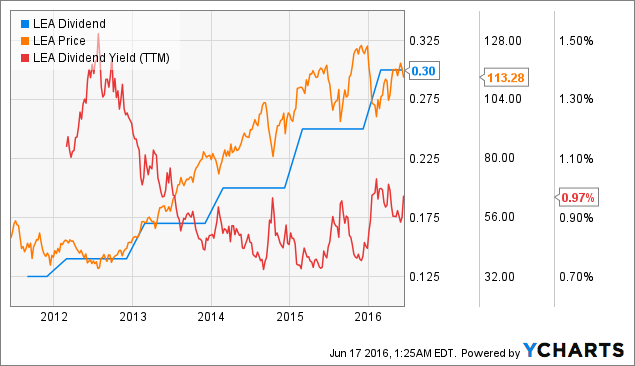 But where the true magic lies is in its current valuation and metrics. Currently, the company stands with an objectively low P/E ratio and PEG ratio. Because the company is earning money, the P/S ratio isn't as relevant for its valuation as the other metrics above, but that is still quite low as well.
| | | | |
| --- | --- | --- | --- |
| PE (NYSE:TTM) | Fwd PE (next fiscal yr) | PEG | P/S |
| 10.27x | 8.13x | 0.65x | 0.47x |
Data acquired from SunGard on 6/17/16
A mere 10.27x PE and 8.13x Fwd PE, along with a 0.65x PEG effectively deems this company undervalued by a growth standpoint. When considering that they have had 27.78% EPS Growth for the trailing twelve months, as well as a 49% increase in EPS from the prior year in their most recent quarterly report, to make the case that this company should be fairly valued at a PEG below one seems ludicrous.
Data suggests that the management effectiveness of the company is superior to its industry as well.
| | | | |
| --- | --- | --- | --- |
| | Return on Equity | Return on Assets | Return on Investment |
| LEA | 28.95% | 8.67% | 15.34% |
| Industry Average | 15.58% | 5.33% | 7.69% |
Data acquired from SunGard on 6/17/16
This indicates they are among the company is among the best at managing their owner's equity and at managing their resources compared to other companies in their own industry of specialized auto components.
One of the few gripes I have with their balance sheet is their 0.64x Debt to Equity ratio and their 0.63x LT Debt to Equity ratio, but that shouldn't be a significant cripple due to the underlying nature of their business model and the favorable macroeconomic conditions recently.
This is because they are not a retailer of auto parts, selling an optional product to the general consumer populace. That would constitute a far more volatile business model and having the level of the debt that they do now would be ill-advised. They are contractually bound to other automakers to build necessities that cars need: Chairs and circuitry.
Their sales are heavily correlated with the underlying sales of the global automobile industry. This is significant, as if their main buyers were American automakers, one should be far more skeptical to invest; but because they supply to manufacturers around the world, there is better diversification in that their sales are tied to demand globally and are not significantly affected by competitive relationships between manufacturers of different countries.
Also, the average age of cars in the United States is growing steadily. People have been owning them for longer periods of time.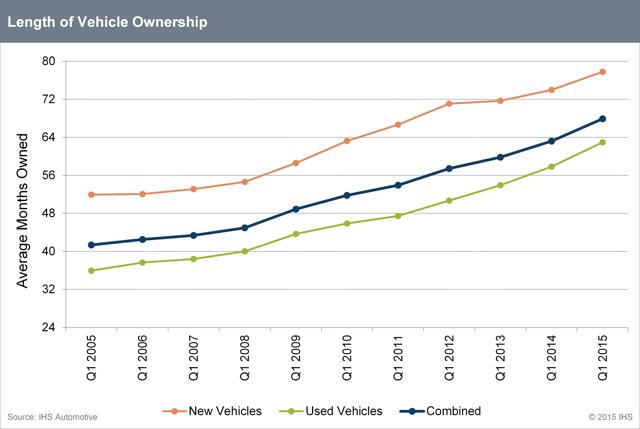 Data acquired from IHS Automotive
Now, it can't be denied that some this can be attributed to increasing reliability and durability of automobiles, but when knowing that "for the five to six years following the recession, [...] average age increased about five times its traditional rate, which [is] attribute[d] to the nearly 40 percent drop in new vehicle sales in 2008-2009", it would be a very reasonable prediction to make that during the next five years, as consumer confidence is also reaching pre-2009 levels, vehicle sales will be bolstered by the accumulated age of the cars currently in circulation, and the increasing desire to replace them.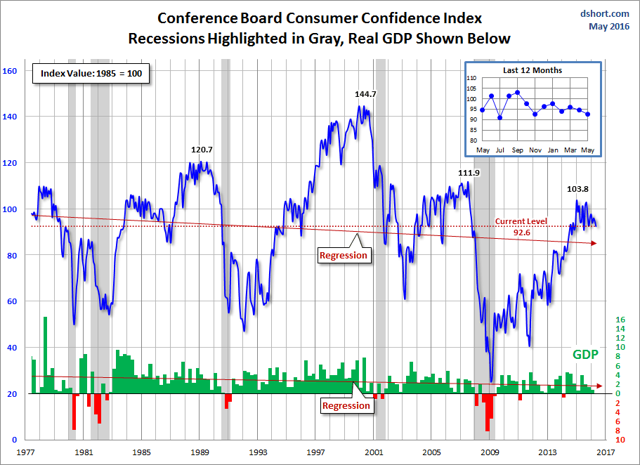 Data acquired from advisorperspectives on 6/17/16
This will eventually translate into further increased sales for Lear, as well as increased earnings.
Lastly, some of the most significant projected growth in automobile sales will be in Emerging markets.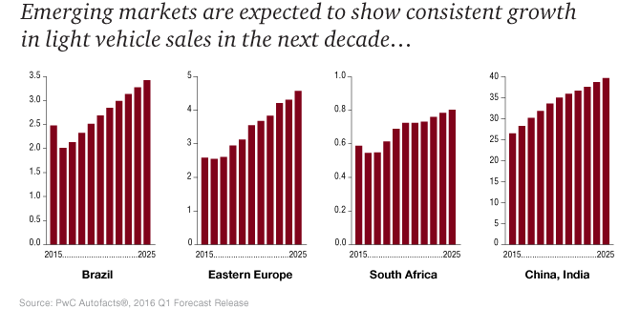 Data acquired from PwC
Lear is positioning itself well to take advantage of these projections. They already have significant exposure to these markets through their current distribution channels, as well as over 240 locations in 36 countries, many of which are in the emerging markets above. Again, as long as the total aggregate amount of auto sales rises over time, their total revenue and sales should rise as well given they maintain their current market share (which is seen to be the case and more recently).
Overall, as a GARP pick Lear provides an unprecedented amount of value. It has a sustainable and consistent growth rate, is valued at a relative bargain, is increasing dividend payouts and share buybacks, and is well poised to continue that same growth in the future given current economic conditions.
Disclosure: I/we have no positions in any stocks mentioned, and no plans to initiate any positions within the next 72 hours.
I wrote this article myself, and it expresses my own opinions. I am not receiving compensation for it (other than from Seeking Alpha). I have no business relationship with any company whose stock is mentioned in this article.