The core message of CEO Ben van Beurden was very clear at the Capital Markets Day: Shell( RDS.A) (RDS.B) is run in the interest of the owners -- that is, shareholders:
"Let me be very clear what we really want from Shell. When you go back to its first 90 years we were the industry leader on shareholder return. I am determined to get us back to the number one position."
CEO Van Beurden announced additional and accelerating BG synergies ($4.5 billion, up 80 percent from the first guidance when the acquisition was announced in April 2015), further capital spending reductions and (even) more operating cost cuts, while he kept emphasizing the importance of a strong cash flow and higher returns on capital.
Investors were clearly impressed. The shares of the oil giant moved almost 4 percent higher on the day of the Capital Markets update.
Although I have confidence in the ability of the management board, I believe Shell -- even after all the planned restructurings -- will remain a very capital intensive commodity business with financial results that are dependent on the price of oil and gas. Whether it is in the Upstream, Downstream or Integrated Gas division, I see very few activities with a (wide) economic moat.
In my opinion this is also reflected in the still relatively poor long-term Return on Capital Employed target (the period 2019-2021) of 10 percent (see page 67 of the Capital Markets Presentation. In 2015 the ROCE was a mere 1.9 percent.
I am convinced, at the right price, however, the shares of Shell will be a great investment. The mammoth projects in for instance Brazil, the Mexican Gulf and Australia might have relatively low returns on capital, but they will kick out a lot of (predictable) cash flows. Those cash flows will be the foundation of the "iconic" dividend of the company.
In this article, I will try to find out how sustainable the current juicy 7.6 percent dividend yield is in a wide range of oil price scenarios.
The dividend in 2016
The cash flow statement is by far the most important of the three financial statements in the annual report to assess the sustainability of the company's current dividend policy.
The table below provides the most important elements of the combined Shell and BG Group cash flow statements in 2014 and 2015.
For 2016, this year, I estimate the results using the 2015 results and information that was provided by the management during the Capital Markets Day that was held on June 7, i.e., the sensitivity of cash flows to the oil price and operating costs and capital reduction numbers and the expected proceeds from asset sales.
The biggest known unknown is of course the oil price. I will use the average oil price until today (the middle of June), which is $40.11 per barrel, according to my Bloomberg screen. This is much lower than the current price of $48.30, but much higher than the ultimate low on January 20 this year of $27.88.
During the Capital Markets Day, CFO Simon Henry stated that a $10 move annually on the oil price can drive the cash flow up or down by $5 billion. Let's have a closer look at the estimated results for 2016.
Table 1: Shell needs to go to the bank to pay dividends in 2016
| | | | | | |
| --- | --- | --- | --- | --- | --- |
| # | Year | 2014 | 2015 | 2016 | Remarks: |
| 1 | Average oil price | 99.4 | 53.6 | 40.1 | Daily average price according to Bloomberg |
| 2 | Operating cash flow | 52.4 | 34.1 | 27.4 | Shell estimates each $10 bln oil movement has $5 bln impact on CF |
| 3 | New cost savings (after tax 25%) | | | 5.0 | Shell expects about $6.7 bln cost reductions in FY 2016 (25% tax) |
| 4 | Net cash OCF (2 minus 3) | | | 32.4 | |
| 5 | Investments | 47.0 | 37.0 | 29.0 | See Capital Markets Day presentation page 34 |
| 6 | Free cash flow (4 minus 5) | 5.4 | -2.9 | 3.4 | |
| 7 | Net interest paid | 2.0 | 2.3 | 1.6 | 70 billion net debt times 3% x (1- 25% tax) |
| 8 | Dividend payments | 10.5 | 10.4 | 12.0 | Statement of CFO during Capital Markets Day presentation |
| 9 | Share buybacks | 3.3 | 0.4 | 0.0 | Buybacks set at zero |
| # | Total obligations (7+8+9) | 15.8 | 13.1 | 13.6 | |
| # | Dividend surplus (deficit) | -3.6 | -16.0 | -10.2 | Cash that is needed to fund the dividend |
| # | Proceeds from assets sales | 10.7 | 9.9 | 7.0 | Shell expects to sell $6-$8 billion of assets in 2016 |
| # | Net borrowings (to cover dividends) | 5.2 | 15.5 | 3.2 | Shell needs to borrow 3.2 billion to cover the dividend |
* source: Annual reports of Shell and the BG Group Capital Markets Day presentation (see full webcast here).
The numbers speak for themselves. In the past two years Shell's free cash flows -- the operating cash flow minus investments -- did not cover the payments to the providers of capital -- interest payments, share buybacks and most important in terms size dividends.
If the average oil price is $40.11 (average price year to date), I expect CEO Ben Van Beurden and CFO Simon Henry face a dividend deficit again in 2016, albeit lower than last year due to huge cost reductions and lower investments. The expected combined opex on capex savings of $13 billion are significantly higher than the reduction in operating cash flow as a result of the lower oil price ($6.7 billion).
The dividend shortfall, however, is manageable as Shell estimates asset divestitures of $6 billion to $8 billion this year. If you take the midpoint of this range ($7 billion), Shell must borrow about $3 billion to cover the dividend.
Although the balance sheet weakened significantly in the first quarter of this year due to the BG acquisition, I believe this situation will be manageable. CFO Simon Henry: "Gearing is currently in the mid-20%s. It was 26% at the end of the first quarter, and it is likely to go up before it comes back down again" (emphasis added by author). Shell repeated the gearing target between zero to 30 percent. At the high end of the range, 30 percent, Shell could still borrow about $20 billion.
Just to give you an idea of Shell's sensitivity to the oil price, if I pencil in the average oil price that is expected by analysts of $47.4 for 2016 (Bloomberg consensus) instead of $40.11, the expected proceeds of assets sales will be sufficient to cover the dividend. If this scenario plays out Shell does not have to borrow a penny. Please make your own oil price assumption to estimate the impact on dividend shortfall/surplus using this spreadsheet.
To sum things up, I believe Shell will deliver on the promise to pay out the next three quarterly dividend payments of $0.47 per share.
However, Shell management leaves investors in the dark when it comes down to the dividend in 2017 and thereafter.
What is the likelihood of a dividend cut in 2017? Let's stress test Shell's dividend in a range of oil price scenarios, from as low as $20 (a level last seen in the late '90s) to as high as $140 (this record high was set in July 2008).
Scenario analysis
CEO Van Beurden means serious business. The Dutchman stated he could reduce spending even further in the coming months if the oil price sinks lower.
Annual investment spending is expected to be $25 billion-$30 billion per annum for the period 2017-2020, though management said it could be lower if required (for my model I pencil in the midpoint, $27.5 billion) and in terms of operating costs, CFO Simon Henry stated there "is clearly remaining potential for multi-billion per year cost reductions as we go forward" (since I want to be conservative I use the 2016 operating cost level for the year 2017 in my model).
In the chart below the dividend gap or surplus -- in short the FREE cash flow minus the payments to providers of capital (interest and dividends) -- under a wide range of oil price scenario's is presented. For the number crunchers, please have a look at the underlying assumptions in this spreadsheet.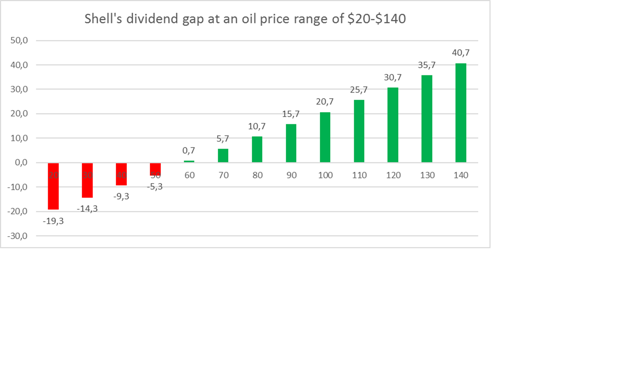 *Figures in billion $
According to my model Shell needs an oil price of $58.5 to generate enough cash flow to cover the dividend. But due the asset disposal program and the capacity to borrow, the oil price could be much lower without the need to cut dividends.
Barring extreme circumstances -- say an oil price that is significantly below $30 a barrel -- I believe Shell can sustain the annual dividend payment of the last two years of $1,88 per share in 2017.
Shell expects to divest $30 billion of assets in the period 2016-2018. Given the asset sale proceeds projection of $6 billion to $8 billion for this year, it seems fair to pencil in sale proceeds of $11 billion to $12 billion in 2017 and 2018. Also note that Shell could borrow another $20 billion to pay dividends.
At $40 oil or higher, the proceeds of asset sales will be sufficient to cover the dividend. At $30 oil Shell needs to borrow a few billion to cover the dividends. In an extreme scenario with an average oil price of $20 in 2017, the outcome is simple: Shell could not afford to pay the dividend.
Of course, despite the previously communicated option of additional cost reductions initiatives, I believe Shell will be in real trouble if the oil price stays below $40 for a very long time.
Still upside
The current market capitalization of Shell is $196 billion. In a world that is full of overvalued financial assets, I believe the shares of the oil giant are priced attractively.
The median Market Cap/Operating Cash Flow-ratio of Shell was 6.2 in the past 10 years, according to Bloomberg. In the chart below I have used this multiple to estimate the value of Shell at different levels of the oil price (see this spreadsheet for my calculations).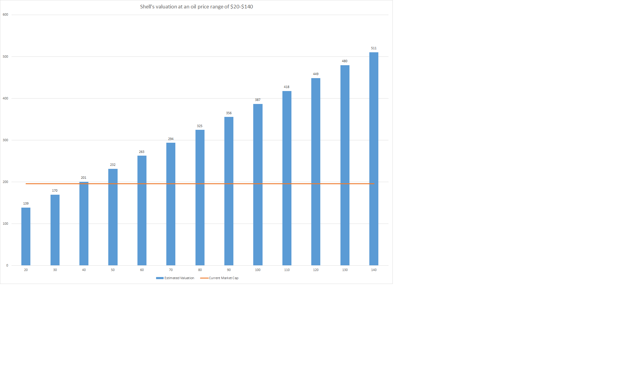 Figures in billions $. Shell's value is estimated using an P/CF-ratio of 6.2
Shell's current market capitalization is $196 billion. I calculate an operating cash flow of $39.3 billion at an average oil price level of about $55 in 2017 (Bloomberg analysts' consensus), which gives an estimated valuation of $247 billion at a multiple of 6.2.
In my opinion, investors who believe in an oil price that is $50 or higher in the next couple of years, could easily expect double-digit returns, even without taking into account the yummy 7.6 percent dividend yield.
In an extremely rosy scenario where the oil price moves back to $120 (this price was last seen in 2012), the market value could be as high as $450 billion. I like to point out this is much higher than the previous all-time high of $281 billion (market capitalization in October 29 2007), because the company is much leaner as a consequence of all the drastic measures that are taken now.
Three things to keep an eye on
Every investment case has its flaws. In the final section of this article, I briefly discuss three things investors should closely monitor in the next quarters.
Sensitivity analysis
A fundamental pillar of my investment thesis is the relationship between the oil price and cash flows.
CFO Henry during the Capital Markets presentation "… A $10 move annually on the oil price can drive the cash flow up or down by $5 billion. That sensitivity should and probably will increase over time, very strong leverage" (Emphasis added by author).
Due to the huge operating leverage -- that is, high fixed costs -- swings in the oil price have a strong impact on the cash flows and profits. A higher sensitivity than $5 billion is great news for oil bulls as the actual cash flows could be (much) higher than the model in this article predicts.
However, when the oil price falls the opposite is the case. I will keep a close eye on updates on the sensitivity figure in the coming quarterly results presentations.
Not all dividend is in CASH
Shell's total dividend will be $15 billion in 2016 -- or 8.02 billion shares times $1.88 dividend per share. CFO Henry, however, estimated that the CASH outflow which is related to the dividend will be "only" $12 billion in 2016 ( Source). This implies $3 billion of the dividend will be paid out in shares -- 20 percent of the total dividend is paid in stock ("scrip dividend").
At a market capitalization of $196 billion, this entails the number of shares will increase with about 1.5 percent every year as long as the scrip dividend is in place. It only takes a glimpse at the Bloomberg chart below to see the huge dilution as a consequence of the scrip dividend in the past seven years and the BG acquisition. The number of shares outstanding increased by 22 percent despite buybacks of more than $10 billion in the same period. I like to point out the total CASH outflow related to dividends will grow linearly with the increase in shares outstanding (if the scrip-to-cash-dividend stays constant at 4-to-1).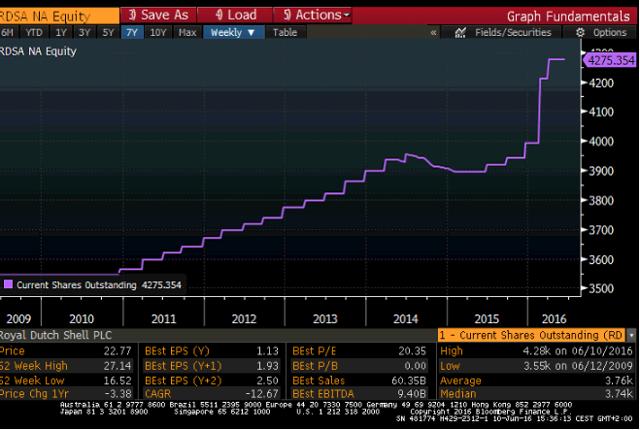 Massive buybacks not realistic in low oil environment
Given the dilution effect in the long run it did not surprise me that CFO Simon Henry stated that he wanted to turn of the scrip dividend first before he starts the previously communicated buyback program of "at least $25 billion in the period 2017-2020." CFO Henry stated both actions are "subject to debt reduction and some recovery in oil prices" (emphasis added by author).
In my opinion this massive share buyback program is only realistic at an oil price in excess of $60, if Shell does not want a gearing ratio that is higher than 30 percent.
Disclosure: I am/we are long RDS.A.
I wrote this article myself, and it expresses my own opinions. I am not receiving compensation for it (other than from Seeking Alpha). I have no business relationship with any company whose stock is mentioned in this article.