By Parke Shall
We're on the record as saying that Lumber Liquidators (NYSE:LL) could potentially be a zero. Our last article detailed the company's terrible financial performance since it was profiled on 60 Minutes last year. While the company continues to make progress on the legal front, customers have not returned to its stores. There may now be some more resolution to the Chinese made laminate scandal, and the removal of even more legal liability may make LL worth a potential look to acquirers moving forward.
One thing is for sure, if the company doesn't get customers back into its stores, it's going to continue to have major issues on the financial front moving forward. These issues may even result in equity raises, if the company can't find its customers or a strategic partner moving forward. Yesterday, the company scored a relatively big victory for itself.
News broke last night that Lumber Liquidators had settled all of its outstanding legal liabilities with relation to the Chinese made laminate scandal that hit 60 Minutes last year and drove the stock from triple digits to low double digits.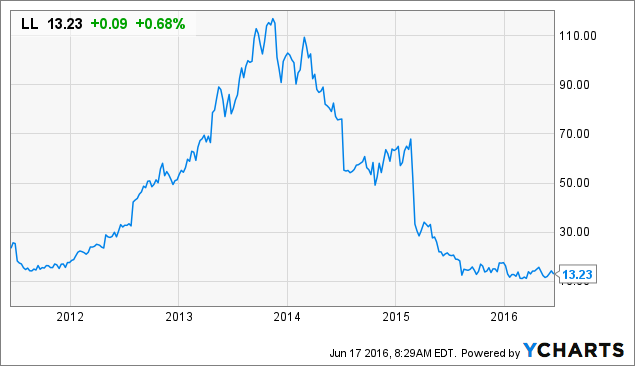 LL data by YCharts
CNBC reported last night that the U.S. Consumer Product Safety Commission came to an agreement with the company wherein they will no longer sell the remaining inventory of Chinese made laminate flooring they have,
Lumber Liquidators has struggled to convince customers that its flooring is safe after hedge fund manager Whitney Tilson told CBS' "60 Minutes" about the levels of formaldehyde in the company's Chinese-made flooring that didn't comply with California's health and safety standards. Tilson covered his short in December, after explaining that he received information that the company may not have known it was selling laminate with elevated levels of formaldehyde.

The company has previously said it hasn't sold its Chinese-sourced laminate since May of last year and that it has taken "meaningful steps" to boost compliance and reestablish trust. The CPSC said Thursday that the company won't be able to sell, dispose or transfer the inventory in the future without the commission's approval.

The settlement with CPSC removes another big headache for the company and comes a month after it reached a potential settlement to resolve a securities class action lawsuit brought by shareholders, Reuters reported.
Obviously, this is good news for the company. Divesting of these potentially harmful liabilities is a giant positive for the company. The fact that no product recall had to be issued was also an enormous positive for the company.
This news comes after several regulatory rulings that were mistaken for the final and most important ruling, which this one was.
Wedbush securities came out this morning and said to continue to be cautious with the company, as it still has some legal exposure,
However, Basham also cautioned that although the removal of this overhand was a positive, "and the business is showing signs of underlying improvement, significant risk still exists in outstanding litigation, most importantly the Multi District Litigation (MDL) class action products liability lawsuit.

Basham believes that of all the legal matters that are still outstanding, the MDL class action liability lawsuit was the largest potential risk for Lumber Liquidators.

"One key issue, in our view, is whether LL's labeling of products as "CARB Phase 2 Compliant" when they may not have been grounds for a claim. If a claim is awarded, it could be significant depending on how it is constructed and how the case is settled," the analyst explained
While we agree with Wedbush that the company may see a heightened level of legal exposure than other retail flooring companies, we also believe the opportunity exists for a buyer to come in and buy the company now that it's legal liabilities are mostly behind it. We see this as the main caveat to our short thesis which we detailed after last quarter's earnings. The financials are still on a long road to recovery, but removal of more liability from the company makes it that much more interesting for a potential distressed play.
In retail, we are now seeing a trend of "neighborhood discount stores" like with Nordstrom (NYSE:JWN) and with Wal-Mart (NYSE:WMT) neighborhood stores. We believe that a company like Home Depot (NYSE:HD) or Lowe's (NYSE:LOW) could be very well served to come in and buy LL's locations, converting its stores to custom flooring outlets or discount retail outlets that will be geographically positioned, strategically in between larger stores.
Let's take a look at the valuation. On an earnings basis, the company continues to look ugly. Estimates are for $0.10 and $1 billion revenue next year. However, from other multiples standpoint, like an acquirer would look at, LL could potentially look attractive at price/sales of 0.38x and EV/revenue of 0.38x. The company has very little debt of $25M and has done an astounding $952M in revenue over the ttm period. With synergies realized, some of these sales could potentially drop to the bottom line and be a large benefit to a bigger company with a large balance sheet and the resources to make LL cost efficient.
But there are still caveats. In addition to the underlying business faltering last quarter, the company released some new language regarding regulatory subpoenas, stating that they had received some new subpoenas concerning the matter in which the company has made some disclosures. These subpoenas look like they could actually be a completely different issue than those spanning from the Chinese laminate crisis.
In March 2015, the Company received a grand jury subpoena issued in connection with a criminal investigation being conducted by the U.S. Attorney's Office for the Eastern District of Virginia (the "U.S. Attorney"). In addition, on May 19, 2015, July 13, 2015 and March 11, 2016, the Company received subpoenas from the New York Regional Office of the SEC in connection with an inquiry by the SEC staff. Based on the subpoenas, the Company believes the focus of both the U.S. Attorney investigation and SEC investigation primarily relate to compliance with disclosure, financial reporting and trading requirements under the securities laws since 2011
So while one regulatory issue has been dealt with, another new one looms.
All in all, this is a good step for LL shareholders. However, the company has had a real trouble getting its footing back in terms of profitability. The good news is that it has very little in debt, and that it seems as though the worst is far behind it. Also good news for potential buyers year is that the company may be attractive to acquire or a strategic investor these levels.
If the company can once again return to profitability, and begin its growth as it once was, these levels may be very unattractive for an investment. We are considering a small long position in LL for the long term if the company dips in price going forward. We'd like to see $12 or lower again before considering our position. As we expect that the market will pull back here over the next 4 to 6 months, we will keep LL on our list of companies that we may want to buy during a market correction.
Disclosure: I/we have no positions in any stocks mentioned, and no plans to initiate any positions within the next 72 hours.
I wrote this article myself, and it expresses my own opinions. I am not receiving compensation for it (other than from Seeking Alpha). I have no business relationship with any company whose stock is mentioned in this article.