We have been writing quite a bit about why we became bullish on the price oil (NYSEARCA:USO) earlier this year. We have not spent nearly as much time discussing natural gas (NYSEARCA:UNG).
If you are wondering why we are willing to tackle more than one sector/commodity, it is because very little of what we come up with is our own thinking. We follow the world's greatest investors closely which allows us to piggyback on their reasoning.
The catalyst that has sunk both oil and natural gas prices is the oil and gas industry combining horizontal drilling and multi-stage fracturing. This combination has allowed the industry to start producing oil and gas from unconventional resource plays. Previously these hydrocarbons were trapped.
Natural gas and oil are very different however in that while oil is a global commodity (can be easily shipped around the world) natural gas is very much regional (requires multi-billion dollar LNG facilities on both the shipping and receiving end). That means that the horizontal drilling production boom in natural gas can much more easily overwhelm demand (demand is local and smaller) than it can for oil (demand is global and enormous).
With that in mind, we are very mindful of the fact that even if natural gas prices were to rebound it would be very easy for producers to quickly overwhelm any supply shortage by increasing drilling.
To make this a little simpler, consider that shale oil represents roughly five million barrels per day out of global demand that is 96 million (that would be 5% of demand) while natural gas production in North America represents more than 50% of total demand.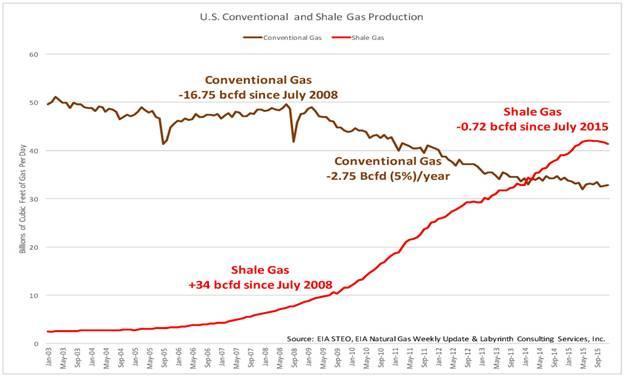 Source: ArtBerman.com
Our point is that if a 1 million barrel per day supply shortage occurred in the global oil market, we would need a 20% increase in shale oil production to offset it. That could happen over a few years, but not very quickly. But if a similar shortage in supply were to occur in the regional natural gas market, the United States shale gas production would only need to be increased by a few percentage points to balance the market.
Shale/unconventional production can't quickly re-balance the oil market. Shale/unconventional production could quickly put an end to a bullish setup for natural gas prices.
And Then There Is This…
As we tried to get ourselves to get as excited about natural gas as we are for oil, we came across the following slides from the EIA Drilling Productivity Report.
Focus on the blue line in each of the charts for the Haynesville, Marcellus, and Utica unconventional natural gas plays. These lines show how productive each drilling rig is in terms of production.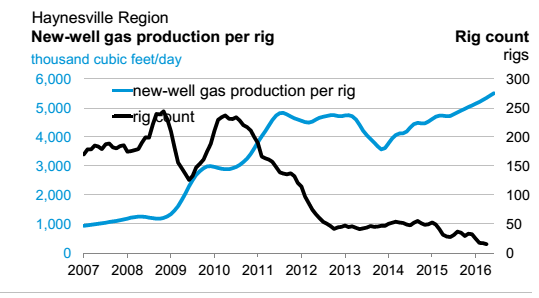 Source: EIA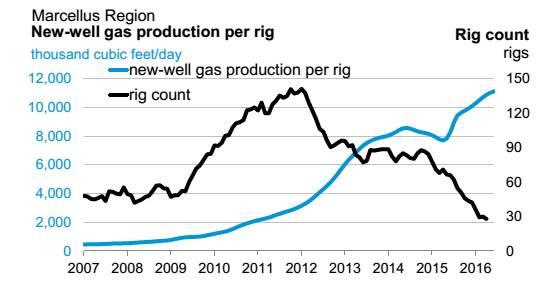 Source: EIA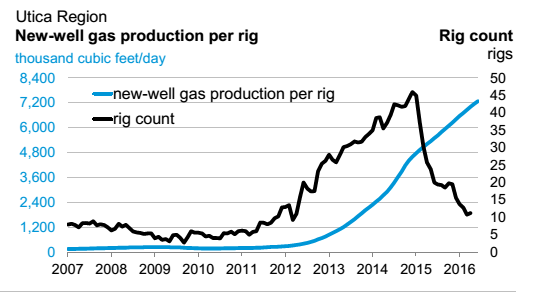 Source: EIA
In each of these plays, the productivity level for each new well that a rig completes has increased five to six times since these plays started being seriously drilled up.
That is pretty amazing. There are some considerations that play into this of course. The rig count is now very low. That means that the very best rigs and the very best teams are all that are out there operating. That by itself is going to significantly boost these stats. The teams out there drilling right now are all stars, as the rig count increases the second and third tier teams and equipment will dilute those great numbers.
The fact that huge productivity improvements have been made though can't be ignored. Since this unconventional production is only a decade or so old why can't those kinds of gains continue for another decade?
A fear of those gains does make it hard to get bullish. The same issues are true of shale oil but shale oil only accounts for 5% of global production. Huge gains there aren't nearly as disruptive as they are when the source of production is more than 50% of the market.
We Aren't Blind To Economics - Natural Gas Prices Do Need To Increase
All of this isn't to throw cold water on the idea that natural gas prices do need to go up. The price of the commodity at least has to offer the industry on average a reasonable rate of return.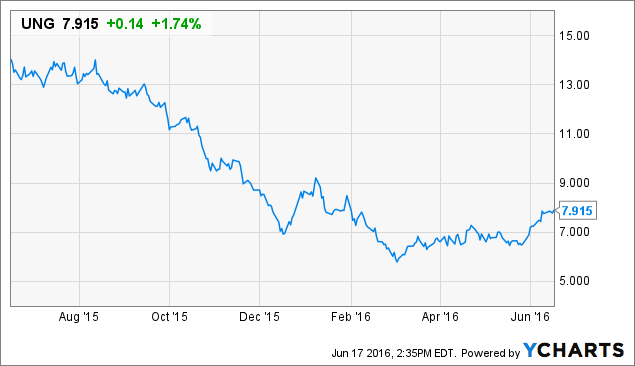 Where that reasonable rate of return sits is a tough question to answer. We do think the slide below from Range Resources (NYSE:RRC) offers a bit of a hint.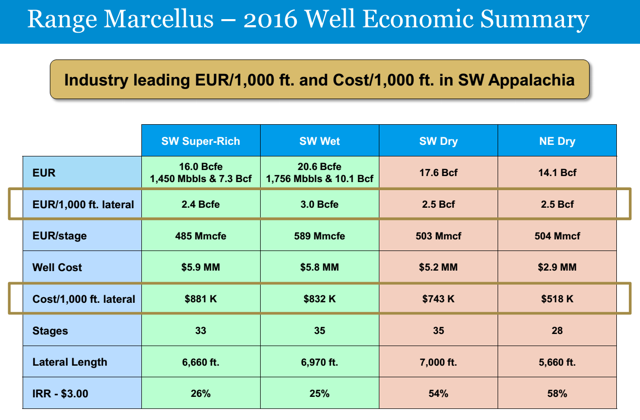 Source: Range Resources Corporate Presentation
Range's Marcellus acreage is certainly in the top tier of the industry as far as natural gas economics. You will note that Range doesn't even use current natural gas prices in the slide above when showing projected rate of returns.
Range uses $3.00/mcf and the IRRs at that aren't fantastic. We don't think a business this risky should be investing capital if the hoped for IRR is 25%. Further, you can bet that the model numbers in this slide are as optimistic as the company can paint them while still feeling like it isn't distorting the truth.
We've said it before, you can't rely on presentation slides folks.
What we would conclude is that we are somewhat bullish on natural gas prices getting to a price higher than the $3.00/mcf figure that Range presents. It could go considerably higher in the short term, but we think the industry would just drill it right back down to a lower level if that happened.
We are much more bullish on another opportunity.
From November 2000 until June 2008, when he shuttered his initial fund, "Big Short" legend Michael Burry returned 489% vs. 3% for the S&P 500. For our subscribers, we have just released a 20-page comprehensive report explaining Burry's most recent investment idea into which he has allocated 16% of his portfolio. For just $12 per month, you can get the highest conviction ideas from Burry and other investing greats each and every month. Just follow the link and get started:
Good luck with your investing. Thanks for reading.

Disclosure: I/we have no positions in any stocks mentioned, and no plans to initiate any positions within the next 72 hours.
I wrote this article myself, and it expresses my own opinions. I am not receiving compensation for it (other than from Seeking Alpha). I have no business relationship with any company whose stock is mentioned in this article.