Investment Thesis
I started looking at this company because it looked way too overvalued, but during my research, I totally changed my view. I found out that Public Storage (NYSE:PSA) is the most efficient operator in the self-storage industry with a conservative capital structure and a very experienced management. The self-storage industry has room to grow, and on top of that, in today's low rate environment, PSA's price is close to fair value.
Company Description
Market cap.: $41.81B
P/FFO 2015: 27.4
P/FFO 2016: 24.4
Dividend yield: 2.94%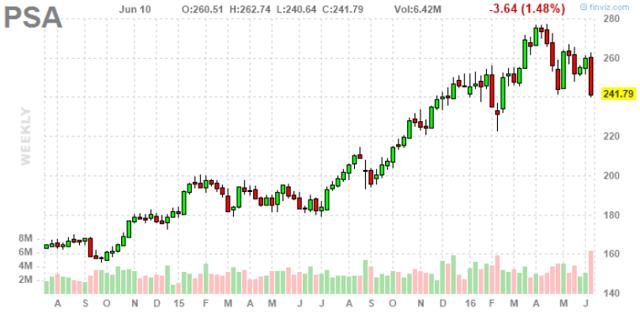 Source: FINVIZ.com
PSA was founded in 1972, and through organic growth and acquisitions, became the largest owner and operator of self-storage facilities in the United States. The company has a simple business model. It rents storage for a monthly fee, and if customers don't pay the rent, the company gives the customers' stuff on auction.
PSA operates in four segments:
Self-Storage Operations (93.9% of revenue): Acquires, develops, owns, and operates self-storage facilities which offer storage spaces for lease on a month-to-month basis for personal and business use. PSA owns 2,277 self-storage facilities (an aggregate of 148 million net rentable square feet of space) located in 38 states within the US.
Ancillary Operations (6.1% of revenue): Reinsures policies against losses to goods stored by customers.
Investment in PS Business Parks (NYSE:PSB) (Equity method accounting): PSA has a 42% equity interest in PS Business Parks, a publicly-held REIT that owns, operates, acquires and develops commercial properties, primarily multi-tenant flex, office, and industrial parks. PSB owns and operates 28.0 million rentable square feet of commercial space.
Investment in Shurgard Europe (Equity method accounting): PSA has a 49% equity interest in Shurgard Self Storage Europe. Shurgard owns 216 self-storage facilities (12 million net rentable square feet) located in seven countries in Western Europe.
Self-Storage Industry
PSA derives close to 96% of its income from the U.S., so I will concentrate my analysis on the U.S. market.
The self-storage market is fragmented with many small players. The biggest company by rentable self-storage space is PSA with 6% market share followed by Extra Space (NYSE:EXR) at 4%, and U-Haul at 2%. PSA (as well as other big self-storage companies) wants to consolidate the industry by buying smaller competitors and making them more efficient.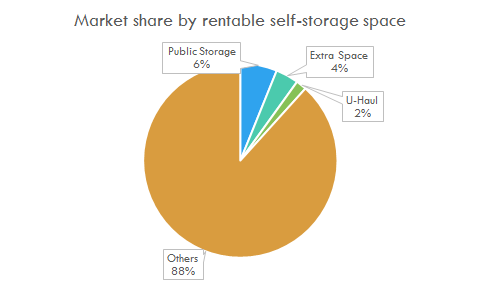 Source: SpareFoot and Inside Self-Storage
There are 2.63B square feet of rentable self-storage space in the U.S. That is 8.32 square feet per capita. The number has increased, thanks to the increasing popularity of self-storage space among Americans. The percentage of U.S. households that rent a self-storage space increased from 6% in 1995 to 9.5% in 2015. From this perspective, the U.S. market looks saturated, but there might be room to build more self-storage facilities.
Homeownership is at a multi-year low, and that means more Americans are renting homes. Renters move three times more frequently than homeowners, and movers represent more than 50% of self-storage customers. This will result in higher demand for self-storage facilities.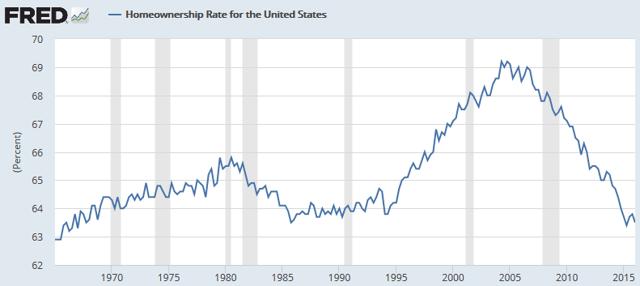 Source: Federal Reserve Bank of St. Louis
According to Sovran Self Storage (SSS), the self-storage industry is underinvested. There is room to build more self-storage facilities, because after 2010, much less self-storage facilities were built than in previous decades. One reason for the underinvestment is the willingness of banks to lend money to an uncertain business. On average, it takes 3-4 years to reach a stable occupancy, and banks don't want to take this risk. They lend money just to borrowers with good track record. The other reason is that established self-storage companies with enough resources are not building new facilities. They are rather acquiring existing facilities and making them more efficient.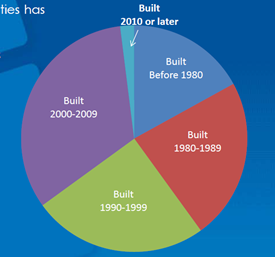 Source: Sovran Self Storage Presentation
Business Profile
I believe PSA has five main strengths: Stable business, dividends, conservative capital structure, advantage over competitors and experienced management.
Self-storage renting is a very simple, predictable, and I would also say a stable business. Many analysts do not agree with me that PSA operates in a stable business. Even PSA states in its 10-K report that self-storage is a cyclical business. But, from the numbers, I can see no decline in revenue in the dot-com bubble burst, and just a small decline in revenue in the financial crisis in 2009. For the last 17 years, PSA never recorded a loss.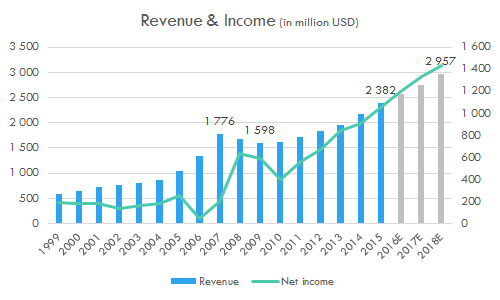 Source: Company filings and Goldman Sachs estimates
As a REIT, PSA has to pay 90% of its net income as dividends. Dividends are gradually increasing, and the company's dividend payout ratio is greater than 100% because of high depreciation and low maintenance capex. The current dividend yield is 2.94%.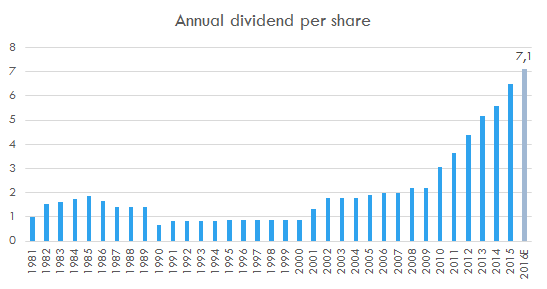 Source: Company filings
PSA has a very conservative capital structure. The company is financed mainly by equity (54%) and preferred shares (43%). Preferred shares are a long-term form of capital on which PSA has to pay dividends. Dividends on preferred shares have priority over dividends on ordinary shares, but PSA is not "obliged" to pay these dividends and can postpone the payment. This feature gives the company greater flexibility in times of crisis.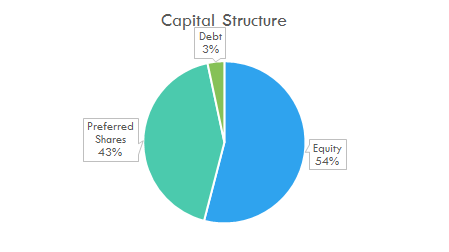 Source: Company filings
PSA has to pay a higher interest rate on its "debt" than its peers, but the preferred shares give the company greater flexibility and make it a much safer place to invest.

Source: PSA, EXR, CubeSmart (NYSE:CUBE) and SSS filings
PSA had a better occupancy rate and could charge higher price per square feet than other REITs. Over non-REIT competitors, Public Storage has an even bigger competitive advantage. On average, there is a 3 percent occupancy gap between REITs and non-REITs."The difference between REIT and mom-and-pops is even bigger. Mom-and-pop occupancy rates typically lag those of competing REITs by 5 percent to 10 percent. The reason for the difference is economies of scale. The REITs have marketing call centers and an Internet presence. It is really tough for individuals to compete.

Source: Companies' filings
Ronald L. Havner, Jr., is the CEO of PSA since 2002. He joined the company in 1986. Under Ronald Havner's leadership, revenue grew 9.2% p.a. and net income grew 16.7% p.a. The compensation plan motivates him to achieve high same-store sales growth. If same-store revenue growth is below 3%, Ronald Havner receives no bonus, and if it is above 5%, he receives 200% bonus. Bonus is $1-3 million cash and 25,000-30,000 restricted stock units.
Source of Future Growth
There are three ways PSA can grow its revenue. The company can increase price, increase occupancy and acquire and build new facilities. Price increase was the main source of growth in the last five years, and the company expects to pass similar rent increases to long-term tenants in 2016 as it did in 2015. The price increase certainly has limits, and in the long run, PSA can increase prices maximally by the rate of income growth.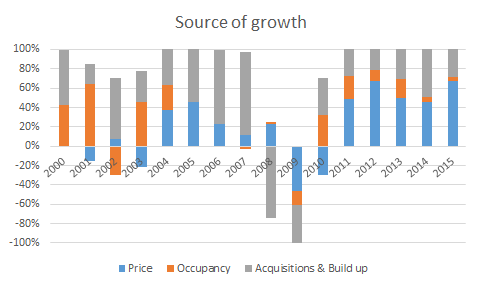 Source: Company filings
PSA has reached its maximum potential occupancy level, so no more growth can come from this side. The company has stated in its 10-K report:
"We expect the year over year occupancy gap to narrow because we believe we are reaching limitations to occupancy levels inherent with approximately 5% to 7% of our tenant base vacating each month without notice."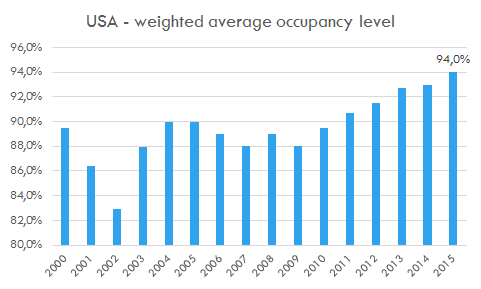 Source: Company filings
In the long run, the main source of growth will be acquisitions and build-up. Since the market is very fragmented with many small players, there is a lot of room to grow.
Valuation
Capital Asset Pricing Model
Assumptions
FFO: The first three years, I took GS's estimates adjusted for maintenance capex. FFO $1.63B, $1.79B and $1.92B for 2016, 2017 and 2018, respectively.
Cost of equity: 8%
Cost of debt: 5.8%
Perpetual growth rate: 3%
Fair value: $235.94
Sum of the Parts
Seeking Alpha contributor Plexor has done a good sum-of-the-parts valuation with a fair value of $137 per share. PSA should certainly trade with a premium over its net asset value because of its superiority over competitors and the low interest rate environment. How high the premium should be is a matter of investors' required rate of return.
The low interest rate environment makes safe, dividend-paying stocks more attractive. Real estate return is measured with the capitalization rate (rate of return on real estate). The capitalization rate on self-storage facilities is gradually decreasing with the 10-year Treasury rate, and thus, the price of self-storage companies is increasing. The spread between the capitalization rate and 10-year Treasury is still not on its historic lows, thus I think self-storage companies have room to go higher.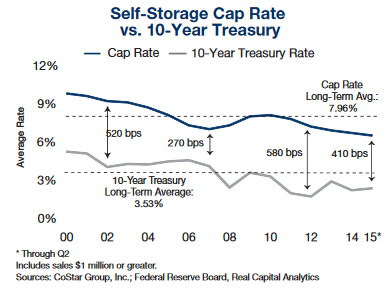 Source: Marcus & Millichap Self-Storage Research
Comparison with Competitors
PSA is more expensive than its peers, but on the other hand, it is the most effective company in the industry. PSA has the highest occupancy rate, can charge the highest prices, and has the highest operating profit margin.

Source: Companies' filings.
For calculations, I have used consensus estimates.
Main Risks
PSA is interest rate sensitive. The value of the real estate property highly depends on the interest rate. If the Fed increases the rate of interest, then the value of self-storage companies will decline. There are no barriers to entry. The rate of return depends on the amount of capital invested. From the 10-K report:
"The amount of capital available for real estate investments greatly influences the competition for ownership interests in facilities and, by extension, the yields that we can achieve on newly acquired investments."
It is just a question of time when more capital will go to the self-storage industry, and this will decrease the potential rate of return on existing facilities. On the other hand, this is not a short-term risk since it takes four years for a new self-storage facility to reach a stable occupancy.
Summary
The self-storage industry is certainly not saturated and still has room to growth. The CEO of Extra Space, Mr. Kirk, and CEO of Jernigan Capital (NYSE:JCAP), Mr. Jernigan, believe that self-storage is underinvested.
"Rate of growth of new supply is still less than approximately 1% rate of population growth in the U.S. It is a great time to be in storage." Spencer Kirk, CEO, Extra Space
"The top 50 U.S. metropolitan markets need about $25 billion, an estimated 3,450 new self-storage facilities, in new self-storage development to meet population growth and expected consumer demand during the next five years." Dean Jernigan, CEO, Jernigan Capital, Inc.
PSA is the most efficient operator in a stable, predictable industry and deserves a premium over its peers. In this low rate environment, the share price is justified, and it has the potential to move higher, but I would not buy this company at this level. The low rate environment cannot persist forever, therefore I would like to see higher capitalization rate on self-storage property before I put my money in this company.
Disclosure: I/we have no positions in any stocks mentioned, and no plans to initiate any positions within the next 72 hours.
I wrote this article myself, and it expresses my own opinions. I am not receiving compensation for it (other than from Seeking Alpha). I have no business relationship with any company whose stock is mentioned in this article.