Welcome to the latest edition of the Energy Recap. Let's get right to it...
Energy Articles of Note
"Earthstone Energy (NASDAQ:ESTE) In The Permian Basin: It's All About Location, Location, Location" By Value Digger
"Scared Of A Rising Rig Count? Don't Be ... Yet" By Daniel Jones
"The Biggest Winner And Loser Of The Last Oil Cycle" By Oil and Gas Investments Bulletin
Energy Sector Bankruptcies for the Week Ended June 17, 2016
There were no bankruptcy filings in the sector this week. Feel free to add any that we might have missed in the comments section below.
U.S. Oil Rig Count as of June 17, 2016
As per Baker Hughes, the number of active U.S. oil drilling rigs rose for the third straight week.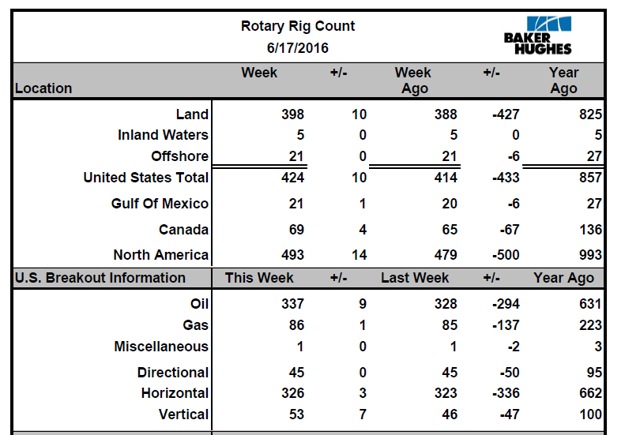 Readers, now it's your turn to discuss what's been happening in this sector. Please share your thoughts in the comments below.
As always, we encourage you to submit your own article by clicking here, if you haven't already done so.
Disclosure: I/we have no positions in any stocks mentioned, and no plans to initiate any positions within the next 72 hours.
I wrote this article myself, and it expresses my own opinions. I am not receiving compensation for it. I have no business relationship with any company whose stock is mentioned in this article.