This is a follow-up to my article about Parker Drilling's (NYSE:PKD) Q1 2016 results published on May 5, 2016.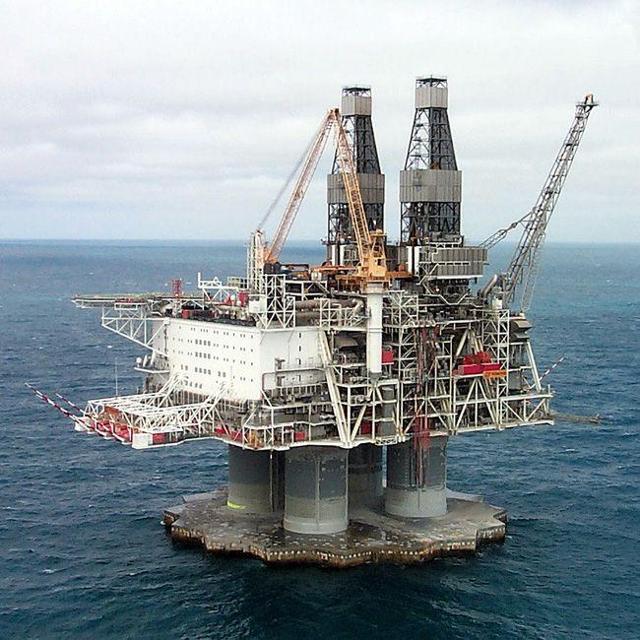 Hibernia platform
On June 15, 2016, Offshore Energy Today published the following:
According to Canadian Broadcasting Corporation (CBC) News, Parker Drilling was awarded the contract for drilling services on the Hibernia platform for seven years starting from July 1, 2016. Parker Drilling will be taking over from Paragon Offshore which has held the contract for several years.

Namely, after its spin-off from Noble Corp. in 2014, the offshore drilling contractor Paragon became in charge of a labor contract under which the company was providing the personnel necessary to manage and perform the drilling operations from the drilling platform owned by the operator.

The Hibernia oil field began producing oil on November 17, 1997. The platform is 224 metres high, and it has three separate components, topsides, gravity base structure and offshore loading system.
This contract for drilling services on the Hibernia platform in offshore eastern Canada for seven years is another new, positive development for the company. On the other hand, it is another loss for the struggling Paragon Offshore (OTCPK:PGNPQ). The field is owned by Hibernia Management & Development Company ("HMDC").
The shareholders of Hibernia Management & Development Company are: Exxon Mobil (NYSE:XOM) Canada (33.125%), Chevron (NYSE:CVX) Canada Resources (26.875%), Suncor (NYSE:SU) (20%), Canada Hibernia Holding Corporation (8.5%), Murphy Oil (NYSE:MUR) (6.5%) and Statoil (NYSE:STO) Canada Ltd. (5%).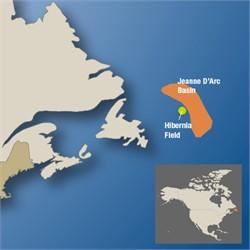 Source: Subsea IQ
This contract is another loss for Paragon Offshore, which could be the result of a "high potential near miss" incident, which happened on March 31, 2016?
According to Canada-Newfoundland and Labrador Offshore Petroleum Board, an agency responsible for the regulatory oversight of petroleum-related activities in the Canada-Newfoundland and Labrador offshore area, on March 31, 2016, an employee on level U09 of the platform opened the elevator shaft door and discovered that the elevator car was not there.

C-NLOPB stated that, following the incident, the locking mechanisms on all elevators on the platform were function tested. The U-shaft elevator will remain out of service until it is inspected by the vendor. HMDC is conducting an internal investigation, C-NLOPB said.
This contract awarded to Parker Drilling comes as a surprise.
The news will come as a surprise to many industry insiders, who suspected KCA Deutag would get the contract. KCA Deutag won a similar contract for the Hebron Project, which is now under construction and scheduled become the province's fourth producing oil field late next year.
On June 9, 2016, CBC News indicated:
The collapse in oil prices in 2014 forced companies to streamline operations, and capital spending tanked in 2015.

Job losses on Hibernia can also be attributed to a decision by the operator to temporarily shut down the platform's two drill rigs for upgrades that are expected to last until the end of this year.

Another shake-up is expected soon, with Hibernia expected to award a new drilling operations and maintenance support contract any day.

That contract has been held by Paragon Offshore - formerly known as Noble Drilling - for many years, but industry insiders say KCA Deutag is the frontrunner.

KCA Deutag won a similar contract for the Hebron Project, which is under construction and scheduled become the province's fourth producing oil field late next year.

Exxon Mobil is the operator for Hebron, and sources say having the same drilling contractor on both platforms makes good business sense.
As we can see, Parker Drilling has won a very disputed contract here, "based upon a competitive bidding process."
Conclusion
Parker Drilling bags another long-term contract with Exxon Mobil. Recently, Exxon awarded an extension and additional rig to its operations and maintenance (O&M) contract on Sakhalin Island, Russia. The extension, inclusive of the additional new rig, is expected to add in excess of $180 million in revenue backlog.
Unfortunately, I was not able to find out what revenue backlog this new seven-year contract represents for Parker Drilling.
PKD's backlog was $228 million as of March 31, 2016. Of this amount, 51% falls in the balance of 2016, and 47% is projected in 2017.
Thus, these two new contracts are quite a significant addition to the revenue backlog. M. Chris Weber explained that in 1Q'16:
Regarding our drilling services business segments, International and Alaska drilling reported first quarter revenues of $88.6 million. A decrease of 7.2% from the fourth quarter's $95.5 million.
On June 2, 2016, PKD has agreed to the terms on an amendment with its lenders to its 2015 Secured Credit Agreement.
On June 1, 2016, the company announced the following:
It has agreed to terms with its lenders on an amendment to its 2015 Secured Credit Agreement (the "Amendment"). The terms of the Amendment provide covenant relief and flexibility to help navigate the prolonged industry downturn. The Company has no borrowings outstanding under the facility and as of March 31, 2016 had $12.8 million of outstanding letters of credit.
The total lender commitment was reduced to $100 million from $200 million, which is significantly lowering the company's liquidity. However, this reduction is not really affecting the company's fundamentals, due to its strong cash position.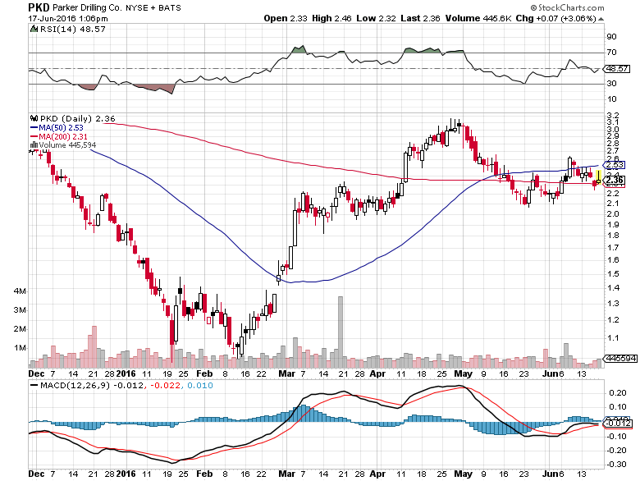 PKD has significantly improved since the February 15 low, and now is trading at a more substantial level. I'm encouraged by the positive momentum in the oil prices recently, and I believe PKD is now trading a support around $2.
I see some potential in the long-term outlook, and I am considering a cautious accumulation between $1.50 and $2.00, which could turn to be an excellent investment. However, oil prices are nonetheless of paramount importance.
Important note: Do not forget to become one of my followers on PKD and get updated frequently. Thank you.
Disclosure: I/we have no positions in any stocks mentioned, but may initiate a long position in PKD over the next 72 hours.
I wrote this article myself, and it expresses my own opinions. I am not receiving compensation for it (other than from Seeking Alpha). I have no business relationship with any company whose stock is mentioned in this article.
Additional disclosure: I trade the stock as well
Editor's Note: This article covers one or more stocks trading at less than $1 per share and/or with less than a $100 million market cap. Please be aware of the risks associated with these stocks.