Last week, in my article, Speculators Increase Bets; Crude Prices Have Peaked For Now, I made a case for why crude oil prices had reached a tipping point. In the week ending June 14th (to coincide with the positions data below), crude prices fell by 4%, its largest weekly decline in more than two months. July crude futures closed at $48.49, below the peak in this recovery reached the week before.
What trading accounted for this development?
The Commodity Futures Trading Commission (CFTC) reports the Commitment of Traders (COT). It provides some insight into how each of the four groups I follow are thinking: Hedgers (Producer/Processor/User); Longs and Shorts, and Speculators (Managed Money); Longs and Shorts. These groups are defined below.
Producer/Merchant/Processor/User
A "producer/merchant/processor/user" is an entity that predominantly engages in the production, processing, packing or handling of a physical commodity and uses the futures markets to manage or hedge risks associated with those activities.
Money Manager
A "money manager," for the purpose of this report, is a registered commodity trading advisor (CTA), a registered commodity pool operator (CPO) or an unregistered fund identified by CFTC. These traders are engaged in managing and conducting organized futures trading on behalf of clients.
Findings
In summary, speculators sold while the hedgers bought a little. This further supports my thesis that the price rebound has been primarily speculator driven. However, this has not been because U.S. crude production has been declining, as many writers proclaim. In fact, the revised monthly production declines have been slower than the Energy Information Administration (EIA) had been projected in its December outlook.
My thesis has been that speculators were closing (buying) their short positions based on "headline risk." At first, it was talk of an OPEC price freeze. That was followed by a confluence of multiple production outages. But the outlook produced by Goldman Sachs (NYSE:GS) shows that their impacts should diminish (see graph). I would note that these do not build in any potential outages from hurricanes, which are expected to be higher than average this season.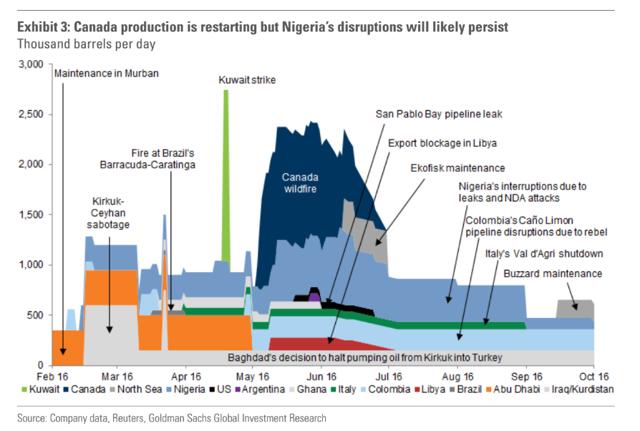 As a result, there has been a strong negative correlation between crude price changes and short positions of money managers (specs).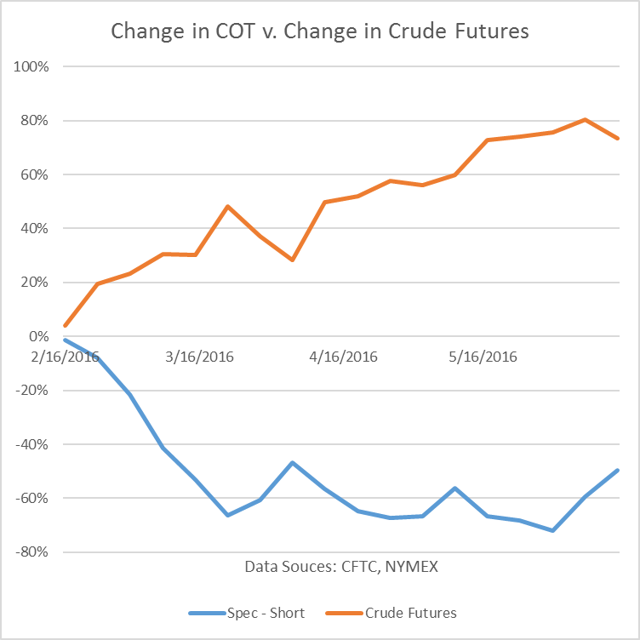 The largest position change last week was by the spec - longs, which sold 23 million barrels (mmb). It reduced its long position to 288 mmb, the lowest level in three months.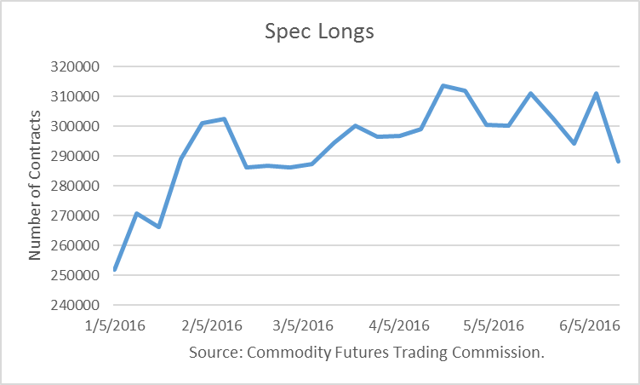 The fear of lower prices narrowly trumped the bet for lower prices by the spec - shorts. That group increased its net short positions by 19 mmb. It raised its short bets to 97 mmb, its highest in about two months, just before the failed OPEC freeze meeting in Doha.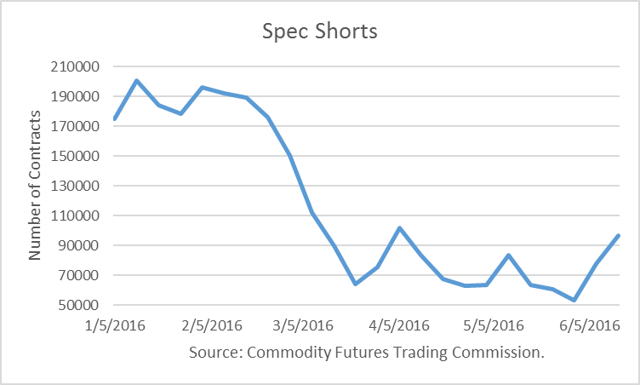 Short hedgers (oil producers) reduced (bought) their short positions by 4 mmb. This was the most surprising change of the four groups. The Baker Hughes rig count has been slowly rebounding, and I would have expected them to lock in more hedges above $50 per barrel in the out months.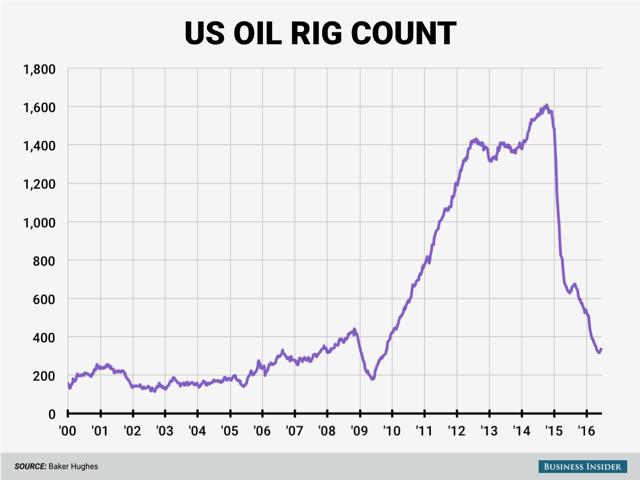 Producer hedge positions stand at about 516 mmb, less than 20 mmb lower than their recent high. The rebound in prices since mid-February has apparently given operators more confidence that crude futures will continue to rise and better hedging opportunities will soon be available.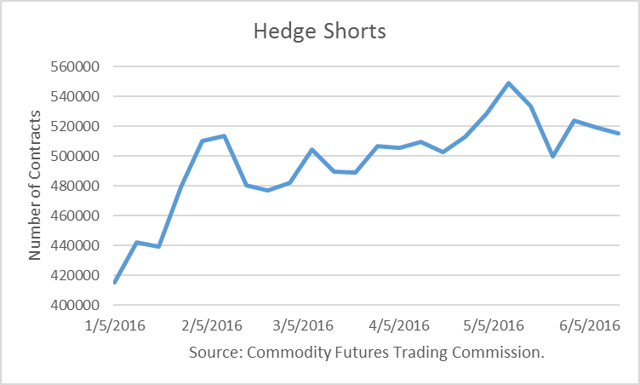 Hedge longs have done little buying or selling in the past three weeks. They sold about 249 mmb in positions.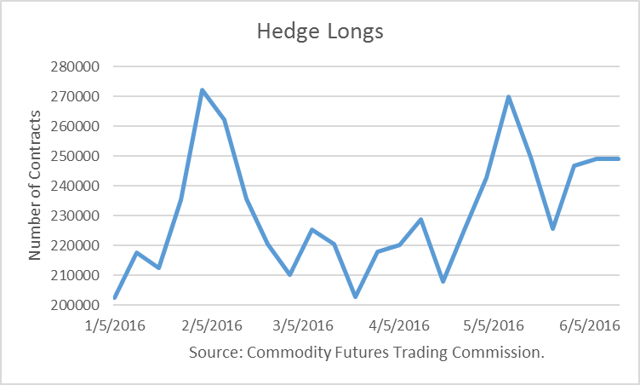 Conclusions
Having surmounted $50 recently, the market was at a key crossroads: is it going to $60 next or dropping back. For those attributing the rebound to supply-demand tightening, they expected higher prices. For speculators reacting to "headline risk" factors, they sensed less risk and sold, reducing prices. I expect more of the same short term.
Disclosure: I/we have no positions in any stocks mentioned, and no plans to initiate any positions within the next 72 hours.
I wrote this article myself, and it expresses my own opinions. I am not receiving compensation for it (other than from Seeking Alpha). I have no business relationship with any company whose stock is mentioned in this article.