There has been a lot of concern over the state of the Chinese economy and the effect that it might have on consumer spending and tourism in particular. So far we have not witnessed anything that makes us think that the incredible rise in Chinese tourism will grind to a halt, which could make Royal Caribbean Cruises (NYSE:RCL) a very good investment today. Yesterday its newest and third ship in the Quantum Class, Ovation of the Seas, docked in Hong Kong as the company stepped up its efforts to capture a slice of the rapidly growing Asian market.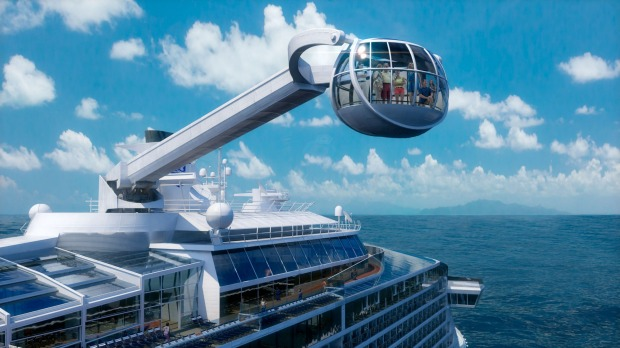 Currently China represents around 9% of Royal Caribbean's total capacity, but we expect it will grow to a much larger percentage over the next decade as Chinese tourism continues to remain strong thanks to rises in its middle class and their love of traveling. Outbound tourist trips have risen by an estimated compound annual growth rate of 16.6% for the last six years, reaching 120 million in 2015, according to research by the Development Bank of Singapore. The bank also found that tourism spending had risen at an even greater pace during this time, ending up at $229 billion in 2015. Clearly there's a lot of money being spent on tourism in the region and Royal Caribbean is positioned to capture a slice in our opinion.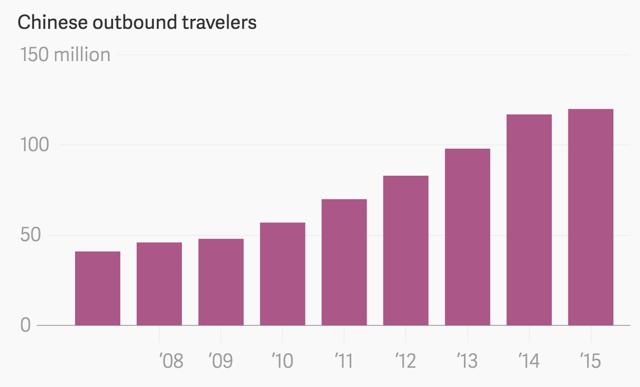 Source: qz.com
We think China could one day become the world's biggest cruise market. While the United States is still a hugely important market, it is only growing in the low single digits, whereas demand in China has been growing in the double-digits for a good few years now. According to the Chinese Ministry of Tourism, in 2015 China accounted for 1 million cruise passengers, with the Ministry expecting this to grow to 4.5 million passengers per year in 2020.
These 4.5 million passengers won't settle for a run of the mill ship though. The middle class has ample disposable income in its pockets and it's not afraid to spend it. Royal Caribbean and its rival Carnival (NYSE:CCL) have responded to this by designing ships purpose built for the China market. Generally this means a ship built to cater to the different cuisine and onboard experience requirements that Chinese tourists might have compared to western tourists. We expect there to be a lot of focus on shopping as well. It has been well documented that when Chinese tourists travel they like to shop, which should be a boost to its onboard revenues. So we think as China becomes a larger and larger cruise market, ticket revenue as a percentage of Royal Caribbean's total sales will start decreasing and onboard activities revenues will increase. According to its 10K, passenger ticket revenues represented approximately 73%, 72%, and 73% of total revenues in 2014, 2013 and 2012, respectively.
Although we see China as the long-term growth catalyst, we do see Cuba as being a short-term boost. The warming of ties between the US and Cuba has many believing that a tourist boom is coming. The island nation is rapidly trying to build hotels to cope with the influx of tourists. Royal Caribbean has advised it plans to sail to Cuba, but nothing has been finalized yet. There's speculation that it could set sail to Cuba as early as July, which would be great news.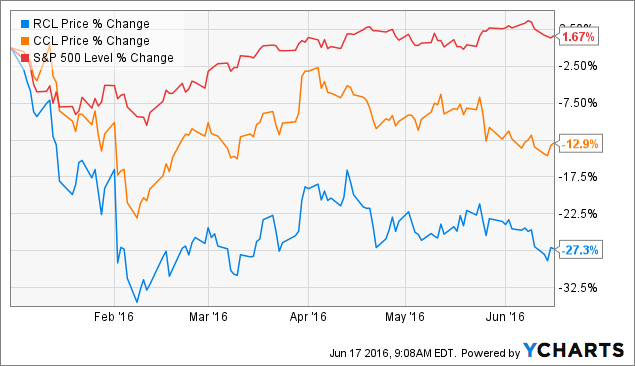 Shown above, you can see Royal Caribbean has had a pretty terrible 2016 compared to Carnival and the market, with its shares losing around 24% of their value. Because of this we feel now is a good time to get hold of some shares for a long-term investment. Over the next few years the demand from China should help fuel solid top and bottom line growth that allows the share price to retrace these declines.
In truth, these declines were probably a correction of sorts. As you can see below the shares were trading at a much higher than normal earnings multiple up until recently. This drop has sorted that out and they're now reasonably priced for its future earnings. 14x earnings is a level that we feel is about right for Royal Caribbean when looking back over the last 10 years.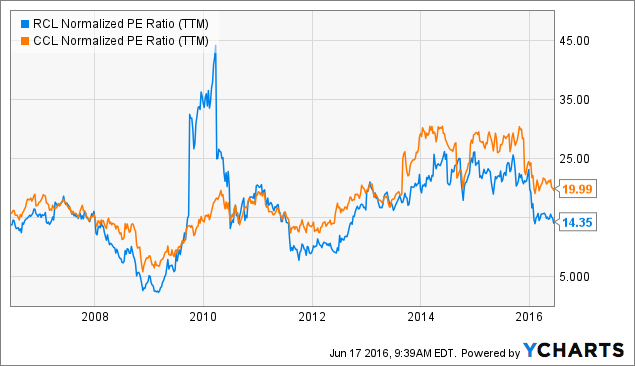 Royal Caribbean's management provided full-year earnings per share guidance in the range of $6.15 to $6.35. While the consensus estimate is for earnings per share to come in at $6.28, we are being a little more conservative and only forecasting earnings per share of $6.20. But even at this level, at 14x earnings, this produces a target price of $86.80 and a 16.5% return on investment.
While there's a risk that Chinese growth may slow and take away this growth catalyst, we feel confident that this growing demand will be maintained and the company and its shareholders are poised to profit greatly.
Disclosure: I am/we are long RCL.
I wrote this article myself, and it expresses my own opinions. I am not receiving compensation for it (other than from Seeking Alpha). I have no business relationship with any company whose stock is mentioned in this article.