"The key to making money in stocks is not to get scared out of them". - Peter Lynch
There are times when feeling bullish is pretty easy and then there are times like the present when it feels pretty lonely. Yet I continue to believe that is the correct call. Before that statement is attacked, let me be clear that I'm not calling for a "bet the farm", "all in" approach here. That time has passed.
In keeping the commentary simple, I do not believe it is time to turn my back to the market. No one is going to be correct 100% of the time when it comes to the stock market. Being right more often than wrong enhances a person's chance of better returns over the long run.
Investors that have stayed in the bullish camp for the duration of this latest run have made the correct call. In doing so they followed the path they decided to take a while ago. Eliminating costly mistakes by dismissing all of the "issues" that have been thrown at them in the course of the last 6 years.
This expansion has been accompanied by fear. It started with skepticism, and that is quite normal. However, that typical skepticism has turned into outright fear. Let's go back in time. There was a bevy of stories stating that the Eurozone crisis would take the world into a global recession. That was followed by the China growth story coming to an end, ushering in the inevitable "hard landing".
I believe that latest scare took investors' minds to the global recession theme and all commodities were hit, and hit hard. The one that got the most attention and caused the most turmoil was the collapse of crude oil prices. When that occurred the threat of global recession spiked.
Now we fast forward to the new issues out there, rising interest rates, the November election, Brexit and so on. Every conversation on each issue is saturated with fear. The media does their part to add to this to garner increased ratings as pundits roll out their story to get 10 minutes of "airtime".
I have worked directly and indirectly with investors from all walks of life and every part of this country. I've also had the opportunity and the pleasure of associations with a sprinkling of foreign investors as well. I can promise you from an emotional standpoint that almost no one can endure the volatility and draw downs that an equity portfolio brings to the table.
Given the historical backdrop that this bull market has seen, combined with the emotions that are invoked, indicates how difficult it can be to "stay the course". Equity portfolios are inherently risky, but that risk brings with it the chance to build wealth over time.
One of the issues that is embedded in the minds of investors is the absolute "fear' over losing money. Of course there should always be a concern of doing that; it is a normal reaction. However, I do see a difference these days.

This mindset is more pervasive now than I have ever experienced. It fuels the sentiment figures that have been reported week after week. Plenty have been shaken out of the market along the way, while headlines kept reminding us that a crash was imminent. It is responsible for keeping investors on the sidelines sitting in cash for an inordinate length of time.
Apocalyptic warnings often sound compelling because in effect they're telling investors to do something right away. A recent statement like this one from an investor warning about the next market debacle is more common than not.
"but ultimately bulls are accepting a ton of risk with razor thin error margin. When the spill happens, it will be breathtaking."
The bearish tone in articles on Seeking Alpha continues to dominate. There literally has been no break in the dire warnings of a market crash for the better part of 4 years. This sort of commentary is everywhere as I highlighted plenty of those prior warnings contained in this February missive.
Take the time to read through the comments from market pundits contained there. Then fast forward to today, to see that other than the calendar, not much has changed in the minds of many.

It's no wonder market participants can't escape this fearful mindset with the constant reminders being part of this market backdrop for so long. So I'm not surprised that most investors are afraid to take a long term view.
This latest upward move in stock prices demonstrated how a slow melt up can occur during bull markets, when there isn't much great news to forcibly move stocks up, but the bad news isn't bad enough to meaningfully drive down prices. A neutral "headline" setting where the market trades without emotion. In my view when the market move is "up" in that environment, it makes a statement that shouldn't be dismissed so easily. Yet it falls by the wayside, as the next bout of anxiety arrives on the scene.
The talk lately has been of another failed rally attempt to set new highs, but I think it is way too early to declare this attempt over just yet. Jumping to conclusions has been the skeptics' way of approaching the stock market, and it's also been their downfall.
Investors need to realize that stock prices follow a series of short term trends inside of a long term. Making rash decisions each time there is a change in the short term trend because of a headline is a recipe for failure. It undermines the ability to step back and realize that the long term trend in place has not changed. That trend was clearly demonstrated to be intact, when I posted the monthly chart of the S&P last week.
The arguments I hear today about the market make me wonder how anything that is written about the situation can be viewed without skepticism. If the S&P continued higher without any pause, the calls would be for wild overvaluation and a blow off top, instead it's a failed rally. The Bulls can't win these arguments so it's best to be patient, avoiding assumptions, and not draw any conclusions until the picture presented warrants a change.

Economy
Reuters reports that the U.S. economy was probably not as weak as has been reported in the first quarter, with recent data showing stronger consumer spending and investment in intellectual products than previously estimated. The Atlanta Fed's GDPNow forecasts growth of 2.8 percent for the second quarter.
Scott Grannis gives us his view on the economy in his latest missive here on SA. The latest report from iMarketsignals indicates that there is little risk of a recession on the horizon.
Retail sales were once again a bright spot on the economic front as sales topped estimates for the second straight month. That increase is the strongest two month growth rate since April 2014. Online sales continue to soar. In this month's retail sales report, it was the first time ever that more than 10% of all sales came from non store retail.
Empire Manufacturing rebounded from a poor reading in May. The business index came in at 6.0 for June. Philly Fed also surprised to the upside, rising from a negative reading in May to 4.7 for June.
This week's Industrial Production figures were broadly disappointing, falling 0.4% in May. Economists had forecasted a 0.3% decline. Year over year growth across the industrial sector is soft in most areas.
The up/down and sideways economic news continues in what could still be viewed as a "Goldilocks" environment. Of course if one doesn't accept that premise, then the conclusion seemingly becomes all is bad, as the positive reports are ignored.
The latest Duke University/CFO Magazine outlook survey rose a few ticks in the second quarter. However, it remained near two and a half year lows amid worries over political risk from the presidential election, federal government dysfunction, proposed regulations such as minimum wage increases and tax reform. My takeaway is how much the results are centered around government regulation and the corporate tax situation, and I'm not astonished at these findings.
Last week I saw a link posted to a chart that indicated government tax receipts were declining, suggesting a recession might be around the corner. I was skeptical and looked to the latest BLS statistics to conclude that nothing out of the ordinary was developing. Here is yet another rebuttal to the idea that this is something to be concerned about.

Homebuilder sentiment beat expectations. The index rose after four straight months of being flat. It is the highest reading since January.
The Housing Starts and Building Permits report presented a mixed picture, with little in the way of large changes on a month to month basis. Starts came in at 1.16 million versus an expectation of 1.15 million. Building permits rose 0.7 percent to a 1.14 million-unit rate last month. Permits for the construction of single-family homes fell 2.0 percent last month to a 726,000 unit rate, while multi-family building permits increased 5.9 percent to a 412,000 unit pace.

Global Economy
The World Bank Group released their Flagship Report, June 2016 Global Economic Prospects Divergences and Risks, where they deliver a "somber message," noting that seven years after the global financial crisis, the world's economy is still struggling to regain momentum.
"Prospects of global growth remain muted. Overall, the global outlook faces pronounced risks of another stretch of muted growth. We expect the global economy to expand at 2.4 percent in 2016, roughly at the same insipid pace we experienced last year. The 2.4 percent rate is 0.5 percentage point below our January forecast."
Concerning the U.S., they lowered growth estimates for 2015 by 0.1% to 2.4% and, for the 2016 U.S. growth forecast, decreased by 0.8% to 1.9%. They do note that growth in the United States is "stabilizing," with positive factors including;
"Above trend gains in real disposable income, on the back of robust job creation and falling energy prices, continue to support private consumption as the main engine of growth."
Despite their warning about the U.K. and its effect on Global growth that I posted two weeks ago, the OECD global composite leading indicator rose for a second straight month. It's first back to back increase since late 2013, to its highest level since October 2015.
Chinese retail sales grew 10% in May. Despite the Chinese economy's ills, consumers in China continue to grow spending at rates that are almost impossible to see anywhere else in the world. It's all about the transition to a consumer based economy.
In general, my view on the entire Chinese situation and the expected backlash on the markets that many see, is overstated.
Eurozone Employment remains stable, while Industrial production remains in its upward trend. Just as there seems to be stability in the region, with signs of growth, the U.K. exit from the EU will throw a wrench in the recovery there.
The German finance minister issued a warning on the consequences of the British leaving the EU. While former ECB President Jean-Claude Trichet warned of the devastating effects for the U.K. itself. This entire situation is a little mind boggling and sure appears to be a self inflicted wound if they decide to leave the EU.
One fact that investors need to keep in their minds if the situation sparks another round of selling in the equity market. Despite the dire warnings, this issue will take years to play out, not days or weeks. If the country votes to leave, Britain can withdraw from the EU two years after telling the European Council that it wants to go.

Earnings
Estimates, estimates and more estimates on where earnings may be headed drown investors on a daily, weekly basis. We saw double digit earnings growth in early 2014 turned into an earnings contraction, with the energy sector the main culprit in that decline. The earnings for the S&P 500 Index during the four quarters of 2015 were flat and that led to a flat stock market.
The potential for improved earnings, and a resumption of growth, as the year progresses, has been the outlook that I'm following when I view the market and its valuation. The trough in earnings during the first quarter of 2016, could turn around and return to growth if the tailwinds are strong enough.
The question that everyone keeps asking is how is this growth possible. I don't believe that is a mystery. The USD and crude oil have repeatedly been the topics of my discussions on how earnings can improve. All one has to do is look at the drag on S&P earnings these two issues have been to realize that a turnaround brings back the growth that is being forecast by some. I also believe the stock market is telling investors just that, by the price action we have witnessed since February.
As the chart below shows, an improved earnings picture is something that would favor higher equity prices if the growth materializes.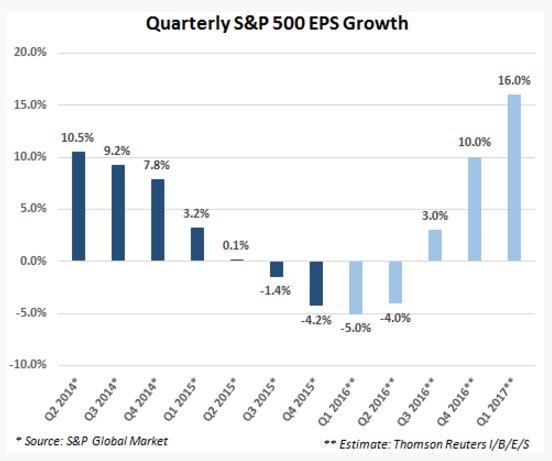 Thomson Reuters, S&P 500 Earnings data:
Forward 4 quarter estimate: $123.30 versus last week's $123.29.

PE ratio: 17(x)

S&P 500 earnings yield: 5.88% vs. last week's 5.87%, and still under 6%

Year over year growth rate of the forward estimate: 1.06% vs. last week's +0.96%.

The Political Scene
The issues with the election gain more traction in the minds of investors. I sense this will increase as time moves on given the candidates that are presented to us.
Here is some Presidential election history. Democrats have a built in advantage. Since 1992, 18 states have voted consistently for them in presidential elections, giving the party a firm foundation of 242 electoral votes to build upon. Republicans by contrast have just about 120 electoral votes they can rely on, meaning more contested battleground states such as Florida, Ohio, Pennsylvania and Wisconsin must tip into Trump's account for him to be elected.

The Fed
No surprise, the Federal Open Market Committee left short term interest rates unchanged, Fed officials lowered their expectations for future rate increases, and Chair Yellen continued to indicate a "cautious" policy framework.
It's certainly no secret that the Fed wants to normalize monetary policy. Exceptionally low levels of the overnight lending rate are not the norm. The question is how rapidly the Fed wants to get there. The policy risks are unevenly balanced. It will be much easier to correct course if the Fed finds that it raised rates too slowly (it merely would have to raise rates more rapidly). However, there are limited options if the Fed discovers that it has raised rates too quickly.
The Fed would need to see a strong recovery in payrolls on July 8, minimal volatility from the U.K.'s Brexit vote on June 23 and continued progress on pushing inflation toward the Fed's 2% target, to consider a change in direction. I maintain my position, the same as I suggested in January. We will see one more increase and it's done. If I'm wrong and the economy improves to change the outlook, that's great. Either way investors need to realize the Fed is a non event. Period, exclamation point.
The one issue I do have with the present Fed situation and their communications, is the constant banter from the regional Fed Presidents. Chair Yellen needs to place a muzzle on all of them. If that happens it's abundantly clear what is being communicated, rates will be raised in a very cautious manner.

Sentiment
The American Association of Individual Investors cited that bullish sentiment declined from 27.83% last week to 25.35% this week, representing the 33rd straight week that bullish sentiment has been below 40%. While that was happening, bearish sentiment spiked from 27.83% last week to 37.5% this week. That's the highest reading in bearish sentiment since 2/18 and the greatest one week increase since the week of 2/11. If those dates don't ring a bell, they marked the February market lows.
Fund managers are sitting on cash levels not seen since 2001. The Fed and Brexit are the most recent culprits for the hoarding of cash. However, this trend has been going on for quite some time for it to get to these levels.
I found this interesting chart on my twitter feed.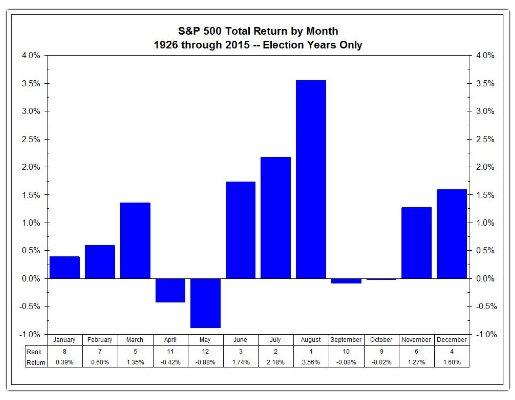 Chart courtesy of

Funny how we don't hear about a "summer rally" anymore. Instead we are inundated with "sell" and "swoon" stories.

Crude Oil
As anticipated, WTI has retreated from the $50 resistance level, adding to the pressure on stocks. The tailwind for equities that the bulls have enjoyed has stalled. Since the price of crude has about doubled off the lows, I have no concerns just yet. I'll leave it to others to debate the production and supply issues that are in place today. I'm fairly confident the supply issue is trending in a direction to keep prices stable.
For the week WTI closed at $48.08, down $0.91.
The Technical Picture
The S&P 500 just hasn't been able to get above 2,100 and stay there. It tried last November, last December, this April and once again here in June. The one positive about this latest move is that the index did manage to move above the April highs and the highs from last November and December. Even though the S&P sits below 2,100, the fact that those prior highs were eclipsed, is a positive from a technical perspective.
Last week my thoughts turned to a market that I believed would be ready for a pause:
"I note the technical picture that is sending a message which indicates the overall market is in an overbought condition, while the VIX sits at an extremely oversold state. In the past that setup has led to pullbacks in the S&P."
The VIX did its part as it bolted a whopping 23% on Monday. That added to the 7% move we saw on previous trading day, for a 30% move in two days.
History shows that prior moves like that in the VIX would have sent the S&P approximately 4% lower. In this case it resulted in a 1.7% loss. Perhaps yet another sign of underlying strength.
That sharp move higher quickly sent the VIX to overbought levels, and the snapback occurred on Thursday when the VIX fell from an intraday high of 22.89 to close at 19.37. The S&P rallied 28 points on the day off its low of 2050, and closed at 2078.
This rally is different and we have repeatedly seen evidence of that. The number of stocks making new highs continues on an upward trend. They are expanding and this reflects improved breadth. This was lacking in the previous rallies attempting to tack on new highs.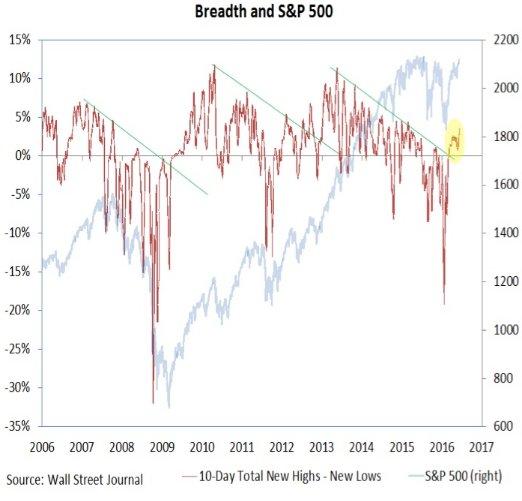 Support levels that I have been watching did come into play this week, and were broken to the downside. I do expect the volatility to continue and would now look to the 2043 level as the next support zone. I'm now using the 2026 level or thereabouts to draw a line in the sand. If the S&P can stay above that pivot point I believe the odds favor more upside. A failure there, and the short term market dynamics take on a different view.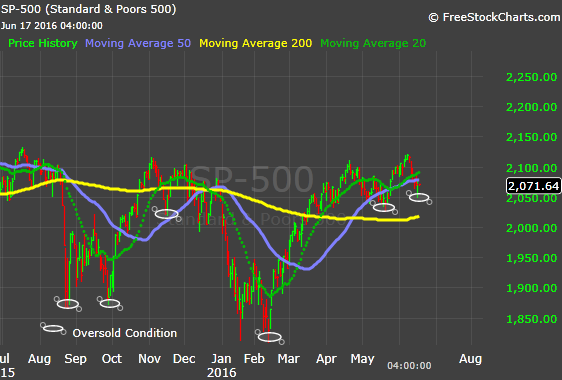 Chart courtesy of freestockcharts.com
The daily chart reveals short term resistance stands at 2080, then 2120.
I would look at any negative overreaction to the Brexit situation closely. If defined short term support levels hold, I would view this as an opportunity. A chance to add to select situations for what I believe will be a move to new highs.

Individual Stocks & Sectors
Despite all of the concerns that exist, dividend stocks have done particularly well this year. I noticed their outperformance in the 4th quarter of 2015. Many were expecting a big economic slowdown and back then the 10 yr went from 2.3% to 1.7%, driving the search for yield.
As I look over the landscape, it appears there is some overvaluation creeping in. I have warned about the Utility sector being overpriced given its historical norms and its slow growth.
That however doesn't mean there is a bubble forming in the entire dividend spectrum of stocks as some may suggest. As always there are pockets of excess that I feel should be avoided. I have lowered my exposure in the utility sector to "underweight" due to valuation.
There is no need to go into the value of dividend growth investing here, it's a widely followed topic on SA. Suffice to say, a dividend focused approach will provide both the growth and income to satisfy the long term needs of just about every investor. There simply is no controversy, the strategy should constitute the core of every investor's stock portfolio. Mr. George Schneider lays out a sensible plan on how the slow steady approach of dividend growth investing is the way to proceed.
With Chinese consumers showing their resilience as retail sales grow, Alibaba (NYSE:BABA) looks to be a prime beneficiary. Embedded in the Chinese retail numbers was the fact that online sales grew by 22% in the last report. In keeping with the 48% revenue growth that Alibaba has produced, founder Jack Ma believes there is quite a bit more to come. If Mr. Ma is correct, Alibaba shares will follow that upward trajectory.

Investors shunned equities across the globe as 14 of the 30 foreign markets are now in oversold territory. Most of the carnage was in Europe with France (NYSEARCA:EWQ), Germany (NYSEARCA:EWG), Netherlands (NYSEARCA:EWN), Switzerland (NYSEARCA:EWL), and the UK (NYSEARCA:EWU) going from overbought to oversold within a week. One could make a case for a move to quality taking place in the global equity markets.
That is confirmed by the charts provided in this missive. The U.S. market declines pale in comparison to the steep sell off suffered in the foreign markets last week. Bespoke Investment Group puts all of this in graphic form to show just how the global markets appear now.
With the backdrop of skepticism and fear, very few will stand up and mention the fact that the economy has just completed its seventh year of expansion. The S&P sits near all time highs, consumer balance sheets are in order, the overall picture in the job market looks fine.
From that standpoint I continue to believe in the "Goldilocks" environment, a view that any skeptic hates to hear. Compiling and viewing every data point is a must while the wall of worry is still in place.
We have lived through a period from 2009 to present where companies were experiencing impressive earnings, record cash levels, and 50 year low interest rates. Despite that, many corporations decided for a variety of reasons, to buy back their own stock and increasing dividends to shareholders.
That is in stark contrast to making capital investments into the facilities and equipment that would boost worker productivity and, ultimately, increase wages. Mega mergers have also dominated the scene as firms see little incentive given the uncertain picture from government entities and the same global concerns that individuals have feared. The latest, Microsoft (NASDAQ:MSFT) buying LinkedIn (NYSE:LNKD)
Perhaps there may be a change on the horizon. The relentless slowdown in the energy sector may have seen the bottom, and if prices can maintain these levels, or go higher, capital investment there will follow.
There has also been weakness in capital investment in the export related companies here in the U.S. The 20% rise in the USD put the brakes on any investment there. That trend has abated as the USD has gone nowhere now for 17 months. The USD is down 4% this year, and that brings light to the end of the tunnel, a light that was absent for a while.
If the dollar remains at its current level, (I expect that to be the case) through the end of the year, then the drag on investment spending may also disappear.
I expect this commentary to get a lot of push back, but I will remind everyone of the "issues" that were supposed to derail this bull market since the original Euro crisis to present. They have one thing in common, they have all come and gone, and the S&P sits 3% from a new high.
I find it best to look at trend reversals and suggest that they may indeed take place. I remember how I was reminded that the $25 crude oil backdrop would surely be the end of this bull market, ushering in the next financial crisis. Perhaps even more telling was the emphatic commentary stating that a reversal in trend wasn't in the cards anytime soon.
I'm not expecting a rip roaring spending spree here, but look more for the extremes reversing to the mean. That would suggest an uptick of some sorts. We probably won't see any big surge in this area until corporations have more confidence in the economy and the regulatory environment. Based on the Duke survey I mentioned earlier, that will take some time.
Fear of losing isn't the only emotion, the fear of missing an opportunity can be as strong. Simply speaking, Fear gives way to Greed. At some point in time that fear of missing an opportunity will eventually take over.
Looking around today, that seems to be a long way off.
Best of Luck to All!
Disclosure: I am/we are long BABA,MSFT.
I wrote this article myself, and it expresses my own opinions. I am not receiving compensation for it (other than from Seeking Alpha). I have no business relationship with any company whose stock is mentioned in this article.