Chegg (NYSE:CHGG) is a online student learning platform. Its goal is to transition students from high school to college and to their career. Chegg recently acquired Imagine Easy Solutions LLC which expanded its product offerings by providing online writing solutions and gives Chegg access to a database of millions of new students to cross sell its other product offerings. Chegg went public at $12.50 per share a few years ago and now trades for around $5 per share (see below), given its large millennial database and diversified educational software portfolio, an acquirer may find it beneficial to integrate Chegg's educational offerings within another suite of technology products. As a relatively small company with a market capitalization of $438 million, Chegg would be a small acquisition relative to the $26 billion Microsoft (NASDAQ:MSFT) payed for LinkedIn (LNKD), and Chegg would make sense for certain acquirers which we will discuss further. Marc Andreesen recently stated he expects technology M&A to accelerate, with many fortune 500 companies looking for acquisitions to fill gaps in their portfolios. Thus, it seems reasonable that Chegg could appear as a potential target for a larger organization, given its reasonable valuation.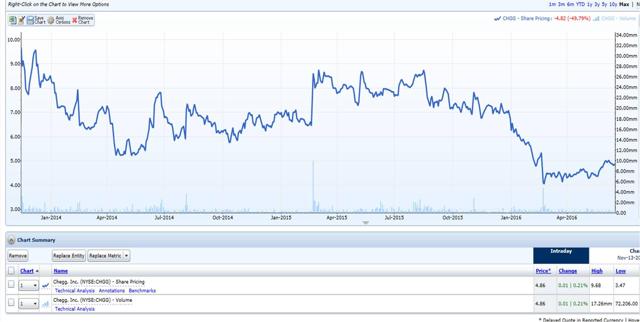 Source: Capital IQ Chegg Stock Price
Chegg reaches 40 million unique students through its variety of online services, including internships and tutoring. This penetration of the millennial market could be very useful for a larger technology business which is seeking greater exposure to the highly valuable millennial market. Microsoft could acquire this business for an insignificant amount and integrate the online services within LinkedIn to drive revenue growth for LinkedIn through paid online education solutions. Chegg has enormous traction within online jobs, with over 81 million jobs or internships viewed in 2015. Chegg's services (online software products) have also experienced hyper growth, growing 38% year over year in 2015. Thus, this acquisition could be accretive to another business which provides similar software products and can grow the revenue even more quickly.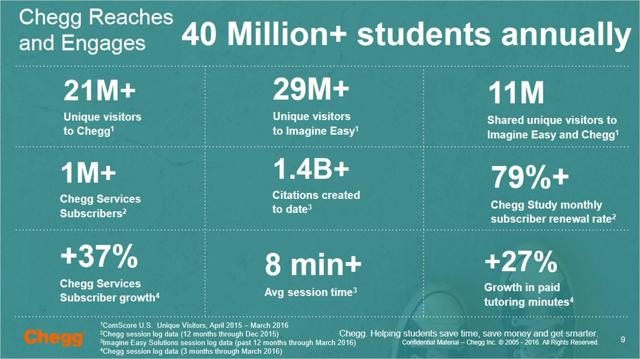 Source: Chegg Investor Presentation
LinkedIn was acquired by Microsoft for 7.6 times revenue and 91 times EBITDA. While we would not expect such a premium for a Chegg acquisition given it does not have significant network effects or nearly as much data on its users, with Chegg trading for 1 times revenue and a similar EBITDA multiple, we would expect any acquisition to result in current investors realizing large returns. Chegg trades at a substantial multiple discount to its peers (below), despite being a high growth business. The comparable companies were selected based on other businesses which offer other online service products. Even if an acquisition does not occur, we feel the downside is limited at current levels. Chegg is transitioning to a much higher growth and higher margin online educational services company, as opposed to a textbook rental company. Gross margins are projected to go from 30% to over 60%, with EBITDA margins over 25% instead of the negative ones currently. Thus, Chegg as a standalone investment is not a bad one either, with an acquisition providing a free call option for investors. This makes sense with the lowest analyst price target being $6, a significant premium to current levels. We believe this stock will move higher following a few quarters of traction in the high growth online services segment, as investors will better appreciate the new higher margin form of this business.

Source: Author Analysis/Capital IQ
The key risks around owning Chegg are that it operates in a highly competitive market, and because millennials are such a valuable audience, numerous competitors exist in each of Chegg's service offerings. Additionally, there is the risk that Chegg's high revenue growth in its online service offerings could slow, limiting upside potential. Overall, though, in a frothy technology market, Chegg offers investors an opportunity to own a reasonably priced high growth technology stock with the optionality for an acquisition to occur at a significant premium.
Disclosure: I am/we are long CHGG.
I wrote this article myself, and it expresses my own opinions. I am not receiving compensation for it (other than from Seeking Alpha). I have no business relationship with any company whose stock is mentioned in this article.