Pop quiz: What's the single best performing ETF thus far in 2016? Before I tell you the answer, let's talk about the resurrection of precious metals and related sectors.
Over the past five years, it's fair to say that precious metals have been dead money. This has been the overwhelming case, despite fantastic and fanatical predictions of gold bullion reaching $5,000 per ounce and beyond. Many of these asinine forecasts were made by gold permabulls or by individuals with a self-interest in selling physical bullion to the public.
Meanwhile, the ETFS Physical Precious Metal Basket Trust ETF (NYSEARCA:GLTR) - one exchange-traded barometer of gold, silver, palladium, and platinum - lost money every year since 2011 (exception is 2012 when it gained +7.61%) and has a five-year return of -8.31%.
If you think the performance for physical precious metals has been bad, companies that mine for it have done even worse.
The VanEck Vectors Gold Miners ETF (NYSEARCA:GDX) has recorded five consecutive yearly losses and sports a depressing five-year annualized return of -12.57%. GDX owns a collection of 45 global mining stocks and contains familiar names like Barrick Gold (NYSE:ABX), Newmont Mining (NYSE:NEM), and Goldcorp (NYSE:GG).
The year 2016 has been a completely different story for precious metals, and in my latest podcast, I talk about how gold is now outperforming major asset classes like stocks (NYSEARCA:VT), bonds (NYSEARCA:BND), and global real estate (NYSEARCA:RWO).
Universal Hatred = a Buying Opportunity
Successful contrarian investors understand that owning beaten up assets purchased at the right price can make excellent investments.
At ETFguide, we've relentlessly preached that it's the investments and trades that make you feel sick to your stomach - the gut-wrenching ones - the ones that make you wholly uncomfortable, that have the paranormal but uncanny ability to become the very best investments for growing wealth.
It should be noted that contrarian trades/investments are among a small group of other strategies with a dissimilar approach that we use. Why dissimilar? Because we understand that no single strategy works all the time. So rather than taking a rigid one-dimensional approach toward investing or trading with one discipline all the time, we mix it up.
Generally, contrarian trades/investments take longer to develop compared to other strategies like momentum or income trades. And although they often require more patience, the reward can be substantial.
Contrarian-ism in Action
Now, let's analyze one example of contrarian investing in action.
On July 16, 2015 via our Weekly Picks, we executed a timestamped trade by purchasing the VanEck Vectors Gold Miners ETF near $16 per share. At the time of our trade, GDX was unpopular and still in the midst of a downtrend. For six months, GDX did nothing. And at one point in mid-January 2016, we had a paper loss that exceeded 22%. Instead of panicking, we stuck to our guns and rode it out.
As the chart below shows, GDX is now ahead by over 84% compared to a 2.3% gain for the SPDR S&P 500 Trust ETF (NYSEARCA:SPY). Although we didn't buy GDX at the absolute bottom, we didn't need to. Having stomach, stamina, and patience (SSP) is what matters. (Our GDX position is still open and we're sitting on a paper gain in the vicinity of +57%.)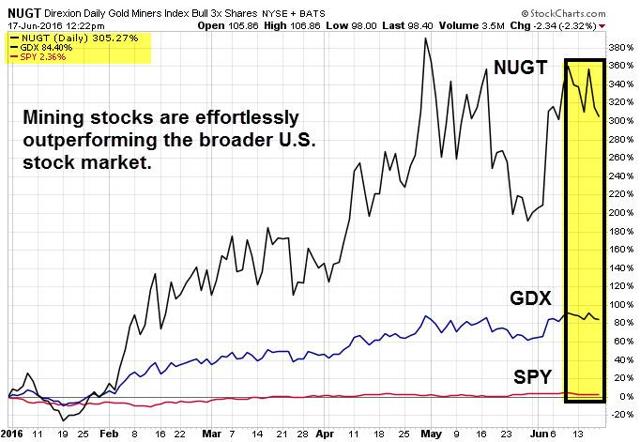 The other ETF shown in the chart above is the Direxion Daily Gold Miners Index Bull 3x Shares ETF (NYSEARCA:NUGT). This particular ETF aims for triple (300%) daily leverage to gold mining stocks. And NUGT in 2016 has been a windfall.
Our initial NUGT trade began with our Dec. 9, 2015 entry via our Weekly Picks, just as gold miners were being furiously sold by mainstream investors to coincide with year-end tax loss selling. In retrospect, buying a sector that has lost as much money as gold miners over the past several years and to do it with a triple daily bullish ETF like NUGT was a brave move, bordering straight insanity. (Keep this in mind whenever you want to execute your next big money making trade.)
We exited our initial NUGT trade from Dec. 9 on Jan. 7, 2016 for a timestamped gain of +11.1%. Then we followed it up with another NUGT +9.4% gain that ended on Jan. 29, 2016. During this same time frame, the Vanguard Total Stock Market ETF (NYSEARCA:VTI) sank 5.82%, which further underscores the impressive nature of our NUGT gains on the backdrop of ugly stock market conditions.
For much of the year, NUGT has been a rocketship. But instead of chasing it, we patiently waited for another opportunity to pounce. And that opportunity arrived on May 19 right after a two-day 31% crash in NUGT. (See chart below)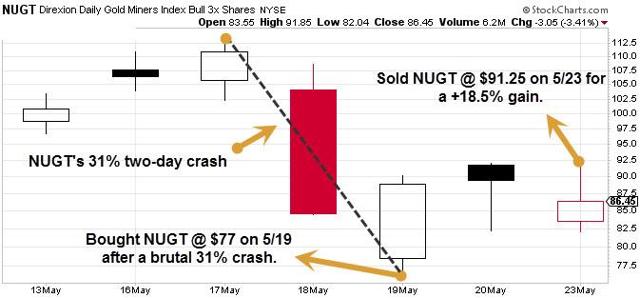 Per our Weekly ETF Picks (published on May 18), we bought NUGT on May 19 at $77 right at the market open. Although we expected to buy NUGT in the $86-87 range (near where it closed on May 18), NUGT got crushed at the May 19 open. That gave us a tight buying window and we scooped it up at $77. We exited our latest NUGT trade on May 23 at $91.25 with a timestamped $14.25 profit (or +18.5% gain).
Thus far in 2016, our three NUGT trades have added up to +39% in realized gains. Detractors might argue we would've made far more money by simply buying and holding NUGT. And they're right. But hindsight is 20/20 and anybody that's not happy with +39% in realized gains is a greedy slob.
In summary, we're not greedy and we're humbly grateful for whatever gains we get, especially in a year when the global stock market has been a mixed bag.
We're also glad to see that astute investors like George Soros and Paul Singer recognize that despite depressing five-year returns, the momentum for gold focused investments has shifted and more upside could be ahead.
P.S. The answer to the pop quiz is the Direxion Daily Junior Gold Miners Index Bull 3x Shares ETF (NYSEARCA:JNUG) which has surged just over 430% since Jan. 1.
P.P.S. The timestamped gains mentioned in this article are not a guarantee or indicator of future performance.
Disclosure: I/we have no positions in any stocks mentioned, and no plans to initiate any positions within the next 72 hours.
I wrote this article myself, and it expresses my own opinions. I am not receiving compensation for it (other than from Seeking Alpha). I have no business relationship with any company whose stock is mentioned in this article.