In the latest Commitment of Traders report (COT), we saw speculative long positions "blow-out" to extreme levels as we have clearly taken out the previous extreme bullish position from a few weeks ago. "Brexit" is clearly pushing money managers into becoming gold bulls, but do these extreme levels of speculative longs make this camp a dangerous one to be in?
We will get a little more into some of these details, but before that let us give investors a quick overview into the COT report for those who are not familiar with it.
About the COT Report
The COT report is issued by the CFTC every Friday to provide market participants a breakdown of each Tuesday's open interest for markets in which 20 or more traders hold positions equal to or above the reporting levels established by the CFTC. In plain English, this is a report that shows what positions major traders are taking in a number of financial and commodity markets.
Though there is never one report or tool that can give you certainty about where prices are headed in the future, the COT report does allow the small investors a way to see what larger traders are doing and to possibly position themselves accordingly. For example, if there is a large managed money short interest in gold, that is often an indicator that a rally may be coming because the market is overly pessimistic and saturated with shorts - so you may want to take a long position.
The big disadvantage to the COT report is that it is issued on Friday but only contains Tuesday's data - so there is a three-day lag between the report and the actual positioning of traders. This is an eternity by short-term investing standards, and by the time the new report is issued it has already missed a large amount of trading activity.
There are many different ways to read the COT report, and there are many analysts that focus specifically on this report (we are not one of them) so we won't claim to be the experts on it. What we focus on in this report is the "Managed Money" positions and total open interest as it gives us an idea of how much interest there is in the gold market and how the short-term players are positioned.
This Week's Gold COT Report
This week's report shows a huge increase in gold speculators as longs increased their gold positions by one of the largest amounts on record, while shorts decreased their own positions.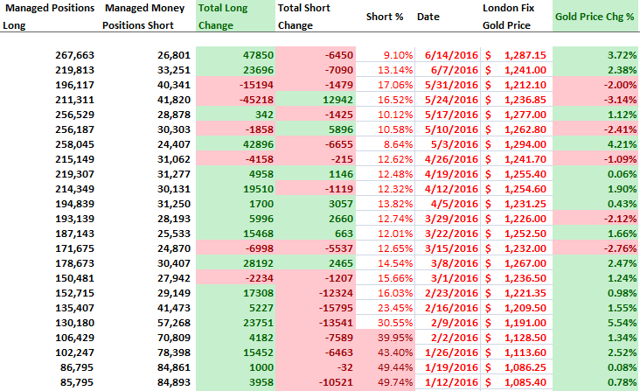 As investors can see, the 47,850 contract increase in speculative gold long positions is an all-time record and surpasses any increases in the report's history. Not only was it the largest weekly increase in the COT report's history, we have also hit the largest all-time levels in speculative gold longs. While longs blew out to all-time highs, shorts only decreased by a mediocre 6,450 contracts - not a particularly large decrease. What that tells us is that these new highs are being reached on new longs jumping into the market and not short-covering.
The net position of all gold traders can be seen below: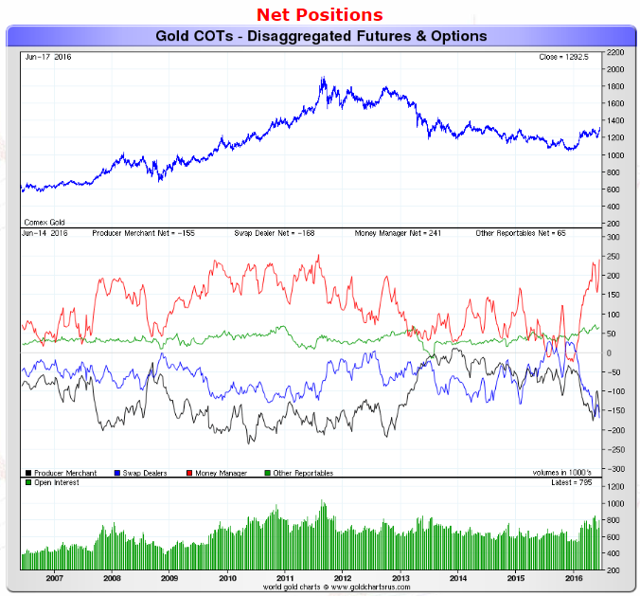 Source: Sharelynx Gold Charts
The red line represents the net speculative gold positions of money managers (the biggest category of speculative trader), and as investors can see, we have surpassed the previous net position that we hit in 2011 and a month ago. This is a historically large position and it means a lot of speculative money is extremely bullish on gold, which in our view is very dangerous. Any pullback in gold could be quite violent and there aren't that many speculative positions left to get into the gold bull camp - we'll need new types of investors getting into gold to keep the price action positive.
As for silver, the week's action looked like the following: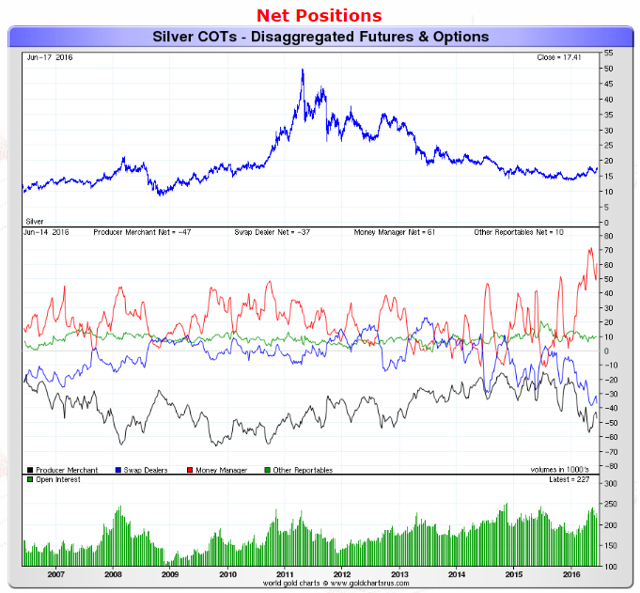 Source: Sharelynx Gold Charts
The red line, which represents the net speculative positions of money managers, increased by a little under 9,000 contracts while shorts decreased by a little over 3,000 contracts. Silver positions are not at the extremes we see in gold, but silver is close to all-time historical highs in terms of net long positions - above the net speculative positioning seen during the 2011 silver peak of close to $50 per ounce.
Our Take and What This Means For Investors
Clearly, speculative traders are buying gold hand over fist in anticipation of the UK leaving the EU next Thursday, but this extreme bullish opinion makes our contrarian antennae stand straight up as positions which "everybody does" tends to be positions that "everybody loses". While we are going to save our analysis of a Brexit impact on gold for a future piece, the largest speculative bullish position in gold on record (at least for the COT report) means that if a Brexit doesn't happen, we can expect gold to drop significantly as traders unwind their long positions.
Even if a Brexit does happen, will it be a significant enough event to push gold higher or will this be a case of "buy the rumor and sell the news"? Investors need to remember that with so many traders already bullish on gold, there may not be that many people left to buy gold and push the metal higher even in the event that Brexit occurs.
To be fair, there are many other analysts that think gold will do well in either scenario, such as HSBC:
"We believe gold is well placed to withstand any repercussions of a vote to remain in the EU. As pointed out by the currency team, shorting the GBP may be a way to hedge a leave vote, although GBP could rally sharply if the referendum reaffirmed the UK's membership in the EU. This would not be the case with gold, we believe. The risk to gold of a vote to remain in the EU would be asymmetric. While a vote to leave the EU would likely result in a rally, we do not think a vote to remain in the EU would trigger a major sell-off."

"We believe gold is likely to fall by no more than 5%, or to USD1,220/oz, as other bullish factors are likely to support prices," HSBC adds.
While we see their reasoning, we don't think they are taking into full consideration the already huge bullish position in gold. Additionally, the lack of physical demand in Asia means that this is a paper driven rally with physical buyers sidelined. While we know paper trading can have a much stronger impact on prices than physical buyers due to the size and volume paper markets can muster in short periods of time, if that sentiment turns, there will be no assistance from physical markets.
This is part of the reason why we believe that the COT report is showing all-time highs in speculative net positions in gold, yet we're not even close to the all-time highs - we need a combination of paper and physical buyers to push gold to those heights as we had in 2010 and 2011.
At this point, we are holding and lightening up on our core gold and silver positions, and we believe investors need to be very careful here regardless of the upcoming Brexit vote. We don't think it is likely that gold will rocket if people vote for Brexit because there are simply too many bulls in the trade and physical demand is slow - maybe gold would rise to $1,350 in that case. But in our view, it is much more likely that either Brexit doesn't occur, or even if it occurs, there are few people left to jump in and the gold price would drop.
Thus, we believe investors should actually be decreasing gold positions in ETFs and miners such as the SPDR Gold Trust ETF (NYSEARCA:GLD), the iShares Silver Trust (NYSEARCA:SLV), the ETFS Physical Swiss Gold Trust ETF (NYSEARCA:SGOL), and Randgold (GOLD). Of course, keep core positions but don't get carried away with the emotion here - gold is currently an extremely crowded trade.
Disclosure: I am/we are long SGOL, SIVR.
I wrote this article myself, and it expresses my own opinions. I am not receiving compensation for it (other than from Seeking Alpha). I have no business relationship with any company whose stock is mentioned in this article.