Value is created when a stock is floundering, but not the company itself. It appears as though this was the case with Hain Celestial (NASDAQ:HAIN). In a previous article, I compared Hain Celestial's fundamentals to General Mills (NYSE:GIS), a company that was trading at a higher price to earnings multiple but had far slower growth. At the time, I believed that Hain Celestial was greatly undervalued, and, on April 20th, advised readers to invest in the company.
At the time of this writing, Hain Celestial trades at $50 per share, or 20% than it was on April 20th. But that move is in the past; what matters now is where HAIN is going. In a word, I think the answer is "higher."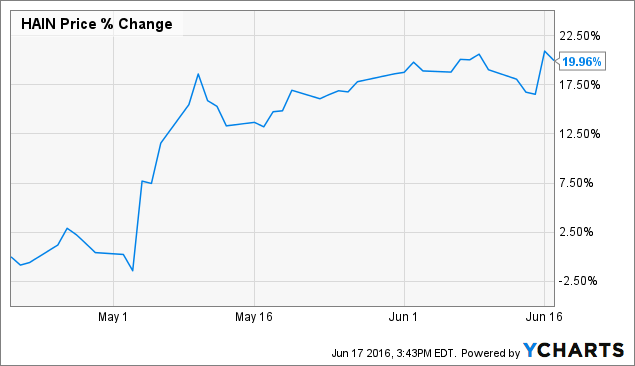 From a fundamental perspective, Hain Celestial still appears inexpensive relative to itself and to its closest competitor, WhiteWave Foods (NYSE:WWAV).
Hain Celestial currently trades at 25 times full year 2016 earnings, which is by no means a bargain. However, this still makes the company valued far more cheaply than it was throughout most of 2015. The company also looks inexpensive when compared to WhiteWave Foods, a huge player in the natural and organic product space. Though WhiteWave Foods is growing earnings at a faster clip than Hain Celestial, the former is richly valued at 33 times full year 2016 earnings.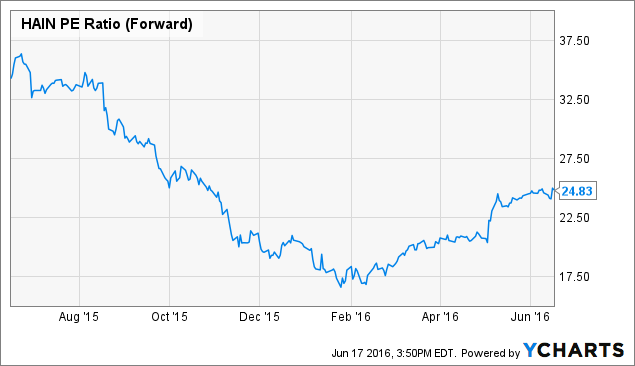 HAIN PE Ratio (Forward) data by YCharts
Moreover, Hain Celestial's multiple of 25 times earnings is supported by the company's robust sales and earnings growth. In the third quarter, Hain Celestial reported revenue of $750 million, representing an increase of 13% quarter-over-quarter. Additionally, the $5.2 billion company reported adjusted earnings per share of $0.47, or an increase of 49% quarter-over-quarter.
I believe that Hain Celestial further justifies its valuation due to its ability to maintain rapid earnings growth. Hain Celestial has been working with Boston Consulting Group on what it calls "Project Terra," an initiative that analyzes the company's supply chain to look for cost saving opportunities.
Hain Celestial expects Project Terra to save upward of $100 million in costs over the next three years. CEO Irwin Simon plans to reinvest the cost savings into the company's growth brands to drive consumption. None of Hain Celestial's U.S. brands have more than 15% household penetration, which implies that further investing in its brands could have a meaningful impact on penetration, sales, and consumption.
Furthermore, the changing taste of the consumer remains a catalyst for Hain Celestial. The company is the parent of over 50 brands, 99% of which are non-GMO and over 40% of which are organic. While companies like General Mills are quickly trying to change their products to fit the natural and organic food trend, Hain Celestial is already positioned to profit from it.
There is also a lot to like from a technical perspective. When a company's fundamental strength is paired with its stock's bullish technicals, it can be a recipe for a continued move to the upside.
For a longer term view, I like to look at a stock's weekly chart. HAIN, shown below, sculpted an inverse head and shoulders chart pattern with a depth of $10. When the depth of the pattern is projected upward from the point at which the stock broke out ($43), it yields a price target of $53. This price target represents upside of approximately 6% from currently levels.
The weekly chart of HAIN is bullish also because of the trending Relative Strength Index, or RSI, and overbought Stochastics Oscillator. Both are momentum indicators that can be used to confirm the prevailing trend. When the two are trending in the same direction as price or remain overbought, it confirms the upward movement.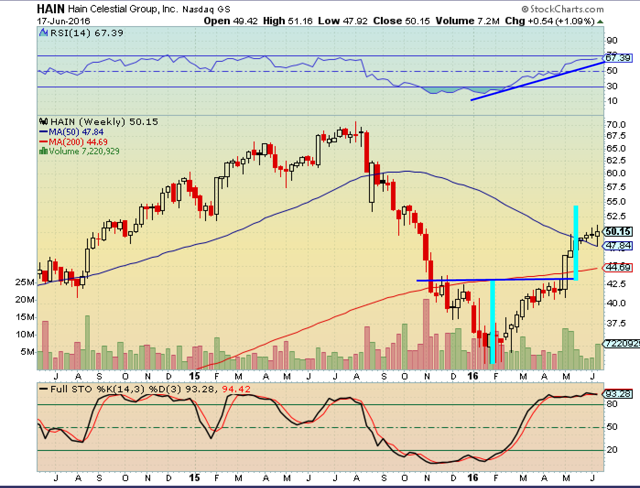 The daily chart of HAIN is bullish, too. The stock is currently in an ascending price channel and has made a series of higher highs and higher lows. The stock's volume has been higher on up days than on down days, with an especially large volume stick on Thursday.
What's more, the RSI and Stochastics Oscillator have bounced off support and have further room to advance higher before traders will consider HAIN overbought. In my opinion, HAIN is digesting its rapid post-earnings ascension and looks ready to continue its move higher.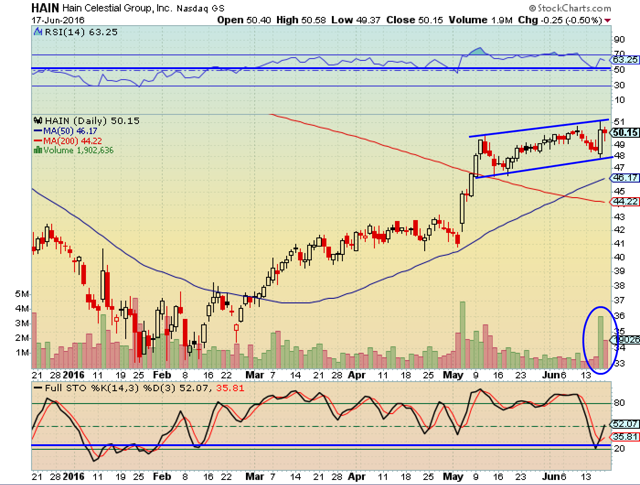 Disclosure: I/we have no positions in any stocks mentioned, and no plans to initiate any positions within the next 72 hours.
I wrote this article myself, and it expresses my own opinions. I am not receiving compensation for it (other than from Seeking Alpha). I have no business relationship with any company whose stock is mentioned in this article.