For a cybersecurity technology leader, the stock of CyberArk (NASDAQ:CYBR) is naturally very volatile. The stock hit a low below $35 in February and now trades at nearly $50. Ironically, CyberArk traded at similar levels in 2015 as well. My research last year questioned whether the stock wasn't headed for a period of weakness.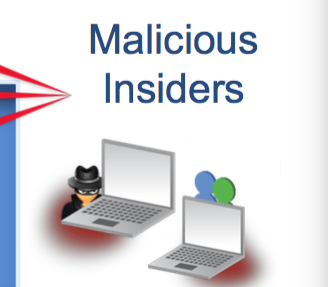 The stock provides a prime example of paying appropriate prices for growth rates. The privileged account security leader now faces slower growth rates and stalling profits as revenues approach the $200 million level.
The stock has rallied strong following the release of Q1 results at the beginning of May. At nearly $50, though, the stock should start hitting a wall with a market valuation of $1.8 billion based on 36 million diluted shares.
The growth rate is set to decelerate at a rapid pace following a couple of years of expansion possibly driven by some benefits of going public in 2014. As an example, the Q1 revenue growth rate was only 43% while the important license revenue only expanded 38%. These growth rates are far below the 56% growth produced in 2014 and 2015 and the peak at 89% to start 2015.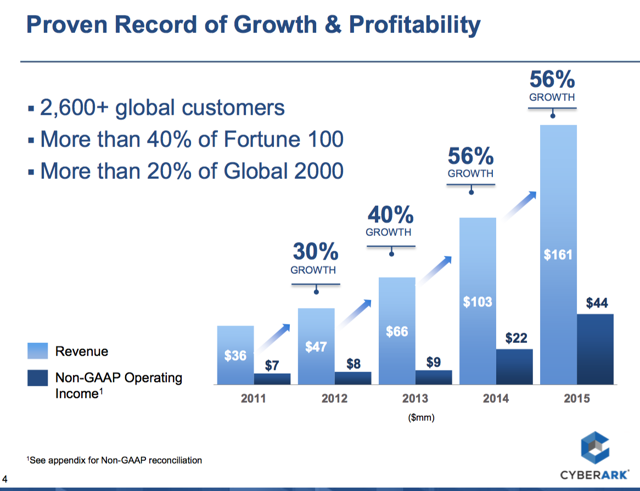 The year started off growing slower than the last two years. In addition, the Q2 guidance was for revenue growth of only up to 33%. CyberArk does have a history of beating results by a large amount, but as revenues start approaching $50 million on a quarterly basis, the margin of exceeding guidance will start declining.
The last three quarters have seen the company beat estimates of 30%+ revenue growth guidance to end up with around 42% growth rates. The following earnings numbers are per Seeking Alpha:
Q1 '16: Revenue of $46.9M (+42.4% Y/Y) beats by $3.52M.
Q4 '15: Revenue of $51.5M (+41.9% Y/Y) beats by $7.62M.
Q3 '15: Revenue of $40.1M (+43.4% Y/Y) beats by $2.95M.
An investor really needs to bet that the company actually under promises to a large extent for Q2. CyberArk must reach $51.7 million in Q2 revenues in order to reach a 42% growth rate again.
A $3.4 million beat from the current analyst estimate of $48.3 million is clearly possible. What happens to the stock if the company doesn't deliver the standard surprise?
What we do know is that the stock trades at 8x FY16 revenue estimates and any slowdown in growth will damage that multiple. Any upside can push the multiple up to potentially 10x revenues. As cybersecurity sector stocks like FireEye (NASDAQ:FEYE), Imperva (NASDAQ:IMPV) and Palo Alto Networks (NYSE:PANW) highlight, the multiple risk is more to the downside with limited upside.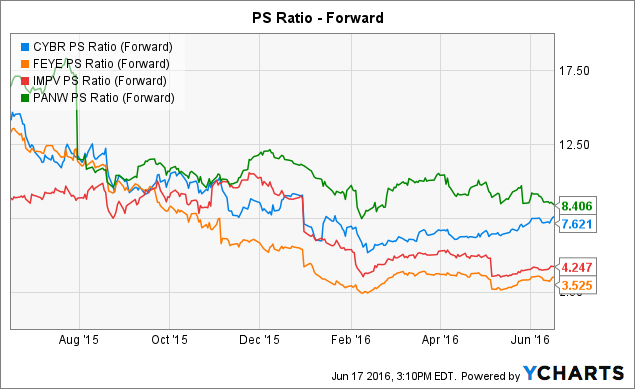 CYBR PS Ratio (Forward) data by YCharts
The key investor takeaway is that the time to buy CyberArk was on the dip to $31.50 in February. The current price offers limited value proposition as the company ultimately heads towards revenue growth below 30% while the market expects constant quarterly beats. Do you want to own the stock if the company doesn't beat by a large margin in Q2?
Disclosure: I/we have no positions in any stocks mentioned, and no plans to initiate any positions within the next 72 hours.
I wrote this article myself, and it expresses my own opinions. I am not receiving compensation for it (other than from Seeking Alpha). I have no business relationship with any company whose stock is mentioned in this article.
Additional disclosure: The information contained herein is for informational purposes only. Nothing in this article should be taken as a solicitation to purchase or sell securities. Before buying or selling any stock you should do your own research and reach your own conclusion or consult a financial advisor. Investing includes risks, including loss of principal.