On Sunday Nike (NYSE:NKE) front man Lebron James will play Under Armour's (NYSE:UA) Steph Curry in Oakland. As a Nike shareholder, I'm biased and want the Cavs to win. I'll admit this right away. Under Armour is growing by leaps-and-bounds, though. There's no telling where it will be in ten years or more, but I think one thing's for sure - Nike is the superior business now, no matter who wins the NBA championship.
Valuations and fundamentals are diverging
Nike and Under Armour are both fine businesses, with the latter being the newer, much smaller, and growthier play.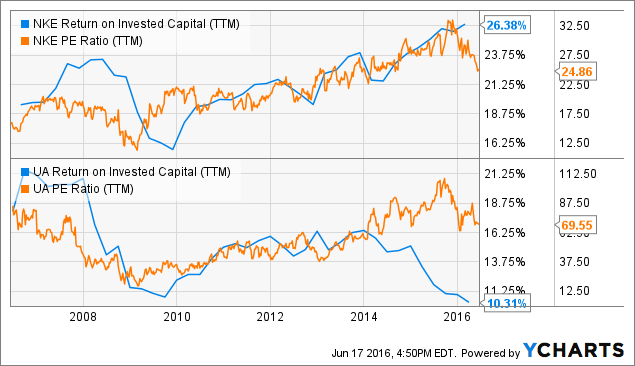 Judging by the above chart and despite historically high valuations, at least Nike seems to have some justifying numbers to back its valuation up. Nike's margins are almost double that of Under Armour's as well.
Looking at returns from an equity perspective, Nike's return on equity is inching up towards record highs, slightly surpassing the 30% mark. The upward trajectory of the firm's ROE has largely been led by margin expansion and a very slight uptick in leverage. Analyzing Under Armour's return on equity is the opposite situation. Declining margins are dragging down the firm's ROE. Under Armour's ttm ROE is a little over 15%.
I also think buybacks may play a part in the discrepancies between ROE's as well.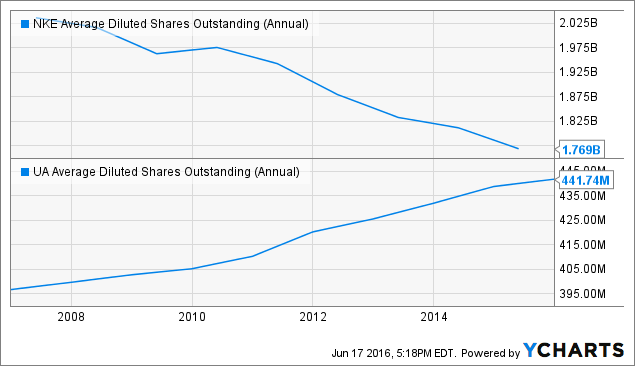 NKE Average Diluted Shares Outstanding (Annual) data by YCharts
Nike has been shrinking the existing shareholder's piece of the pie, while Under Armour has exhibited a different trend over the years. A smaller equity base in the denominator can lead to higher ROE. It should be noted that both firms are supported by strong balance sheets and similar financial leverage ratios, however.
Running into more revenues?
Looking at sales growth, this is where the argument for Under Armour over Nike is probably the strongest. Under Armour is growing sales by 30% while Nike is more mature, with sales in the average growth range of about 7% to 10%.
Under Armour's sales are impressive, but appear superficially pricey as well.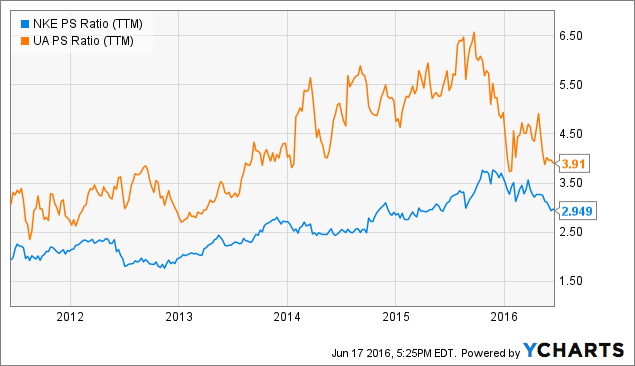 NKE PS Ratio (NYSE:TTM) data by YCharts
UA shares are actually priced below their five year average of 4.1 times sales, however, and I think for growth investors the P/S ratio might be more useful than the P/E ratio. Nike is actually overpriced compared to its five year average of 2.4 times sales. Both companies trade higher than the industry average multiple of 2.0 times sales, but the premiums are probably justified.
Nike is also basically trading right at its five year average P/E, which is around 24-25x earnings. Under Armour trades at a premium to the already lofty five year average of 64 times earnings multiple. Clearly the market is rewarding UA shares for their superior growth prospects. If you're willing to pay up for future growth, UA shares might be your best ticket to get there if you have a long time horizon, but I'm more of a fan of the "right here, right now" line of reasoning.
As a side note, comparing PEG ratios, Nike looks like the better value as well. Its PEG ratio of 1.5 looks reasonable, and is a better value compared to Under Armour's PEG ratio of 2.4.
Following the free cash flow
Below I compare free cash flow capabilities.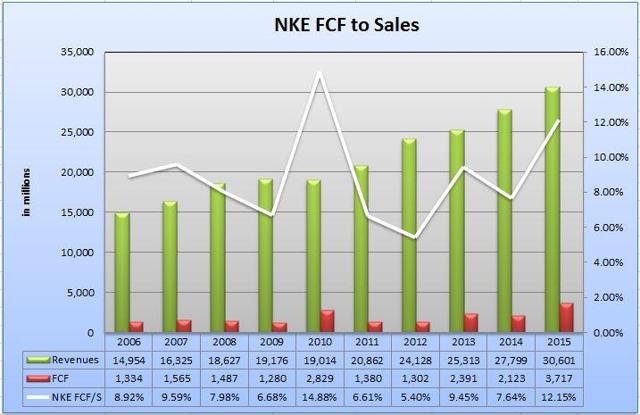 Created by Joseph Harry, data from Morningstar
Nike is a cash flow cow, firing on all cylinders. FCF has been especially exceptional over the last 3 years. In 2015, Nike turned $0.12 of every $1 of sales right into free cash flow, which is pretty impressive.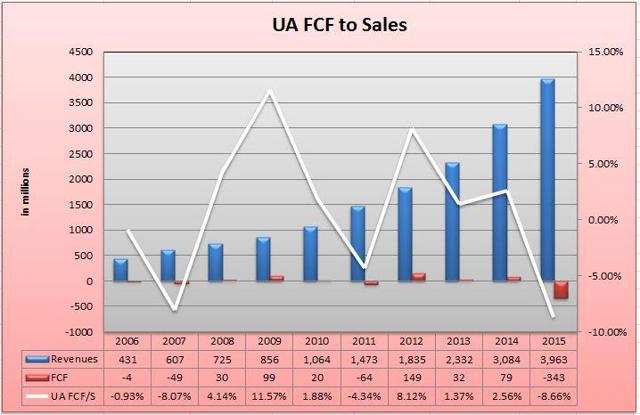 Under Armour's free cash flow is much lumpier than Nike's is, so it's hard to compare them.
Looking at cash conversion cycles, Nike is much more efficient, converting raw inputs into cash in about 94.57 days, versus 122.8 days for Under Armour. Nike takes longer to pay its supplies and seems to be much more efficient at turning inventory into cash as well. I think there's some good evidence here of Nike's advantage of size-and-scale. This is something Under Armour will in all likelihood improve as it gets bigger and gains more bargaining power with suppliers.
Conclusion
While I cringe at calling Nike an outright "value play", it looks better priced than shares of UA. I'd definitively choose it over Under Armour due to its record levels of ROIC, industry-leading margins, and established brands such as the Jordan brand, Converse, and its namesake. I'm also a "one in the hand is worth two in the bush" kind of guy, so Nike is inherently more attractive to me because of this. It's already proven itself to be a world-class allocator of shareholder capital, a cash cow, and the industry leader. It's one of the most valuable brands in the world.
For pure growth investors, though, there's no denying Under Armour's sales growth is on fire. I also think the company has a bright future, and there's room for more than one player in this space. Both Nike and Under Armour will likely have a large runway for growth going forward, especially if direct to consumer e-commerce catches on and evolves into a significant source of sales.
The last six months haven't been very kind to either company.
The future, however, will likely continue to bring prosperity. The key is to realize that even the brightest of futures can be over-priced. Under Armour might be onto something big with its signing of superstar Steph Curry, but there's a lot of things that need to go exceptionally well for it to maintain its lofty valuation.
Nike seems to be expensive, but not overly ridiculous at a tad under 22 times forward earnings and is starting to look more and more attractive as it sells off. To sum things up, I'd say Under Armour is a ticket to future growth - although laden with uncertainty; Nike is a ticket stable, established earnings and consistent cash flows now.
If you enjoyed this article and would like to receive further updates and articles in the future, please feel free to hit the "+Follow" button at the top of the page by the author's name.
Disclosure: I am/we are long NKE.
I wrote this article myself, and it expresses my own opinions. I am not receiving compensation for it (other than from Seeking Alpha). I have no business relationship with any company whose stock is mentioned in this article.
Additional disclosure: Articles I write for Seeking Alpha represent my own personal opinion and should not be taken as professional investment advice. I am not a registered financial adviser. Due diligence and/or consultation with your investment adviser should be undertaken before making any financial decisions, as these decisions are an individual's personal responsibility.