If you have any challenges reading the charts in this article, check out the first article on quick and dirty discounts to book value for mortgage REITs. This piece is designed to be short and to emphasize providing easy charts that help investors identify opportunities for further inspection. Some of these mREITs recently reported their Q1 book value. The changes aren't worked in yet, but I'll reference some of them.
The mREITs
I put most of the mREITs, two corporations, and one ETF into the table because I wanted to get a more complete estimation.
| | | |
| --- | --- | --- |
| (NASDAQ:AGNC) | American Capital Agency Corp | |
| (NYSE:AI) | Arlington Asset Investment Corporation | Not a REIT |
| (NYSE:AMTG) | Apollo Residential Mortgage | To Be Bought by ARI |
| (NYSE:ANH) | Anworth Mortgage Asset Corporation | |
| (NYSE:ARR) | ARMOUR Residential REIT | |
| (NYSE:BXMT) | Blackstone Mortgage Trust | |
| (NYSE:CHMI) | Cherry Hill Mortgage Investment | |
| (NYSE:CIM) | Chimera Investment Corporation | |
| (NYSE:CMO) | Capstead Mortgage Corporation | |
| (NYSE:CYS) | CYS Investments | |
| (NYSE:DX) | Dynex Capital | |
| (NYSE:EARN) | Ellington Residential Mortgage REIT | |
| (NYSE:MFA) | MFA Financial | |
| (NASDAQ:MTGE) | American Capital Mortgage Investment | |
| (NYSE:NLY) | Annaly Capital Management | |
| (NASDAQ:NYMT) | New York Mortgage Trust | |
| (NYSE:ORC) | Orchid Island Capital | |
| (NYSE:RSO) | Resource Capital Corporation | |
| (NYSE:TWO) | Two Harbors Investment Corp | |
| (NYSE:WMC) | Western Asset Mortgage Capital Corp. | |
| (NYSE:ZFC) | ZAIS Financial | To be "purchased" in a merger |
| (NYSE:ARI) | Apollo Commercial Real Estate Finance, Inc. | |
| (OAKS) | Five Oaks | |
| (NYSE:MITT) | AG Mortgage Investment Trust, Inc. | |
| (BATS:REM) | iShares Mortgage Real Estate Capped ETF | |
The goal here is to have a fairly large sample size so we can identify trends and similarities throughout the sector. The mREIT sector only contains about 25 total organizations but the investing and hedging strategies have very material differences.
Table 1
If you're primarily using this article for the quick discounts to book value, use the column with the red heading in this table.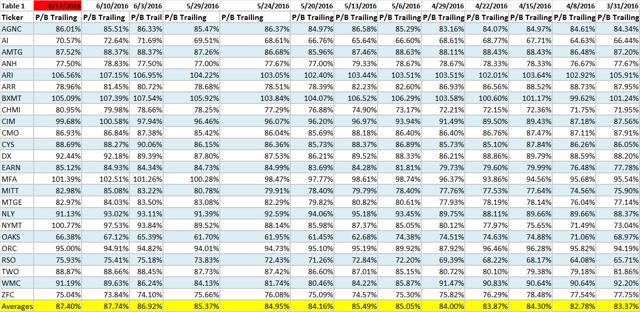 It is also worth emphasizing that I opted to use the GAAP book value for each mREIT. Most of the time this was available from the earnings release.
Table 2
The next table demonstrates the change in discount to book value relative several other points in time.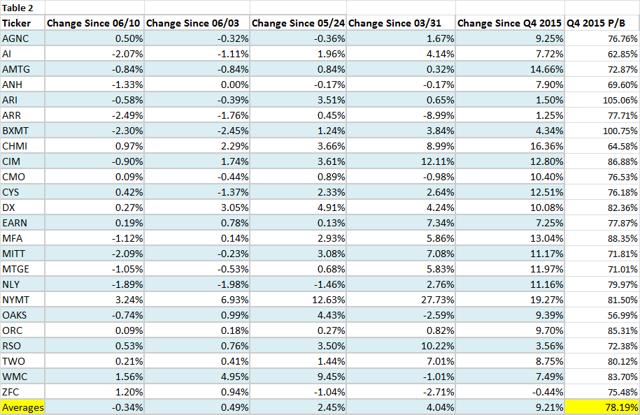 Discussing Last Week's Changes
There are a few things that stand out to me in the changes relative to last week. Remember that the S&P 500 finally saw a bad week and the had a price decline. Investors became more scared of credit sensitive assets and yields went fairly low. At times long term Treasuries and domestic equity funds were moving in the same direction which is a sign to me that the market is not following normal correlations (Treasury to equity is usually negative).
MBS had a fairly rough time lately with modest gains compared to a substantial movement lower in the rates on swaps and treasuries. Non-agency MBS should have taken a fair value hit relative to a week ago. Given the expected poor performance on non-agency MBS with a declining rate environment I would expect CYS to have one of the best performances but they were only +.42%. AGNC is another agency mREIT and they were+.50%.
I should point out that ARR went ex-dividend so the -2.49% change misrepresents the real movement.
The biggest gainer was NYMT by a significant margin. Lower long term rates are bad for IO (interest only) strips and credit fear is bad for their credit sensitive positions. The mortgage REIT sustained their dividend, but that doesn't warrant this kind of price movement.
WMC was another big gainer in share price and by rough estimates their book value should've taken a significant hit due to the way they structured their combination of agency RMBS, non-agency assets, and swap portfolio.
In a nutshell, movements in share prices did not reflect movements in underlying assets.
I'm still long ARR and think they are in one of the most attractive situations. There are only a couple mREITs that I see as attractive at current prices. I'm not highlighting the rest yet because I'm still working on pieces for subscribers demonstrating the value in those names.
I may go long in any of the mREITs or their preferred shares or sell out existing positions.
Conclusion
Lately the movements in agency RMBS relative to swaps have ensured that virtually every mortgage REIT should be losing book value. That isn't all bad because it creates a better scenario for reinvesting proceeds. If the current scenario could be locked in with the current RMBS to LIBOR swap spread, my outlook would improve substantially. This kind of increase in spreads between MBS and swaps hurts book values but over the long term it would be great for dividends.
Disclosure: I am/we are long ARR, PREF SHARES OF DX.
I wrote this article myself, and it expresses my own opinions. I am not receiving compensation for it (other than from Seeking Alpha). I have no business relationship with any company whose stock is mentioned in this article.
Additional disclosure: Information in this article represents the opinion of the analyst. All statements are represented as opinions, rather than facts, and should not be construed as advice to buy or sell a security. This article is prepared solely for publication on Seeking Alpha and any reproduction of it on other sites is unauthorized. Ratings of "outperform" and "underperform" reflect the analyst's estimation of a divergence between the market value for a security and the price that would be appropriate given the potential for risks and returns relative to other securities. The analyst does not know your particular objectives for returns or constraints upon investing. All investors are encouraged to do their own research before making any investment decision. Information is regularly obtained from Yahoo Finance, Google Finance, and SEC Database. If Yahoo, Google, or the SEC database contained faulty or old information it could be incorporated into my analysis.
Editor's Note: This article covers one or more stocks trading at less than $1 per share and/or with less than a $100 million market cap. Please be aware of the risks associated with these stocks.