Last week, I penned an article concerning the current state of overvaluation in the utility sector. Using an analogy found in a 70s Elton John song, the article invoked a bit of deathbed humor as the song deals with the question a dying Civil War solder is asking St Peter: Am I going to heaven or hell, or "Which Road am I on?" This brought out an interesting thread of comments, with a reader commenting that he hoped we were not all in a "hand-basket" and could I please try to assist mortals in finding their own road to Utility Utopia. So, I began researching the "hand-basket" metaphor and others of the same period, and found a reference of using a wheelbarrow for transportation to the hereafter. Critical to this endeavor is the importance of understanding the concepts of: "going to heaven in a wheelbarrow" vs "going to hell in a hand-basket", of course with the preference of the former over the latter.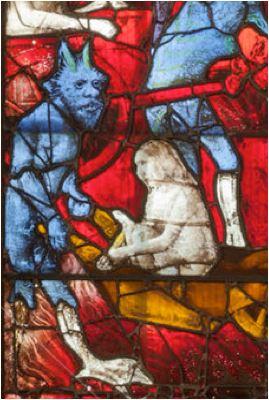 However, after an in-depth due diligence of these phrases, I was shocked to learn they meant the same. While one would think in 1618, when the wheelbarrow phrase was first coined, it would have meant its literal translation, that one way to get to heaven would be in a wheelbarrow. However, as depicted in the mediaeval stained glass window "The Last Judgment" in the Great West Window of Fairford Church in Gloucestershire, England, the phrase of the time was a euphemistic way of describing travels to hell, not heaven. The stained glass window, dating to the early 1600s, contains an image of a woman being carried off to purgatory in a wheelbarrow pushed by a blue devil. The hand-basket imagery refers to the collecting of decapitated heads of sinners at the base of the early 1700s guillotines.
So, while the meaning of both phrases were essentially the same in the 1600s and 1700s, for the purpose of this article, the wheelbarrow axiom will be interpreted in its most literal sense: a vehicle for finding utility nirvana.
In search for a utility utopia portfolio, each investor's individual strategy needs to be front and center. Dividend growth, income, and value investors can find opportunities in the utility sector. In addition, as with all sectors, there are stocks which, for various reasons, are unattractively priced as there are stocks which garnish higher analysts' recommendations. Reviewing various sources for wheelbarrow and hand-basket suggestions brings forth an interesting list of stocks. Using various stock screeners and searches, I compiled a list of well-liked and not-so-well-liked from a few stock research firms. The vast majority of utility stocks were considered to be in the "neutral" or "market perform" range.
However, reviewing the strong buys and sells provides an interesting list of stocks, and there is little overlap regardless of resource. Most Wall Street firms with investment banking arms have been very reluctant to term a stock a "sell" for fear of negative repercussions. Third-party stock research firms don't have similar conflicts of interest and are more likely to have a negative published opinion. I have chosen to review the ratings of three third-party stock research firms: Morningstar, S&P IQ, and Value Line.
Morningstar's stock screener shows the following stocks with 1 Star (negative). There were no 5 Star (positive) rated utilities, and only one 4 Star, out of 219 utility stocks.

S&P IQ also offers a 5 Star rating system with 1 Star being negative and 5 Star being positive. S&P agrees with M* as they list no 5 Star stocks. Fidelity.com offers a stock screener with S&P rating as a criteria, and S&P has more stocks on their list of buys and sells than M*.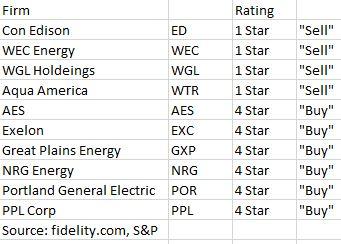 A trip to the local library to review Value Line analysis was like a trek in the way-back machine. In the early 1970s, as I was learning about investing, Value Line was one of the most respected and accessible third-party stock reviewers. 45 years later, the big black books are still available for free in the Resource section of most libraries. The rating system for Value Line is the opposite of M* and S&P, with 1 being good and a 5 being bad. As with the above sources, there are few utility firms Value Line rates as a "sell", but several utility firms with "buy" recommendations.
However, in its Sector Timeliness, utilities ranks quite high. Of the top 15 sub-sectors, Electric Utilities - West rated as the highest sector of all. Natural Gas Utilities rated #3, Water Utilities rated #4, Electric Utilities - Central ranked #7, and Electric Utilities - East rated #14. Combining both the large-cap and mid/small cap utility ratings from Value Line produces the following list: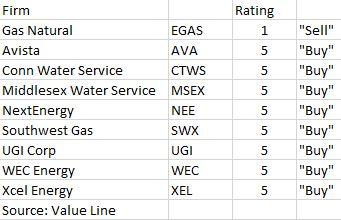 Wall Street brokerage firms tend to keep their recommendations closer to the vest, with most available exclusively to their customers and through an occasional blurb on the internet. Conducting a Goggle search of "utility buy recommendations" brings up only 2.2 million results, and the authors range from Kiplinger's magazine and Barron's to sites such as 247wallstreet.com and benzinga.com. For instance, several sites reported Entergy (NYSE:ETR) was recently added to Goldman Sach's (NYSE:GS) much-coveted Conviction Buy List, which is their top rated stock list. According to snippets from 247wallstreet.com, BankAmerica Merrill Lynch in January recommended Dominion Resources (NYSE:D), ETR, PG&E (NYSE:PCG), and PPL Corp (NYSE:PPL), while their current list includes American Electric Power (NYSE:AEP), Public Service Enterprise (NYSE:PEG) and PPL.
The singular advantage of the brokerage lists and updates is the short justification usually given for the rating. After reviewing the buys lists of the third-party researchers, the accompanying reports are usually several pages in length. Brokers, on the other hand, tend to release their data in more concise reviews. For example, according to bengaza.com, the recent upgrade of ETR by Goldman was accompanied by the following thesis:
Goldman Sachs' Michael Lapides expressed concern regarding utilities over the next 12 months, given the 10-year U.S. Treasury is expected to persist below 3 percent through 2017. However, analyst Lapides maintains a Buy rating on Entergy Corporation while raising the price target from $87 to $88 and adding the company to Goldman Sachs' Americas Conviction List.

The analyst explained that Entergy was added to the Conviction List due its attractive valuation and dividend yield, which were above peer figures, as well as on the low expectations heading into the analyst day scheduled for June 9. "We note the current share price implies either (1) a discount on ETR's regulated segments or (2) limited or no value for ETR's non-regulated, nuclear plants in NY and MI," Lapides mentioned. This valuation is unsustainable, given that Entergy's merchant nuclear plants generate free cash flow of $1-$2 per share.

Goldman's 2016-2018 estimates are currently above the consensus forecasts, driven by expectations of robust cost management and improvements in regulatory processes that would help Entergy's core regulated segments to generate improving earned returns on rate base.

The EPS estimates for 2016, 2017 and 2018 have been raised to reflect the revised financing and cost management assumptions. "We expect ETR to highlight (1) rate base growth potential from new gas plants, gas reserves, automated metering and transmission, (2) cost management and (3) multi-year EPS/EBITDA growth," Lapides added.
Of interest in these wheelbarrow and hand-basket lists is a lack of overlap on each end of the spectrum.
My own lists of utility wheelbarrows and hand-baskets are very much slanted towards my personal criteria of current income and undervaluation. In my opinion, the vast majority of US utility stocks currently carry a high valuation and are relatively unattractive at current prices. Canadian utilities valuations may provide an more interesting entry point, but US investors need to feel comfortable with their respective foreign currency exposure. If the US Dollar weakens against the Canadian Dollar, the results will be higher share prices and higher dividends for Canadeian utilities when converted back to US Dollars. If the US Dollar strengthens, the opposite will be true. My list of Canadian utilities include Algonquin Power (AQUNF), Emera (OTCPK:EMRAF), Fortis (FRTSF) after the acquisition of ITC (ITC), and AltaGas (OTCPK:ATGFF). I am looking to increase exposure to these stocks over time.
For US utilities, I am looking for a pullback in valuations before adding to Dominion Resources , CenterPoint (NYSE:CNP), Eversource (NYSE:ES) and ETR. The balance of my utility portfolio positions I consider to be fully invested and would need a clear reduction in value or clear improvement in yield before adding to stocks such as Southern Company (NYSE:SO) and Exelon (NYSE:EXC). While Spectra Energy (NYSE:SE) has a nice Canadian exposure with its ownership of gas utility Union Gas, my position is sufficiently large at the present time.
Currently, the only "sell" I would suggest is Con Edison (NYSE:ED) and Gas Natural (NYSEMKT:EGAS) as there are better opportunities for either utility dividend income or capital gains potential.
There is my suggestions of utility "wheelbarrows" and "hand-baskets". Thanks to Dividend Sleuth for the article idea and to Chowder for his comments concerning relative utility valuations on the previous article.
Author's Note: Please review disclosure in Author's profile.
Disclosure: I am/we are long AEP, AQUNF, ATGFF, CNP, D, EMRAF, ES, ETR, EXC, ITC, SE, SO.
I wrote this article myself, and it expresses my own opinions. I am not receiving compensation for it (other than from Seeking Alpha). I have no business relationship with any company whose stock is mentioned in this article.
Editor's Note: This article covers one or more stocks trading at less than $1 per share and/or with less than a $100 million market cap. Please be aware of the risks associated with these stocks.