In this article, I want to give you the most important indicators for transportation stocks. I will focus on the mid-term outlook and discuss the following points:
Slower US Growth
Transporation & warehousing sentiment (ISM Manufacturing)
Transportation equipment sentiment (ISM Non-Manufacturing)
Freight transportation services index
The stocks that are most affected by these macro changes are matured companies that do business all over the US. In this case:
Slower US Growth
The US economy has peaked in the third quarter of 2014. The ISM manufacturing index peaked during that period.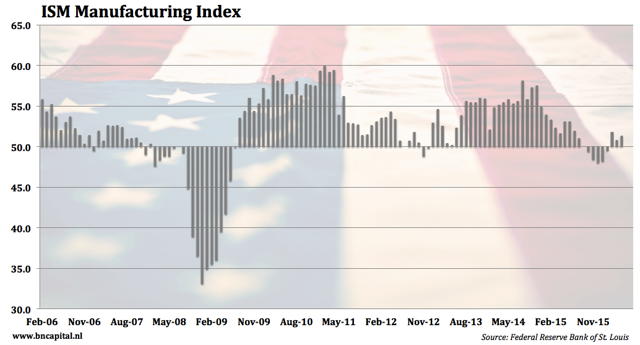 The transportation industry is one of the most cyclical industries since economic activity can only take place when transportation is guaranteed. Therefore, it is no surprise that Union Pacific revenues are confirming the outlook given by the leading ISM index.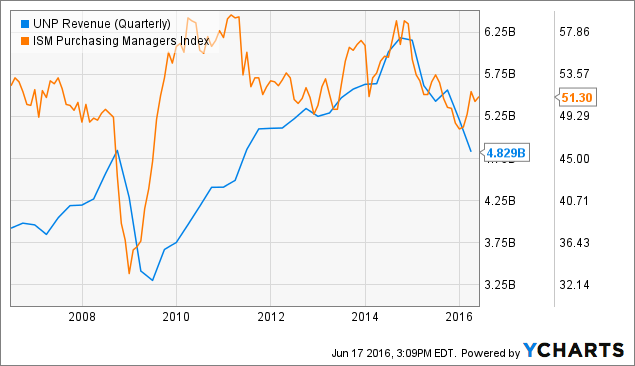 UNP Revenue (Quarterly) data by YCharts
Transportation & Warehousing Industry Sentiment
The transportation & warehousing industry performed quite well, even after the economic peak in 2014. The slow down started in 2015 and has not been broken yet. Sentiment is headed down. At this point, the slow down is similar to 2012 and 2013. I am starting to get more worried when it keeps going down.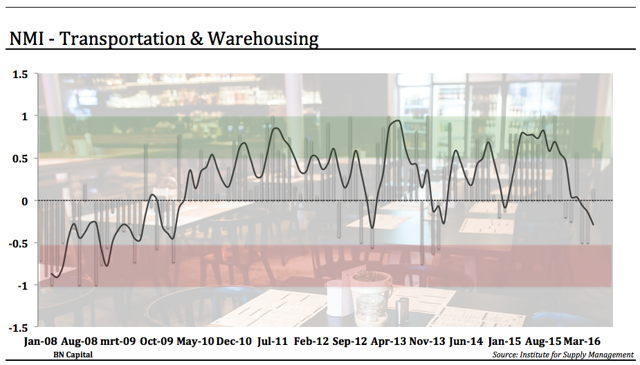 Transportation Equipment Industry Sentiment
Transportation equipment sentiment is doing worse than transportation & warehousing.
Similar to transportation & warehousing we see that the actual economical impact started a bit later. Sentiment however is falling rapidly and has been down since quite a few months. Stocks of transportation equipment companies will keep suffering if things don't change for the better really quick.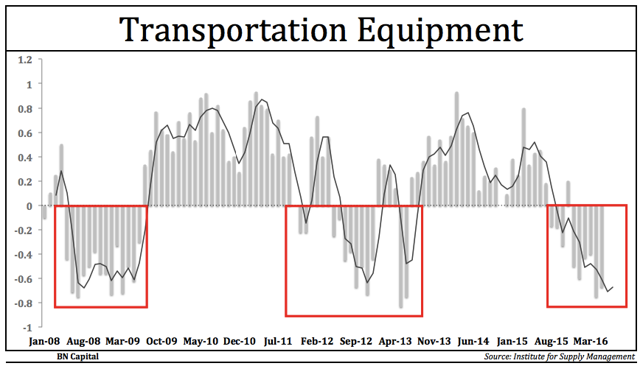 The graph below shows the stock prices of two of the biggest transportation equipment companies in the US.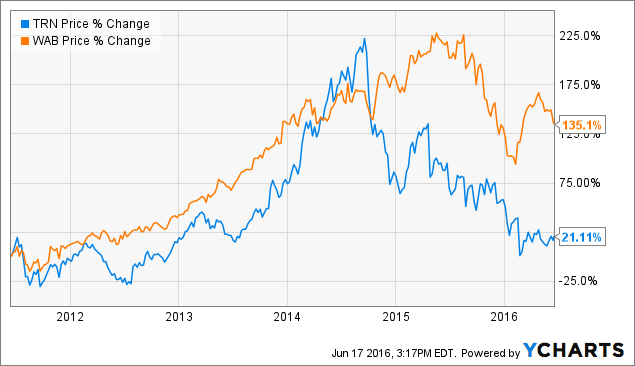 Freight Transportation Services Index
This index measures various transportation activities as you can see in the picture below.

Source: Federal Reserve of St. Louis
This index is confirming the leading indicators. The index peaked in 2013 and is currently at 2013 levels. Note that this index has gone nowhere from 2004 till the start of the credit crisis in 2008. Note that every dip from 2008 till 2014 has recovered really fast. This time it is different because the economy is slowing.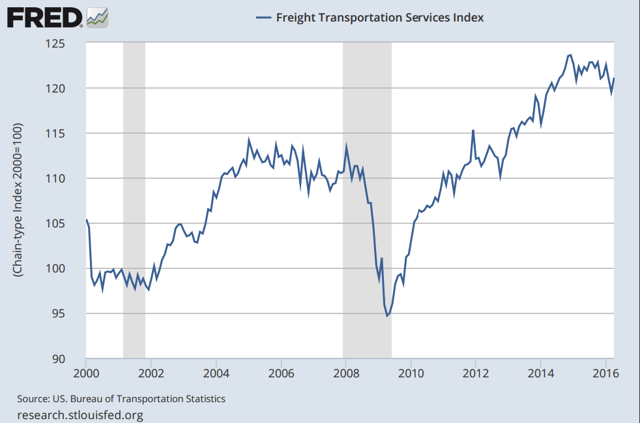 As you can see in the picture below, transportation stocks lose all power after the 2014 growth peak. Transportation stocks were not able to outperform the market.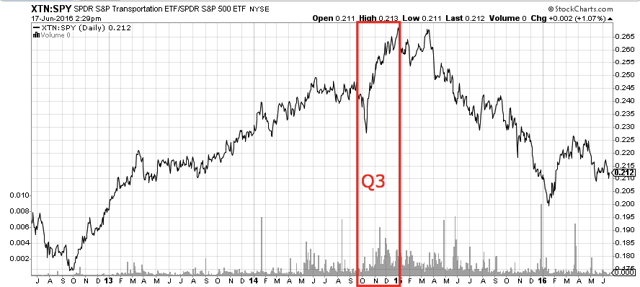 Conclusion
My entire research is based on leading indicators. This article proved that leading indicators are proven to be right over and over again. Therefore it is pretty safe to say that transportation stocks are going to perform well again once leading indicators point towards stronger growth and break the downtrend.
For now, I am not buying transportation stocks because there is simply no alpha whatsoever. It is even likely that stocks drop further.
Be careful when trading these stocks. Individual stocks might look attractive but the macro picture however doesn't support it. Please be warned and thank you for reading my article.
Disclosure: I/we have no positions in any stocks mentioned, and no plans to initiate any positions within the next 72 hours.
I wrote this article myself, and it expresses my own opinions. I am not receiving compensation for it (other than from Seeking Alpha). I have no business relationship with any company whose stock is mentioned in this article.
Editor's Note: This article covers one or more stocks trading at less than $1 per share and/or with less than a $100 million market cap. Please be aware of the risks associated with these stocks.