US Corporate debt versus income has reached its highest mark since 2009. Fed's historically low interest rates has stimulated not just jobs, but corporate debt levels. US companies have taken advantage of these low interest rates to borrow more money, not necessarily for investment purposes, but to buy back shares and push its stock price higher than it should be. The S&P 500 index tripled since the trough of 2009, after seven years of stimulated policies. Now it's time to look forward to gauge if some high debt with unsustainable cash flow sectors are a viable short.
Here we pick 1X Inverse ETF: ProShares Short QQQ (NYSEARCA:PSQ) to short the high tech sector NASDAQ-100 Index. Using 1X inverse ETF is convenient for investors to short high tech companies in an IRA account rather than using future contracts which would not be allowed in an IRA. PSQ seeks daily investment results that correspond to the inverse (-1x) of the daily performance of the NASDAQ-100 Index. We can only consider investing in PSQ for the short period of time, due to the high fees of this actively managed fund. Right now the S&P500 is trending downward from its peak, meaning investors should look to initiate a position in PSQ either as a hedge or speculative play.
PSQ is trading at historically low prices with high volumes. The High tech industry is facing a tough environment with unpredictable future earnings, negative cash flows and skyrocketing R&D expenses.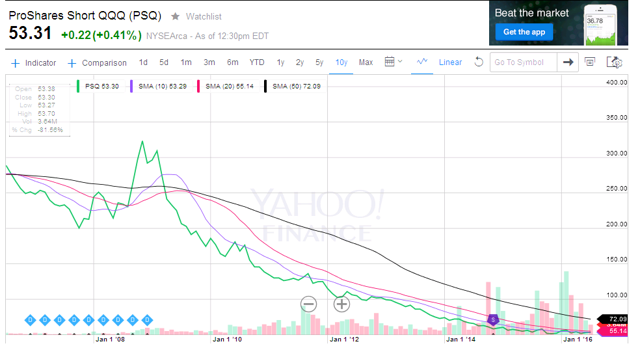 .
Since PSQ has a short history of less than 10 years, we are going to use its inverse pair Power Shares QQQ ETF (NASDAQ:QQQ), which tracks the NASDAQ-100 Index, as an example to explain high-tech risks. From the chart below we can see QQQ has surpassed its year 2000 peak, the downside risk is extraordinary. Its current price stagnates around its 10-day, 20-day simple moving average line, it is highly likely to move lower quickly.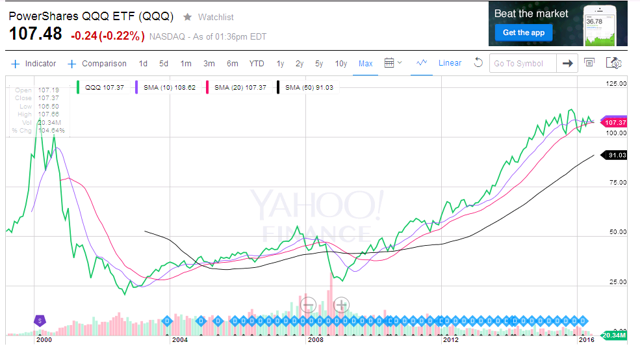 As the inverse of QQQ ETF, PSQ offers investors a good hedge strategy. However, the following chart shows very clearly that PSQ is lagging behind the declining level of QQQ during the last downturn, which alerts investors again that it can only be used as a short-term vehicle, given its high management fees and related cost.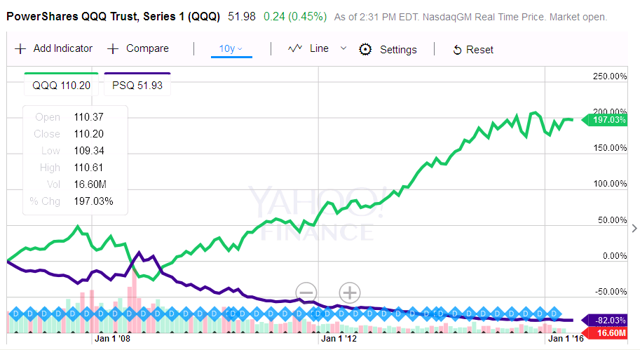 Since the inverse ETF PSQ is a short term vehicle, we need time the market and monitor the entrance and exit very closely.
If we look back at 2008-2009, the best entering time is when the price tried three times to test the bottom while the higher low points occurred. The best time to enter is to wait until the second low or third low trending higher. And the existing signal could be the price crosses below the 10-day simple moving average with high volume at the peak, indicating the institutions are selling.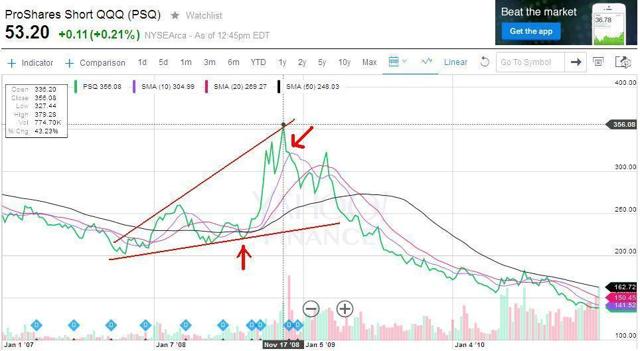 The current price $53 just crossed above its 10-day, 20-day and 50-day SMA with high volume and solid trough support level of $51, which indicates high potential to soar very quickly.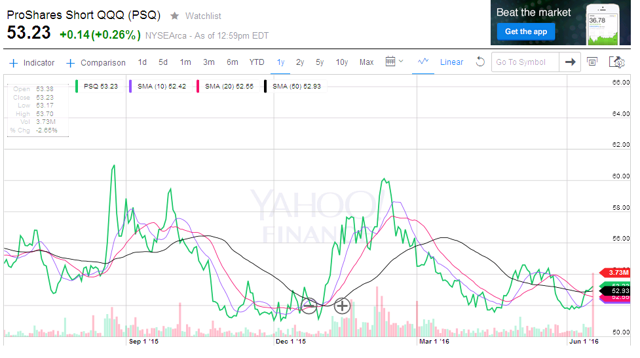 According to the last 20 years of tech history, the next tech bubble may burst more severely than the last one in 2008. In this scenario, PSQ would offer the investors a certain hedge or small speculation strategy. For 2X and 3X inverse ETFs, they are highly volatile products (only sophisticated investors should consider to monitor these on a daily basis), which I would not recommend here.
Jenny Liu - www.leverageequityresearch.com
Disclosure: I/we have no positions in any stocks mentioned, but may initiate a long position in PSQ over the next 72 hours.
I wrote this article myself, and it expresses my own opinions. I am not receiving compensation for it (other than from Seeking Alpha). I have no business relationship with any company whose stock is mentioned in this article.