The retail industry has not been a great place to be invested in the last couple of quarters as consumer spending all but evaporated despite rises in disposable income levels. Comparable store sales growth has been a rarity and share prices have plummeted. One stock which we feel got unjustly caught up in a broad retail selloff was Foot Locker (NYSE:FL). Year to date its shares are down by almost 18% despite being one of just a handful of companies producing solid comparable store sales growth. With its shares hovering just a fraction above their 52-week low we feel now is a great time to buy.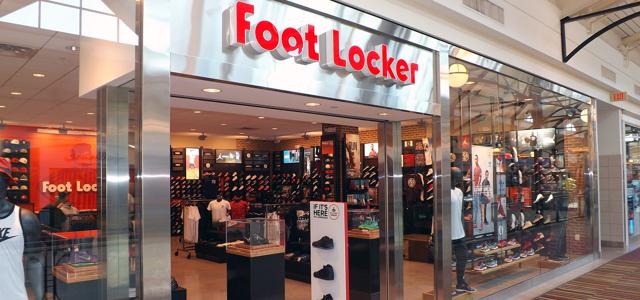 In the first quarter Foot Locker produced EPS of $1.39 on revenue of $1.99 billion. This meant revenue was up 3.6% YoY, falling short of expectation by a paltry $10 million. EPS was in line with analyst expectations and comparable store sales came in at a good 2.9%. Despite appearing to be a good result, it wasn't received well by the market and the shares have dropped by over 8% since.
It would appear as though the market was ambitiously hoping for comps in the region of 4-5%. As bullish as we are on Foot Locker, we would have been taken by surprise if it had achieved that in such a soft retail environment. Especially when you consider that it was faced with strong comps in the first quarter of fiscal 2015. Comparable-store sales increased 7.8% in the corresponding quarter last year. So for the shares to be down by 8% since the results and 18% so far this year, despite trading at a reasonably low earnings multiple, we feel it has been sold down quite unjustly.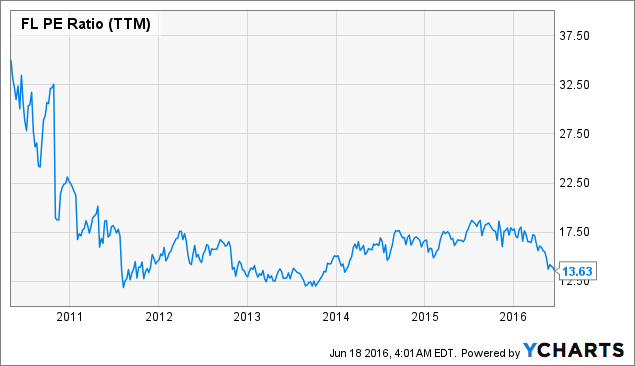 But this is good for us because we have been able to open a long position below what we would class as fair value and with plenty of upside ahead. We feel a valuation of 14x earnings is quite conservative and buying in below it should result in strong gains should the company continue to grow its bottom line.
Thankfully, we believe the bottom line has a lot of growth to come. Unlike many retailers out there which are being disrupted by Amazon (NASDAQ:AMZN), Foot Locker is regarded by many to be one of the least likely to suffer disruption. This is thanks to the fact that brands are in control of their respective allocation and merchandising strategies. A good number of the brands that Foot Locker stocks are not sold directly to Amazon by the brands, giving Foot Locker an advantage over Amazon. Analysts from Susquehanna have pointed to the Curry 2.5 brand as a key example. It will only be available at Under Armour (NYSE:UA) stores, its direct to consumer channel, and Foot Locker stores.
There may be some short term headwinds though for the company to navigate through. The closure of Sports Authority should prove to be a long-term tailwind by reducing competition, but in the short term the clear outs are likely to hit traffic and sales. Because of this we wouldn't be expecting second quarter comparable sales to be any higher than the first quarter. Once again it faces tough comps from last year which saw second quarter comps growth of 9.6%.
We do expect another solid result, though. With the NBA finals, the Copa America, the European Championship, and the Olympics occurring this summer we expect Nike (NYSE:NKE), Adidas (OTCQX:ADDYY), and Under Armour to be promoting their products far and wide. We believe this should drive traffic into stores.
In light of this we are expecting to see bottom line growth in the high single digits this year. In fiscal 2015 Foot Locker produced earnings per share of $4.29. This year we see it coming in at $4.68 per share on revenue of $7.75 billion. Using 14x earnings as a base, our target price is $65.50. While this target price falls well short of Foot Locker's 52-week high of $77.25, it still represents a return of around 22%.
For us, Foot Locker represents the market leader in the industry. The strong relationships it has with key brands is a real winner, providing it with a moat of sorts. Its strong performance through the recent retail weakness fills us with confidence that when things pick up in the industry it will shift up into another gear. May's retail sales data was very promising and we are hopeful that the whole industry may start to get a lift now.
The second quarter may be a little bumpy because of the Sports Authority closures, but over the long-term we believe buying in at the current price will provide investors with very strong returns.
Disclosure: I am/we are long FL.
I wrote this article myself, and it expresses my own opinions. I am not receiving compensation for it (other than from Seeking Alpha). I have no business relationship with any company whose stock is mentioned in this article.