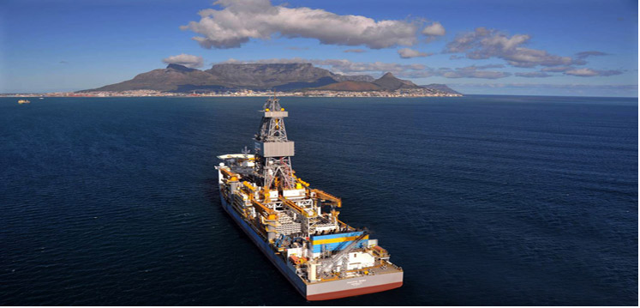 Pacific Bora
The reverse split and the resulting low float provide help for Pacific Drilling's (NYSE: PACD) share price. The company's shares managed to consolidate around $8 and even broke out of this consolidation, and, technically, may be on their way to new highs.
Of course, momentum traders are responsible for the recent trading action in Pacific Drilling shares. However, as oil goes up, the chance of an emerging positive catalyst is increasing. The most likely positive catalyst is the new contract for Pacific Bora, which currently works for Chevron (NYSE: CVX).
I don't think that UDW drillships that currently have no jobs have any prospect to get new jobs for the foreseeable future, but an extension of the current contract is a more likely outcome.
After all, if companies like Chevron will continue to decrease their presence in offshore drilling despite the recent stabilization in oil prices, then we should be all shorting all offshore drilling stocks, right?
All in all, a contract extension from Chevron does not look like a fairy tale to me despite my very cautious view on the industry.
Pacific Bora is scheduled to end the job in September 2016, so if there is any positive news to report on this front, we will hear them this summer.
Initially, this will likely lead to a buying frenzy in Pacific Drilling's shares. The reduction of the float alone with a little help from oil prices helped Pacific Drilling shares to more than double. A new contract for a company on the verge of a backlog cliff will be immediately seen as a game changer. However, will it really change the fate for Pacific Drilling?
Recent contracts show that a company in distress will be lucky to get 45% of the previous day rate. In Pacific Drilling's case, this will mean a day rate of $264,000.
If the new day rate starts at the beginning of September, the company will add $32 million to the backlog of 2016. Assuming operating rates of $140,000 per day, the net result for Pacific Drilling will be $15 million.
However, if Pacific Bora will remain the sole extension for 2017 and no new contracts will be negotiated, Pacific Drilling will lose money in 2017. Yes, the company finished the first quarter with $407 million of cash so it has some cushion, but there are too many maturities in 2017 and 2018.
While the company can buy bonds that mature in 2017 at a discount, the term loan and the credit facility which mature in 2018 will have to be negotiated with the banks. This fact leaves little hope for common shareholders.
The wild dream of anyone who bets on Pacific Drilling is that the company will be acquired by a big player. Pacific Drilling's young and capable fleet looks like an obvious target for M&A - but it is not.
No one will look at the company's fleet until it restructures the debt. Big operators have significant problems themselves, so the only scenario in which they will acquire new drillships to bet on the future is when these drillships are extremely cheap and don't carry a massive burden.
Speaking about the longer term, M&A looks inevitable for the industry. In the first quarter of this year, Pacific Drilling's general and administrative costs were $15 million. In comparison, Noble Corp.'s (NYSE: NE) G&A costs were $19.5 million. Please note that Noble Corp. got 3 times more revenue! This is almost surreal and has no place in the future unless oil prices skyrocket to previous highs and ineffective businesses get their chance.
In absence of an ultra-strong upside in oil prices, the days of companies like Pacific Drilling are numbered because they carry too much weight - too much costs spread among few rigs and too much debt.
Meanwhile, the stock will continue to live its own life as speculators use the stock's low float to play the potential upside in oil prices. Further speculative upside is possible, but the stock will ultimately return to previous levels as even a Bora contact won't change much for the fundamental picture. Restructuring still looks unavoidable.
Disclosure: I/we have no positions in any stocks mentioned, and no plans to initiate any positions within the next 72 hours.
I wrote this article myself, and it expresses my own opinions. I am not receiving compensation for it (other than from Seeking Alpha). I have no business relationship with any company whose stock is mentioned in this article.
Additional disclosure: I may trade any of the abovementioned stocks.