Another sign of life in the oil patch. Pioneer Natural Resources (NYSE:PXD) acquired 28,000 acres in the Permian Basin from E&P Devon Energy (NYSE:DVN). This comes a couple weeks after Range Resources (NYSE:RRC) announced it would acquire Memorial Resource Development (NASDAQ:MRD) for a 19% premium for the stock price.
Pioneer's latest acquisition of additional shale-based acreage is a clear sign of a management either 1) believes that crude prices will continue to go up or 2) can already get an attractive return at today's crude oil prices. This article looks at Pioneer's latest acquisition, and also whether Pioneer is a buy right here in relation to which direction crude might be going.
The deal
Pioneer paid $435 million for an additional 28,000 acres in Midland, Upton, Martin and Glasscock counties; much of which is in the center of the Wolfcamp Shale. The price implies a cost of $15,300 per acre. That's not cheap, but it's not all that expensive either. For example, back in 2013 a similar shale-oriented E&P made an acquisition in Midland County for over $35,000 per acre, so you can see that prices have indeed come down.
Of the 28,000 acres, 15,000 of those are in the Wolfcamp B, the other 13,000 are on the periphery. Pioneer expects to trade away those 13,000 acres for additional core acreage in the Wolfcamp Shale.
Even with today's strip prices, with WTI at just under $50, Pioneer says that the 15,000 Wolfcamp B acres will generate a 50% internal rate of return, and that number will get quite a bit better at $55 or $60 WTI. Overall, this appears to be a solid, long-term acquisition for Pioneer. Nearly all of this acquisition was paid for by issuing $1.4 billion worth of shares back in January.
Secure finances
Pioneer has plenty of time to wait. Few mid-sized E&Ps, if any, have the balance sheet that Pioneer does. Debt is only 0.4 times EBITDA. $455 million in debt is due this year, $485 million next year and another $450 million comes due in 2017, although with an investment-grade credit rating and stable outlook, I don't foresee Pioneer having any trouble rolling that debt over.
This year Pioneer expects to allocate $2 billion to capex, while continuing to grow production by 12%. Pioneer is almost cash flow neutral, but not quite. Operating cash flow is expected to be $1.5 billion this year, but management will pay the remaining $500 million from cash on hand and proceeds from the sale of Eagle Ford Midstream.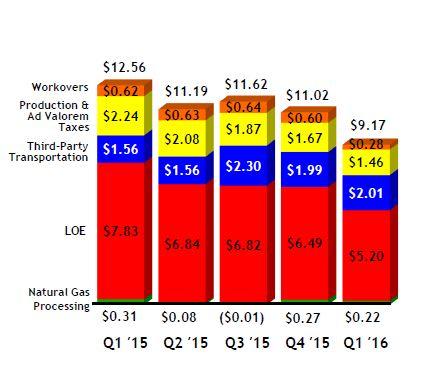 Courtesy of Pioneer Resources Investor Relations.
As of right now, it does not look as if Pioneer is aiming for cash flow neutrality in 2017, but is instead looking to continue its growth trajectory. This acquisition is a big part of management's plan to increase rig count from 12 to 17. Management appears to believe its shale-focused, Permian assets, and good balance sheet, can outlast many other names, and I suspect they are correct in this assessment.
Is Pioneer a buy?
I look at Pioneer as a company which does alright at $50 WTI, and does great at $60. I also happen to believe crude oil will have a much more difficult time reaching $60 than it did $50, at least in the short and medium term.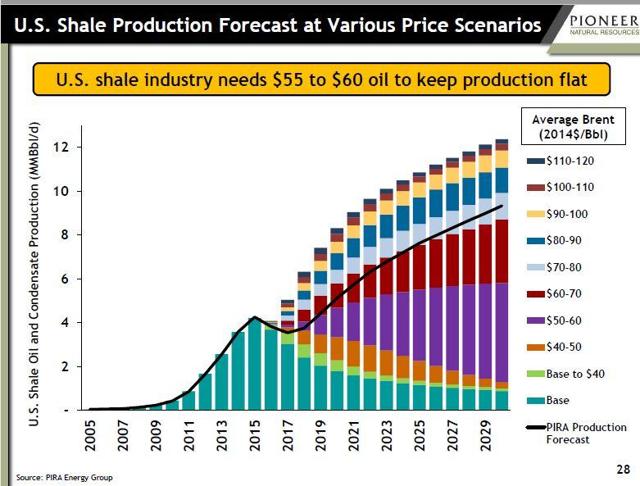 Courtesy of Pioneer Natural Resources Investor Relations, data by PIRA Energy Group.
US production has already declined by some 800,000 barrels since its peak in early 2015. All other things being equal, production probably needs to fall another 800,000 before markets can balance out. According to this estimate, US shale oil production markedly increases at $60, which would create yet another wave of potential supply.
Yes, there are a few very weak petro-states out there which appear to be falling apart: Libya, Venezuela, Nigeria and possibly Bahrain at some time in the future. However, I'm reluctant to bet on supply curtailments from any of these countries.
For that reason, I prefer to stick with the biggest, lowest-cost producers, and maybe some royalty trusts. This acquisition is a good sign for the crude oil industry itself, though, because it is indicative of restoring confidence in the viability of profitable oil production into the future.
If you are interested in Pioneer Natural Resources, feel free to follow me on Seeking Alpha. I write about Pioneer from time-to-time, and will provide update articles when they are material and relevant.
Disclosure: I/we have no positions in any stocks mentioned, and no plans to initiate any positions within the next 72 hours.
I wrote this article myself, and it expresses my own opinions. I am not receiving compensation for it (other than from Seeking Alpha). I have no business relationship with any company whose stock is mentioned in this article.