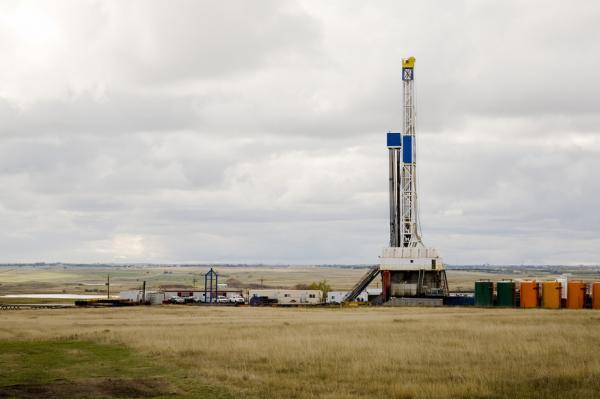 source: Stock Photo
It's now clear that with the price of oil moving a range of $45 to $50 per barrel, it's enough to get the low-cost shale producers back into the game. For the third week in a row, the U.S. rig count as climbed, as companies start to believe the worse for oil is over.
The question going forward is how quickly the thousands of drilled but uncompleted wells will be brought into production, and whether after layoffs and budget cuts, the available capital and labor will be there to make it happen. I don't think that will be a problem, based upon tougher conditions in the past, when shale wasn't part of the oil industry.
My thought is it's not going to be an issue because some OPEC members have been boosting production to make up for the temporary reduction in U.S. production, which will give shale producers time to ramp up output without the market experiencing to deep of a supply cut. That's why I'm not bullish on a rebalancing happening in 2016.
Even though there has been a cut in spending and labor, I don't see this being an issue for the high quality shale producers, which are going to be the deciding factor over the next year as to how quickly the U.S. shale industry will bounce back.
Yes, some shale production will be shut in because of financial issues, but that is something I see as already priced in. The more efficient producers aren't going to have that problem; they're already completing wells and ready to complete more. A number of them have already stated production is going to higher than prior estimates for the remainder of 2016 and into 2017.
Another 10 rigs were added last week, according to Baker Hughes, bringing the total to 424. Of those, 337 rigs were seeking oil and 86 were after gas. One rig was defined as miscellaneous.
Rig count going forward
Unless something happens to sustainably drive down the price of oil, the rig count in the U.S. is going to continue to climb. Interestingly, that in itself could carry the seeds of capping the price of oil, depending on how quickly rigs are brought back, and how much supply is added to the market from them.
This may sound obvious, but in the oil sector it has never experienced this before; there are no historical precedents to give an idea of what to expect. Surprisingly, at similar times in the past the industry has been able to respond by increasing production fairly quickly. What's different this time around is the thousands of DUC wells that can be brought into production quickly, which has the ability to change the output narrative in a much shorter period of time.
Also important is shale producers have learned how to get more productivity out of each well, which means there will not only be an increase in production, but an increase that could surprise as to how much more oil will be brought to market. Again, we have no idea how that will play out, but I believe it will once again outperform expectations.
Rigs working these wells are likely not needed in past numbers to bring similar or better results. Even so, I still expect there to be more rigs added weekly for the remainder of 2016 and into 2017.
This will be the first test and look we'll get as to how much stronger shale producers will be able to offset the decline in output from their weaker competitors. It also will reveal the impact the shale industry will have on the top end of the price of oil, now that some OPEC competitors have decided to take some share away from them in response to the temporary decline in shale production.
The sweet spot for the price of oil
What I'm looking forward to as far as much-needed knowledge for the disrupted oil sector, is what the new price range for oil will be. Since U.S. supply is projected to climb to about 14 million barrels per day within several years, it's highly unlikely the pace of growth in demand will allow oil to jump to past levels.
In the short term, buy which I mean through 2016, I think oil will struggle to rise sustainably above $50 per barrel. It will of course surpass that on headlines occasionally, but I don't see demand rising to levels it'll start testing the $60 mark or higher, as some are calling for.
The caveat there is if there are surprise outages that significantly reduce supply for a meaningful period of time. But with Asia slowing down, it's hard to see what would drive oil beyond $50, taking into account the price is now at a level shale producers can generate a profit.
I think oil is now where the stronger shale companies want it, as it's high enough for them to make money while keeping their weaker, high-cost competitors from adding supply to the market.
My belief is OPEC, Russia and U.S. shale producers are fine tuning their output in order to keep oil from jumping so high everyone will be back in the game. Only a market-driven rebalancing from overwhelming demand will allow that to happen in a way they're all winners. We're not there yet.
Adding rigs and ramping up production
As for how quickly and widely rigs and wells can become operational, the outlook by many is it will probably take a long time. Here's what the Wall Street Journal reported:
But as oil prices show some signs of stabilizing, American producers and oilfield-services companies are warning that they may not be able to jump-start drilling. The reason: Many independent companies are too financially strapped, have let go too many workers, or have idled too much equipment to immediately ramp up again.
I don't disagree with that generally, but there has to be a differentiation between low-cost and high-cost producers. The statement above would be more relevant to companies that had to take radical steps to remain in business. This is why the stronger shale producers are not only completing wells now, but are going to continue to do so over the next year. They'll do that whether or not the price of oil goes up or not.
Concerning rig counts, there we do have some history to go by as to how quickly they can be reintroduced into the market.
When the price of oil have fallen near the turn of the century and started to rise again after 2002, the number of rigs jumped by 200 per year over a five-year period. This is in light of the idea it takes a number of years to bring newly built rigs online.
Another example is soon after the financial crisis of 2008. About 1,200 rigs were brought back online in 30 months.
- Rig counts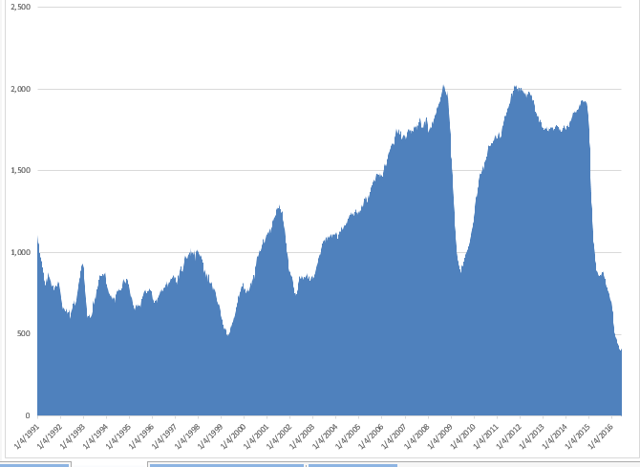 source: Forbes
Add to this the ability of shale producers to significantly increase productivity per well, along with improving methods and efficiencies, and it is obvious they're going to be able to quickly increase production if the price of oil remains in the range it's currently at.
Conclusion
Shale producers have raised well productivity while lowering costs. Quality companies are able to generate a profit with the price of oil at about $45 per barrel; some are able to do so much lower.
Now that they believe the worst is over for oil, they are aggressively completing wells and raising production guidance.
I think they're engaging in a strategy similar to Saudi Arabia, where they raise production to levels it'll keep some of their competitors from entering the market, or in a number of cases, even surviving. They don't want oil to go too high too quickly, or it'll allow weaker companies to turn a profit.
With some OPEC members raising their production level in order to get some of the market share from a temporary decline shale output, it'll give low-cost shale producers time to increase their supply to the market, which in my opinion will keep the price of oil capped below $60 per barrel, and probably struggle to sustainably climb above $50 per barrel.
Over time that will change when global demand does rebalance the market, but I don't see that happening until the middle of 2017, and more likely, the latter part of the 2017.
I see the rig count in the U.S. continuing to rise, and quality shale producers completing a lot more wells. That will bring more supply to the market, keeping the price of oil subdued through the remainder of 2016.
Disclosure: I/we have no positions in any stocks mentioned, and no plans to initiate any positions within the next 72 hours.
I wrote this article myself, and it expresses my own opinions. I am not receiving compensation for it (other than from Seeking Alpha). I have no business relationship with any company whose stock is mentioned in this article.