If you own dividend aristocrats, you probably like them for their stability, staying power, and good combination of income and price appreciation over the long-term. Since the stock market tends to underperform during the summer months as opposed to the other parts of the year, a covered call strategy can be a great way to gain some extra income from your investment.
The stock market has been range-bound since May 2015. There haven't been any significant catalysts to cause the market to break out in either direction. So, unless something unexpected occurs, I think the market is likely to continue its range-bound behavior. The period from May through October historically underperforms the period from November through April. For the period from 1926 through 2013, the market's average returns were 4.35% from May through October and 7.86% from November through April.
The U.S. economy is growing at a small, incremental pace. So, considering the historical tendency of stocks to underperform during the summer months combined with the current slow growth conditions, the market is not likely to move significantly in either direction in my opinion. Therefore, this looks like a good time to use a covered call strategy for stocks that you already own.
If you pick a slightly out of the money call option with a decent amount of premium to sell, then you will collect that premium as the option expires. This allows you to earn extra income on the investment in addition to the dividends. Consider selling a call that expires about 2 months away. This gives you more premium than if you sold a call that was only one month away from expiration. Since two months is still short-term, the call option has a good chance of experiencing price decay and expiring worthless, which is what you want when selling calls as you keep the premium that you sold.
As an example, look at International Business Machines (NYSE:IBM). IBM is in a low-growth phase, so investors who are holding onto the stock are likely craving better returns. The stock recently rallied from $121 to $152 and is trading at an overbought level. Therefore, I would expect the stock to pull back a bit after the recent 26% gain.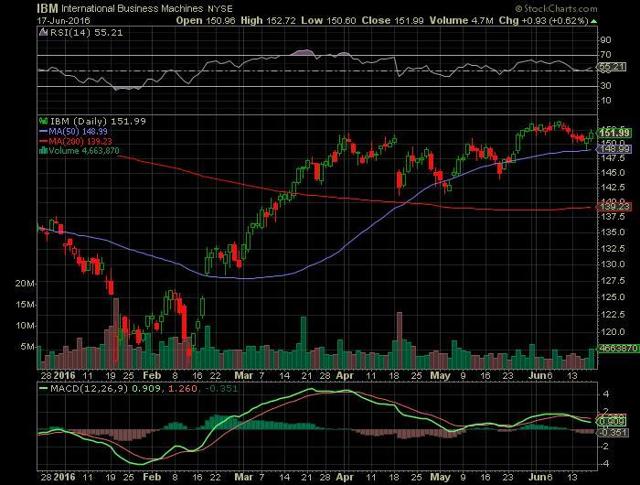 Consider selling IBM's August $155 call for the August 19 expiration. The call option has $361 in premium which you will collect when you sell it (your account will be credited with $361 for every call that you sell). That's like getting an extra 2% dividend payment. You can sell one call for every 100 shares that you own.
If you want less risk, you can sell the $160 call at the August 19 expiration. The $160 call option has $180 in premium. Although this is lower premium than the $155, your risk of having your stock called away is lessened. If you sell the $155 call, your stock could be called away if the stock reaches $155 by August 19. However, if you sell the $160 call, the stock would have to increase another 5% by August 19 for the stock to be called away as opposed to a 2% gain when selling the $155 call.
Take a look at 3M Company (NYSE:MMM) for another example. Consider selling the $177.50 call at the July 29 expiration. The call has about $119 in premium which will be credited to your account when you sell it. The stock would have to rise 5% for the stock to be called away. Since the expiration date is only 5 weeks away, the option is likely to decay quickly, thus reducing the risk of being called away.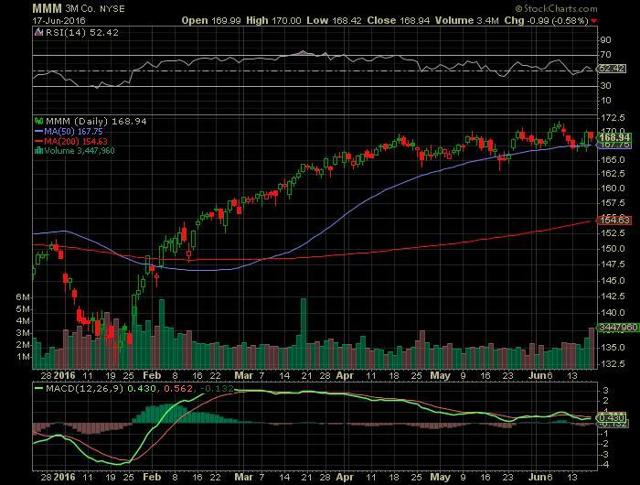 3M doesn't have August or September options. However, you could look further out to an October 21 expiration and sell the $180 call. This has $220 in premium, which would be like collecting an additional 1.3% dividend.
You could also consider taking on more risk to get a higher premium by selling the $175 call at the October 21 expiration. This has $400 in premium, which is like getting an extra 2.4% dividend. However, your underlying position is at risk of being called away if the stock increases by about 3.6% by October 21.
Conclusion
I realize that covered calls may not be for everyone. Some investors may not want to risk having their underlying position called away in the event that the stock increases to the strike price by the expiration date. It is a strategy to consider if you wouldn't mind taking on that risk in order to extract extra money from your investment.
The covered call strategy can also be a way to automatically sell out of your position at a certain level. This would be a way to lock in profits if you think the price of your stock would be stretched at a certain level. You would still be earning the premium that you sell, but you would also end your position at a level that you choose.
Ultimately, the covered call strategy can be a good way to extract more money from your underlying investments during the summer months, which tend to underperform as compared to the November through April period. This tendency, combined with current low-growth economic conditions, will increase your chance of success with this strategy.
Disclosure: I/we have no positions in any stocks mentioned, and no plans to initiate any positions within the next 72 hours.
I wrote this article myself, and it expresses my own opinions. I am not receiving compensation for it (other than from Seeking Alpha). I have no business relationship with any company whose stock is mentioned in this article.
Additional disclosure: If you like my analysis, click on FOLLOW at the top of the article near my name. This will allow my articles to appear on your home page as they are published.