Berkshire Hathaway Inc. (NYSE:BRK.A) (NYSE:BRK.B) needs little introduction. This $350B market cap behemoth has evolved from New England textile mill to a multinational mega-conglomerate with an incredibly diverse array of businesses and investments.
As of year-end 2015, Berkshire employed over 331,000 people in their wholly owned operating subsidiaries, which generated over $210B in annual revenue. These include GEICO, BNSF, Dairy Queen, Fruit of the Loom, and 26% of the Kraft Heinz Company (source).
Berkshire also boasts a significant stake in a number of publicly traded companies, including American Express (NYSE:AMX), The Coca-Cola Company (NYSE:KO), Wells Fargo (NYSE:WFC), IBM (NYSE:IBM) and now Apple (NASDAQ:AAPL). Essentially, CEO, President and Chairman of the Board Warren Buffett has built one of the ultimate cash generating machine by expertly allocating resources over the last 50+ years. A little help from Vice-Chairman Charlie Munger probably helped too.
While it would be impossible to summarize all of the great qualitative characters of Berkshire, there are a few that are worth noting for the sake of perspective on what the company values.
Speaking of value, Buffett saved Berkshire from being a money-losing operation by using the textile cash flows and reinvesting them in new businesses. By acquiring high quality companies at low prices, Buffett was able to pivot out of the capital-intensive textile business. It was a pretty shrewd move that proved to be the beginning of a business empire.
Instead of doubling down on the low-ROE textile business, Buffett put money to work in a variety of asset-light businesses. Notably, he acquired large stakes of insurance companies for their float-generating properties. Float is the money insurance companies collect as premiums, but that haven't yet been paid out in claims. This money can be invested for a profit in the interim, and that's exactly what Buffett's Berkshire did. Since then, the snowball has just kept growing.
But despite these fundamental tailwinds, Berkshire stock has languished for the last 18 months or so. That's why this article will look to determine whether Berkshire is a buying opportunity, or on the verge of a much more serious correction. Here's a chart to provide some perspective: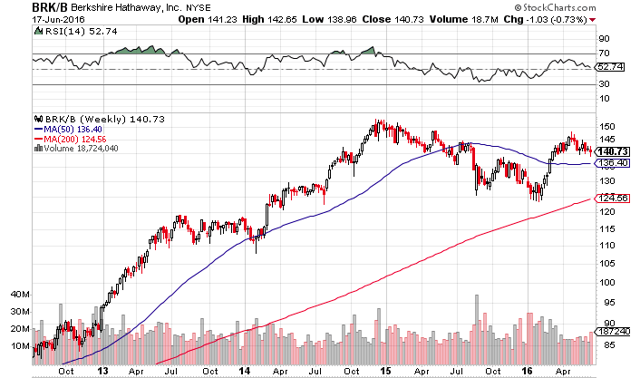 Pulling Back The Curtain on Berkshire:
One way I like to get perspective on companies is too see if changes in their share price are represented in financial trends. I like to contrast share price with operating performance. The first place I want to look is revenue. And given Berkshire's rich history, it should paint an interesting picture.
Despite a 2006 baseline number of $98.5B in revenue, Berkshire has grown annual sales to $214.6B on the most recent trailing-twelve month basis. Just take a look for yourself at how consistent the top-line has been. The financial crisis appears as a minor blip: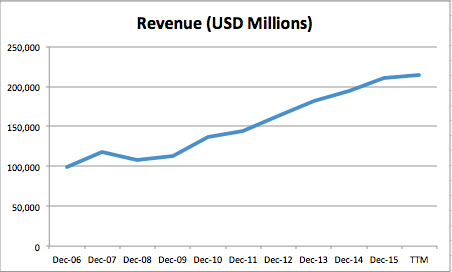 I haven't broken out the numbers yet. But an interesting next step would be to analyze the period and see what percentage of growth came organically vs. acquisition. Regardless of the source, this top line performance looks pretty strong. So next, let's see how this translates into net income on a per-share basis.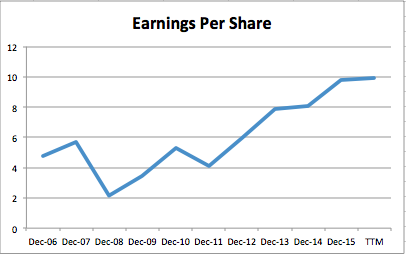 Financial crisis aside, this is the kind of EPS performance I like to see in companies: A steady trend of increasing earnings on a per share basis. It means as an owner you're getting more income from your ownership stake each year.
To reinforce this view, we can also look at free cash flow and cash flow per share. Berkshire is spending about 50% of operating cash flow on capital expenses. And it seems this is fueling growth too, as the company has more than tripled free cash flow over the period: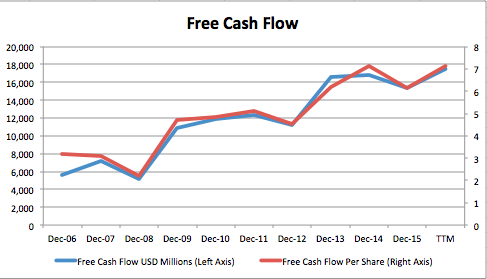 It's hard to argue with results like that. But one question shareholders might ask is how they are seeing their gains. In the case of Berkshire, no dividends are paid.
Instead, earnings are retained and reinvested. This shows in a growing book value (or equity value). Ideally, this should be increasing consistently on a per share basis. Let's see what it looks like: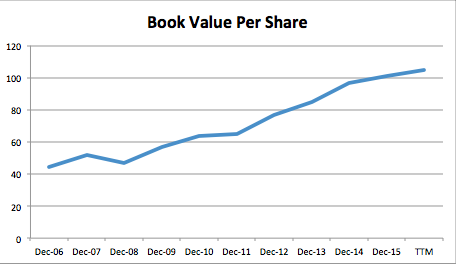 As you can see, this trend is quite strong. Over the period, the book value of Berkshire has more than doubled. It's a bit lumpy, but consistent nonetheless.
And given the company's culture of disciplined capital allocation, it's likely that this performance can continue. One headwind I see is slowing growth due to the sheer size of Berkshire. It's hard to outrun the law of large numbers.
The other big risk might be Warren Buffett's finite lifespan. That said, the companies within the Berkshire portfolio are quite autonomous and always making their own bolt-on acquisitions. Plus, his portfolio managers have been in the saddle for a few years now and can likely continue to succeed without uncle Warren. While anything is possible, it's hard to imagine revenue at Berkshire companies going backwards.
The final factor that appeals to me about Berkshire is the massive cash hoard. This provides the company with some neat opportunities. In times of crisis, Berkshire has shown it's willing to step up and make investments while the world is panicking.
And additionally, Buffett has said he will buy back Berkshire stock if the price comes within 120% of his estimate of intrinsic value. Given Berkshires massive cash flows and current war chest, this is a pretty appealing bid on the stock. It's reassuring to know as a shareholder that as the price of a stock declines, your per-share ownership of the operating results is likely to increase.
So with all that in mind, what's an investor to do with Berkshire stock?
Conclusion: Buying the Divergence in Berkshire
After examining the data above, I don't think the decline in share price is supported. I think it's a divergence from fundamental trends. So for that reason, I've started a small position in Berkshire.
I'll look to add more opportunistically in the coming months. I'll also be keeping an eye on operating results to see if Buffett's suite of boring businesses can keep churning out steady profits. As long as these trends continue I'll be comfortable holding Berkshire Hathaway.
But what do you think? Is Berkshire a stock that you see as worthy of your investment?
Disclosure: I am/we are long BRK.B.
I wrote this article myself, and it expresses my own opinions. I am not receiving compensation for it (other than from Seeking Alpha). I have no business relationship with any company whose stock is mentioned in this article.