Oil prices are back. OK, not totally, but somewhat. WTI crude oil for July delivery has traded back up to $48/barrel, and could take down the $50/barrel mark shortly. Brent crude oil for August delivery is now selling for $49/barrel. Energy had a good day on Friday, with oil prices rising four percent on easing concerns over a potential Brexit vote in next week's referendum. Fears over a Brexit, the event of Britain leaving the European Union, have weighed on investor sentiment, stocks, and energy prices for a while now, and may continue to do so until the referendum is held on June 23, 2016, and possibly afterwards, too.
The daily ups and downs aside, oil prices have moved in the right direction since falling to new lows in the 1st quarter of the year. The recovery has been choppy, but a recovery is a recovery at the end of the day.
Have oil prices bottomed, or not? I sure think so.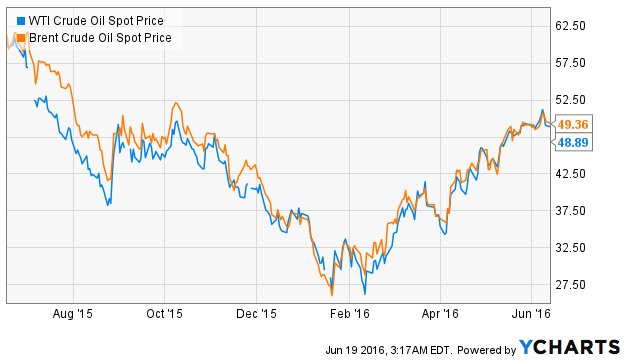 And with investors' worries over a global crude oil supply glut subsiding, companies such as ExxonMobil (NYSE:XOM) have also recovered nicely.
ExxonMobil's shares, much clobbered at the beginning of the year, have recovered all year-to-date losses, and then some. ExxonMobil's shares have made it 16.38 percent into the green this year, and more upside could be around the corner if crude oil also extends its recovery.
ExxonMobil gained ground on improving investor sentiment, especially in the 2nd quarter.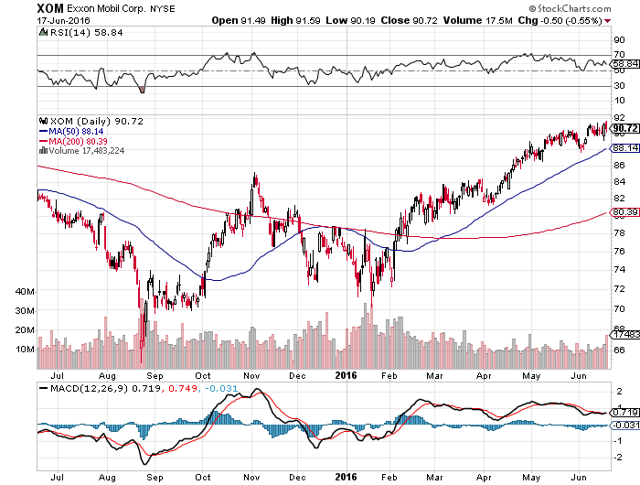 Buying ExxonMobil Is A No-Brainer
We all know that 2015 was a disastrous year for energy companies on the back of tailspinning energy prices.
With that in mind, though, imagine a company that, during one of the most destructive energy downturns in recent memory, pulled in $16.2 billion in earnings last year, and paid out $15.1 billion for stock buybacks and dividends. Sounds not too bad, right?
Well, that is was ExxonMobil did last year. Now imagine what ExxonMobil can do again for shareholders if crude oil prices aren't ripping a whole into the company's upstream results.
Merely looking at ExxonMobil's 1st quarter earnings, for example, will give investors a false picture. ExxonMobil's 1st quarter was defined by slumping upstream price realizations, and declining profits in both upstream and downstream businesses compared to last year. I have discussed ExxonMobil's 1st quarter earnings in this article, "Exxon Mobil Continues To Make Shareholders Happy (Despite Poor Results)".
It's All About The Cash Flow...
ExxonMobil raked in $6.5 billion in free cash flow last year, and is therefore a preferred choice for income investors since its FCF backs the company's dividend. As a matter of fact, ExxonMobil stands out of the crowd in terms of its free cash flow power, and high ROCEs.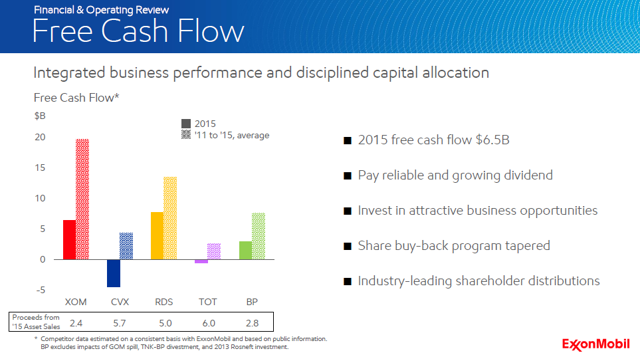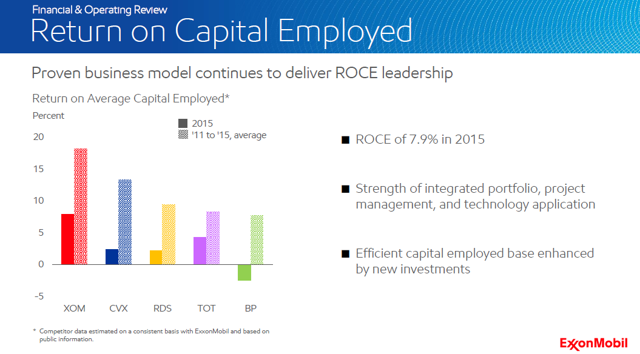 ExxonMobil is committed to growing its dividend, which is why the energy company raised its quarterly cash dividend from $0.73/share to $0.75/share in April. Since ExxonMobil is selling for $90.72 at the time of writing, an investment in America's largest energy company is throwing off a 3.31 percent.
Your Takeaway
Oil prices have continued to recover in the 2nd quarter, which suggests that ExxonMobil's 2nd quarter earnings will come in stronger than in the 1st quarter. Even if they don't, there are more than enough reasons to consider ExxonMobil as a growth and income play over the long haul, including substantial capital returns to shareholders, strong free cash flow, and a growing dividend. Buy for income and capital appreciation.
Disclosure: I am/we are long XOM.
I wrote this article myself, and it expresses my own opinions. I am not receiving compensation for it (other than from Seeking Alpha). I have no business relationship with any company whose stock is mentioned in this article.