Ctrip (NASDAQ:CTRP) recently reported another impressive quarter, with strong performances in each business segment. In what was the first full quarter of consolidating Qunar's financials, CTRP also generated strong organic growth. The strategy of combining Ctrip's broad services offerings with Qunar's technology ecosystem is paying off. Total revenues increased 80% year-over-year, and gross margin grew more than 300 basis points. Sales in the hotel segment were up 90%, reflecting 60% growth in domestic hotel coverage and fewer coupons to customers. With travel demand strong, industry operators are less focused on winning market share with aggressive pricing, and more concerned about establishing sustainable competitive positions. In the transportation ticketing segment, revenues increased 106%. A large portion of the increase was the result of the Qunar acquisition, but organic growth was strong as well. Train, bus, air, and international tickets all grew, and the firm introduced a ferry ticketing services. CTRP's other segments, packaged-tour and corporate travel, increased 41% and 25% respectively.
Figure 1: 1-Year Price Performance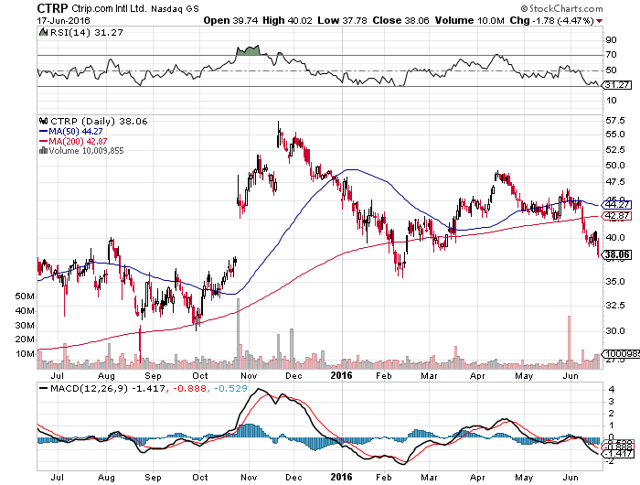 Source: StockCharts.com
The impressive growth figures reflect favorable long-term demand drivers that shape the online travel and booking industry in China. While growth has slowed in developed markets, China is still a secular growth story. The rise of China's massive middle class will fuel leisure and travel spending for years to come, while greater internet penetration and mobile use will drive customers to Crip's online platforms. Ctrip is poised to benefit from these trends thanks to its strong competitive position that should become more formidable over time. Ctrip is the leading online travel firm in China, and the company benefits from powerful network effects: As more customers use Ctrip's services it attracts more travel service providers, which in turn makes the platforms more useful for new customers. This dynamic makes it difficult for smaller players to achieve the scale needed to compete effectively. The Qunar acquisition meaningfully strengthens CTRP's competitive standing: the consolidation of online reservation and transportation ticketing businesses will accelerate these network effects, creating cross-selling opportunities and enhancing convenience for customers who can now make hotel and transportation arrangements on the same website. Outbound travel comprises a significant portion of China's travel industry, and Ctrip's partnership with Priceline (PCLN) gives the firm access to more international hotels than the competition. We believe there is significant margin upside potential for CTRP as the firm achieves greater scale and exercises bargaining leverage over travel suppliers.
Despite Ctrip's strong advantages, the online travel industry is highly competitive and there is a lot of uncertainty surrounding the future outlook. 2016 EPS estimates reported on Morningstar range from CNY 0.66 to 13.23 (-90.7% and 86.2% growth respectively). The combination of high profits, low market penetration, and low entry barriers has seen many new players enter the industry, ranging from airlines to large internet firms (Alibaba with Ali Travel). Foreign competitors including Expedia (NASDAQ:EXPE) and Priceline are making it a priority to expand into China. With the China's online travel market still in its growth stages, Ctrip is investing heavily in its infrastructure to build a durable competitive position, but this will prevent margins from expanding much in the short-term. The firm reported a non-GAAP consolidated operating margin of just 0.2% in the latest quarter, and Qunar is still a long ways from profitability (operating margin of -24%).
We view Ctrip as an attractive option for long-term investors with the patience to endure periods of choppy profitability in the near-term. The company has a leading position in a secular growth industry, and its competitive advantages should strengthen over time. Heavy infrastructure investments combined with a flood of new entrants will weigh on profitability in the short-term, but there is potential for considerable margin expansion which Ctrip should realize as it grows scale. The company has a 5-year median operating margin of 15.6%, compared to 35.3% for the much larger Priceline. Despite the outlook for long-term earnings growth, we think the margin of safety is too small at current prices. CTRP trades at a forward P/E of 36.8, compared to 16.5 for PCLN and 14.7 for EXPE. The divergence in growth profiles for online travel booking between the US and China is responsible for the discrepancy. While the superior growth outlook warrants a higher valuation for Ctrip, we think investors should wait for a slight pullback.
Disclosure: I/we have no positions in any stocks mentioned, and no plans to initiate any positions within the next 72 hours.
I wrote this article myself, and it expresses my own opinions. I am not receiving compensation for it (other than from Seeking Alpha). I have no business relationship with any company whose stock is mentioned in this article.