Intro
I recently became interested in Valeant (NYSE:VRX) after reading an article from Aswath Damodaran entitled "Valeant: Information Vacuums, Management Credibility and Investment Value". Damodaran recounts the company's fall from a darling of Wall Street with revenue growing at 43% a year to one of the most hated companies out there. During this transformation, the stock tumbled over 90%: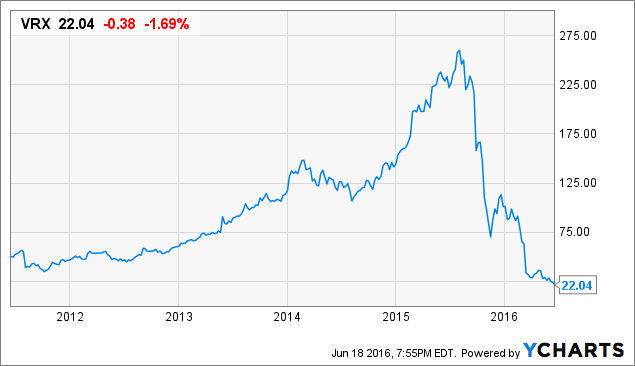 Yet, often this type of hated stock can become oversold as investors bandwagon and flee by the boatloads. Damodaran's valuation of the company as of April 20 stood at $43.66, approximately double the current share price, and he disclosed that he had entered a position for $32/share. I have significant respect for the Dean of Valuation and his buy recommendation is intriguing.
However, the scary thing about Valeant, and surely a contributing factor to why the stock has sold off to the extent it has, is their leverage. As of their Q1 report, Valeant has $31.3 billion in long term debt, accumulated when things were going well for the company to finance growth and acquisitions but a dangerously large number now that Valeant has run into trouble. Investors recall the similar over-leveraging of companies like SunEdison and Peabody Energy which have slid into bankruptcy this year and fear that the same is coming for Valeant.
At the same time, Valeant remains a huge company, earning revenue of over $10 billion in 2015. The question for investors is whether or not Valeant can raise enough cash, either through operations or asset sales, to hold off bankruptcy without sacrificing so much of their core business that the value of the company is gone. This report will analyze their prospects.
Valeant's Situation
According to their Q1 report, Valeant's debt obligations (including interest) over the next five years are as follows:

Regarding 2016, the obligations appear to be manageable; Valeant generated $2.2 billion in operating cash flow in 2015 and provided the following guidance for the coming year (from their Q1 investor presentation):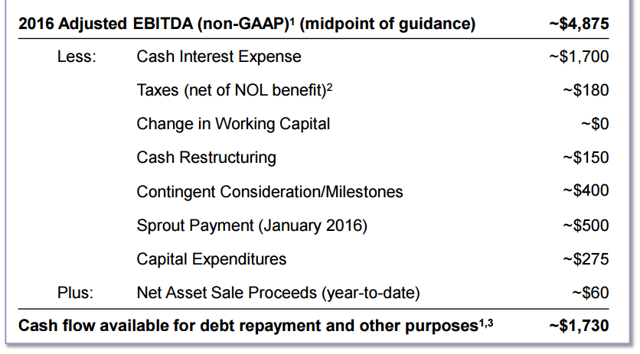 Valeant's guidance over the past year has not proved to be a perfect indicator of actual performance. Below are their predictions for non-GAAP 2015 earnings throughout their different earnings reports last year:
| | |
| --- | --- |
| Quarter of Prediction | Non-GAAP 2015 EPS Guidance |
| Q4 2014 | $10.10-$10.40 |
| Q1 2015 | $10.90-$11.20 |
| Q2 2015 | $11.50-$11.80 |
| Q3 2015 | $11.67-$11.87 |
Actual non-GAAP earnings for 2015 came in at $10.16 per share, well under the estimate from only one quarter prior.
Looking at these "earnings" numbers makes it easier to see why investors were paying $250+ for a share of Valeant. An important note for investors is that Valeant does not report using GAAP; their EBITDA guidance numbers are adjusted. For a comparison of values, the company's Q1 non-GAAP earnings were $1.27 per share, versus a GAAP loss of $1.08 per share. Additionally, the 2015 non-GAAP EPS of $10.16 translated to a loss of $0.85 under GAAP. This is an enormous difference, and investors need to keep this in mind to avoid being tricked again into paying more than they should for Valeant.
Even accounting for potentially poor guidance and the non-GAAP reporting, Valeant should be able to scrape together the money they need for 2016-there is enough of a margin between their estimates above and the cash they need to pay that they can handle their payments for the next year. They are also sitting on $1.3 billion in cash, which they can apply to their debt or interest if necessary.
The problems arise in the years beyond 2016. Breaking Valeant's debt down by year, they have repayments due as follows:
| | | | | |
| --- | --- | --- | --- | --- |
| Year | 2017 | 2018 | 2019 | 2020 |
| Repayments Due (in millions of $) | 0 | 4,820.5 | 1,925.6 | 8,368.3 |
(Note: These values do not include interest payments due)
Without repayments in 2017, Valeant will have another year to attempt to raise cash as they will only need to handle interest payments. Assuming no new debt, the 2017 budget should look similar to the 2016 projection (above, from the investor presentation) with cash interest around $1.7 billion again, and if everything goes as Valeant says it will they can raise another $1.73 billion to put back toward the debt repayments in 2018. Current cash of $1.3 billion plus two years of having a $1.73 billion surplus would bring them to $4.76 billion, which doesn't even cover their 2018 repayments due. The company would have to take enough out of their 2018 cash flows to cover the rest of the repayment AND interest payments for the year, all while trying to raise cash for the massive $8 billion repayment due in 2020!
If Valeant's cash flows improve significantly over the next five years, the picture would look better. However, in their current situation it does not seem prudent to make that assumption-the company, still deep in scandal, is in no position for growth. It also seems wise to plan on them missing some of their guidance numbers given their recent history. If that is the case, it appears unlikely that Valeant can handle their debt without selling assets.
Asset Sales
From the above analysis, it appears likely that Valeant will have to shed assets in order to save themselves from bankruptcy. Already, CEO Joseph Papa has stated that the company is taking offers for non-core assets and that they may even be willing to sell core assets for the right price. The company obviously would prefer not to sell their best assets, but those top assets are the ones that Valeant will be able to find buyers for at decent prices-their hands may be forced.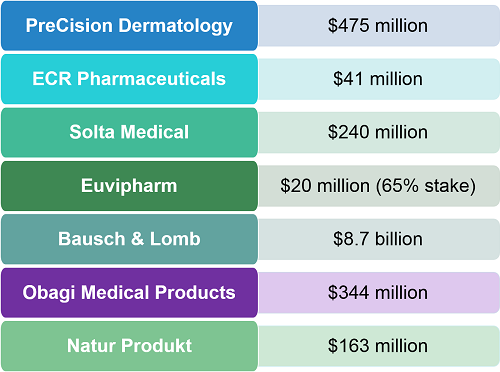 Unfortunately, many of the candidates to be sold were recently acquired by Valeant at much higher prices than they will get selling them off; the above chart shows some of these companies. One major business where rumors of a sale have arisen is eye care company Bausch and Lomb. Valeant paid $8.7 billion to acquire Bausch and Lomb in 2013 but would likely have to sell it for less than that price, especially considering that they are in a position where they have to make some sort of sales to avoid bankruptcy. A company making acquisitions for the purpose of growth is often seduced into paying steep prices, but when they have to sell assets to raise cash the price will be lower-Valeant bought high and may have to sell low.
One disturbing déjà vu that I have had concerns the similarity between Valeant and Peabody Energy. Peabody, too, had stated that they were going to sell off assets to avoid bankruptcy, and they even agreed to sell certain assets to Bowie Resource Partners for $358 million. However, the deal fell through and Peabody slid into bankruptcy. There is risk that either Valeant is unable to reach deals to sell their assets or that they are forced to take low-ball prices. Valeant's health care assets are certainly much better than Peabody's coal ones and more attractive to buyers, however, so Valeant being able to make a sale of some kind is probable, the price they get just may not be great.
Recommendation
As my best judgment is that asset sales are imminent, I do not want to try to value Valeant until I know which assets are going-if they have to sell off top assets like Bausch and Lomb, the long term prospects of the company may be diminished and investment opportunity eliminated.
However, I do not think the company will go bankrupt, and so far Wall Street seems to be loving any rumors of Valeant selling off assets. VRX stock leaped 5% on June 9 when a rumor rose that they might sell Amoun, and it went up 7% on May 17 on rumors that it could sell Provenge and Obagi. If the company were to sell off assets, the stock would likely rise.
Additionally, Papa purchased 202,000 shares of Valeant on June 13. This is a bold move and, as Papa is the CEO of the company, a decisively positive factor regarding the prospects of the stock. Ackman, another person deeply involved in the company, still retains a huge position as well for his fund, Pershing Square. His refusal to abandon Valeant even after extreme criticism and damage to his reputation could simply be stubbornness or it could be another positive sign for investors on the prospects of Valeant.
One more thing: Valeant rejected a buyout offer from Japan's Taketa Pharmaceutical Co and private equity firm TPG. This would be idiotic if Valeant was about to go bankrupt.
I have not yet purchased any shares of Valeant-for me, it would be too speculative to enter a long-term position in a company that may be about to sell off all of its best assets for dirt-cheap prices, and the risk of that is fairly significant right now. However, if the stock slips lower, say into the mid-teens, the potential reward may become so great that my hand will be forced. Valeant is volatile enough that this is a distinct possibility, so I will be watching it closely over the coming weeks. Their Q2 report is a potential catalyst, coming up in late July.
In the meantime, stocks that have taken collateral damage from the fall of Valeant are opportunities. I own shares of LCI and GILD in part because I see them as quality businesses that the market has punished because of Valeant's problems, and there are certainly other names that have been unfairly punished in wake of the Valeant situation.
Disclosure: I am/we are long LCI, GILD.
I wrote this article myself, and it expresses my own opinions. I am not receiving compensation for it (other than from Seeking Alpha). I have no business relationship with any company whose stock is mentioned in this article.