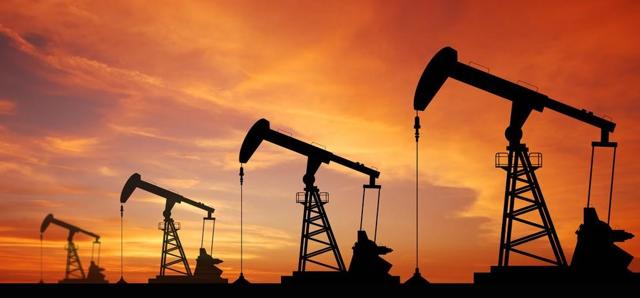 Important note: This article is not an investment recommendation and should not to be relied upon when making investment decisions - investors should conduct their own comprehensive research. Please read the disclaimer at the end of this article.
Historically one of the largest onshore oil and gas producers in North America, Devon Energy (NYSE:DVN) has been challenged to keep up with the pace of change within the industry and deliver top-tier operating metrics. The company's extensive but unfocused legacy asset portfolio may be the explanation for the lag in the stock's performance.
During the early stages of the shale revolution, Devon had several outstanding successes in shales, with the Barnett and Cana Woodford being vivid examples. More recently, however, Devon's exploration effort in its numerous emerging, low-cost-of-entry oil plays delivered mixed results. The company divested many of its exploration assets, in some cases at a loss, and ended up paying high prices to enter or scale up its positions in more proven areas, including the Eagle Ford and STACK.
As underscored by a series of recent asset sales, Devon has also been behind the curve divesting itself of mature and non-core assets. While the company has a reputation for its deep technical bench and exploitation efficiency, dispersed operating priorities appear to have set the company back relative to some of its more focused peers.
With a series of recent divestitures, Devon appears to be on a finish line to a more streamlined operating strategy. The company has a significant opportunity set in the Delaware Basin, STACK and Powder River Basin, all of which are challenging, underexplored shale oil provinces, providing ample running room for the deployment of technical skills and, hopefully, capital resources (if commodity prices cooperate and the plays live up expectation). Devon also has significant exploitation assets in the Eagle Ford, Woodford-Cana, Barnett and Canada's oil sands.
While the portfolio will obviously continue to evolve, capital concentration within fewer core plays appears to make sense and should allow for greater cost efficiency at the corporate level. Devon's major challenge now is to prove - through well performance and organic production growth - that its current strategic bets, such as STACK, "work" from a return perspective and can deliver economic results in line with top-tier resource plays in North America.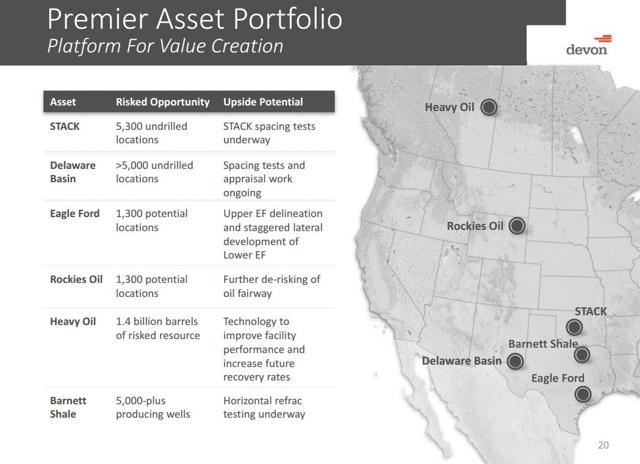 (Source: Devon Energy, June 2016)
Midland Basin Divestitures
Yesterday, Devon announced two significant divestitures in the Midland Basin. The prices Devon received for its assets appear moderate in comparison to comparable recent transactions in the Basin. Still, the divestitures make sense, being another step in streamlining the company's asset portfolio and bringing financial leverage in line with its cash flow generation in the current macro environment. With the announced transactions, Devon is now on track to exceed the high end ($3.0 billion) of its initial divestiture target for 2016.
Devon is selling 28,000 net acres in the northern Midland Basin to Pioneer Natural Resources (NYSE:PXD) for $435 million in cash. Substantially all of the acreage is held by production and appears largely undeveloped. Current net production is approximately 1,000 Boe/d, with oil accounting for roughly 70%.
The core component of the package are working interests across ~15,000 net acres located in the Sale Ranch area in Martin County and northern Midland County. Pioneer commented that some of its most prolific Wolfcamp B wells in the Midland Basin have been drilled in the Sale Ranch area, which suggests that the acreage is of "core of the core" quality. Pioneer believes that the acquisition acreage in Sales Ranch area yields approximately 70 Wolfcamp B locations with an average lateral length of ~9,000 feet and 95% working interest and an additional 80 Wolfcamp B locations with an average lateral length of ~7,500 feet and 68% working interest. The remaining ~13,000 net acres being divested by Devon are located in eight surrounding counties and appear to be working interests in numerous leases that require consolidation for efficient development.
Attributing a valuation of $5,000-$10,000 per acre to the 13,000 acres outside the Sale Ranch area and another $15 million-$30 million to the existing production, the price of the core Sale Ranch position comes out at ~$19,000-$23,000 per acre. While impressive in absolute terms, the price appears substantially lower than "core of the core" acreage valuations seen in recent transactions in the Midland Basin. The lower valuation may reflect Devon's working interests being limited to select depths. Pioneer commented that the Wolfcamp B acreage it is acquiring in the Sale Ranch area "sits directly below Pioneer's Wolfcamp A acreage," which seems to imply that Pioneer already owns shallower rights and Devon does not have rights to all the formations. In this hypothesis is correct, the price received by Devon is essentially in line with other comparable transactions.
In a separate transaction, Devon is selling its assets in the southern Midland Basin for $423 million. Current production from these assets is approximately 22,000 Boe/d, of which 33% is oil. Proved reserves associated with these properties, as of December 31, 2015, totaled 43 million Boe. Annualized field-level EBITDA for these assets, based on Q1 2016 results, was ~$52 million. Devon did not specify the size of the acreage position being sold and whether the acreage is part of Devon's joint venture with Sumitomo (and whether any drilling carries are involved). Using a $200-$250 million illustrative market value estimate for the existing production, the implied value of the undeveloped acreage comes out in the ~$200 million range.
As a reminder, in a previously announced northern Midland Basin divestiture, Devon sold its overriding royalty interests across 11,000 acres in Martin County, including current production of 1,000 Boe/d, for ~$139 million. Production from this overriding royalty interest was approximately 1,000 Boe per day.
In total, Devon should receive pre-tax proceeds from its three recent Midland Basin asset sales of $0.9 billion, a significant contribution to the company's deleveraging program.
Other Deleveraging Steps
Yesterday's Midland Basin sales announcements extend a long list of deleveraging transactions that Devon was forced to undertake this year in response to the collapse in the company's cash flow due to low commodity prices.
Equity Offering. In February, Devon raised ~$1.5 billion in net proceeds from an equity offering. The offering priced at ~$18.52 per share, after the underwriters' discount (by comparison, Devon's stock closed at $34.80 per share on June 16, 2016).
East Texas Sale. Devon recently agreed to sell its legacy assets in East Texas, mostly natural gas, for $525 million. Q1 2016 net production from these properties averaged 22,000 Boe/d, of which approximately 5% was oil. Annualized field-level EBITDA from these assets, based on Q1 2016 results, was $40 million. At December 31, 2015, proved reserves associated with these properties amounted to ~522 MMcfe.
Granite Wash Sale. Devon agreed to sell its position in the Anadarko Basin's Granite Wash area for $310 million. Q1 2016 net production from these properties averaged 14,000 Boe/d, of which 13% was oil. Annualized field-level EBITDA from these assets, based on Q1 2016 results, was ~$24 million. At December 31, 2015, proved reserves associated with these properties were 186 Mcfe.
Mississippian Sale. Devon agreed to sell its Mississippian assets in northern Oklahoma to White Star Petroleum, LLC for $200 million. Net production from the assets averaged 12,800 Boe/d in Q1 2016, of which ~30% was oil. At December 31, 2015, proved reserves associated with these properties amounted to 11 MMBoe. Annualized field-level EBITDA, based on Q1 2016 results, was $32 million.
San Juan Basin Sale. In late 2015, Devon agreed to sell its legacy natural gas assets in the San Juan Basin (primarily coalbed methane) to BP (NYSE:BP). The sale included ~35 Bcfe of proved reserves and generated proceeds of less than $100 million, based on my estimate.
Access Pipeline Sale. Devon may announce the sale of its 50% interest in the Access Pipeline in Canada. The sale price may be in the $1 billion range. It is important to note that the sale of this midstream asset will have an impact on the cost structure of Devon's operations in Canada.
These recent divestitures illustrate the scale of the "non-core" component in the company's asset portfolio (which will likely continue to be trimmed further). It is worth noting that the most recent divestitures come on the heels of even larger upstream asset sales the company undertook in 2014, divesting Canadian conventional assets for $2.8 billion and select U.S. assets for $2.2 billion. Of note, the U.S. asset package, which included mostly mature properties in the Rockies, onshore Gulf Coast, and Mid-Continent regions, was acquired by the now bankrupt LINN Energy (LINEQ, LNCO). Devon's production from these assets was 275 MMcfe/d, of which approximately 80% was natural gas. At December 31, 2013, proved reserves associated with these properties were 1,242 Bcfe and 2013 field-level EBITDA was $350 million.
It is interesting to note that with the sale of its non-core assets to LINN Energy, Devon characterized its portfolio transformation as "complete," only to come up with another $2.1 billion in non-core upstream assets for sale one year later. While, in retrospect, the asset sales in 2014 were well timed, one might wonder if the company should have moved more aggressively and earlier to identify strategic priorities and streamline the asset portfolio.
In Conclusion…
Devon Energy has come a long way aligning its asset portfolio with the opportunity set offered by the North American resource plays. The $7+ billion in upstream asset sales in the last two years, on top of the strategic decision to exit its Offshore/International business several years ago, illustrate the magnitude of the portfolio transformation the company has implemented to date.
The company's deep portfolio of assets and multi-million-acre legacy position in the U.S. and Canada have continued to generate significant monetization proceeds and should not be underestimated as a source of the company's resiliency in a difficult macro environment. (I would argue that Devon is far from running out of non-strategic properties that can be monetized.)
Following the recent equity offering and multiple deleveraging asset sales, Devon has essentially eliminated all credit-related concerns that impacted the stock earlier this year. It is worth noting that in addition to relieving credit stress, the asset divestitures have helped to highlight "hidden values" in Devon's vast legacy portfolio. With the stronger commodity prices providing a powerful tailwind (Devon is essentially unhedged), it is no surprise that the stock has more than doubled from its lows in February.
With the portfolio transformation essentially accomplished, Devon is now facing a more challenging task: to prove that its core assets can generate compelling drilling returns and organic growth (within cash flow from continuing operations) in a lower-price commodity environment.
For in-depth data and analysis of commodity fundamentals, please consider subscribing to Zeits OIL ANALYTICS that provides analysis of the crude oil and natural markets.
Disclaimer: Opinions expressed herein by the author are not an investment recommendation and are not meant to be relied upon in investment decisions. The author is not acting in an investment, tax, legal or any other advisory capacity. This is not an investment research report. The author's opinions expressed herein address only select aspects of potential investment in securities of the companies mentioned and cannot be a substitute for comprehensive investment analysis. Any analysis presented herein is illustrative in nature, limited in scope, based on an incomplete set of information, and has limitations to its accuracy. The author recommends that potential and existing investors conduct thorough investment research of their own, including detailed review of the companies' SEC filings, and consult a qualified investment advisor. The information upon which this material is based was obtained from sources believed to be reliable, but has not been independently verified. Therefore, the author cannot guarantee its accuracy. Any opinions or estimates constitute the author's best judgment as of the date of publication, and are subject to change without notice. The author explicitly disclaims any liability that may arise from the use of this material.
Disclosure: I/we have no positions in any stocks mentioned, and no plans to initiate any positions within the next 72 hours.
I wrote this article myself, and it expresses my own opinions. I am not receiving compensation for it (other than from Seeking Alpha). I have no business relationship with any company whose stock is mentioned in this article.