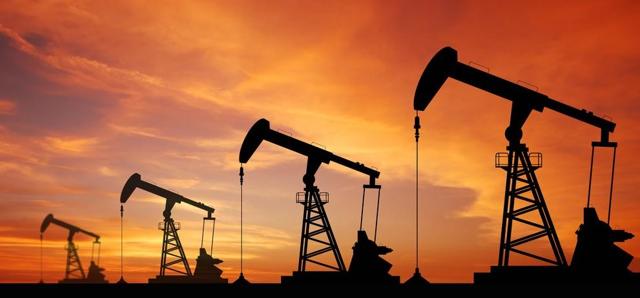 Important note: This article is not an investment recommendation and should not to be relied upon when making investment decisions - investors should conduct their own comprehensive research. Please read the disclaimer at the end of this article.
Pioneer Natural Resources' (NYSE:PXD) stock suffered a setback following the company's announcement of a core Midland Basin acreage acquisition, despite the properties being a good fit with Pioneer's existing position. Contributing to the pressure on the stock is the large stock offering which is used in significant part to fund the company's planned capital outspending in 2017.
The Acquisition
Pioneer is acquiring ~28,000 net acres in the core of the Midland Basin, including 1,000 Boe/d of associated production, for $435 million. Devon Energy (NYSE:DVN) is the seller. Substantially all of the acreage is held by production.
The package includes ~15,000 net acres in the Sale Ranch area in Martin County and northern Midland County where, according to Pioneer, the company has drilled its most productive Wolfcamp B wells. The company's press release states that "the majority of the Wolfcamp B acreage that Pioneer is acquiring in the Sale Ranch area sits directly below Pioneer's Wolfcamp A acreage." As I discussed in my earlier note, the price paid in the transaction is high but appears to be in line with other comparable transactions in the core Midland Basin.
Pioneer estimates that it can generate strong drilling returns in the Sale Ranch area - in the 50% range for wells with 9,000 foot laterals - assuming current strip prices.
Concurrently, Pioneer announced and completed a ~$940 million common stock offering (assuming the green shoe is exercised in full).
Spending Guidance Implies Outspending
While the equity offering is funding the acreage acquisition, I interpret it as also a move to secure credit-friendly funding for Pioneer's capital program in 2016 and 2017.
Pioneer is increasing drilling activity in the northern Spraberry/Wolfcamp from 12 rigs currently to 17 rigs towards the end of this year. According to Pioneer, three of the five rigs being added will be drilling on the newly acquired inventory in the Sale Ranch area. The first rig will be added in September 2016 and two additional rigs added in each of October and November 2016. The increase in activity is motivated by the "acquisition and the company's improving outlook for oil prices."
As a result of these rig additions, Pioneer expects its 2016 capital budget to increase by ~$100 million to $2.1 billion, which represents an outspend of ~$600 million relative to the company's updated cash flow forecast of $1.5 billion in 2016. The impact on the 2016 production growth guidance of 12%+ is expected to be minimal due to multi-well pad drilling.
Assuming capital intensity per rig in 2017 is comparable to that in 2016, I estimate Pioneer's capital spending next year to be in the $2.6-$2.8 billion range, based on a 17-rig program in the northern Spraberry/Wolfcamp. Using strip pricing, this would represent a significant outspend relative to the company's operating cash flow. Pioneer expects 2017 production growth to be 13%-17%.
It is important to note that Pioneer's cash flow in 2016 is being supported by the company's favorable hedge position. For the remaining three quarters of this year, approximately 85% of Pioneer's forecasted oil production is hedged with swaps and three-way collars. Using current strip pricing, the average hedged price for the protected volumes is ~$63 per barrel. On the natural gas side, ~70% of the volumes forecasted for the last three quarters of this year are protected with an average price of ~$3.28 per MMBtu, using the current strip. Pioneer also has a portfolio of NGL hedges and basis hedges.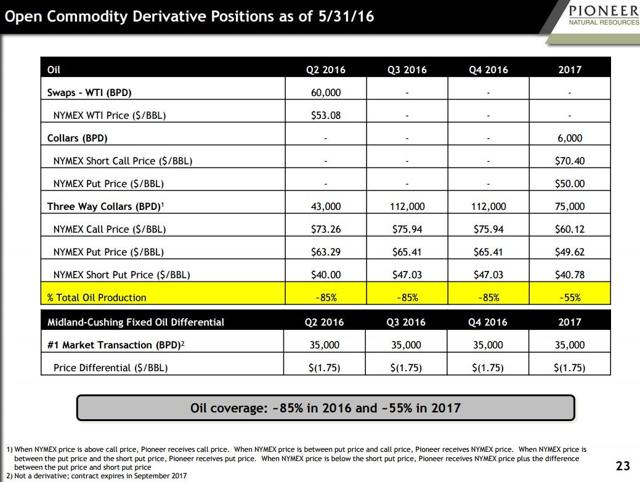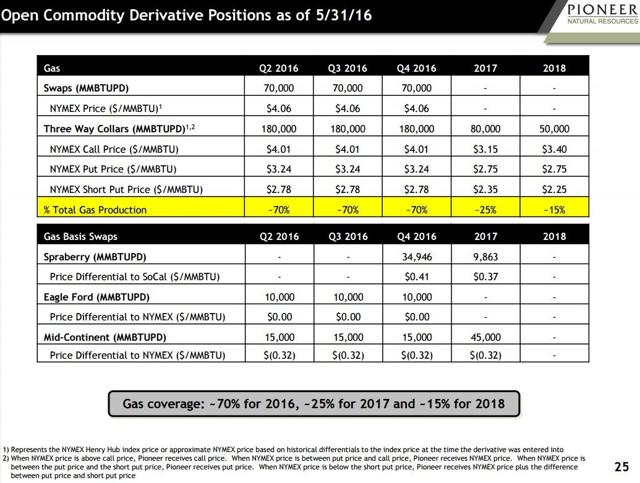 (Source: Pioneer Natural Resources, June 2016)
Based on my estimates, in the absence of hedges, Pioneer would have needed a commodity price environment characterized by $60 per barrel oil and $3 per MMBtu natural gas to generate the ~$1.5 billion in cash flow it is currently forecasting for 2016. Based on the current budget, even without any acceleration in drilling activity, under such a scenario Pioneer would be outspending its cash flow by ~$0.5 billion. In the context of this material outspending and relatively strong price realizations, the guided 12% production growth is hardly a major achievement. To demonstrate that its capital productivity is truly compelling, Pioneer needs to deliver oil volumes significantly ahead of the guidance, in both 2016 and 2017.
The company's reports of exceptionally strong, oily well performance in the Midland Basin are encouraging in this regard. Strong well performance should drive strong production results. Indeed, Pioneer's first quarter oil production was quite impressive and well ahead of the guidance, increasing 9% versus the previous quarter. The beat was driven by Spraberry/Wolfcamp horizontal program.
Hopefully, Pioneer will be able to demonstrate a similar pace of operating performance in the following quarters. Oil production growth is the key metric to monitor.
For in-depth data and analysis of commodity fundamentals, please consider subscribing to Zeits OIL ANALYTICS that provides analysis of the crude oil and natural markets.
Disclaimer: Opinions expressed herein by the author are not an investment recommendation and are not meant to be relied upon in investment decisions. The author is not acting in an investment, tax, legal or any other advisory capacity. This is not an investment research report. The author's opinions expressed herein address only select aspects of potential investment in securities of the companies mentioned and cannot be a substitute for comprehensive investment analysis. Any analysis presented herein is illustrative in nature, limited in scope, based on an incomplete set of information, and has limitations to its accuracy. The author recommends that potential and existing investors conduct thorough investment research of their own, including detailed review of the companies' SEC filings, and consult a qualified investment advisor. The information upon which this material is based was obtained from sources believed to be reliable, but has not been independently verified. Therefore, the author cannot guarantee its accuracy. Any opinions or estimates constitute the author's best judgment as of the date of publication, and are subject to change without notice. The author explicitly disclaims any liability that may arise from the use of this material.
Disclosure: I/we have no positions in any stocks mentioned, and no plans to initiate any positions within the next 72 hours.
I wrote this article myself, and it expresses my own opinions. I am not receiving compensation for it (other than from Seeking Alpha). I have no business relationship with any company whose stock is mentioned in this article.