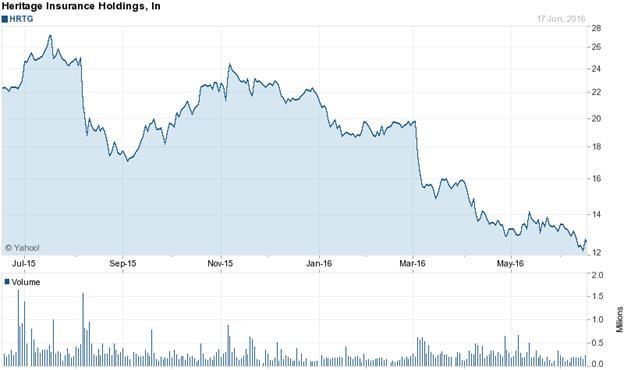 Source: Yahoo Finance
Our focus at the Superinvestor Bulletin is to find the highest conviction ideas from the portfolios of the world's greatest investors. By building a portfolio exclusively of those ideas we believe we will outperform the market over time.
We also spend a lot of time watching for significant insider buying at under the radar companies. This is very different than our core strategy, but we love it when management invests their own money in the company they are running.
There is only one reason to do that. They believe that the shares are undervalued.
Let's get to the point. We think Heritage Insurance Holdings (NYSE:HRTG) is worth a look because of recent insider buying and what looks to be an attractive valuation.
Heritage Insurance Holdings - Insider Buying
Details on the insider purchases are below. They are all quite fresh and amount to a pretty decent chunk of change. Remember, these aren't insiders at Google (NASDAQ:GOOG) (GOOG.L) who are pulling down giant salaries. This is a small company where people make sensible amounts of money. Putting this cash back into the company is much more meaningful in our opinion.
| | | | | | |
| --- | --- | --- | --- | --- | --- |
| Date | Insider | Shares | Type | Transaction | Value* |
| | | | | | |
| 15-Jun-16 | PAPPAS NICHOLAS GEORGE Director | 1,000 | Direct | Purchase at $12.32 per share. | $12,320 |
| 14-Jun-16 | APOSTOLOU PANAGIOTIS Director | 4,952 | Direct | Purchase at $12.33 per share. | $61,058 |
| 14-Jun-16 | LUCAS BRUCE Officer | 15,700 | Direct | Purchase at $12.47 per share. | $195,779 |
| 14-Jun-16 | BARLAS IRINI Director | 4,200 | Direct | Purchase at $12.45 per share. | $52,290 |
| 9-May-16 | LUCAS BRUCE Officer | 18,500 | Direct | Purchase at $13.40 per share. | $247,900 |
| 9-May-16 | ROHDE STEPHEN L Officer | 3,000 | Direct | Purchase at $13.40 per share. | $40,200 |
| | | 47,352 | | | $609,547 |
The most significant buying has been done by Chairman and CEO Bruce Lucas who has bought nearly $450,000 worth of shares with his own money. We also like seeing the CFO Stephen Rohde buying some shares. If something is rotten in the books the CFO is going to be more aware of it than anyone else (other than perhaps his accounting staff).
Heritage Insurance Holdings - The Business
Heritage Insurance Holdings is a property and casualty insurance holding company that provides personal and commercial residential insurance. The company is headquartered in Clearwater, Florida and provides personal residential insurance for single-family homeowners and condominium owners, rental property insurance and commercial residential insurance in the state of Florida and North Carolina.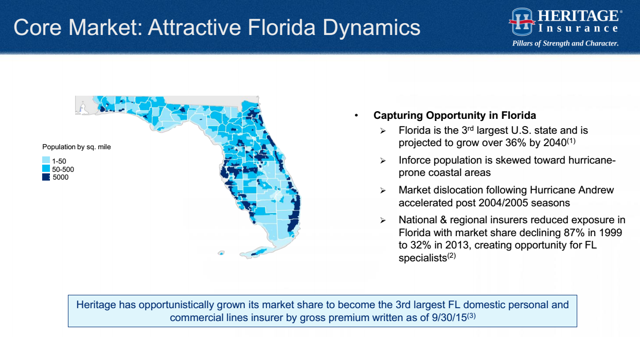 Source: Heritage Corporate Presentation
Yep, that is correct. Heritage is primarily in the business of selling insurance in the state of hurricane……we mean Florida.
Heritage is a young company having commenced operations in August 2012.
On September 29, 2015 Heritage acquired Zephyr Acquisition Company a specialty insurance provider in Hawaii that writes residential property insurance policies that covers the peril of wind. The acquisition will provide Heritage with an immediate presence in Hawaii with Zephyr holding approximately 30% of the wind-only market share in the state. The purchase price for the acquisition was approximately $120.0 million.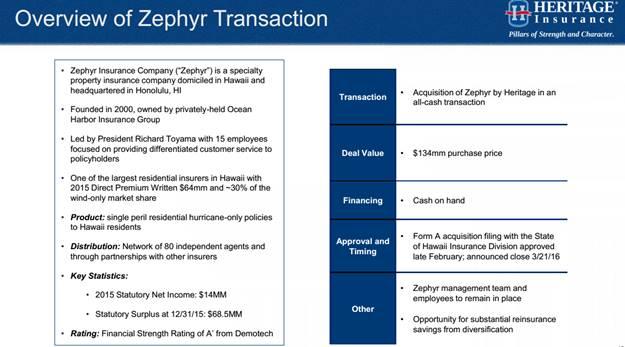 Source: Heritage Corporate Presentation
From Heritage's 10-K filing on March 8:
In August 2015, the Company announced it received its certificate of Authority ("COA") to write property and casualty insurance in the state of North Carolina. North Carolina marks the beginning of the Company's multi-state expansion. The Company wrote its first policy in North Carolina in January 2016. The Company also was received its COA in South Carolina. The Company has been approved in Alabama and Mississippi. The Company has also submitted applications Massachusetts and Georgia.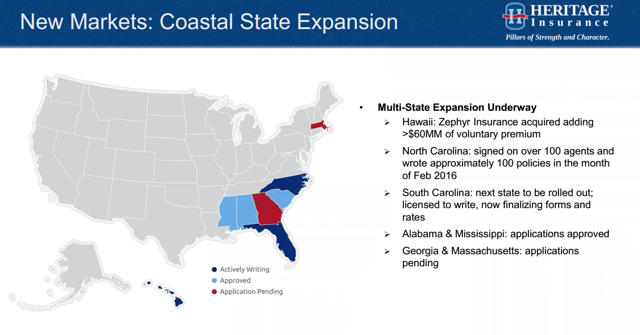 Source: Heritage Corporate Presentation
Heritage Insurance Holdings - Financial Performance To Date
In Heritage we have an insurance company that is focused mainly on Florida but is expanding into other mostly coastal regions.
To date the financial performance of the company has been pretty stout.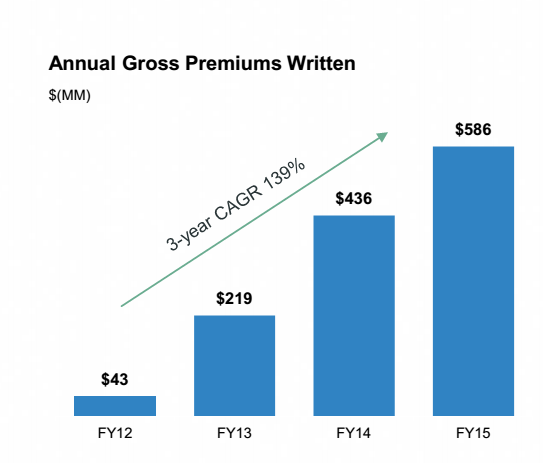 Source: Heritage Corporate Presentation
Premium revenue growth has been very strong through the company's brief existence. The growth has been both organic and supplemented by acquisitions. That type of growth doesn't do much for us though, as anyone can write an insurance premium. What you want to know is whether those premiums are being priced appropriately relative to the risk taken on.
In some markets where pricing is soft an insurance company would be doing better by its shareholders by letting premium revenue fall.
The far more important measure of the quality of an insurance company's performance is its combined ratio. A ratio of 100 would mean that estimated losses plus operating expenses are meeting premiums and the insurance float that the company was getting to invest was costing the company nothing.

The company would then be able to turn a profit for shareholders though the investment income it earned on that float. As you are likely aware, times are tough for insurance companies these days since lower risk interest earning investment opportunities are paying a next to nothing.
Thanks again, central bankers. That means that Heritage and companies really need to do better than just score 100 on their combined ratio because depressed investment income can't cover poor underwriting results.
Heritage's combined ratio has been nothing short of excellent to date, hitting 74.9% in 2015.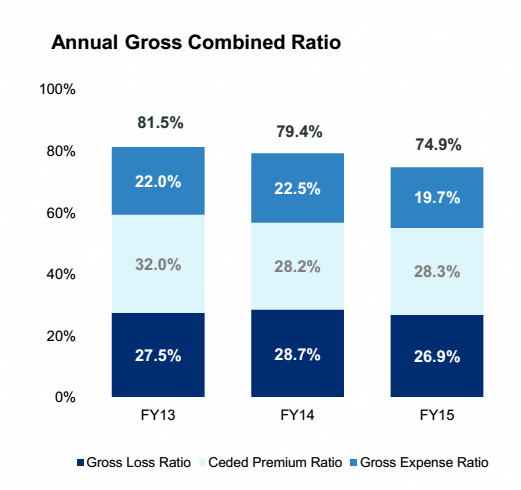 Source: Heritage Corporate Presentation
With a combined ratio for each year that has been nothing short of stellar you can imagine that Heritage's net income has done very well. And it has.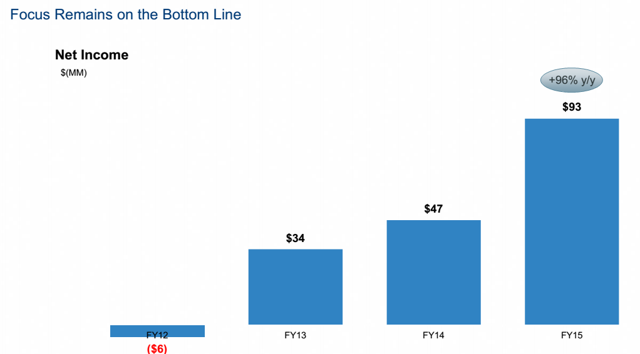 Source: Heritage Corporate Presentation
That is all very good. Here is the thing, though: things have been pretty easy in the Florida insurance business over the past ten years.
According to Weather.com the last hurricane to make landfall in Florida was Wilma in 2005. There is the picture of that unfriendly lady below.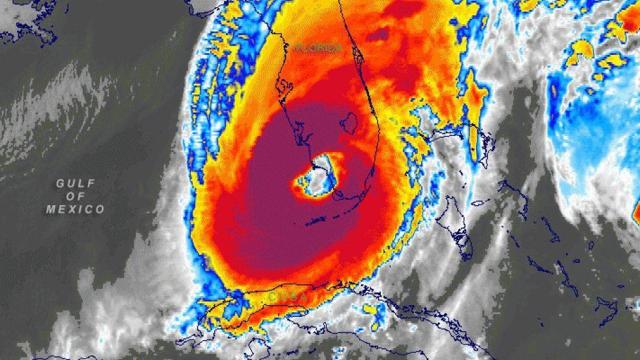 Source: Weather.com
Weather.com also said this:
This almost 10-year period-without a hurricane in Florida is rather remarkable given the state has 1,260 miles of coastline, the longest of any state along the Gulf of Mexico or the Atlantic. According to the National Hurricane Center, 40 percent of the landfalling U.S. hurricanes from 1851 to 2010 have impacted the Florida coast. That's a total of 114 hurricanes in about 160 years.
We would therefore have to conclude that while Heritage's numbers look really good so far we really don't know the true quality of the underwriting being done at the company. That will be revealed when there is a stretch of years where a normal level of hurricane activity takes place.
That isn't to suggest that the company has done anything but a good job of underwriting. Clearly management thinks so given the buying of shares they have been doing in the open market. Our opinion is that we just don't know at this point.
Heritage's models suggest that the reinsurance program that the company has laid in place would protect it from even the worst storms.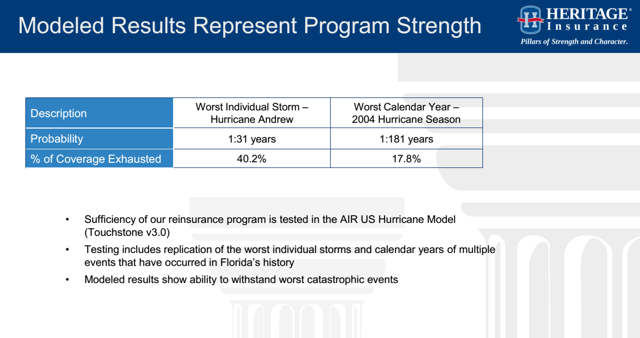 Source: Heritage company presentation
We don't think we can determine how accurate that modeling is and we don't gain a whole lot of comfort from such models period. We have seen such modeling fail miserably in the past. The future may resemble the past, but then again it might not.
Heritage Investment Management - Investment Portfolio
Heritage's investments are managed by seven third-party asset managers. The company has designed its investment policy to provide a balance between current yield, conservation of capital and the liquidity requirements of our operations.
As a result, the investable assets are primarily held in cash and bonds with relatively short durations. The investment policy sets guidelines that provide for a well-diversified investment portfolio that is compliant with Florida statutes that emphasizes quality and preservation of capital. The policy limits investments in common and preferred stocks to 15% of Heritage P&C's admitted assets, with no more than 10% in either class. The bond portfolio must have a minimum weighted average portfolio quality of A, with only $1 million invested in below investment grade bonds. No more than 2% of admitted assets can be invested in any one issuer, excluding government-related securities.
As of December 31, 2015, the company held $236.3 million in cash and cash equivalents and $400.1 million in securities, which comprised $371.8 million in bonds, $12.7 million in preferred stocks and $15.6 million in common stock.
Source: Heritage company presentation
Heritage Insurance Holdings - Financial Statements / Valuation
The financial statements for Heritage reflect the fact that the company has been getting Florida type insurance premiums without Florida type hurricane seasons.
| | | | |
| --- | --- | --- | --- |
| Revenue: | 2015 | 2014 | 2013 |
| Gross premiums written | 586,098 | 436,407 | 218,537 |
| Gross premiums earned | 524,740 | 311,514 | 139,959 |
| Net premiums earned | 376,268 | 223,612 | 95,159 |
| Net investment income and realized gains | 8,929 | 4,153 | 726 |
| Other revenue | 9,595 | 6,055 | 28,947 |
| Total revenue | 394,792 | 233,820 | 124,832 |
| Expenses: | | | |
| Loss and loss adjustment expenses | 141,191 | 89,560 | 38,501 |
| Other operating expenses | 103,311 | 70,008 | 30,870 |
| Total expenses | 244,502 | 159,568 | 69,371 |
| Income before income taxes | 150,290 | 74,252 | 55,461 |
| Provision for income taxes | 57,778 | 27,155 | 21,248 |
| Net income | 92,512 | 47,097 | 34,213 |
| Earnings per share: | | | |
| Basic | 3.08 | 1.92 | 2.39 |
| Diluted | 3.05 | 1.82 | 2.36 |
| Ratios to net premiums earned: | | | |
| Net loss ratio | 37.5 | 40.1 | 40.5 |
| Net expense ratio | 27.5 | 31.3 | 32.4 |
| Combined ratio | 65 | 71.4 | 72.9 |
For 2015 Heritage had earnings per share of $3.08 which with a share price of $12.64 puts the price to earnings ratio at a measly 4.1. If you flip that around it equates to an earnings yield of 24%.
If 2015 is a normal year this company is crazy cheap. Obviously there is reason to believe that it isn't normal year, but it is hard not to be intrigued by this valuation.
At $12.64 Heritage is trading at 1.07 times book value which again looks very interesting considering that book value per share grew by 39% just last year.
Note that you can find all Heritage financial information here:
https://www.sec.gov/cgi-bin/browse-edgar?action=getcompany&CIK=0001598665&owner=exclude&count=40&hidefilings=0
Conclusion:
We think that Heritage's easy hurricane experiences have distorted the earnings of the company over the past several years. However we still think these shares are quite attractively priced. The insider buying adds considerably more appeal because these people have considerable knowledge about the underwriting policies being used.
What nags at us is that we typically would want to be buying a company like this after a natural disaster hits and the shares have been beaten down. Our contrarian nature makes it hard to buy an insurance company focused on Florida after a 10 year run of easy weather. We'd be far more inclined to be looking at these types of companies after the market has been reminded that this is a risky business.
That doesn't mean that Heritage isn't a good buy now though.
We do have an idea that we are unquestionably excited about and it comes from one of the Superinvestors that we track.
From November 2000 until June 2008, when he shuttered his initial fund, "Big Short" legend Michael Burry returned 489% vs. 3% for the S&P 500. For our subscribers, we have just released a 20-page comprehensive report explaining Burry's most recent investment idea into which he has allocated 16% of his portfolio. For just $12 per month, you can get the highest conviction ideas from Burry and other investing greats each and every month. Just follow the link and get started:
Good luck with your investing. Thanks for reading.
Disclosure: I/we have no positions in any stocks mentioned, and no plans to initiate any positions within the next 72 hours.
I wrote this article myself, and it expresses my own opinions. I am not receiving compensation for it (other than from Seeking Alpha). I have no business relationship with any company whose stock is mentioned in this article.