Oil markets moved materially lower last week falling from over $50 to $46 on concerns over Brexit.

The market being the market, it pummeled the prices down only to rally 4.54% on Friday to close out the week.
John Kemp reports that longs reduced their oil exposure materially last week and shorts increased their positions.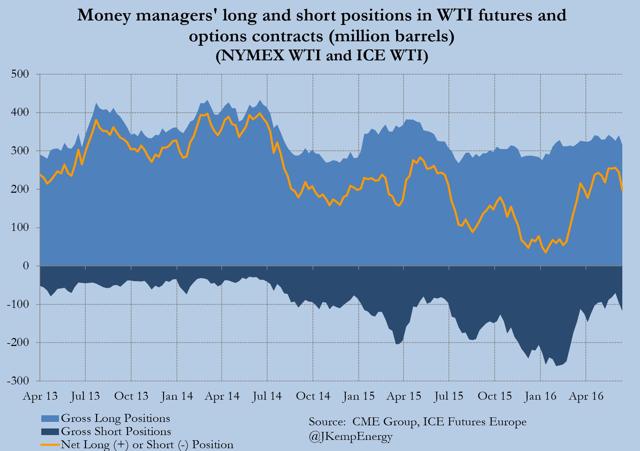 Hedge Funds cut a combined -46 million bbls or 19% to 198 million bbls.
Markets were spooked around the world, but we think the Brexit won't happen. Late night polls currently have the polls swinging towards "remain." Implications for Britain in the long-run would be catastrophic if it were to leave the Eurozone. The markets being ever more dependent on certainty would drastically sell-off in the event Brexit happened. The confidence in the EU would also drop leaving the ECB with more issues as investors would pull out money collectively across the Euro group. This would likely result in central banks around the world lowering interest rates further to stem the capital outflow.
As Gundlach said on Friday, "When it comes up for a vote, I think it will fail."
For those that remember back in 2014 when Scotland voted to stay in Great Britain, the market was just as concerned and all risk assets sold off. The "no" side ended up winning, and the markets recovered.
And to give another example, the market was concerned about the US debt ceiling in 2013 when the government had to shut down for a day only to have the issue resolved and the markets rallied.
These are just several events that can be listed, and it goes to show that mainstream media blows things out of proportion. How about taking a poll with 2,000 people and call it a gauge for where the rest of the people would vote for?
Sometimes the tactics used to overemphasize an event is very classic media marketing. Fear mongering headlines grab a lot of attention. How else do you think ZeroHedge built a business out of selective bias?
In the event that the votes come in favor of "Bremain" on June 23 rd, we think global equity markets will view that very favorably with commodities like oil (NYSEARCA:USO) rallying over $50. The USD in response will likely fall further now that the probability of an interest rate hike has substantially reduced. Avid followers of our writing may note that we do not expect a rate hike to happen this year as the US economy's job figures look to only deteriorate going forward. Any economic softness will likely hold the Fed back from any rate hikes.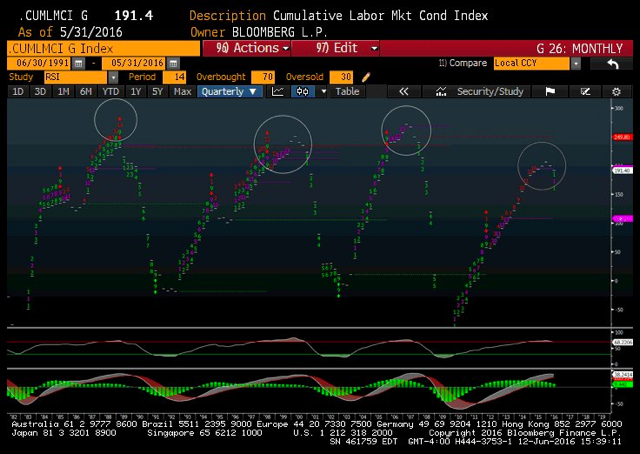 As always, we hope you enjoyed our "oil markets daily." If you want to read more of our articles, please be sure to hit the "follow" button above. We also have a premium service tailored to investors looking to how we are thinking about positioning and real time trade alerts. You can view our delayed one-month portfolio update here. We hope to see you join the HFI community.
Disclosure: I/we have no positions in any stocks mentioned, and no plans to initiate any positions within the next 72 hours.
I wrote this article myself, and it expresses my own opinions. I am not receiving compensation for it (other than from Seeking Alpha). I have no business relationship with any company whose stock is mentioned in this article.