There's always two sides to every story. One can take either the optimistic view or the pessimistic view. Whenever things become too one-sided, you usually know it's time for a variant perception.
In the case of Venezuela, we are absolutely speechless by their dishonesty. In this interview, PDVSA's (Petroleos de Venezuela S.A.) President Eulogio Del Pino talks about how $50 oil will allow PDVSA to pay its debt this coming year. Del Pino even goes on to say that the cost of producing oil is $12 per barrel. Wait… Did he really just say $12 per barrel?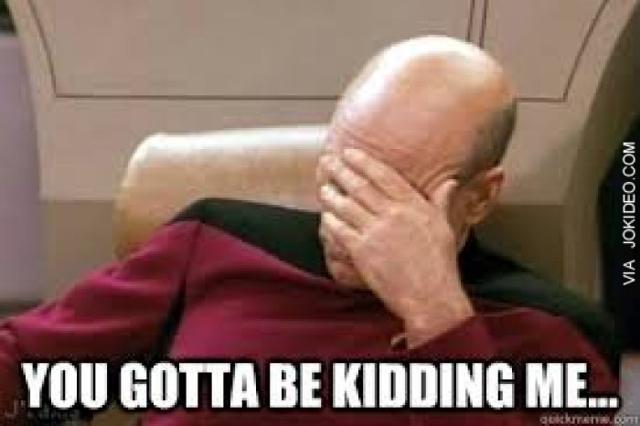 All jokes aside, let's think about this logically for a second here. Saudi Arabia's cost of production is between $10-$16 per barrel. Saudi has one of the most prolific fields in oil and gas. Its Ghawar field is the largest conventional oil field in the world and produces a staggering amount of oil. Even in the case of Ghawar, petroleum engineers have pinned the cost of producing around $10 per barrel.
So Del Pino is saying that the cost of producing a barrel of oil in Venezuela is only $12?
Here's another way to look at it. If Venezuela produces 2.375 million b/d, and the cost of production is only $12, it should have cash cost of $28.5 million a day, or $10.4 billion a year. If oil remains around $50, then it could net in almost $32.94 billion a year!
What Del Pino just said goes directly against all of the estimates we've seen. If PDVSA's production were truly $12 per barrel, we will be the first to tell you that it does not need to ask China for money. It would be so solidly in the black that it would print money. That's obviously not the case as Venezuela is in the midst of one of the worst economic crises ever.
Along with drastically lower cost estimates and inflated production figures, we are now starting to question just where PDVSA is with its loan payment. Here's a current debt schedule for PDVSA over the next 12 months.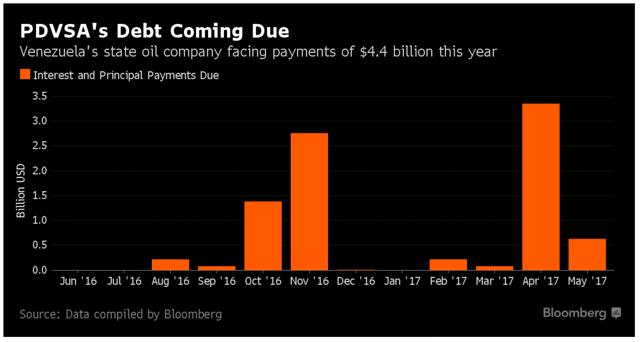 Part of the reason why we think PDVSA is over-inflating its production figures is because it wants to close oil for loan deals with China. By overly underestimating the cost of production, PDVSA hopes to fool China into lending it more money. Over the past decade, China has lent Venezuela about $50 billion, but now the Chinese are concerned.
As we wrote in our oil markets daily, Venezuela's 2.37 million b/d is likely 370k b/d higher than the actual production figures. PDVSA doesn't even have enough money to pay for just two cargoes of light crude from BP. Electricity outages across the nation have severely impacted production, and lack of infill drilling will only accelerate the decline.
Sure, PDVSA might be cash cost positive now with oil at $50, but remember, oil production falls every year, and capex is needed to keep production just flat. Where's the capex coming from?
China likely realized just how bad PDVSA is, and wants to renegotiate the deal now.
We think the Chinese will come ahead in this deal. Political turmoil will likely escalate going forward. Inflation at 480% will create more social unrest, and the economy will continue to deteriorate. China has the upper hand here and it can renegotiate a deal in its favor. Sure, it might help Venezuela in the short-run by relaxing some payments, but China will likely hold a long-term grasp on the country.
We think there's much more downside to Venezuela than meets the eye. PDVSA's oil (NYSEARCA:USO) production has remained relatively resilient over the last 18 months, but we think all that is about to change. The lack of infill drilling and capex investments will start showing up, and the decline in production will only accelerate. Currently, we expect Venezuela to see a drop to 1.8 million b/d by the middle of 2017. This would be indicated by headline numbers saying Venezuela production falls to 2 million b/d. Over-inflating production is part of the game, and we suspect Venezuela will continue to do so until it's too blatantly obvious it's false.
Disclosure: I/we have no positions in any stocks mentioned, and no plans to initiate any positions within the next 72 hours.
I wrote this article myself, and it expresses my own opinions. I am not receiving compensation for it (other than from Seeking Alpha). I have no business relationship with any company whose stock is mentioned in this article.