In a recent article on Barclays (NYSE:BCS), I highlighted what I believed to be the three catalysts that double the share price, namely:
unwind of non-core;
sell-down of Barclays Africa; and
efficiency efforts centered around the investment bank (IB).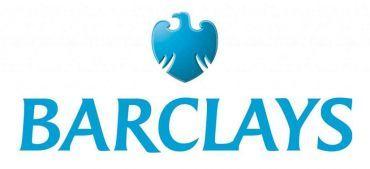 The thesis of my bullish call was simple: all of these initiatives do not require heroic assumptions about revenue growth or items that are not within the control of the firm.
Since this particular article, the stock has performed reasonably well, but more recently, has been suffering from headwinds primarily due to the external environment, namely: Brexit, Great British pound (GBP) and the flattening yield curve.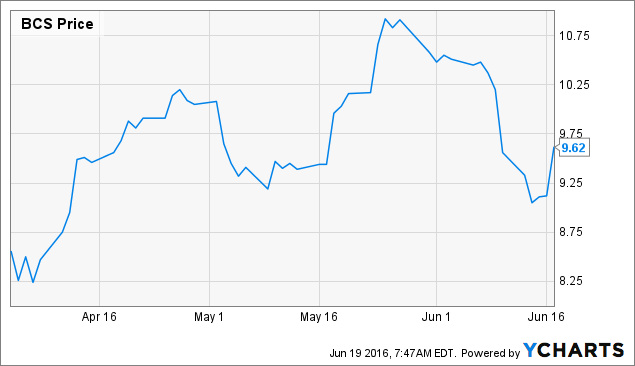 I know some of my readers took some profits in recent weeks, but what is next, and when is a good time to get back in?
A strange call by Bernstein's analyst
Sanford C. Bernstein seem to believe BCS may face a capital shortfall of ~$6 billion compared with its ~13% end-target - specifically, sketching out a scenario when the investment bank industry and markets freeze again.
The analyst responsible for this call is Chirantan Barua, and he noted the following, according to Bloomberg:
Earnings pressure on investment banking and cards are likely to continue into next year and capital is still at risk if markets were to seize... The investment-banking downturn is not a two-quarter phenomenon, it tends to last longer and BCS is still the least capitalized in the U.K. - not worth a risk at this stage
To be honest, I was scratching my head when I read this article - I was trying to work out whether this is merely a "headline-grabbing" type of (so-called) analyst's report or if there is something substantial I may missing.
I'll let the readers be the judge of this. Note, at the time of this call by Bernstein, Brexit was not a big part of the rationale.
Understanding Barclays' capital narrative
The current end-state capital requirements for BCS are illustrated below. I underlined "current," as these are expected to reduce - as I will outline below.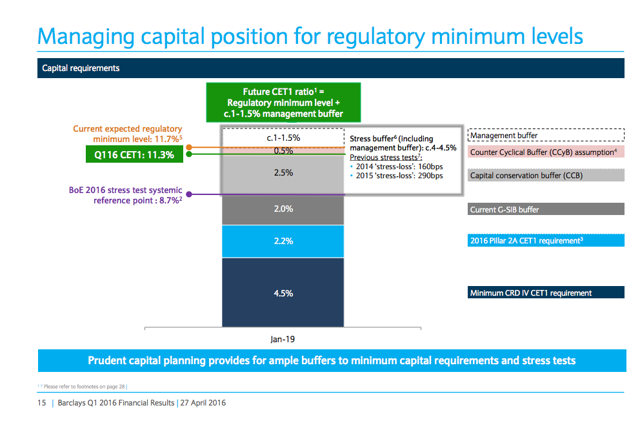 As of 1Q'2016, BCS' Common Equity Tier 1 (CET1) ratio stands at 11.3% - still 170 basis point or so short of ~13% targeted for 2019. So, on the face of it, Bernstein's concerns around capital may be warranted in stressed market scenarios, right?
Well, not quite - there are other material moving parts:
The probable sale of BCS Africa has already increased CET1 ratio by 10 basis points and is expected to increase by more than 100 basis points when de-consolidated for regulatory purposes.
The unwind of non-core is capital-accretive: whereas it may result in P&L losses, it is generally expected to increase its capital ratios (i.e., capital released greater than financial loss booked).
The G-SIB surcharge of BCS will likely reduce by 50-100 basis due to aggressive unwind of non-core and sell-down of Africa.
BCS' core businesses are already generating in excess of 10% RoTCE - i.e., the firm generates plenty of organic capital.
Its IB business is conservatively positioned. (That is, small inventory of non-investment grade fixed income paper, resulting in low volatility of earnings even in stressed market scenarios. This pattern was clearly evident in the company's 1Q'2016 earnings results.)
So a simple and quick algebra of the above - it is reasonably clear that the capital trajectory if the firm is extremely comfortable; in fact, it is likely to find itself with excess capital (and perhaps look to increase dividends earlier than expected).
My thesis has been recently confirmed by the bank's CFO at the Goldman Sachs European Financial Services Conference: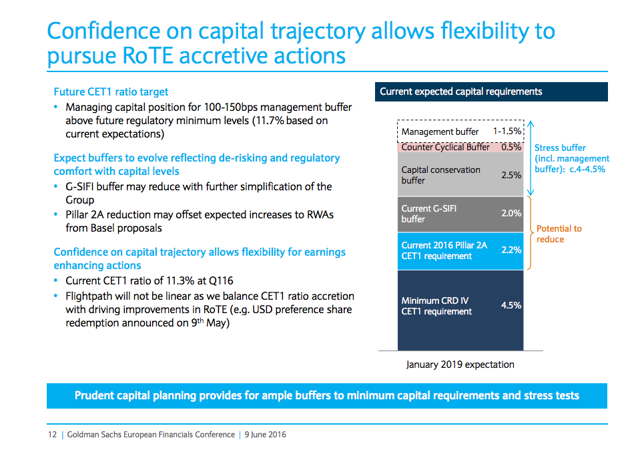 In my view, the Bernstein analyst is somewhat misguided with the call. In fact, given the comfortable capital direction, management can afford to take ROE-accretive actions (such as retiring expensive preference shares).
Brexit: Remain or leave?
Even when the polls were showing a double-digit lead to the remain camp, I was rather skeptical. Anecdotally, whilst many of my British friends emotionally support the "leave" option, in their minds they also fully comprehend the economic ramifications. My personal view is when push comes to shove, minds will prevail over hearts - but this is clearly a very close vote. The Financial Times poll of polls currently indicates an extremely tight outcome: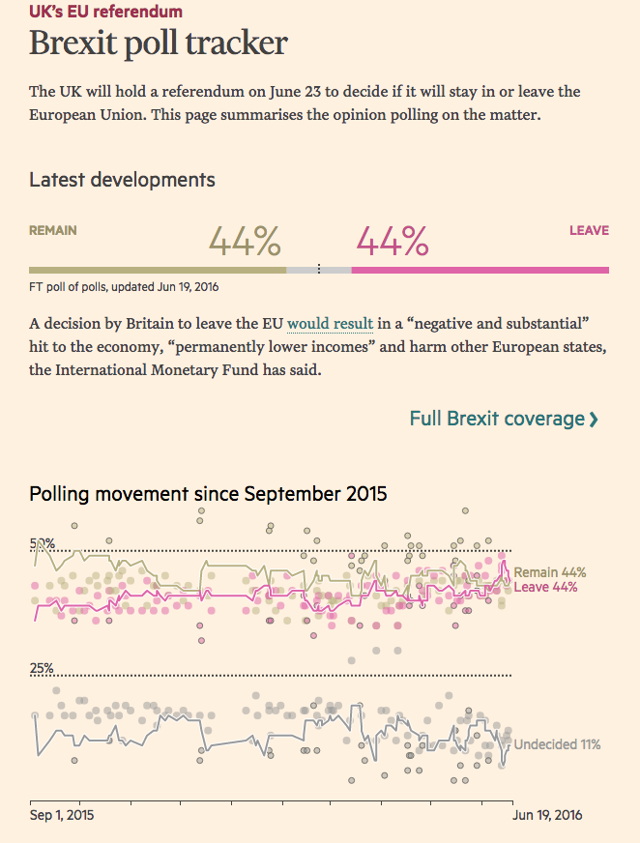 Should you believe the polls or the bookies?
The polls are showing a very tight outcome, whereas the bookies indicate a comfortable margin for the "remain" camp (~65% probability of "Bremain") - so what is driving the marked difference?
Essentially (as this article suggests), the bookies are counting on the "shy remainers" group - these are somewhat passive voters who are certainly unimpressed by the EU (to say the least), but ultimately fear the economic damage of Brexit. Similar to the Scottish referendum, these should possibly sway the vote away from a dramatic Brexit outcome.
Having said that, the outcome of this key decision is fraught with uncertainties.
Barclays and Brexit
Barclays has traded as the most Brexit-sensitive UK bank. Here are the expected key risks relating to its business model:
Investment Banking revenues tanking and a costly restructure of London-based staff covering the EU.
Impact on the UK economy (house prices and unemployment).
Clearly, in the event of a Brexit, the share price will certainly decline in the short term at the very least. The longer-term implications are quite uncertain and will take a while to work through the system. For example, this article suggests foreign investors will pile into UK property in the event of a Brexit (positive for Barclays' business model); others suggest the opposite.
The investment bank's trading income may not be as greatly impacted as assumed by some, given its agency model and low inventories of high-risk papers. As was apparent in 1Q'2016, BCS tends to outperform its peers in challenging trading environment.
The not-so-Great British Pound
The GBP has been hammered in recent weeks, with every poll published favoring Brexit. This is naturally impactful for BCS holders who are denominated in USD, so the Brexit outcome will certainly be meaningful.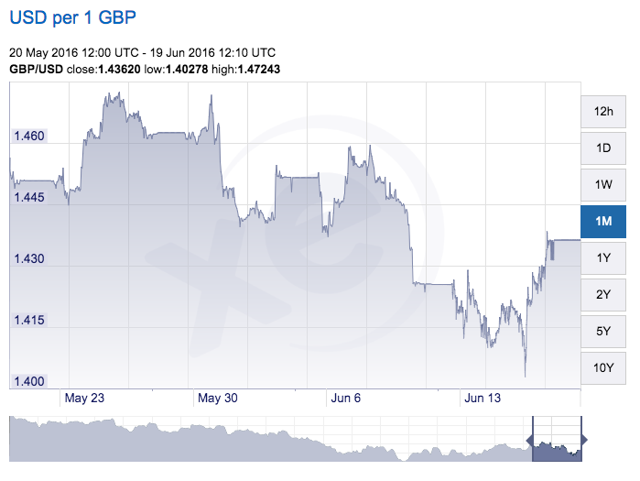 (Source: XE.com)
Final thoughts
Brexit is a binary event - a vote to leave and the stock will be punished (coupled with a significant decline in the GBP); a remain and the stock will melt up.
There are opportunities and risks involved - it is a trader's paradise.
For more conservative investors, you may wish to sit this one out and, if a Brexit does occur, perhaps look to accumulate rather aggressively (as the stock will likely get oversold). If you are currently long or initiating a long position, you may want to consider some hedging. In this instance, you may be better off calling on the UK bookies as opposed to your trusted broker.
For investors with a longer-term view - in a few months from now, this may all be forgotten, and the stock will probably trade on fundamentals.
My 12 months' target price for BCS is $14.
I provide quality and completely independent research on the large U.S., European, Canadian and Asian banks. If interested in CCAR as it applies to the large U.S. banks, do subscribe as a "real-time follower" at the top of this article.
Disclosure: I am/we are long BCS.
I wrote this article myself, and it expresses my own opinions. I am not receiving compensation for it (other than from Seeking Alpha). I have no business relationship with any company whose stock is mentioned in this article.