Kroger (NYSE:KR) recently reported its results for the first quarter, and they were met with mixed feelings. Revenues increased 4.7% year over year (missing by $280 million), and EPS came in at $0.70, beating expectations by a penny. Same-store sales grew at the low end of expectations due to lower commodity push-through costs, but increased 2.4% nevertheless. The increase marked the 50th consecutive quarter of positive same-store sales growth, as an uptick in customer trips offset deflationary pressures. And KR's online platforms, ClickList and Express Lane, deepened their penetration in the digital grocery market. Kroger continues to prove its staying power as the industry evolves and competition intensifies, and while we think KR is a solid defensive choice, we would wait for a pullback. The stock trades in the middle of its 52-week range with a dividend yield of just 1.2%. Despite the firm's strong competitive position, there are meaningful risks, and the margin of safety is too small.
Figure 1: Kroger Logo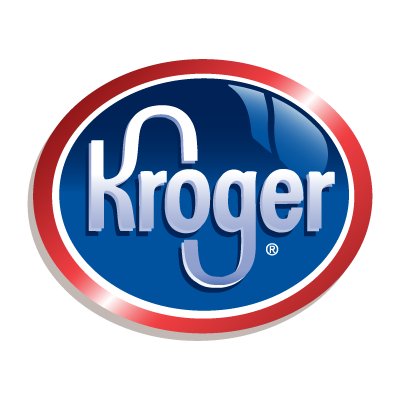 (Source: seeklogo.net)
The grocery industry has become more competitive in recent years as non-traditional grocers such as Wal-Mart (NYSE:WMT), Target (NYSE:TGT), and Costco (NASDAQ:COST) have expanded their offerings. These firms have sacrificed profitability on food items to drive traffic to their higher-margin non-food offerings, leading to intense price competition. Traditional grocers have had trouble coping, but Kroger is an exception. By operating a large number of stores in close proximity to one another, the firm realizes efficiencies that smaller grocers do not. KR can spread its sizeable fixed costs across a greater number of stores, lowering unit costs. This scale advantage creates an entry barrier. As Morningstar explains, "a company attains a competitive advantage when it takes enough market share with densely clustered stores around its distribution centers to make it very improbable that a new entrant will gain competitive scale". Scale, in turn, allows Kroger to collect more customer data than its smaller peers and create more effective promotions. KR's double-digit returns on capital are a testament to the firm's formidable position. Not bad for a defensive company operating in a capital-intensive industry with high price competition.
Kroger has a durable competitive advantage, but that does not imply an absence of risk. We continue to see signs that the economy is slowing down, and an outright recession could be on the horizon. A slowdown in consumer spending would create even more price competition, and non-traditional grocers with greater scale are better equipped to compete on price than Kroger. Negative operating leverage would cause margins to contract further, and the firm is unlikely to get much relief on the cost side, as the majority of its workforce is represented by labor unions. Kroger must contend with rising wage, health care, and pension costs, putting the firm at a disadvantage to peers who do not face the same challenges. Finally, the firm has benefited from a period of low commodity prices, which has lowered the cost of fuel and many food items. If these input prices recover during a period of weak demand, the firm will have trouble passing them on to customers.
Kroger is a solid choice for defensive investors. The company has grown sales, earnings, and cash flows at a stable rate over the past five years, and has returned cash to owners through a mix of buybacks and dividends. We expect annual sales growth of 3%, on average, over the forecast period. Operating leverage should allow margins to expand slightly and help offset any fuel price volatility. But the margin of safety is too small at current prices. We think the economic data will continue to get worse and send shares lower. Until then, investors should stay on the sidelines.
Disclosure: I/we have no positions in any stocks mentioned, and no plans to initiate any positions within the next 72 hours.
I wrote this article myself, and it expresses my own opinions. I am not receiving compensation for it (other than from Seeking Alpha). I have no business relationship with any company whose stock is mentioned in this article.