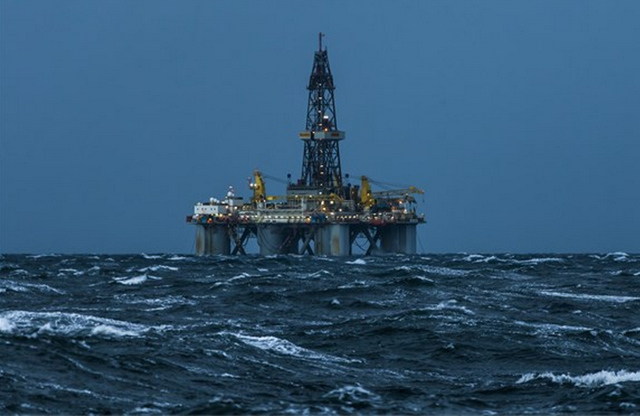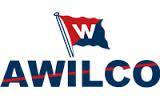 Source: The Wilphoenix
This article is an update to my article on Awilco published on June 11, 2015.
Awilco Drilling Ltd. (OTCPK:AWLCF) was incorporated in December 2009 when the company acquired two semi-submersible drilling rigs, WilPhoenix (previously Arctic II) and WilHunter (previously Arctic IV).
The company is registered in England and Wales, with its operations based in Aberdeen, Scotland. It registered again as a public company on April 14, 2011, under the name Awilco Drilling plc.
The Awilhelmsen Group is the largest shareholder, controlling 48.7% of the shares. Awilco Drilling Plc has management agreements in place with Awilco AS (and related companies) for ad-hoc support services.
On Friday June 17, 2016, we learned the following from Offshore Energy Today:
UK-based offshore drilling contractor Awilco Drilling has informed that its semi-sub rig will leave the yard soon to continue working for Apache (NYSE:APA) in the North Sea.

Awilco's 1982-built drilling rig WilPhoenix completed the yard stay in Hartlepool in April. However, at the time, Apache did not agree that the rig was ready to drill nor that Awilco Drilling was entitled to a standby rate.

Following the completion of yard stay, Awilco and Apache were in dialog about how and when to resume operations.

Awilco Drilling informed on Friday the company has agreed with Apache North Sea that WilPhoenix should leave the yard in Hartlepool around June 22, 2016, and resume operations at Apache's first drilling location around June 26. The rig has 22 months left under its three-year contract with Apache.
Fleet Status as of mid-June 2016. Remaining backlog is $251 million.
Semi-Submersibles:
#
Semi-Sub.

Type/Year

Built/Upgraded

Day Rate

K $

Contract

End

Operator

Location

1
WilHunter
1983/2011
-
Warm-stacked

UK NS

Invergordon

2
WilPhoenix
1982/2011
387.5

11/2017

[Apache]

UK NS
Operations and Contract Status: WilPhoenix
In Q1 2016 the WilPhoenix was in the Able Shipyard in Hartlepool where it remained through the end of the quarter. As of 21 April, AWDR consider the rig is ready to drill and on standby rate awaiting further instruction from Apache North Sea Ltd.

The special periodic survey (SPS) was completed during the quarter at a total cost of USD 16 million compared with budget of USD 20 million and the installation of the new BOP was completed at a cost consistent with budget of USD 22.5 million. Well below the $42.5 million figure that was budgeted by the company (including a new blowout preventer).
Commentary:
In my preceding article, I explained in detail what was considered the dispute between Apache and Awilco about the Wilphoenix.
M. Jon Oliver Bryce, Awilco CEO, said in the 1Q'16 conference call:
We have advised the customer that the rig is already drilled and we are waiting instructions, so that is the status of the WilPhoenix... We are in dialog with customer about how and when to resume operations, and further update will be given as and when appropriate on this. So that's the WilPhoenix status.
The semi-submersible WilPhoenix was back in England and ready to begin drilling with Apache for another 22-month contract remaining.
However, Awilco indicated that it was putting the rig on the standby rate after Apache claimed the rig was not effectively ready to resume work, and refused to accept that Awilco was entitled to any standby day rate.
The standoff seemed to have ended last week, and Awilco/Apache indicated that the WilPhoenix was now ready to drill again on June 26, 2016.
I see this as a definitive positive development for Awilco shareholders. The negotiation could have resulted in a large reduction of the day rate, and nothing has been indicated as a condition to resume work.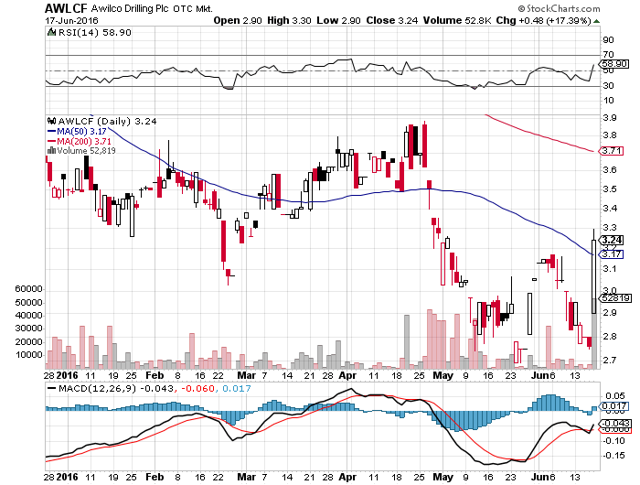 On Friday, AWLCF rallied on the news and jumped from $2.75 to close at $3.24.
I must admit, I was not very optimistic in my preceding article, and I expected some type of "blend and extend" agreement in which the day rate could have been reduced by 50% in exchange for a 12-month extension.
Three topics, or uncertainties about the news:
1) In the aforementioned press release, the company is indicating 22 months of the 3-year contract remaining as of June 26. However, the fleet status indicates an end of contract in November 2017, which means there are 17.5 months remaining.
This represents approximately $52 million in backlog.
To remain at 22 months, the contract should end on March 2018, not November 2017. Which is it?
2) The company indicated that further information will be released when the WilPhoenix will start to work.
The company said: A further update will be released once drilling operations have been resumed.
My question here is about the day rate: Is it safe to assume that the day rate has not changed and is still at $387.5k/d?
3) If no agreement has already been made about exercising an alternative to extend the WilPhoenix against a day rate reduction, one might think it could translate into a potential end of the contract in 22 months, with no further work for the semi-submersible thereafter.
Conclusion:
First off, the longer-term effect on the AWLCF price per share is extremely difficult to evaluate and will be the result of different forces that are not really known currently.
In the short term, the stock price may have some potential to retest the 200-MA at approximately $3.70, or even the $4 resistance. Nonetheless, the trend will require the support of stronger oil price momentum, which is now fading slowly.
After that, I think AWLCF is fairly valued at $3.50, assuming that no modifications have been agreed upon with Apache about the day rate and/or the contract duration.
My first impulse is to take a profit, because AWLCF is extremely risky and vulnerable at the moment. The entire business model is founded on a single rig.
Disclosure: I/we have no positions in any stocks mentioned, and no plans to initiate any positions within the next 72 hours.
I wrote this article myself, and it expresses my own opinions. I am not receiving compensation for it (other than from Seeking Alpha). I have no business relationship with any company whose stock is mentioned in this article.
Additional disclosure: I trade AWLCF.
Editor's Note: This article discusses one or more securities that do not trade on a major U.S. exchange. Please be aware of the risks associated with these stocks.