Every month I give an important building permits update. As many of my readers know, building permits are leading homebuilding stocks (SPDR S&P Homebuilding ETF XHB) since the first thing a (potential) homebuilders does is getting a permits.
Last month, building permits declined 4.07% on a year-on-year basis and showed significant weakness. My advice was to ignore homebuilding stocks since there wasn't going to be any alpha on the long side.
My advice to you is, don't go outright long homebuilders. Especially not the companies that build houses like CalAtlantic (NYSE:CAA), PulteGroup (NYSE:PHM), KB Home (NYSE:KBH), etc. XHB components like Home Depot (NYSE:HD) might perform better since they have almost all exposure in the DIY business. However, don't bet on them since you won't generate any alpha on the long side.

-Article from May 17th
Building permits did very bad indeed and were not able to gain any territory.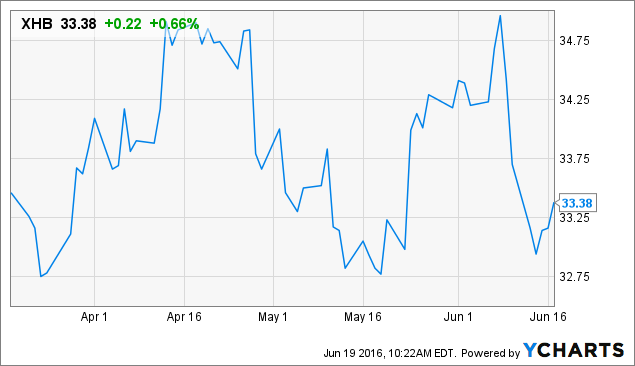 Building permits for the month of May are even worse. Permits declined 10.11% on a year-on-year basis. Housing starts however gained 9.50%. The explanation is quite simple. Housing starts are not leading and count every single apartment as a project. Building permits only take entire building projects into account. Therefore, housing starts are way more volatile.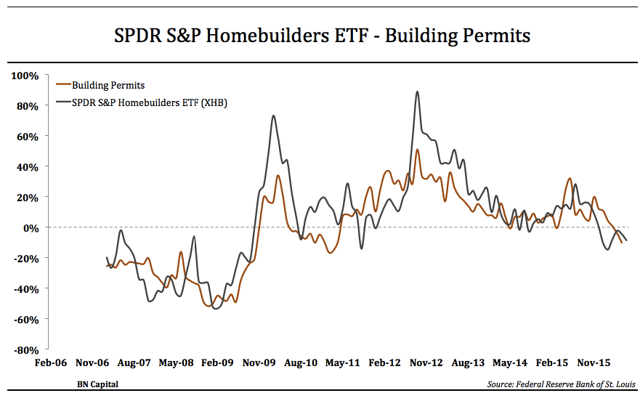 As you can see above, building permits have entered the contraction zone. Stocks are down as well. Homebuilders are contracting on a Y/Y basis since six consecutive months.
The comparison between homebuilders and housing starts is almost useless at this point.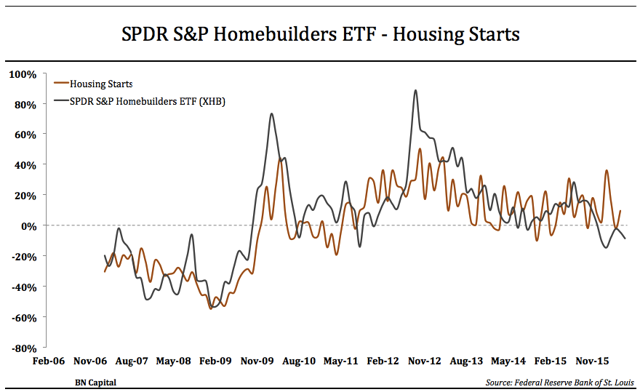 The important thing to keep in mind is that leading indicators are weakening. Homebuilders won't outperform the market during the next few weeks. There are two things one can do: Ignore homebuilders and buy other industries, or short homebuilders. I recommend to do the first thing since short selling comes with a ton of risk.
The picture below shows the ratio spread between homebuilders and the S&P 500 (SPDR S&P 500 Trust ETF SPY).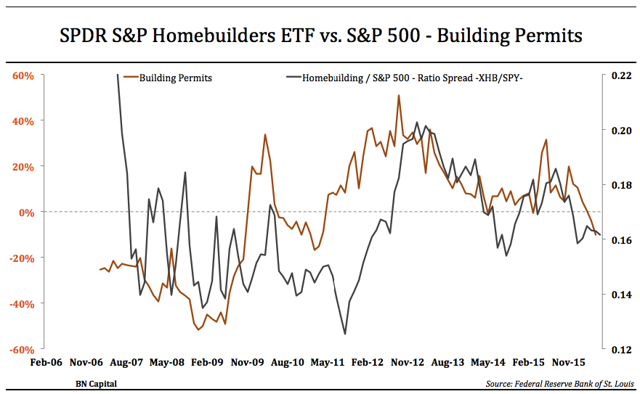 I might buy some inverse homebuilders ETFs next week as a mid-term trade. I'm thinking about the Daily Homebuilders & Supplies Bear 3x Shares ETF CLAW. As I mentioned, I do not advise anybody to do the same. Leveraged ETFs are extremely risky.
Disclosure: I/we have no positions in any stocks mentioned, but may initiate a long position in CLAW over the next 72 hours.
I wrote this article myself, and it expresses my own opinions. I am not receiving compensation for it (other than from Seeking Alpha). I have no business relationship with any company whose stock is mentioned in this article.