With opinion polls in the past week handing the Leave-campaign their first lead of the contest, the real-world economics of Britain's pending decision on leaving the EU have become much more transparent.
German borrowing costs give us our first glimpse as to what is at stake. The rally in the 10-year Bund has driven its yield into negative territory for the first time in history with a low of -0.024% at yesterday's market close (see Figure 1, below). The size of the Bund rally was exceptional across the EU, particularly in comparison with euro-zone member state Portugal, as well as EU member states Poland, Romania, Bulgaria and Hungary where borrowing costs have risen sharply. The growing spread between the 10-year Bund and that of Italy is now 1,541 basis points (b/p), up from 1,337 b/p just last month. The story holds true in France, Italy, Spain and the Netherlands, the second through fifth largest economies of the euro-zone respectively. In Portugal, the borrowing cost spread is most pronounced as Lisbon hangs by a thread to its BBB/stable outlook by the lone and largely unknown Canadian rating agency DBRS. The better known Moody's, Standard & Poor and Fitch rating agencies have long since reduced Portugal's debt to junk status. Greece's latest bailout program insulates the battered economy from much of the current crisis' furor.
Figure 1: 10-year Treasury Notes and Resulting Spreads (basis points)
| | | | | | | |
| --- | --- | --- | --- | --- | --- | --- |
| Country | Current (16 June) | 1 Month | 1 Year | Spread vs Germany (b/p) | Spread at 1 Month (b/p) | Spread at 1 Year (b/p) |
| Germany | -0.024% | 0.147% | 0.802% | | | |
| Italy | 1.49% | 1.484% | 2.296% | 1,541 | 1,337 | 1,494 |
| Spain | 1.601% | 1.613% | 2.325% | 1,625 | 1,466 | 1,523 |
| Portugal | 3.421% | 2.948% | 3.191% | 3,445 | 2,801 | 2,389 |
| France | 0.401% | 0.487% | 1.237% | 425 | 34 | 435 |
| Netherlands | 0.125% | 0.233% | 1.113% | 149 | 086 | 311 |
| UK | 1.112% | 1.396% | 2.003% | 1,136 | 1,249 | 1,201 |
| US | 1.561% | 1.758% | 2.311% | 1,585 | 1,611 | 1,509 |
Widening borrowing cost spreads between German Bunds and other euro-zone member states of similar durations signals growing financial stress. It is an outward manifestation that investors are quickly and methodically lowering their country-specific exposure to risk as capital flows fuel the rally in German Bunds, US Treasuries and yes, British Gilts-at the expense of member states with perhaps higher interest rates but dramatically higher costs of insurance against default. This capital movement also signals investors' growing realization at the ground level that the European Central Bank (ECB)'s ability to support risky sovereign debt across the Continent has readily identifiable real-world constraints.
These constraints go to the heart of the euro experiment, which makes the vote on Britain's continuing tenure in the EU so important-and markets so nervous. The appearance of capital moving from peripheral economies in the EU and euro-zone to the traditional safe harbors of Germany, the UK and the US is largely capital flight by another name. While the euro gives investors the appearance of an economic union amongst the 19 member states of the euro-zone, the infrastructure to maintain such a union in the face of financial strain is more akin to a Potemkin village. During the Great Recession of 2007, there was no sign of capital flows from California or Mississippi-or any other US state-fueling a rally in US Treasury notes. Alexander Hamilton's notion of federalism created a union among the states, where federal tax revenues and infrastructural wherewithal would become available to meet adverse economic, natural and any other debilitating contingency that washed up on the shores of any one or collection of states. With the example of the Hurricane Katrina disaster in mind, one may readily argue the efficiencies, political or otherwise, of implementing of such relief-but the agency in charge and the funding mandate to meet such events have a permanent bureaucratic presence. Social Security, Medicare/Medicaid, a federal tax regime, a true banking union, the FDIC, insurance guarantees on bank deposits, a federally funded national defense, the US Treasury-all of these institutions that we Americans take as a given-largely do not exist at the euro-zone or EU levels. These US institutions create the transmission channels for aid and assistance to the 50 states that form the backbone of the country's federalist composition.
The ECB can only dream about such transmission channels. Rather than one central bank, the euro-zone has nineteen national central banks, nineteen national tax regimes, nineteen national defense authorities, nineteen national bank deposit regimes, nineteen national old-age and disability regimes-all with varying degrees of coordination and with vastly different national credit ratings. Former Secretary of State Henry Kissinger's prescient quip as to whom do you call in the event of a European crisis-almost 50 years after its utterance-retains its eerie resonance. There is no Euro-bond or notion of cross-border transfer union to channel aid or assistance to member states in need or facing financial or natural adversity. Quite to the contrary, there is strong political opposition that keeps such a federal solution well at bay. Keynesian deficit spending remains heresy. When crises erupt, the immediate reaction for investors and policy makers alike- is to mitigate contagion:
Business and consumer confidence drops which directly impacts investment and spending decisions while undermining economic growth;
Investors take flight as capital flows pour into safe harbor vehicles draining local liquidity which puts upward pressure pressures on borrowing costs, constraining economic growth;
Unsurprisingly, British sterling has posted one of the worst performances year-to-date of the G10 member countries. The sterling hit its peak in the latter days of May at $1.4670 against the dollar only to fall to a low of $1.4114 against the dollar in the last week.
In most such instances, the pressure from capital flight would be expected to apply downward pressure on local currencies and upward pressure on price inflation, which is on display throughout much of EU member states in Eastern Europe. Euro-zone member states, as we have seen, are exposed to higher borrowing costs and rising price inflation.
These channels of contagion are, once again, on full display as euro-zone deals with yet another bout with its infrastructural inadequacies that threatens its nation-building experiment. The capital flows into safe harbor vehicles will continue until the referendum decision is made-and beyond and with renewed vigor if Brexit becomes the law of the land.
Given the inadequacies of the euro-zone and EU infrastructural plumbing, a reasonable amount of sympathy for Britain to leave the EU does indeed float to the surface. Yet to stoke the nativist side of the immigration question is simplistic, raw and abhorrent politics at its worst. Tragically, this example of extremist populism may have claimed the life of a young mother and Member of Parliament. The inability-even unwillingness-of euro-zone and EU policy makers to build a federal, Pan-European institutional base in support of the euro not only defies economic logic but continues to play an outsized role in the horrific levels of GDP growth in the Euro-area since 2008 (see Figure 2, below).
Figure 2: GDP Growth in Japan, the Euro-Area and the US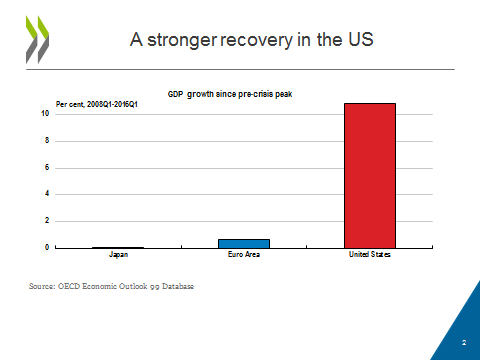 On the economic level, Britain's departure from the EU makes little sense by almost every measure. That recent polling has given the Leave campaign a new lease on life harps back to the age-old precedence of politics and emotion trumping economics and reason at far too many junctures. Fixing the EU's economic and political infrastructure indeed appears distant-but not as impossible as a leave vote would suggest.
Are there market plays to be had in the resulting market confusion? Forex will make for a lively platform in the coming week:
It goes without saying that the pound sterling languishes under a good deal of downward pressure. Further, the $8.8 billion in option bets on the pound through Friday's market close will likely grow up until Thursday's vote. It is simply unknown to what extent the market has priced in a leave vote at this juncture. The average exchange rate against the dollar since the beginning of the year is $1.4361. This is a market value that the pound hasn't consistently seen since 1984-1985. While betting against the pound on this side of the vote is the current play, a vote for Britain to remain in the EU will almost certainly spark a short-term market rally as short players are forced to buy back their pound positions. A long bet is with Currency Shares British Pound Sterling (NYSEARCA:FXB);
The US dollar as captured by the US Dollar Index (DXY) as well as dollar-based assets such as Treasuries will continue to benefit as European capital flows wash up on these shores. Long bets on US Treasuries proper or ETF-based baskets of US Treasuries will also likely benefit from the uncertainty in Europe washing up on these shores. The 10-year Treasury note is a mere 10 b/p off of its post WWII low of 1.40% set in the aftermath of the Spanish banking crisis of July 2012. Plays on the long end of the yield curve include I-Path US Treasury 10-year (BATS:DTYL). A long play on German Bunds comes with DB German Bund Futures (NYSEARCA:BUNL);
The Swiss franc and to a lesser degree the Japanese yen will continue to benefit from safe harbor plays by institutional investors. The dollar has fallen about 17% against the yen since last summer. Plays here include Currency Shares Swiss Franc Trust (NYSEARCA:FXF) and Currency Shares Japanese Yen Trust (NYSEARCA:FXY);
The euro will likely come under downward pressure as the British referendum will be seen by investors and markets alike as another reminder of just how exposed the euro project is in the face of crisis. A vote for Britain to remain in the EU should firm up the euro in world currency markets in the absence of a Federal Reserve move to raise the federal funds rate.
Outside of the forex markets, a leave vote will likely see cocoa prices soar. Cocoa prices are one of the few commodities in the world that are denominated in British pounds, a holdover from colonial times when British economic influence dominated much of West Africa where almost 70% of the world's cocoa is grown. As the pound falls in value the purchasing power of cocoa dealers worldwide using other currencies for payment increases. I-Path Pure Beta Cocoa (NYSEARCA:CHOC) hit a year-to-date high of $47.51 in the closing days of April only to drop to a year low of $41.21 roughly a month later. At Friday's close, CHOC was up almost 10% from its year-to-date trough at $45.32. According to news reports, much of the increase in cocoa prices has resulted from extreme weather conditions in the main growing areas. Drought combined with a weak pound and a leave vote will likely send cocoa prices through the roof.
And then there is gold, that classic safe haven play. Gold is up about 20% year-to-date. The Central Fund of Canada (NYSEARCA:CEF) which holds gold and silver ingots, is having its best market run since August 2014. A similar story is reflected in the shares of SPDR Gold Shares (NYSEARCA:GLD) and I-Shares Gold Trust (NYSEARCA:IAU). As with the price of cocoa, increasing gold prices are at best peripherally associated with Britain's referendum on EU membership. Gold often has a highly negative correlation with the US dollar but also correlates closely with elevated levels of investor angst-arbitrage against a weakening dollar, poor prospects for economic growth or an emerging market crisis.
We should all hope that economics and rationality wins the day in Thursday's referendum vote-no matter how begrudging the task.