While scanning price charts recently I noticed that Nike (NYSE:NKE) has declined quite a bit in price. From its most recent high in December, 2015 of $67.82 it has declined 20.8% to its closing price Friday of $53.71. See Chart 1 below. Since NKE is one of the most recognized brands in the world and it has come down quite a bit in price I thought I would research NKE to see if it deserves some of my investment dollars. I will look at several metrics to determine if NKE is well run operationally and to determine if NKE's management is shareholder friendly. Additionally, I will look at NKE's earnings and revenue expectations. By reviewing these metrics and future expectations I hope to determine if NKE is overvalued, fairly valued, or undervalued at its current price.
Chart 1 - NKE 2 Year Weekly Chart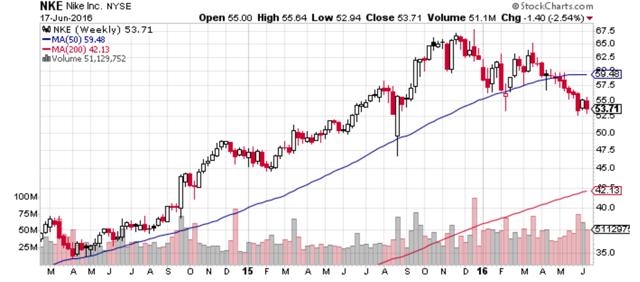 The metrics shown in Table 1 are for the four years ending in May, 2015 plus the trailing twelve months for NKE. My initial scan of these metrics makes me feel pretty good about NKE. Revenues, earnings per share, dividends, and free cash flow per share have all advanced nicely in the past four years plus nine months.
Table 1 - NKE Various Metrics Past 5 years
2012

2013

2014

2015

TTM

% Change from 2012

Revenues (mil)

24,128

25,313

27,799

30,601

31,911

32.3

EPS

1.18

1.35

1.49

1.85

2.16

83.1

Dividends per share

0.35

0.41

0.47

0.54

0.60

71.4

Payout Ratio %

29.3

31.5

30.4

29.7

27.8

-5.1

Shares Outstanding (mil)

1,879

1,832

1,811

1,768

1,752

-6.8%

Free Cash Flow per share

0.69

1.10

1.17

2.10

N/A

204.3

Return on Assets %

14.59

15.04

14.89

16.29

18.20

24.7

ROE %

21.98

23.08

24.50

27.82

30.64

39.4

Long Term Debt (mil)

228

1,210

1,199

1,079

(29 Feb 16)

2,048

798.2

Operating Margin %

12.6

12.9

13.2

13.6

14.0

11.1
Source: Morningstar
The operational metrics of NKE are outstanding. The return on assets has increased as has the operating margin. Based on these two metrics it appears that NKE operations are well run. I especially like that the return on assets has moved higher. This indicates that NKE management is not overpaying for assets and that their capital is well allocated.
The only metric that gives me pause is long term debt. It has exploded since 2012, but NKE has taken advantage of low interest rates to borrow money as have many other companies. However, a review of the return on assets metric assures me that borrowed money spent to acquire assets is money well spent.
In terms of rewarding shareholders, NKE's management is doing well on that front. Dividends have risen every year since 2004. What's more impressive to me is that the payout ratio has actually decreased indicating that NKE's management has room for more dividend raises in the future. In that regard NKE is much different than dividend stalwarts McDonald's (NYSE:MCD) and Coca-Cola (NYSE:KO). I have recently written about both of those companies and their payout ratios are in the 70 and 80 percent range respectively. On another encouraging note, shares outstanding have decreased consistently. Management is committed to buying back shares. Nike's board of directors have authorized a new $12B four year share buyback plan in November 2015. The return on equity metric has risen consistently and confirms to me that the borrowed money mentioned above is well allocated.
In terms of future expectations analysts expect NKE to earn $2.16 per share in fiscal year 2016 and $2.46 for fiscal year 2017. On the revenue side, analysts expect NKE to have $32.46B and $35.56B in fiscal year 2016 and 2017 respectively. Fourth quarter earnings are due after the market closes on 28 June, 2016. Interestingly, NKE management expects revenues in the year 2020 to be $50B. Historically, NKE has averaged a PE ratio of 24.7 for the past five years. Nike currently has a PE ratio of 24.9. However, NKE's forward PE, based on estimated fiscal year 2017 earnings is 21.8.
In terms of potential issues that NKE may have in reaching its revenues and earning goals, there are some that must be considered by investors. First is that NKE is dependent on the consumer. If American and other nation's GDP slows or even goes into a recession that would adversely affect NKE. Second, NKE now makes more revenues outside of the United States than it does domestically. Consequently, a strong dollar works against NKE. Third, fashion trends are hard to predict. Fourth, if popular athletes who are NKE endorsers become entangled with the law or have a career ending injury, then NKE may not receive their expected return on their investment. Lastly, NKE does have competition. Nike competes against Adidas, Under Armour (NYSE:UA), Lululemon (NASDAQ:LULU), and others according to its co-founder Phil Knight. None of these concerns are new to NKE. They have successfully operated in this environment in the past and I see no reason to expect them to not execute well in the future.
In summary, NKE is a globally dominant brand that is well run and very dedicated to rewarding its shareholders. While it does have competition and concerns that investors need to be aware of, NKE is the type of company I want to own. Because it has recently declined in price it offers a decent entry price. Paying 22 times fiscal year 2017 earnings for a company that is well run operationally and that is dedicated to returning money to its shareholders doesn't seem unreasonable to me. Additionally, NKE can be expected to have a dividend of perhaps $0.73 in 2017 if it maintains its average payout ratio of 29.7% on earnings of $2.46 per share. All in all, NKE could have a share price of almost $61 in June of 2017 when results are announced. That equates to an approximate 13% return not including dividends.
Nike, isn't undervalued. It doesn't sell at 16 times future earnings. Nike seems to be the type of company that Warren Buffett had in mind when he said something to the effect of "… it is better to buy a wonderful company at a fair price, than a fair company at a wonderful price." I will be making an initial investment in NKE on Monday.
Disclosure: I/we have no positions in any stocks mentioned, but may initiate a long position in NKE over the next 72 hours.
I wrote this article myself, and it expresses my own opinions. I am not receiving compensation for it (other than from Seeking Alpha). I have no business relationship with any company whose stock is mentioned in this article.