Duke Energy (NYSE:DUK) is moving forward with its acquisition of natural gas distribution assets in the southeastern United States. Recently, Duke Energy and Piedmont Natural Gas (NYSE:PNY) agreed on some acquisition-related conditions with the North Carolina Public Staff, an independent state agency. With an agreement on certain stipulations, including bills reduction worth $10 million for North Carolina customers over first two years, Duke Energy's proposed acquisition now meets the standard for approval from North Carolina Utilities Commission.
Low-cost credit is likely to stay here for a little longer than the previous anticipation as the Fed sticks to status quo. The Fed's signal that the slow economic growth would hinder the pace of future interest rate hikes pushed the utility stock in the upward trajectory. Duke Energy is up 16% year to date, but it still offers a higher yield than most of its peers and a sustainable mid-single digit long-term dividends growth.
Adapting The Changing Energy Trends
The traditional view is that regulated utilities are less risky primarily due to the potential of delivering steady growth with comparatively low earnings volatility and strapping cash flows that are used to finance new investments and dividends. This sentiment is intact, but the industry landscape is changing on a broader scale as relatively flat load growth since 2008 financial crisis is pushing the utilities to consolidate and diversify.
According to Energy Information Administration (EIA), load growth in the future would remain below the historical growth rates due to energy efficiency management and technological shifts. Thus, Duke Energy's investments in renewables, distributed energy, microgrid, and natural gas would enable it to keep up with the changing industry trends.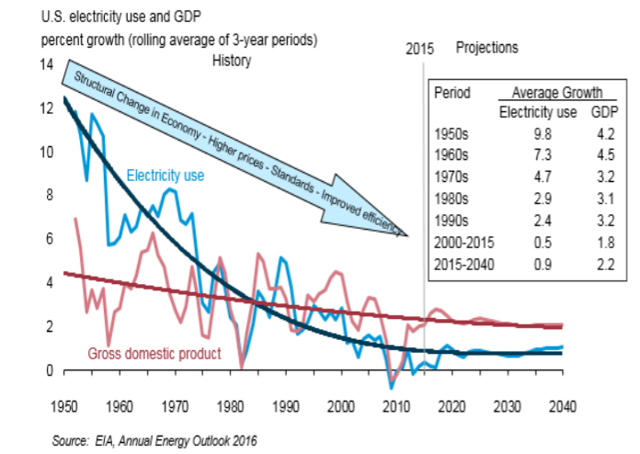 Source: EIA
Replacing Coal With Natural Gas
Natural gas prices are at sustainable low levels as supply has increased significantly due to advancements in exploration methods. In the meanwhile, environmental regulations are getting stricter to reduce the carbon dioxide emissions from coal-fired power plants. Last year, the Environmental Protection Agency (EPA) released the new emission standards. The target of the final version of Clean Power Plan (CPP) is 28% reduction in carbon dioxide emissions by 2025 and 32% by 2030, from 2005 level. As the increasing cost of coal ash management is negatively impacting, Duke Energy is trying to improve its electricity generation mix by retiring coal facilities and replacing them with natural gas power plants.
Currently, Duke Energy has potential coal plant retirements of 1,471 MW, which includes Crystal River Unit 1 and 2, Wabash River Unit 2, and Gallagher Unit 2 and 4. Coal is still a bigger fuel source of the company's generation mix, but it has dropped from 33.5% in 2014 to 29%. Duke Energy's coal plant retirements can increase in the future as Energy Information Administration expects that the industry-wide coal generation would drop to just 21% over the next decade-and-a-half because compliance with CPP could push the electric utilities to replace coal with renewable resources and natural gas.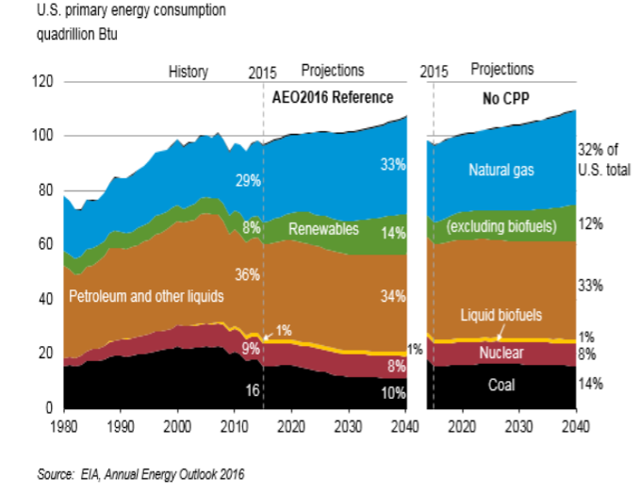 Source: EIA
Duke Energy plans to begin construction of two new gas 280 MW natural gas plants with expected completion by late 2019. Besides building several large gas-fired plants in the coming years, the addition of natural gas distribution assets would complement long-term earnings growth. The growing customer base of Piedmont Natural Gas - it expects approximately 1.8% growth in 2016, and healthy margins would bode well for Duke Energy in the coming years. The planned capital spending of more than $1.75 billion between 2016 and 2018 would translate into earnings growth with the increasing demand for natural gas.
The Future Energy
Although hydrocarbons are still the cheaper source of electricity, overall costs of generation from renewables have dropped dramatically in the recent past. The decline is likely to accelerate further over the next decade due to economies of scale, technological advancements, and increasing supply function. International Renewable Energy Agency (IRENA) estimates that the global average of electricity cost from wind and solar could fall by at least 26% and as much as 59%, between 2015 and 2025.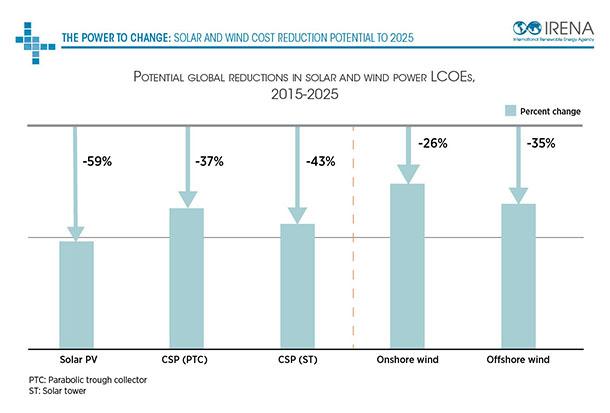 Source: IRENA
Since 2007, Duke Energy has invested more than $4 billion in renewables resources. The company's revenue from commercial portfolio segment is growing rapidly due to new wind and solar generation placed in service. The company currently owns 450 MW solar capacity in North Carolina and added another 40 MW, recently. The company plans to invest another $3 billion over the next five years to benefit from falling costs of renewables, government support, and reduction in coal ash management cost would positively impact the earnings in the long run.
Duke Energy is not the only large utility investing in future energy as Southern Company (NYSE:SO) is also aggressively exploring the new opportunities. Since 2012, Southern Company has added and announced renewable generation capacity of 3,800 MW. The capacity will increase significantly as Southern Company plans to invest $5 billion in renewables over the next three years.
Duke Energy has the plan to boost its production and purchases of renewable power to 8,000 megawatts by 2020. Besides entering into power purchase agreements, adding more solar capacities would also help Duke Energy in distributed generation as Southern Company plans with its acquisition of PowerSecure. Duke Energy is also making progress in the rapidly growing market of microgrids. The company is testing Open Field Message Bus Technology that could cut the integration costs and minimize the complexity of the process. The successful progress would allow Duke an efficient and low-cost integration of distributed resources. That said, Duke Energy's focus on future energy market is a smart move that can create value for the shareholders.
High Debt Risk
Duke Energy had a debt of $43.8 billion at the end of March 31, 2016, which is a small increase from $43.2 billion at the end of previous quarter. Though debt level looks very high, the debt to equity ratio of 1.1 times indicates that the company is not very risky. Moreover, the debt to equity ratio of Duke Energy is significantly less than its peers. Recently, Fitch Ratings has assigned Issuer Default Rating of BBB+, which means the company's future outlook is positive and its financial position is stable while the operating cash flows of $1.67 billion are good enough for dividend payments.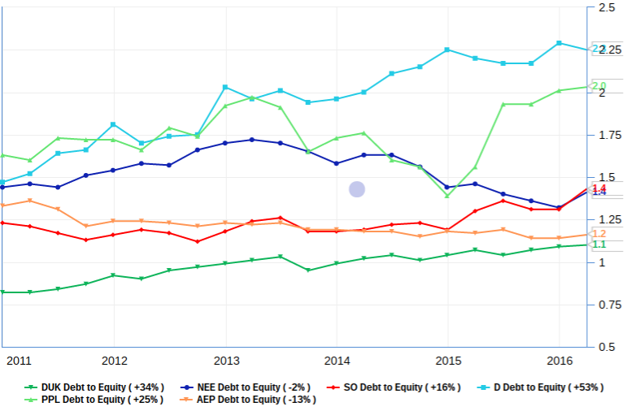 Source: Gurufocus
The acquisition of Piedmont Natural Gas is expected to complete by the end of 2016, and Duke Energy will assume $2 billion debt on its balance sheet. As Duke Energy plans to finance the deal with debt and equity mix, the leverage will increase further. In this scenario, Fitch expects debt to EBITDA ratio 4.8 times for Duke Energy over the next few years, which could hurt the earnings in the coming years.
Hold Duke Energy
For the first quarter of 2016, Duke Energy reported earnings per share of $1.01, compared to $1.22 in the first quarter of 2015. The drop in earnings was due to the absence of nonregulated Midwest generation business. Duke Energy is looking at a mid-single digit earnings growth in the long term, which is a very reasonable expectation. The divestiture of Latin America with carrying value of $2.6 billion, the new addition of 96% regulated natural gas assets, and its regulated electricity revenues would enable Duke Energy to deliver satisfactory financial performance.
The progress in renewables will contribute a small growth, but replacing coal with natural gas plants would drive meaningful growth. Duke Energy has already hinted to increase the dividends in line with the earnings growth in the long term. The current dividend yield of 4% is still attractive and higher than most of its peers while healthy profitability and cash flows will continue to support the dividend growth. That said, Duke Energy is a stock to hold for safe and growing dividends, but not a buy at current price levels.
Disclosure: I/we have no positions in any stocks mentioned, and no plans to initiate any positions within the next 72 hours.
I wrote this article myself, and it expresses my own opinions. I am not receiving compensation for it (other than from Seeking Alpha). I have no business relationship with any company whose stock is mentioned in this article.