T-Mobile (NASDAQ:TMUS) may be the most disruptive telecom provider in the industry based on its numerous prepaid offerings, free data/minutes plans, and BingeOn streaming packages which don't affect data for certain offerings. All this focus on what customers value has driven significant subscriber growth in recent years. This disruptive growth has benefited shareholders as the stock has maintained a long-term uptrend and has continued to make new highs. I believe the charts on all-time frames combined with the recent major long-term bullish options positioning makes this a stock to buy on all pullbacks.
Daily Timeframe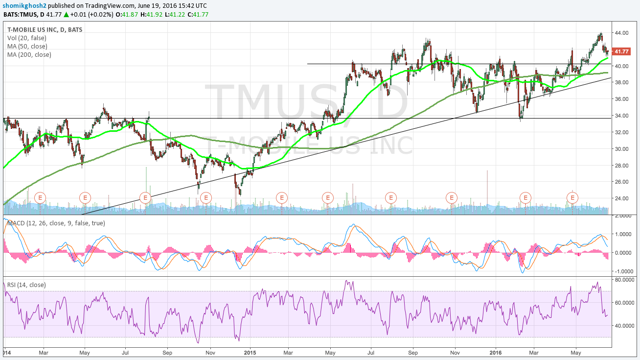 On the daily chart, it is evident that the stock recently traded at all-time highs and has pulled back with recent market weakness. The RSI remains in a bullish zone above 50 after having pulled back from overbought levels. The stock is above its rising 50 and 200 day simple moving averages and is above a major support level of ~$40.2. In addition, the stock's long-term uptrend line continues to hold as the stock reaches new highs and it appears to have emerged from a 1 year trading range.
Weekly Timeframe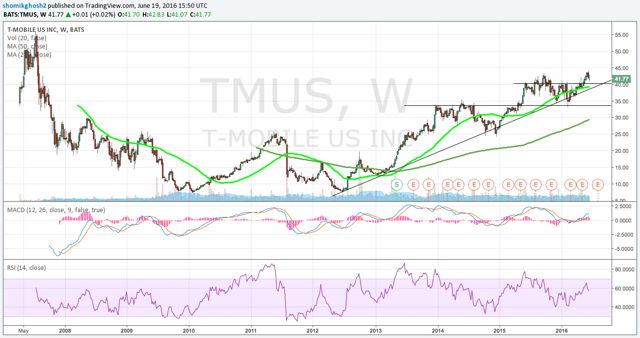 On a weekly timeframe, the long-term uptrend line is much clearer and has only been touched 7 times since 2012. Again, the company is above its 50 and 200 weekly simple moving averages. The RSI remains in a bullish zone and has never reached oversold levels since 2011. In addition, the consolidation that the stock is emerging from is clear after having traded between $33.5 and $40.2 for the past year. The recent pullback while shallow is significant as the long-term uptrend line is intersecting with the horizontal support line and should provide additional support for the stock at the $40.2 level.
Monthly Timeframe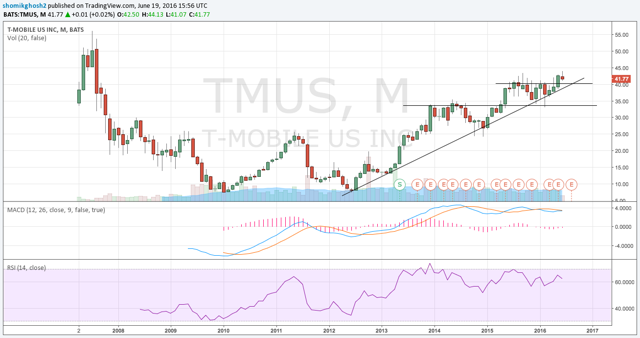 On the monthly timeframe, the long-term chart is clearly bullish. The RSI has not reached oversold once and shows that buyers clearly have significant demand for the stock above the $33.5 level since breaking that on 4/15.
Large Options Positioning
Options positioning in TMUS has been long-term bullish with many sizeable investments made. As retail investors, we must always be aware that we cannot see the other side of the options trade. There is always the risk that a large options position could be a hedge against a long or short position or simply that the trader is trying to make a delta-neutral bet on volatility rising in the options. That being said, repeat bullish positioning along with technicals can be a strong indicator. Furthermore, there has been numerous rumors of acquisition interest in TMUS from Sprint (NYSE:S) and Comcast (NASDAQ:CMCSA) which could come to fruition as the company's subscriber base continues its rapid growth. The below are examples of notable trades in the options market regarding TMUS:
On 5/20, 4,000 Aug 43 calls were bought for $1.93 = $772,000 of premium bought
On 5/10 and 5/11 combined, 65,000 Jan 50-55 call spreads were bought for $0.62 - $0.67 = ~$4,200,000 of premium bought
On 5/10, 1,000 Nov 46 calls were bought for $1.39 = $139,000 of premium bought
The major premium (~$5 million in total premium outlayed) bought in TMUS over the long-term combined with the strong technical charts over all timeframes points to higher prices in the future. I believe this is a stock to watch for pullbacks within the long-term uptrend to initiate or add to bullish positions.
Disclosure: I am/we are long TMUS.
I wrote this article myself, and it expresses my own opinions. I am not receiving compensation for it (other than from Seeking Alpha). I have no business relationship with any company whose stock is mentioned in this article.