There are no shortages of investor angst and uncertainties this year as many have flocked to what they deem as safe, stable equity funds. Many dividend ETFs display these desirable attributes with their higher yield, diversification, indexed simplicity, and reasonable fees. The S&P 500 as of Friday is nearly flat, and many popular dividend ETFs are sporting gains well over 10% largely due to their corresponding heavily weighted underlying sectors such as utilities and consumer staples. Can these lofty gains be sustainable? The sectors under the hood of three dividend ETFs driving outsized gains and perceived "safety" are examined below.
Three Popular and Top Performing Dividend ETFs and their Sector Allocations
PowerShares S&P 500 High Dividend Low Volatility Portfolio ETF (NYSEARCA:SPHD)
This dividend ETF from PowerShares seeks both high dividend and low volatility in its holdings and is up an outstanding 14% year to date. It's a somewhat newer ETF having just started in 2012, but has over 1.7 billion in assets.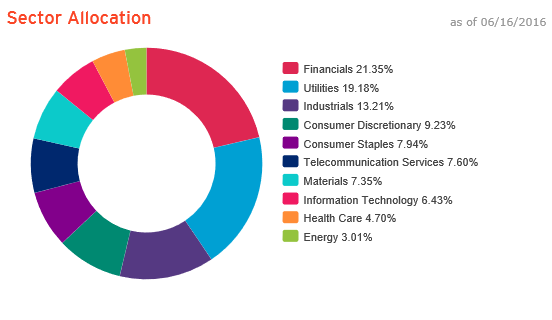 SPDR S&P Dividend ETF (NYSEARCA:SDY)
The SPDR S&P Dividend ETF started in late 2005 is also having a banner year with a year-to-date gain of around 12%. It too is popular with an AUM of over 13 billion.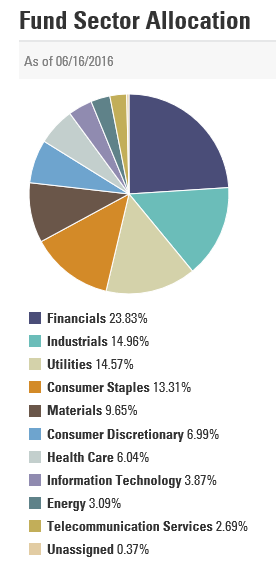 iShares Select Dividend ETF (NYSEARCA:DVY)
This iShares ETF has been around since 2003 and is one of the oldest funds for this category and very popular with an AUM of almost 15 billion. Its year-to-date performance is a very healthy 12.4%.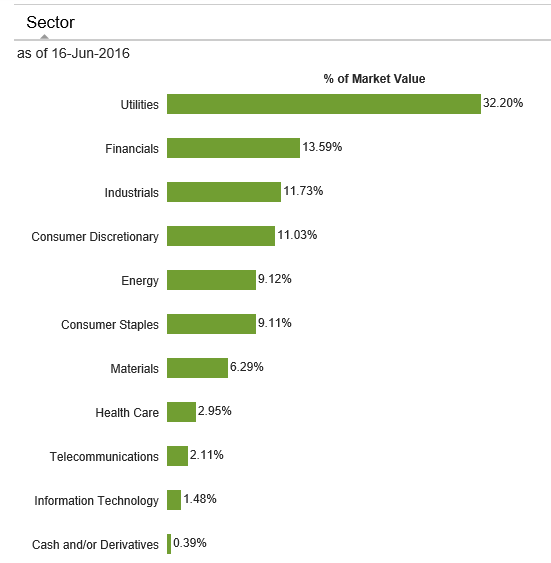 Finally, let's compare these ETFs' allocations to the S&P 500 market using the SPDR (NYSEARCA:SPY)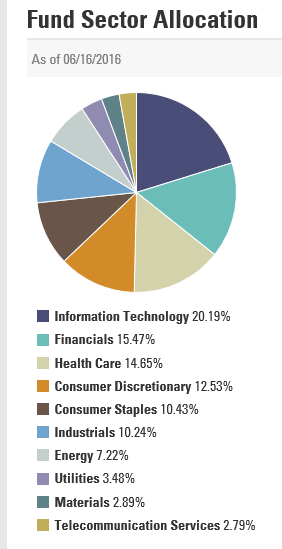 (sector data/image from respective ETF sponsors)
All three of these dividend ETFs (and many others) include for the heavy allocations to Utilities, Consumer Staples, Financials, and Industrials. Safety with these sectors is a nice thing to have, but let's examine the PE and year-to-date performance of these sectors. The SPDR Sector ETFs are used as proxies.(NYSEARCA:XLU) for Utilities, (NYSEARCA:XLP) for Consumer Staples, (NYSEARCA:XLI) for Industrials and (NYSEARCA:XLF) for Financials.
| | | | |
| --- | --- | --- | --- |
| Top Weighted Sectors | PE Ratio | Yield% | YTD Return % |
| Consumer Staples XLP | 25 | 2.4 | 7.2 |
| Utilities XLU | 28 | 3.3 | 18.6 |
| Financials XLF | 12 | 2.1 | -4 |
| Industrials XLI | 19.4 | 2.2 | 6.2 |
| Market (S&P 500) | 24 | 2.1 | 2.4 |
PE data from gurufocus.com. Data as of 6/19/2016
From the table above, we can conclude that the consumer staples sector and especially the utilities sector are overbought and contributed mightily to the outsized gains to these dividend ETFs. A PE ratio of 28 for Utilities is an outright outlier that some day will revert to the mean. Consumer staples stocks are very popular as well and will no doubt go back out of favor with other sectors getting the spotlight.
For some longer-term context, here are some charts from Morningstar which illustrates the valuation of the utility and consumer staples sectors - over a 5 year period.
5-Year Sector Fair Value Charts (Morningstar)
Utilities: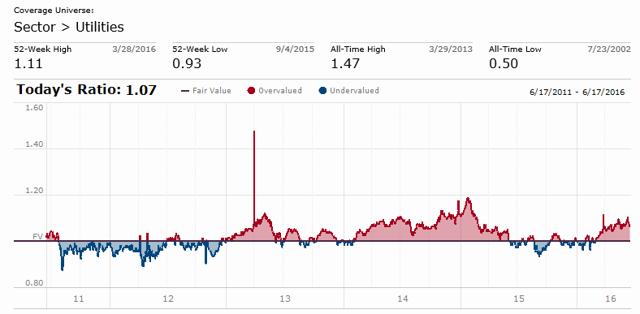 Consumer Staples: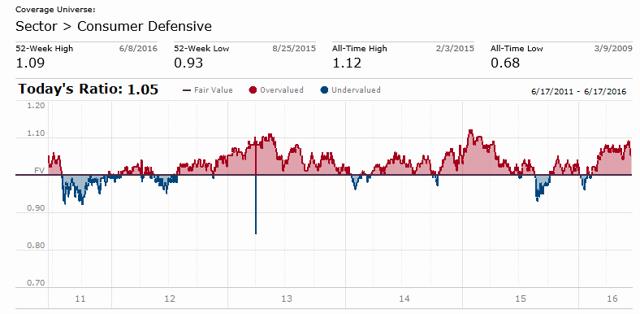 Conclusions and Short-Term Predictions
Dividend ETFs remain very popular due to the continued thirst for yield in today's low growth sluggish economy. As noted above, some sectors can get overheated and over-allocated for many reasons including perceived "bond replacement" and safety from market turmoil that often enhance the demand for these sectors even more. The risk for utilities and other high yield stocks is when nobody is looking, rates may start to creep up, the turmoil du jour calms down, and these high yield stocks go out of favor. Thus today's darling "safe" dividend ETF could lag the market substantially. Nothing lasts forever and the utility and consumer staples party will one day end in a prolonged underperforming period and take some dividend ETFs down for the ride.
Considering the short term with the clear and present danger of this week's Brexit vote where the citizens of Britain vote for remaining in membership in the European Union or exiting - this will be a binary market event. If they remain in the EU, I would expect a huge "risk on" rally to new highs. The safety trades will largely get left behind - especially in the context of the very dovish Fed policy statements this past week. Bonds, Consumer Staples, Utilities, and Financials will mostly lag the market as well as the many dividend ETFs that favor these sectors. Energy and Healthcare will continue to be wildcards subject to political and global pressures with Consumer Discretionary and Technology likely outperforming for a risk-off period.
Disclosure: I/we have no positions in any stocks mentioned, and no plans to initiate any positions within the next 72 hours.
I wrote this article myself, and it expresses my own opinions. I am not receiving compensation for it (other than from Seeking Alpha). I have no business relationship with any company whose stock is mentioned in this article.