The S&P 500 closed at its year-to-date high on June 8th, and since then the average stock in the index is down 2.51%. Below is a chart showing the average change for stocks by sector since the June 8th close. Three sectors have averaged gains since 6/8, and they're all defensive in nature - Telecom, Utilities and Consumer Staples. Consumer Discretionary and Technology stocks have done slightly better than average with declines of 2.10% and 2.48%, respectively. The sectors that have seen their stocks fall the most since June 8th - thus leading the market lower - are Energy (-3.89%), Healthcare (-3.57%), Financials (-3.33%) and Industrials (-3.12%).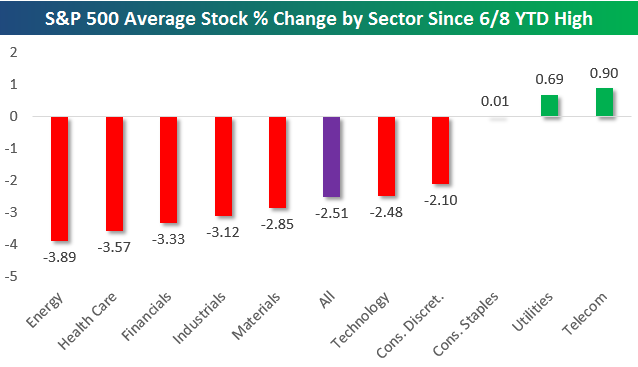 Things look much different when we look at the average stock's change by sector on a year-to-date basis. The average stock in the S&P 500 has gained 3.81% so far in 2016, but six of ten sectors have seen their stocks average even bigger gains than that - some much bigger. The problem, though, is that the four sectors whose stocks have underperformed the broad-market average are the four biggest sectors. Technology has the biggest weighting in the S&P, and its average stock is up just 1.91% - half that of the average stock in the S&P 500 as a whole. The average stock in the Consumer Discretionary, Financials and Healthcare sectors is in the red on the year.
On the plus side, Utilities and Energy stocks are up an average of 17%+ so far in 2016. Materials stocks are up an average of 12.66%, while Telecom, Consumer Staples and Industrials stocks are averaging gains of 5%+.
Usually you see the sectors with the largest weightings lead the market higher, but so far this year, it's the six smallest sectors that have collectively led the way.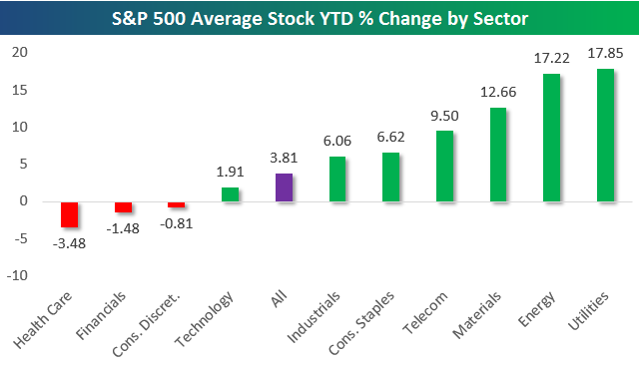 Below is a list of the best performing S&P 500 stocks year-to-date. You'll notice that not one stock is up more than 100%, while just five are up more than 50%. Gold miner Newmont (NYSE:NEM) is up the most with a gain of 98.17%, followed by three Energy stocks - ONEOK (NYSE:OKE), Southwestern Energy (NYSE:SWN), and Range Resources (NYSE:RRC). Freeport-McMoRan (NYSE:FCX) rounds out the top five with a YTD gain of 64.55%.
Wynn Resorts (NASDAQ:WYNN) ranks sixth with a gain of 49.14%, and stocks like Nvidia (NASDAQ:NVDA), Cummins (NYSE:CMI), Halliburton (NYSE:HAL), Ulta Salon (NASDAQ:ULTA), Hasbro (NASDAQ:HAS), Dollar General (NYSE:DG) and Michael Kors (NYSE:KORS) are other notables on the list of winners.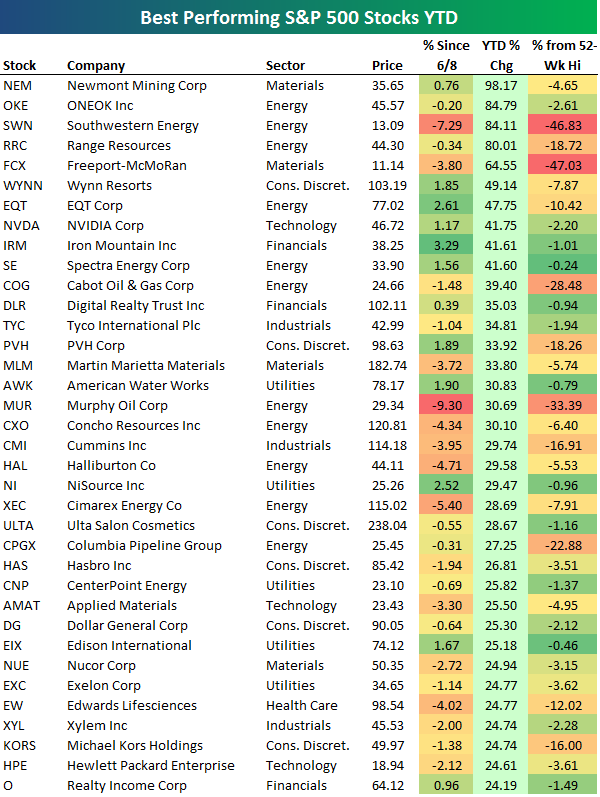 Endo International (NASDAQ:ENDP) is down more than any other stock in the S&P 500 in 2016 with a huge decline of 73.15%. That's nearly double the second worst stock - Seagate Technology (NASDAQ:STX) - which is down 36.66%. Ten other stocks are down more than 30%, including Marathon Petroleum (NYSE:MPC), Regeneron Pharma (NASDAQ:REGN), Alexion Pharma (NASDAQ:ALXN), Signet Jewelers (NYSE:SIG) and Vertex Pharma (NASDAQ:VRTX). Other notable stocks on the list of 2016's biggest losers include First Solar (NASDAQ:FSLR), TripAdvisor (NASDAQ:TRIP), Delta Air (NYSE:DAL), Nordstrom (NYSE:JWN), Kohl's (NYSE:KSS), Biogen (NASDAQ:BIIB), Legg Mason (NYSE:LM), Morgan Stanley (NYSE:MS), Bank of America (NYSE:BAC) and Harman (NYSE:HAR).