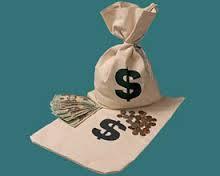 ARMOUR Residential REIT Inc. (NYSE:ARR) is an agency mortgage REIT. It invests in agency hybrid adjustable rate, adjustable rate, and fixed rate MBS. Agency RMBS, especially fixed-rate agency RMBS, usually go down in value when interest rates go up and vice versa. As of April 6, 2016 at the completion of the tender offer at $7.18 per common share for Javelin Mortgage Investment Corp., Javelin became a wholly owned subsidiary of ARMOUR Residential REIT Inc. Its assets add non-agency assets to ARR's overall portfolio. Since Javelin did not become part of ARR until after Q1E 2016, it is instructive to look at the changes. From the January 26, 2016 update (data from January 22, 2016), the table below shows ARR's approximate holdings before the Javelin acquisition.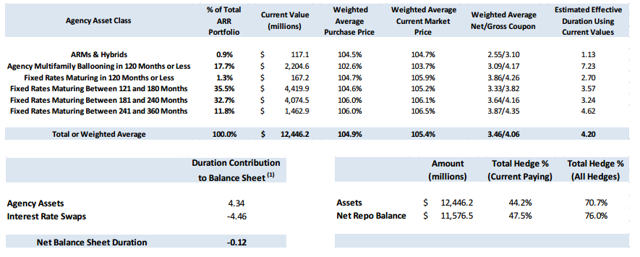 From the mid-May ARR update, the table below shows ARR's holdings after the Javelin acquisition as of May 18, 2016. The leverage at the end of Q1 2016 was 9.06x. That seems far too high for the current economic environment.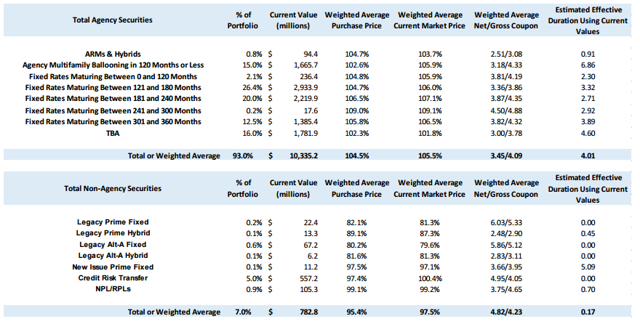 Investors can easily see the addition of the Javelin non-agency assets, although a part of these were assets bought recently by ARR. For the ARR update from May 18, 2016, the leverage was down to 7.7x. However, that is likely mostly from incorporating more lower levered non-agency securities in the "blended" leverage result. Non-agency securities were cited as 23% of stockholders' equity in the Q1 2016 earnings call. I expect the leverage of the agency securities is still 9.0+, which is still far too high for this economic environment. The 7.7x figure also does not include TBA Dollar Rolls or forward settling transactions. In other words, the leverage is still higher. As a frame of reference the leverage on the non-agency securities is roughly 2x.
Hedges are another troubling issue. The chart below shows that the yield on the 10 year US Treasury Note has dropped dramatically in 2016 so far from 2.27% on December 31, 2015 to 1.61% as of the close on Friday June 18, 2016 (-66 bps). The Q1 2016 drop was -50 bps by itself (see chart below).
ARR decided not to sell off its hedges in order to rehedge at more normal levels for the current market. This means two things. First, it means that ARR may not be as well hedged for a move upward; or at least it is not as well hedged for the early part of such a move. Second, it means that ARR's earnings results will be continually hurt as these devalued hedges move off of the books over time (in the non-GAAP results). That is, it specifically elected not to take this devaluation of the hedges as a one-time charge. For investors, that means that future results will be consistently depressed from levels one might expect for a given quarter's performance. It sounds a bit like ARR's management expects interest rates to go up in near-term future quarters. This may be a questionable theory given the recent weakness seen in world economies (and in the US economy).
The loss of swap effectiveness is reflected in the change in Net Balance Sheet Duration to 0.96 on June 18, 2016 from -0.12 on January 22, 2016. The new duration does seem reasonable. However, investors should take into account that the Duration statistic is designed for times when curves are moving in parallel to each other. The volatility, including the basis widening and narrowing, may mean that this is not happening at the current time. Therefore, the Duration statistic may be much less meaningful than it is normally.
Another factor of primary concern to investors has been the cuts to the dividend rate. The dividend rate was $0.33 per common share per month for all of Q1 2016. That rate was reduced to $0.27 per common share for April 2016; and it was reduced again to $0.22 for both May and June 2016. Overall, this is a -33.33% dividend rate cut for just Q2 2016 (based on the May and June dividend levels); and this only adds to ARR's recent history of significant dividend rate cuts. It leaves the dividend rate at 13.66% based on the stock price close on June 18, 2016. This is still a good dividend. However, it is now a dividend which is much closer to that of blue chip mortgage REITs such as American Capital Agency Corp. (NASDAQ:AGNC) at 12.63% and Annaly Capital Management Inc. (NYSE:NLY) at 11.34%. These blue chip mREITs have not had a history of huge book value losses as ARR has had. In other words, the dividend cuts have taken away any perceived advantage to investing in the historically less stable ARR over blue chips mREITs AGNC and NLY. If investors take into account ARR's history of dividend cuts, then the advantage is less. ARR may actually be likely to pay less in dividends over the next full year than the two blue chip mREITs mentioned above.
ARR's book value dropped from $28.00 as of December 31, 2016 to $24.48 per common share as of March 31, 2016 (-12.6%). Basis spreads narrowed in early Q2 2016. Thus, ARR's book value rose from $24.48 per common share to $25.52 per common share as of April 29, 2016. This value fell again slightly by May 18, 2016 to $25.45 per common share. Hence ARR's total book value loss this year to May 18, 2016 was -9.1% (or -$2.55 per common share).
It might seem that the dividend is coming close to keeping up with the loss of book value. However, when you lose book value, the dividend paid becomes less and less. The investor becomes poorer and poorer in terms of book value equity (and usually stock price equity). It is hard to predict the exact result for 2016. However, from September 30, 2014, the book value fell from $4.58 (or $36.64 adjusted for the August 2015 reverse 8 for 1 split) to its current estimated $25.45 per common share as of May 18, 2016. In a little less than 2 years it has fallen -30.5%. This is probably more than the dividend payouts, if you consider that the book value (or stock price) upon which the yield is based has gone down considerably over that same period. Consider also that the dividend itself has been cut considerably. If you are reinvesting your dividends, you may be close to breaking even. However, if you are trying to live off your dividends, then they are getting smaller and smaller as the stock's book value declines seemingly every quarter (or almost every quarter). This situation should NOT appeal to most income investors.
The Q1 financial results were as follows:
Core Income plus Drop Income was $30.3 million (or +$0.72 per common share).
Dividends were $0.99 per common share for Q1 2016.
The GAAP Net Income Loss was -$279.5 million (or -$7.73 per common share). The Net Loss on Interest Rate Hedges was -$335.2 million.
The Net Interest Margin was 1.37%.
Book Value dropped -$1.1B from $28.00 to $24.48 per common share.
Leverage was 9.06x.
For a $10.8B total portfolio of mortgage securities, the hedge portfolio of interest rate swaps was $6.6B.
In sum, ARR is still over-leveraged. The non-agency securities are helping to decrease the overall leverage; but that is misleading when you are considering the agency securities leverage. The non-agency securities are leveraged at only about 2x, while the agency securities still appear to be to highly leveraged at about 9x. There are merely some lower leveraged securities now, where there didn't used to be any. The expansion into "credit sensitive" securities by both the Javelin purchase and the purchase of other non-agency securities has diversified the portfolio to about 23% "credit sensitive" securities as of the Q1 2016 earnings call. ARR plans to expand this percentage to 25% in the near future. It has not stated plans beyond that. Theoretically, this should be a sound move. However, the US and perhaps the world may be poised on the verge of a major slowdown/recession. China is overdue for a credit crisis. "Credit Sensitive" securities may considerably underperform government-backed interest rate sensitive securities in a major slowdown/recession. ARR may have timed things just WRONG again. ARR's management has had a habit of doing that in the past. We will have to wait to see.
The two-year chart of ARR provides some technical direction for a trade/investment.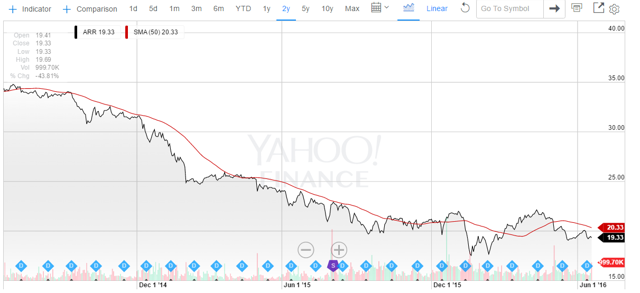 The chart above indicates that ARR may have found a bottom. However, it has not yet begun to rise. This means that it may continue its downward fall; or it may eventually begin to rise. Given ARR's past history, it seems more likely that it will continue to lose book value and stock price over the long term. ARR's management continues to keep its leverage on its agency securities too high. Whenever the market moves adversely against ARR, it loses extra money in that case due to the extra moves it has to make at inopportune times. With a dividend that is now more on a par with AGNC and NLY, there is no reason to buy or hold ARR stock. If you want to be in this market sector at this time, I would sell ARR. Then I would re-invest the money in other more worthy mortgage REIT securities. I will leave the evaluation of those other securities to other articles.
In specific answer to the title question, diversifying into non-agency securities partly with the buy of Javelin should make ARR a bit more attractive; but ARR has taken too many false steps in the last few years for me to reward it with a higher rating without ARR proving itself further. It is still a SELL.
NOTE: Some of the fundamental fiscal information above is from Yahoo Finance.
Good Luck Trading/Investing.
Disclosure: I/we have no positions in any stocks mentioned, and no plans to initiate any positions within the next 72 hours.
I wrote this article myself, and it expresses my own opinions. I am not receiving compensation for it (other than from Seeking Alpha). I have no business relationship with any company whose stock is mentioned in this article.