Could the House Pay Me?
This article is not concerned with the merits or faults of gambling, or investing in vice stocks in general. Neither will it be an in-depth exposition of the increased headwinds facing casinos in Macao. For better and more experienced commentary on the complexities and headwinds of casinos, I highly recommend author and former casino executive Howard Jay Klein's pieces on the industry.
I hope instead to offer my own value perspective on Las Vegas Sands Corp. (NYSE:LVS), especially since LVS has a juicy forward dividend yield of 6.2%. The draw toward casino stocks is that it's intriguing to think the house might pay me, instead of having to shell out after losing at the tables. Since LVS has a relatively large dividend, it draws most of my attention compared to the rest of the industry.
Some Dividend History
LVS common shares have paid a consistent dividend since 2011. Although this isn't a long history, it's still worth looking at. In addition to a special dividend in 2012 of $2.75, LVS has paid quarterly dividends beginning with $0.25/share to the most recent $0.72/share.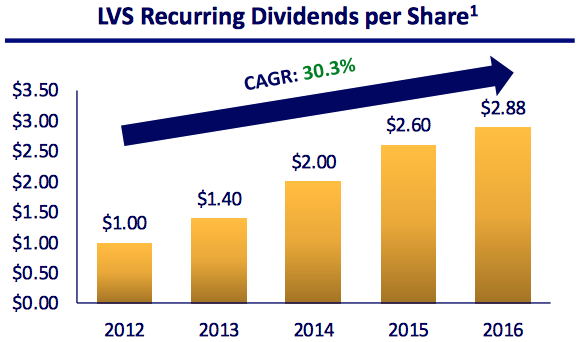 Source: Las Vegas Sands
With a compound annual growth of 30%, LVS's dividend has some great growth, but its payouts have been exceeding earnings lately. Its previous 4 quarters of earnings (Q2 2015-Q1 2016) brought in $2.23 in GAAP earnings per share. During the same time, LVS generously apportioned $2.67 per share in dividends. For a yield-hunting investor, the company's forward yield of 6.2% is quite enticing, but this payout ratio of 120% makes me a bit wary. This hasn't always been so however.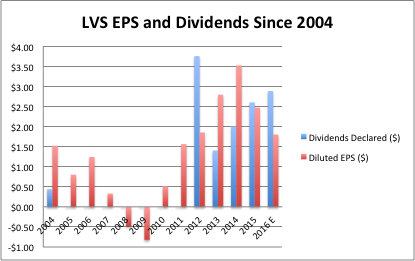 Source: Las Vegas Sands
Excluding the special dividend during 2012, LVS has covered its dividend by diluted EPS during 2012-2014 with payout ratios of 54%, 50%, and 57% respectively. Only during 2015 and projections for 2016 does LVS fail to cover its payouts and expected payouts by diluted EPS. While not an ideal payout level, LVS can afford to pay out at this level for a while, unless earnings continue to decline.
Looking at Debt
LVS has kept its debt fairly steady since 2008, since reaching $10.4 billion in long-term debt that year. Since 2008, long-term debt has fluctuated between around $9-10 billion. Having been stable for 8 years, it doesn't seem like the debt is a threatening issue for the company. Long-term debt is currently ensconced at $9.4 billion, including current maturities.
LVS Upcoming Debt Maturities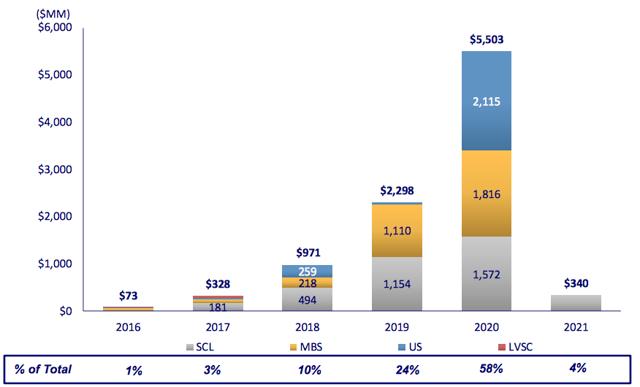 Source: LVS
However, there are no significant maturities until 2019, with nearer-term maturities at easily manageable levels. These maturities are especially manageable in light of LVS' cash and cash equivalents of $1.7 billion.
Future of the Dividend
As mentioned above, it's probable that LVS will pay out more in dividends than it takes in in earnings this year. Looking at a few of the company's other expenses, combined with the cash position of $1.7 billion, might give an idea of how long the dividend at this level is sustainable. To do this, some simplifications will need to be made. Thus, the result of this thought exercise will not reflect every eventuality.
The company estimates that 2016 capex will reach $1.7 billion. Assuming this is the projected capex for the entire 2016, remaining capex for the year after the $344 million spent during Q1 2016 would then be $1.35 billion. Dividends for the full year, $2.88/share with 795 million shares outstanding would cost about $2.3 billion. Dividends totaling $570 million have already been paid, leaving $1.7 billion still to cover. Assuming annualized EPS from Q1 2016, minus earnings from Q1, this would be $1.05 billion. Debt maturities total $73 million for the remainder of 2016. Combining aforementioned expenses and subtracting them from these cash sources leaves LVS with a shortfall of $393 million.
2016 LVS Incoming and Outgoing Cash and Projected Shortfall
| | | | | | |
| --- | --- | --- | --- | --- | --- |
| Capex ($Billion) | Dividends ($Billion) | Earnings ($Billion) | Cash ($Billion) | Maturities ($Billion) | Remainder ($Billion) |
| 1.35 | 1.72 | 1.05 | 1.7 | 0.073 | -0.393 |
Source: LVS
LVS could take on additional debt to cover this projected shortfall. This would leave LVS with $9.8 billion in long-term debt at the end of the year. That's not a horrible number, and could be the path the company chooses to take if earnings don't rise in future quarters.
If we assume that LVS would rather not cut the dividend, the company could instead cut capital expenditures.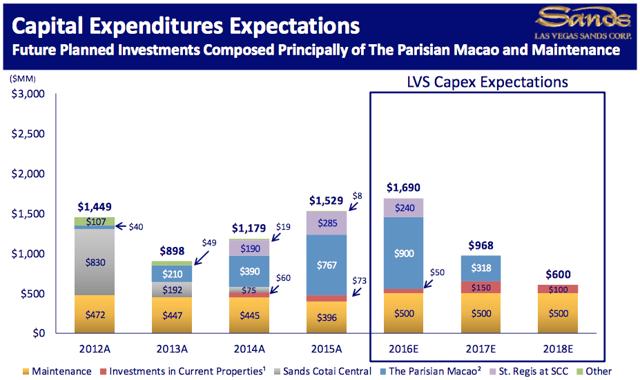 Source: LVS
2016 has the largest capex, particularly devoted to the Parisian Macao. Cutting capex would certainly prevent addition of debt. However, cutting capex to pay a dividend might not work out for the long-term health of the company. That being said, in the absence of any earnings growth, LVS has the cash on hand, and the debt capacity to pay the dividend for the rest of this year. As for the dividend during 2017, because capex will be lower, it is likely that LVS would be able to continue its dividend payout then as well, although it might have to take on a bit more debt to do so.
The Value Perspective
The dividend appears manageable for LVS right now, and any earnings growth will make dividend payments even easier. Additionally, when compared to peers, LVS is moderately undervalued based on price/ttm earnings and EV/EBITDA.
Compared to its own history, LVS trades at the low end of its P/E ratio, confirming that it does look undervalued.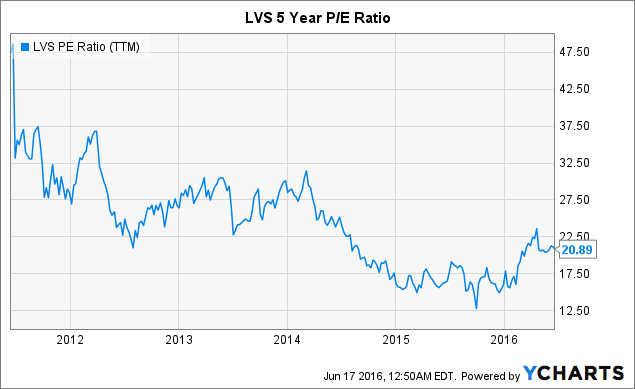 LVS PE Ratio (TTM) data by YCharts
Final Thoughts
I like the dividend yield, and the dividend seems sustainable for the near future without any earnings growth. In the event that earnings don't rise, however, I fear that the dividend could be cut. All the same, the company seems undervalued when compared to peers and to its own history. The debt doesn't seem like a problem either at this juncture. I would look to buy below $45. If I owned already, I would sit and enjoy the dividend for a while, although I would watch closely for earnings growth, which would signal dividend sustainability. I call LVS a hold at these levels.
Author's Note:
I am on the lookout for high yet sustainable dividends. If you're looking for the same, please hit the "Follow" button by my name at the top of the article, and hopefully, you'll get some good ideas for value and income stocks.
Disclosure: I/we have no positions in any stocks mentioned, and no plans to initiate any positions within the next 72 hours.
I wrote this article myself, and it expresses my own opinions. I am not receiving compensation for it (other than from Seeking Alpha). I have no business relationship with any company whose stock is mentioned in this article.
Additional disclosure: I am neither a certified investment advisor nor a certified tax professional, and do not claim to be either. The data presented here is for informational purposes only and is not meant to serve as a buy or sell recommendation. Investors and potential investors should do their own research and make their own decisions. In the event that an investor or potential investor does not feel qualified to make such a buy or sell decision on their own, they should consult a certified advisor that they trust or feel comfortable with. Investing may involve losses, including potential loss of principal. The author relies on external links for some information that may have appeared on this perspective. These external links, although believed to be accurate, have not been verified independently. Therefore the author is unable to guarantee their accuracy.