US cooling demand is much higher than the long-run average so far this year, but it remains below 2015 levels.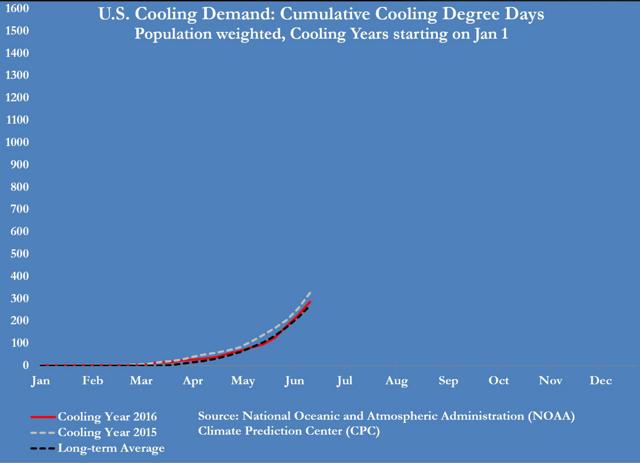 We are seeing the same figures on a consumption basis as well. Cooling demand relative to last year is lower, but overall consumption levels remain strong. Despite the fact that cooling demand is coming in below last year's, we are seeing a 30 Bcf differential on weekly injection figures. The part that people forget is that US gas production is nearly 5 Bcf/d lower than last year, and structural demand increases from LNG and Mexico gas export added an additional 1 Bcf/d. The difference largely explains the year-over-year injection difference.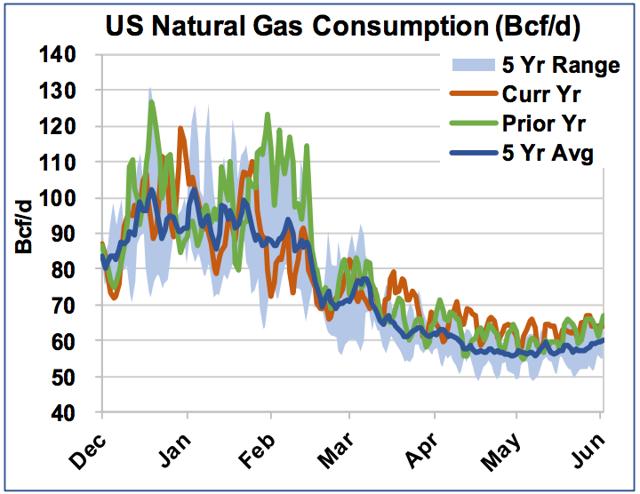 The current 8-14 day outlook is supportive.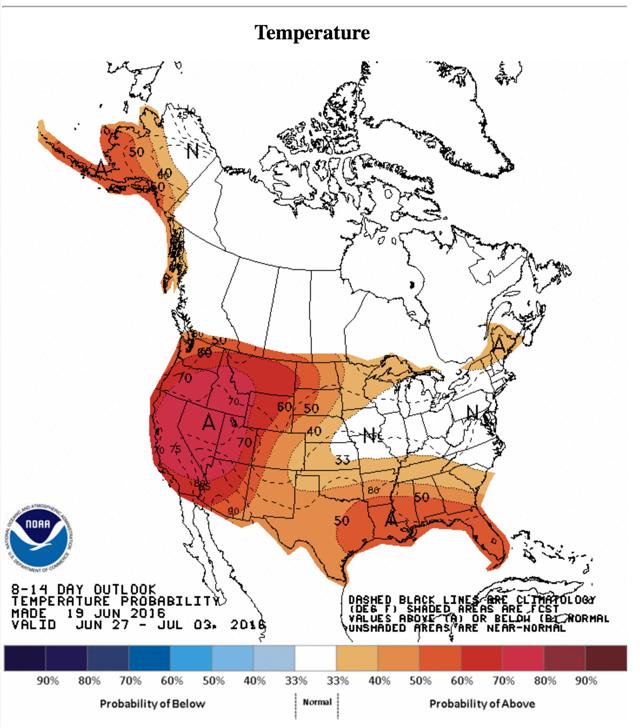 Despite normal temperature forecast for the Northeast, the probability of Texas having a hot start is very important. The West coast looks like it will experience a massive heatwave, but natural gas consumption there won't move the needle even if temperature figures go over 100. The most important remain Texas and the East coast, where natural gas consumption is the highest.
Natural Gas Intel also has a great chart from Genscape highlighting where they think US gas exports to Mexico will grow to.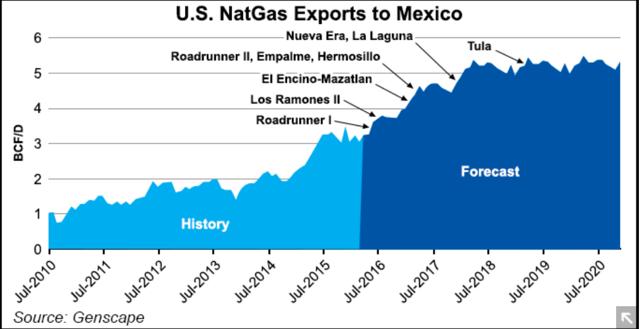 The material increase should come once all the pipelines are built. This alongside additional LNG capacity could provide the tailwind for higher natural gas prices for longer. Marcellus and Utica will continue to displace all the other high-cost basins, and the long-run average gas prices have decreased, but prices should average much higher than $2.60/MMBtu in the long run. We wrote here that we expect prices to average $3.50/MMBtu.
Once the summer heat really starts to pick up, we expect the surplus storage to materially decreased by the middle of July. As we wrote before, summer time cooling could spike demand by 3-4 Bcf/d, so if consumption is currently 64 Bcf/d, then at the peak of summer, demand could rise to 68 Bcf/d. US gas production is around 70 Bcf/d, and Canadian gas imports is around 5.5 Bcf/d. LNG is around 0.6 Bcf/d, and Mexico gas export is 3.6 Bcf/d.
If consumption really rises to 68 Bcf/d, we could see a weekly injection figure as low as 23 Bcf. This would be extremely bullish for gas prices, and it would help achieve the 3.9 Tcf end of injection build we are forecasting.
As always, if you enjoy our natural gas (NYSEARCA: UNG) daily, please click on the "Follow" button above and read our other energy write-ups. We also have a premium service tailored to investors looking to how we are thinking about positioning and real-time trade alerts. You can view our delayed 1-month portfolio update here. We hope to see you join the HFI community.
Disclosure: I/we have no positions in any stocks mentioned, and no plans to initiate any positions within the next 72 hours.
I wrote this article myself, and it expresses my own opinions. I am not receiving compensation for it (other than from Seeking Alpha). I have no business relationship with any company whose stock is mentioned in this article.